Once you've mastered the art of brewing coffee, it becomes an integral part of your routine. Some of us might even feel like we can't exist without our morning dose of caffeine.
We've found that having a few essential tools makes that AM cup of coffee so much better–after all, a little bit of investment up front will save you loads of money if you're making your own coffee instead of buying it on the way to work every morning. Here are 11 essentials for the perfect cup of coffee.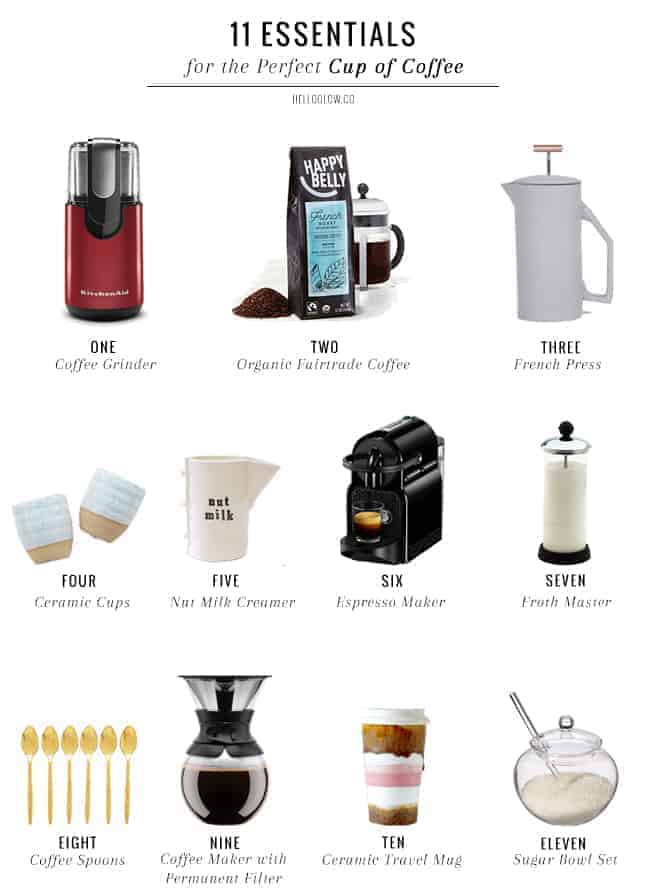 1. KitchenAid Blade Coffee Grinder // Grinding your own coffee beans will make your coffee more flavorful and it's as easy as pushing a button on this beautiful gadget.
2. Happy Belly French Roast Organic Fairtrade Coffee // A sophisticated full-bodied dark roast for a well-balanced cup with moderate acidity, grown in Central and South America, and Fair Trade certified.
3. YieldDesignCo French Press // Brew perfect coffee with the traditional French press method. This heavy walled ceramic press pot is a functional and beautiful addition to your kitchen table.
4. Soul Vessel Designs Ceramic Cups // Coffee tastes better when you drink it from a pretty, handmade cup, doesn't it?
5. Acme Humane Nut Milk Creamer // This playful creamer with hand-stamped lettering is hand-built, hand-painted, not perfectly round in folk-art style.
6. Nespresso Inissia Espresso Maker // Get that perfect cup every single time with the capsule-based espresso maker from Nespresso.
7. Norpro Glass Froth Master // Create that creamy foam topping for your favorite morning coffee drink right at home with this tool, which makes light, long-lasting froth.
8. Doma Coffee Spoons // These gold coffee spoons will make an impression on your coffee table.
9. Bodum Pour Over Coffee Maker with Permanent Filter // The pour over coffee maker does not trap essential oils of your coffee in a paper filter, and makes a beautiful slow-brew.
10. The Minty Mountain Ceramic Travel Mug // Take your coffee to go in a beautiful handmade ceramic travel mug that's eco-friendly too.
11. Mkono Clear Glass Sugar Bowl Set // If you like a little sugar in your coffee, you'll love this sheer glass bowl with a lid and serving spoon.
7