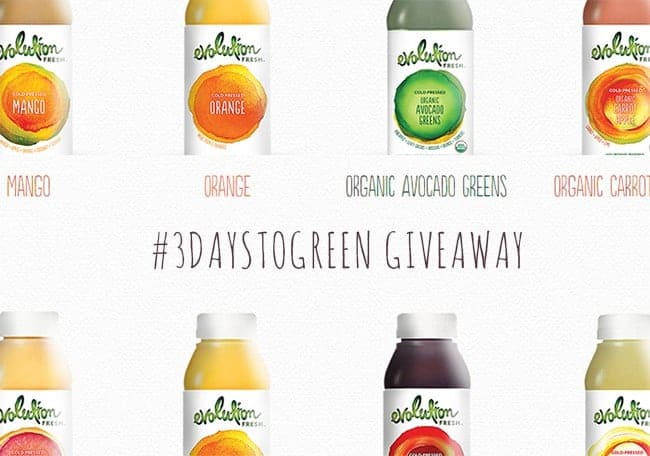 Evolution Fresh is the perfect partner on your way to a healthier lifestyle! Their cold pressed juices protect the flavor and nutrients of the raw fruits and veggies, they have no added colors or flavors, and they're minimally processed in order to keep that "freshly picked" taste. Evolution Fresh is made from local produce, with the aid of ingredient-sourcing specialists, and years of experience working with experts and growers around the world.
For the new year, Evolution Fresh is launching the #3DaysToGreen challenge. This is an invitation to enjoy one green juice a day for three days. It's an effortless introduction to a healthy new routine. Simply add one of Evolution Fresh's Sweet Greens and Lemon juices to your day and you'll be getting a whole pound of green veggies per bottle. Plus less than 10g of sugar per serving. And a whole lot of nutrients your body will love.
Evolution Fresh #3DaysToGreen Giveaway
Two lucky readers will win a $40 Evolution Fresh gift card redeemable at your local Starbucks as well as a free juice coupon. It's the perfect way to get on the 3 Days to Green Movement!
0