One of our favorite juice companies, Evolution Fresh, is here with another fabulous giveaway! But first, here's what you need to know about them and why we love their juice: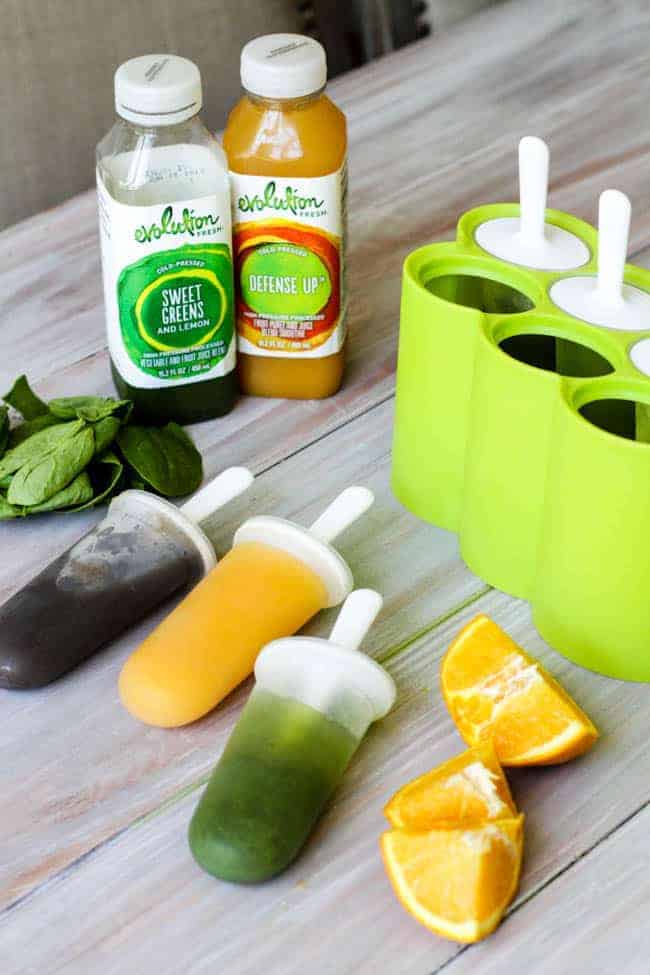 Evolution Fresh makes juice from fresh, real fruits and vegetables, without pasteurization. Using cold-press, high pressure processing, they provide healthy options for anyone willing to take the wellness journey. No colors or flavors are added during the process. Cold-pressed juice preserves more of the flavor and nutrients of raw produce, which makes it taste as close to a freshly picked fruit or vegetable as possible. And by the way, the majority of the raw ingredients used by Evolution Fresh come from farms in California and Arizona (with the remainder from the Philippines, Peru, Hawaii and Mexico).
How to make Fresh Juice Pops
Evolution Fresh just launched five new flavor juice flavors – Green Devotion, Emerald Greens, Green Grove, Berry Beet and Mango Green – along with my current favorite Essential Vegetable. Drinking these juices chilled on a warm day is very refreshing, so we decided to make juice pops with them to keep us going on those REALLY hot days.
The Evolution Fresh juice pops were a success – they tasted great and will be a great alternative to the sugary sticks the kids tend to grab out of the freezer. Directions: shake juice bottle, pour in to Zuko pop molds and freeze for 24 hours. Enjoy!
Evolution Fresh $50 Starbucks giveaway
Craving a refreshing Evolution Fresh Juice now? Enter below to win a $50 gift card to Starbucks, one of the best places to get Evolution Fresh Juice!
Hello Glow received product for review purposes. All opinions are 100% ours.
0