I think we've all heard how essential it is to wash your face before bed to prevent clogged pores and premature wrinkles, but it's so hard to do when you're tired. Store-bought face cleansing wipes are incredibly convenient, but the cost adds up if you use them every day. We've got great news, though! You can make homemade makeup remover with a few simple ingredients that you probably already have at home.
Make your solution and simply pour it over a few quilted cotton pads, some reusable makeup rounds, or a wash cloth, and voila! You're left with DIY makeup remover wipes that will drastically speed up your nightly face-washing ritual and save you some money in the process.
Benefits of Homemade Makeup Remover Wipes
If you're not already gung-ho about making your own makeup wipes, here are a few reasons you probably should be.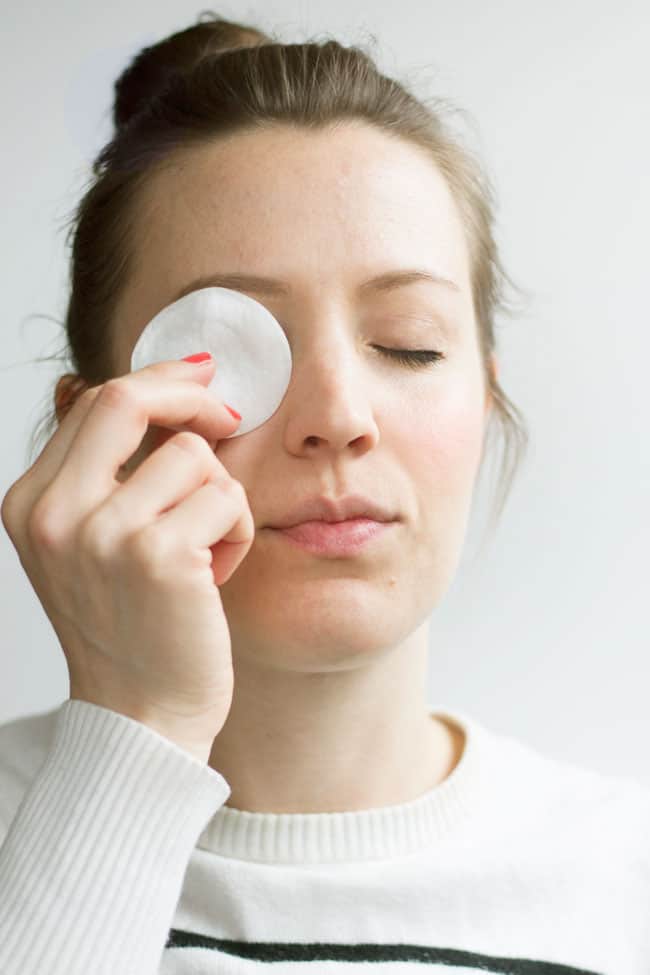 You can customize the formula
When you make your own makeup remover wipes, you have complete control over the ingredients. This allows you to tailor the wipes to your specific skin type and preferences. You can choose natural ingredients that are gentle and nourishing, avoiding any harsh chemicals or irritants that may be present in commercial wipes. And you can avoid ingredients that you know don't work for you.
They're chemical free
Many commercial makeup remover wipes contain additives, preservatives, and fragrances that can irritate sensitive skin or cause allergic reactions. By making your own wipes, you can eliminate these potentially harmful chemicals and stick with a more natural solution.
They won't pollute the environment
Store-bought makeup remover wipes are often single-use, non-biodegradable and come in disposable packaging, leading to a significant amount of waste. By making your own wipes, you can reduce your environmental impact by using reusable materials like wash cloths or reusable makeup rounds. This promotes sustainability and reduces landfill waste.
They're inexpensive
Homemade makeup remover wipes can save you money in the long run because you get to control the ingredients and make 'em in bulk, drastically cutting down on the cost.
Basic Makeup Remover Recipe
To make makeup remover wipes, you'll need a good makeup remover solution that dissolves even the toughest mascara and foundation without stripping or irritating skin. While you're free to skip the hassle and buy an all-natural makeup remover from a health food store, making your own is easier than you might think.
This homemade makeup remover uses clean ingredients, like oil, water, and a gentle cleanser, to melt away stubborn makeup. Simply toss everything together in a bowl and pour the liquid over a stack of cotton rounds. Then store 'em in the fridge until you're ready to use them. It's literally that simple!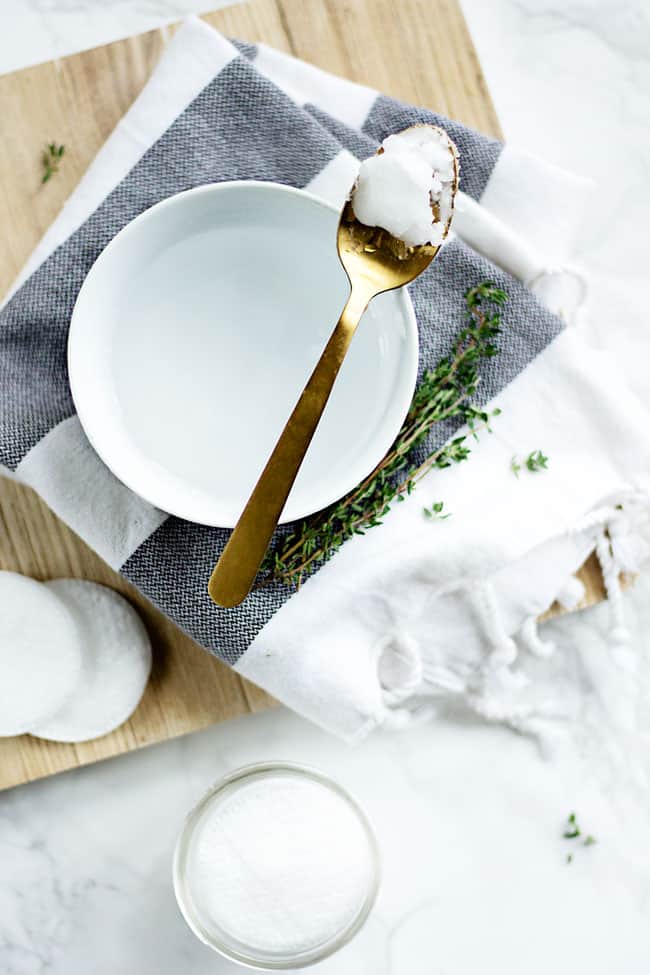 Makeup Remover Recipe

—1 cup filtered water
—1 teaspoon jojoba oil
—¼ teaspoon Castile soap
—1-2 drops tea tree oil (as a mild preservative)
Whisk together all the ingredients in a small bowl.
Once you've made the solution, you'll want to pour it over cotton rounds, a roll of paper towels, or even a few wash cloths to make your wipes (see below for a list of 5 different ways to make easy-to-use facial cleansing wipes.)
Note: Since this recipe contains water, you'll want to make sure to either use it relatively quickly (within about 30 days) or to include a stronger nontoxic preservative. Preservatives may cause eye irritation, however, so always test it on delicate skin before making a huge batch of makeup remover.
5 Ways to Make Makeup Remover Wipes
Once you've made the basic eye makeup remover recipe above, use the instructions below to make the wipes themselves.
1. Makeup remover wipes with cotton rounds
We won't judge if you stick with the single-use cotton rounds in your medicine cabinet! They're perfect for small spaces that don't have the storage necessary for large reusable wipes. They're also great for traveling since you can toss 'em when you're done.

Cotton Round Wipe Supplies
—10-15 cotton rounds
—4-ounce mini mason jar (it should be wide enough to hold the rounds comfortably)
Instructions
1. Place a stack of cotton rounds in a small jar and pour the solution over the pads until they're soaked through. Pro tip: If you have any solution leftover, store it in a separate bottle in the refrigerator so you can make more wipes whenever you need to.
2. To use, remove a cotton round from the jar and squeeze to remove excess liquid.
3. Close your eyes and gently sweep the pad over the eye area, being careful not to tug on the gentle skin surrounding the eye.
2. Makeup remover wipes with paper towels
Store-bought makeup-removing wipes are super convenient, but they can get expensive quickly. Luckily, its really easy to make your own at home.
Since these wipes have a tendency to last for a while, don't skip the tea tree oil, which acts as a mild preservative (or better yet, use a full spectrum preservative). If you don't use a preservative, then store them in the refrigerator for up to a week and toss them out if you notice any mold or fuzz.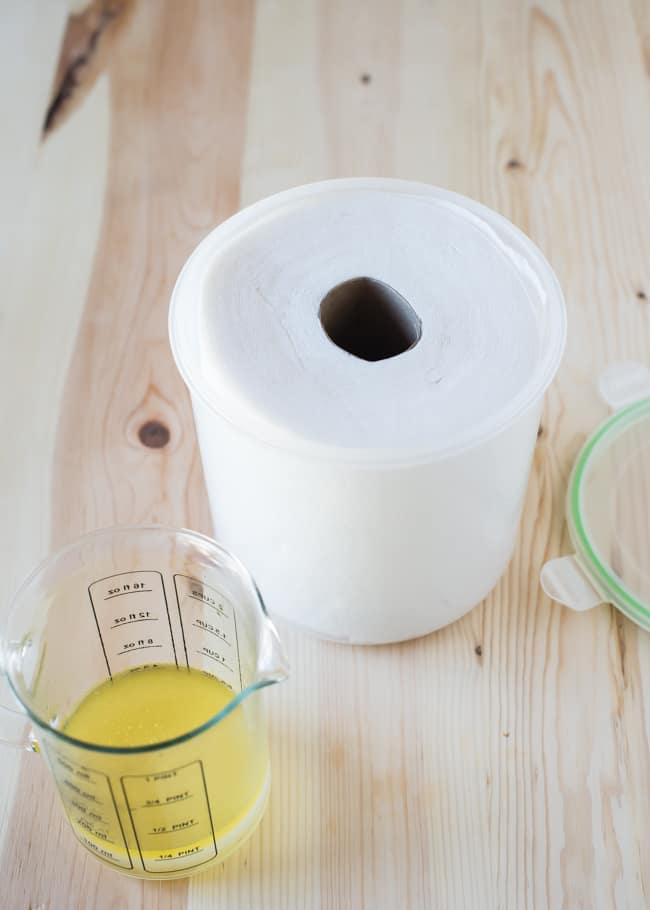 Paper Towel Wipe Supplies
—1 roll of soft paper towels (skip the bargain paper towels that can be rough on skin)
—Serrated knife or small hand saw
—Glass or plastic container that's wide enough to hold a roll of paper towels
Instructions
1. Take a roll of paper towels and cut the roll in half cross-wise, so that it's slightly shorter than your container.
2. Place one half of the cut roll into the container (you can save the other half to clean up small spills in the kitchen or bathroom) and pour the solution over the roll. If you need to increase the amount of solution to cover the wipes, simply double the Basic Makeup Remover Recipe.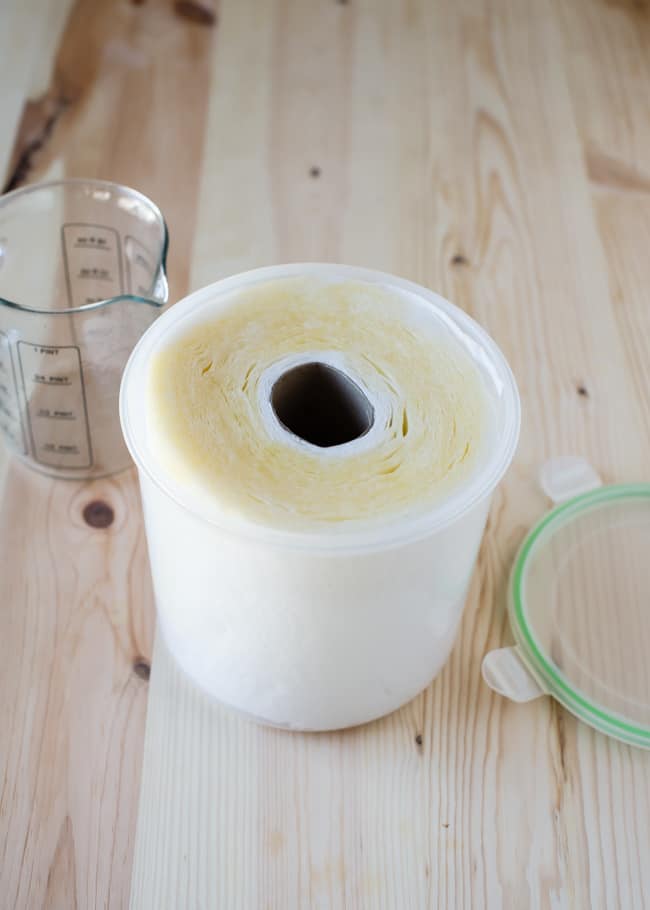 3. Flip the paper towel roll over in the container to make sure the other side of the roll is also soaked. Then pull the cardboard tube out (it should come out easily once the solution has soaked through the paper towels.)
4. Keep the lid on the container until needed, and pull wipes from the center of the roll.
5. Use the wipes to remove eye makeup before climbing into bed. And follow with your regular skincare regiment.
3. Makeup remover wipes with reusable cotton rounds
Reusable makeup remover pads are great for the planet—and your wallet. If you're the crafty type, grab some old cotton fabric and a pair of scissors, and whip up a few reusable cotton rounds that you can toss in the washer every week.
Another little life hack is to buy washable nursing pads to use as your cotton rounds. They're almost always made of a super-soft, super-plush fabric, like bamboo or cotton, and they are available in all kinds of cute colors. Some even come with their own washing bag, so you can throw them straight into the machine—win!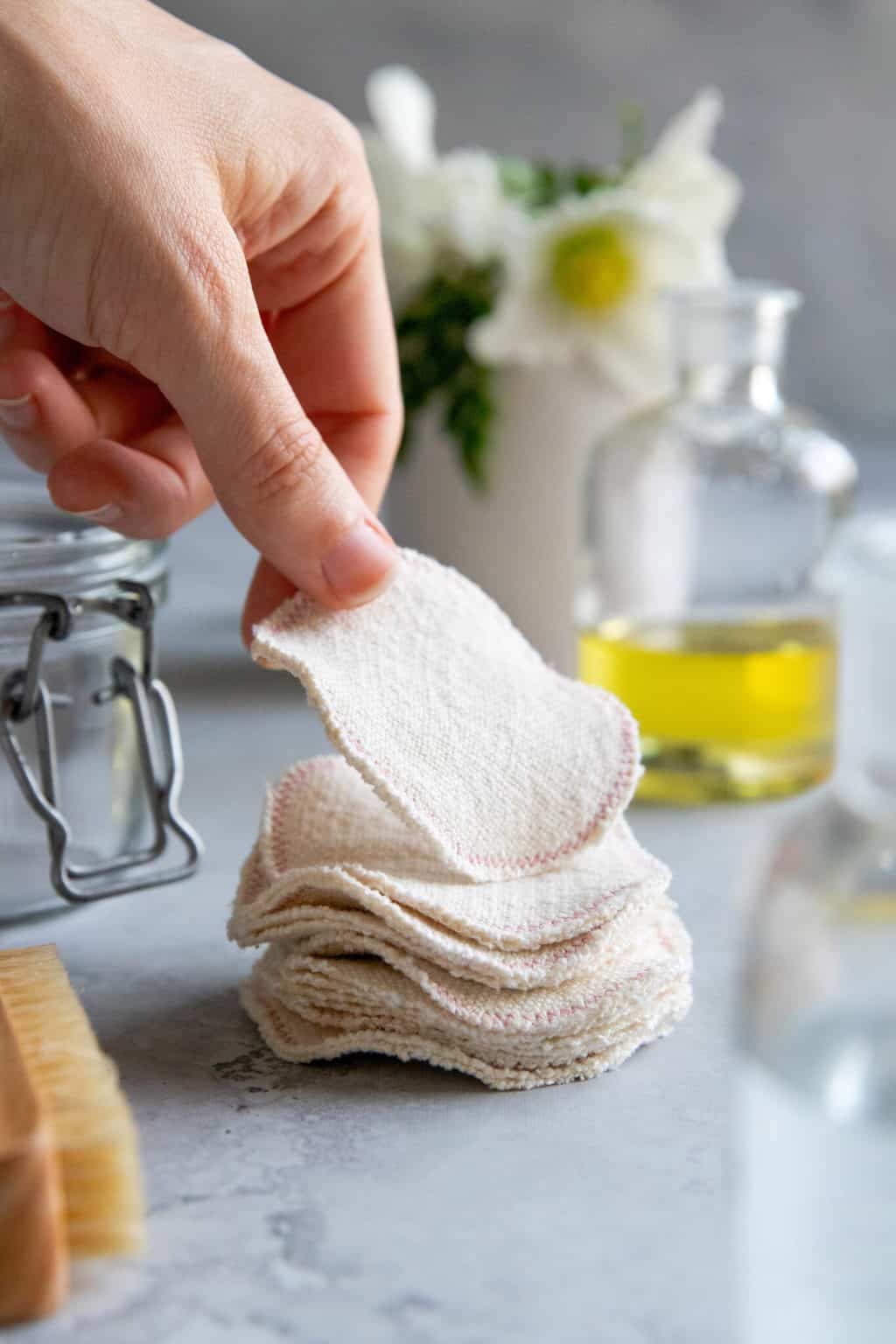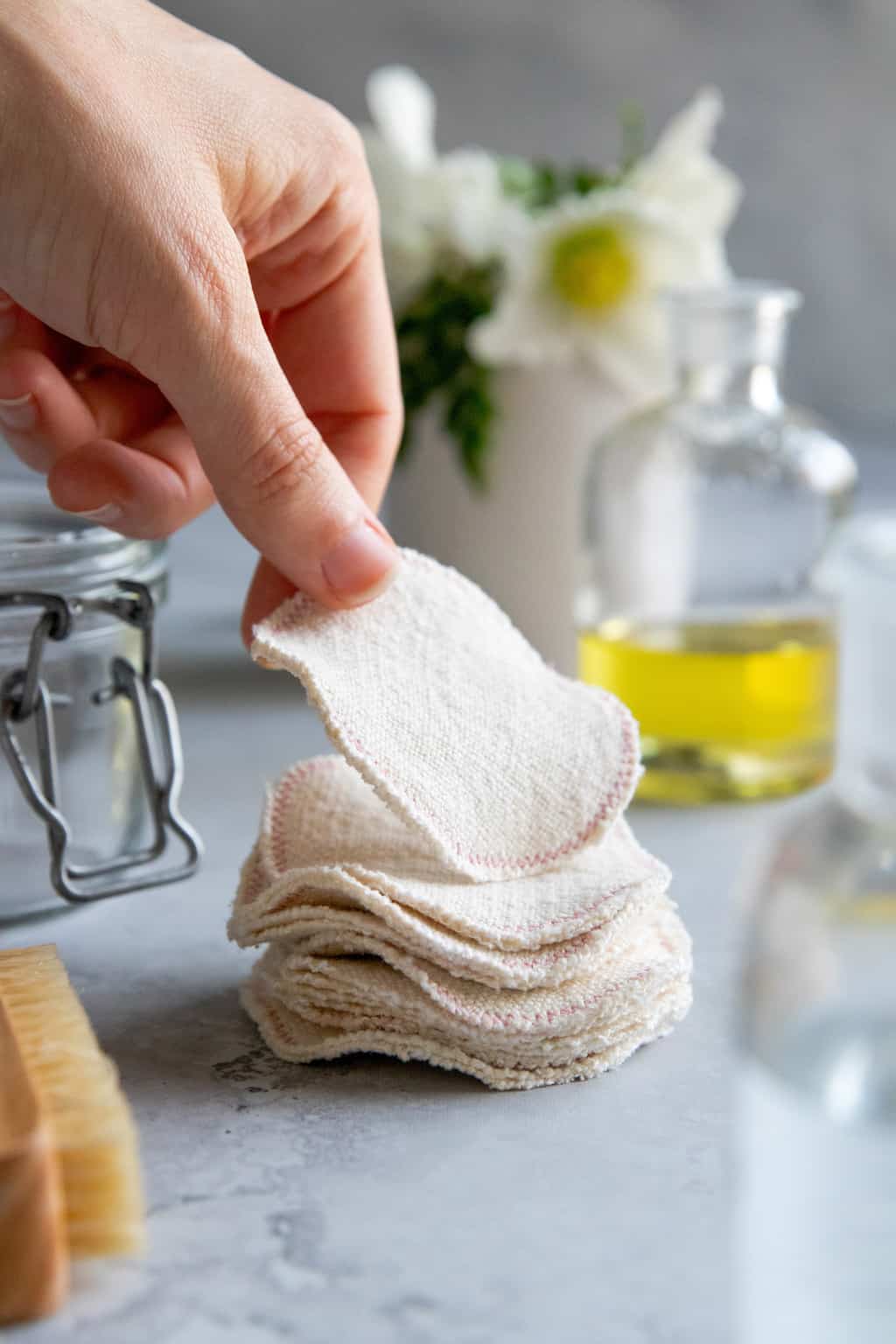 Reusable Wipe Supplies
—½ yard 100% cotton flannel fabric (or old, soft cotton dish towels)
—Sewing machine
—Thread
—Pins
—Scissors
Instructions
We did a whole post showing you how to make your own cotton rounds from dish towels a while back, so jump over there for step-by-step instructions with pictures. Otherwise, keep reading for the Cliff's Notes version.
1. Cut out 2 circles approximately 3-inches in diameter (as a template, I used a drinking glass that was roughly the size I wanted my cotton rounds to be).
2. Pin the circles together, right side out.
3. Using a zigzag stitch, sew as close to the edge of the cotton round as you can.
4. Trim off any loose bits of thread and clean up the edges as much as possible.
5. Place clean rounds in a glass jar and pour your homemade makeup remover over top. Then secure the lid to keep them from gathering dust.
How to wash reusable makeup wipes
After using your DIY makeup remover pads, put the used ones in a safe spot, like an empty jar, and just toss them into your washing machine with your other laundry on wash day.
A great tip to keep them all together is to put them in a small delicate laundry bag before tossing them in the wash. That way, none of them will get eaten by the washing machine! Maybe this is the solution to stopping my socks from disappearing, too!
4. Makeup remover wipes with old wash cloths
For these makeup remover wipes you'll need three things: old wash cloths (or other soft cloth) that you can toss in the washing mashing, a large glass jar and makeup remover solution.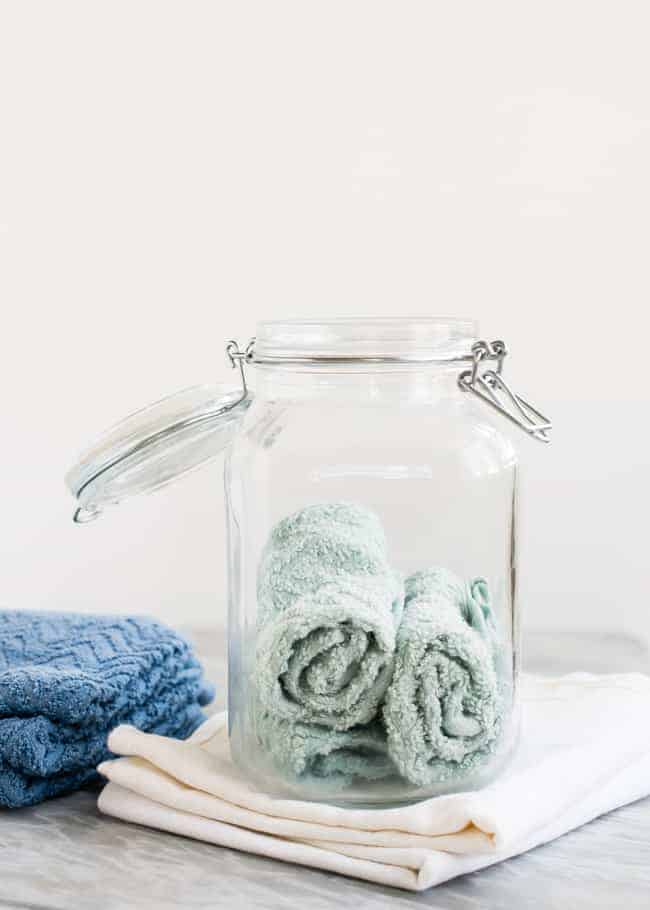 Wash Cloth Wipe Supplies
—6-7 wash cloths (dark colors may be better for hiding makeup stains over the long run)
—2-liter glass jar
—Medium bowl
Instructions
1. Combine makeup remover ingredients in a bowl and stir well.
2. Place the cloths in the bowl and allow them to soak up the solution. Squeeze excess from the cloths.
3. Roll up the wash cloths and place them inside the lidded jar.
4. To use simply pull a cloth from the jar and gently wipe it over your face.
5. Let dirty cloths dry overnight before tossing them in your hamper. Wash towels weekly so that you can reuse them and make a fresh batch of cleaning solution every month.
5. Travel-friendly zip-top makeup remover wipes
Now, I know that a jar isn't the most travel-friendly container—but I have a solution for you: silicone snack bags. Instead of using regular ziplock bags that need to be thrown away, silicone zip-top containers are perfect for keeping a tiny stash of wipes in your gym bag or purse.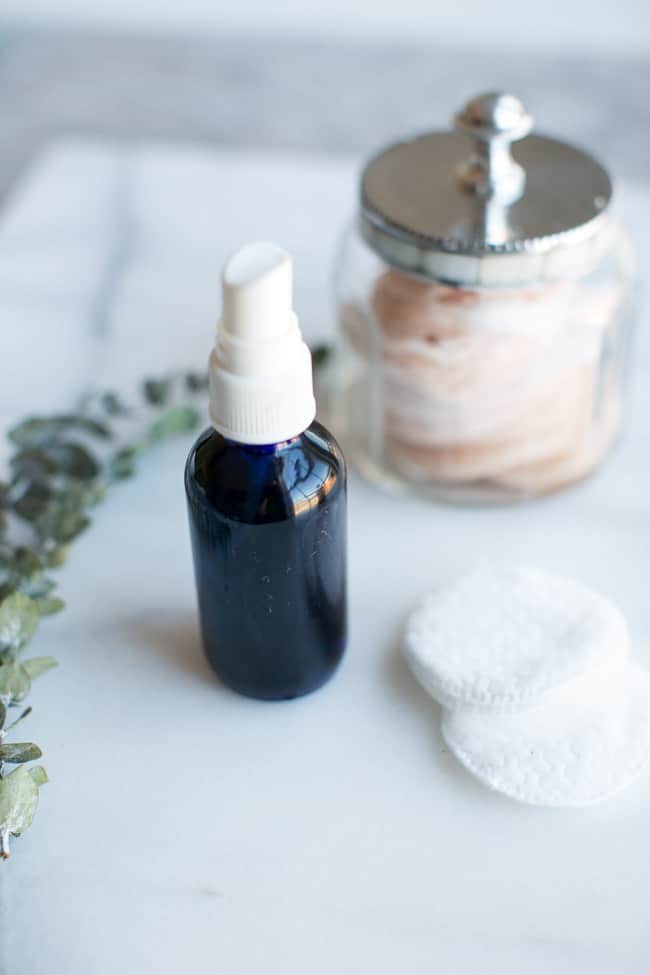 Travel-Friendly Wipe Supplies
—5-6 cotton rounds (either disposable or reusable)
—Small silicone storage bag
—Spray bottle
Instructions
1. Using a funnel, pour makeup remover solution into a spray bottle.
2. Lightly spritz cotton rounds until wet but not soaked.
3. Place them in a silicone zip-top container and zip well to prevent any leaking.
4. Use and replace as needed.
How to Use Eye Makeup Remover Wipes
The eye area is delicate, so you need to be careful when removing your eye makeup. Never drag the wipes or tug at the skin around your eyes.
1. Start by washing your hands so as not to transfer bacteria from your hands to your skin or eyes.
2. Take a makeup remover pad from the jar and gently squeeze it to get rid of excess makeup remover.
3. Gently dab the eye area, and use soft circular motions to blot the eye makeup without damaging the skin.
4. For particularly stubborn eye makeup, gently press the pad to your eye for about thirty seconds before wiping it away. This gives the makeup remover the best chance at dissolving the makeup and makes it super easy to just swipe away—no more tugging on your delicate eye area.
5. Rinse off your eye makeup remover. Even though these remover wipes are extra gentle, you still don't want to get oil or Castile soap in your eyes. So splash your eye area with cool water to rinse off as much remover as possible.
6. Blot the skin dry and apply an eye serum or cream to nourish your skin while you sleep.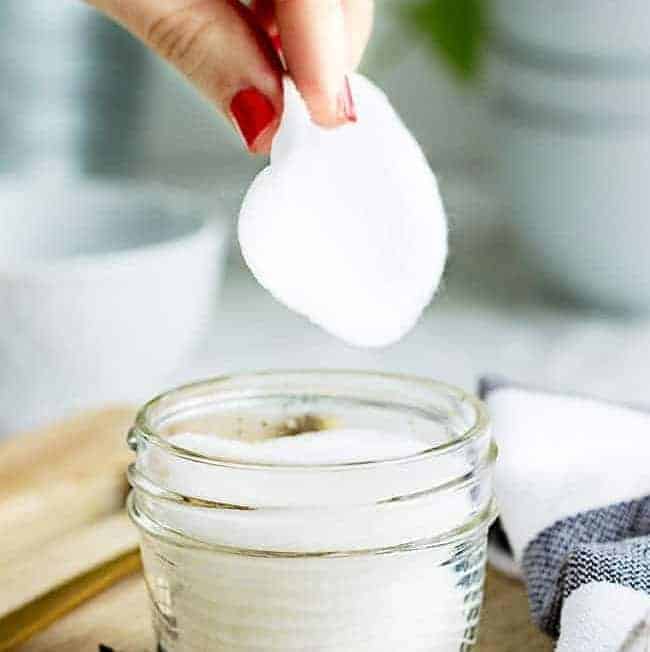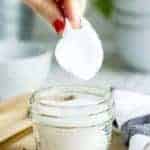 Print
DIY Eye Makeup Remover Wipes
Make your own DIY eye makeup remover wipes with natural ingredients that gently but thoroughly remove your makeup at the end of the day.
Equipment
Small bowl

4-ounce jar with lid
Instructions
Whisk together the water, jojoba oil, and Castile soap in a small bowl.

Place a stack of quilted cotton pads in a small jar. Pour the solution over the pads until they are all soaked through.

To use, remove a cotton round from the jar and squeeze to remove excess liquid. Close your eyes and gently sweep the pad over the entire eye area, being careful not to tug on the gentle skin surrounding the eye.
Notes
To be safe, store the pads in the refrigerator when not in use. Make fresh cleansing pads weekly.
Rose Water Eye Makeup Remover
½ cup rose water
1 tablespoon sweet almond oil
2 vitamin E capsules
3 drops lavender essential oil
Witch Hazel Makeup Remover
½ cup alcohol-free witch hazel
2 tablespoons jojoba oil
2 teaspoons aloe vera gel
2 drops tea tree essential oil
Micellar Water Makeup Remover
⅓ cup micellar water
¼ cup filtered water or alcohol-free witch hazel
½ teaspoon carrot seed oil 
Aloe Makeup Remover
¼ cup filtered water
¼ cup rose water (or just double the amount of filtered water)
2 tablespoons aloe vera gel
1 teaspoon glycerin
89