Ever since I was a child, I have always loved playing with makeup. While a full face of makeup is a luxury that I can't always find the time for these days, I at least try to apply a little concealer, eyeliner and mascara every day to feel put together. But let's be honest, even that little bit of makeup can be a pain to take off at night – but for the sake of your skin and eyelashes, it's gotta go!
I think we've all heard how essential it is to wash your face before bed to prevent clogged pores, blemishes and premature wrinkles, but it's so hard to do when you're tired. And store-bought face cleansing wipes are incredibly convenient, but the cost starts to add up if you use them every day. Plus – they're not exactly eco-friendly either. So what options do we have? Well, my favorite to use are DIY makeup remover pads.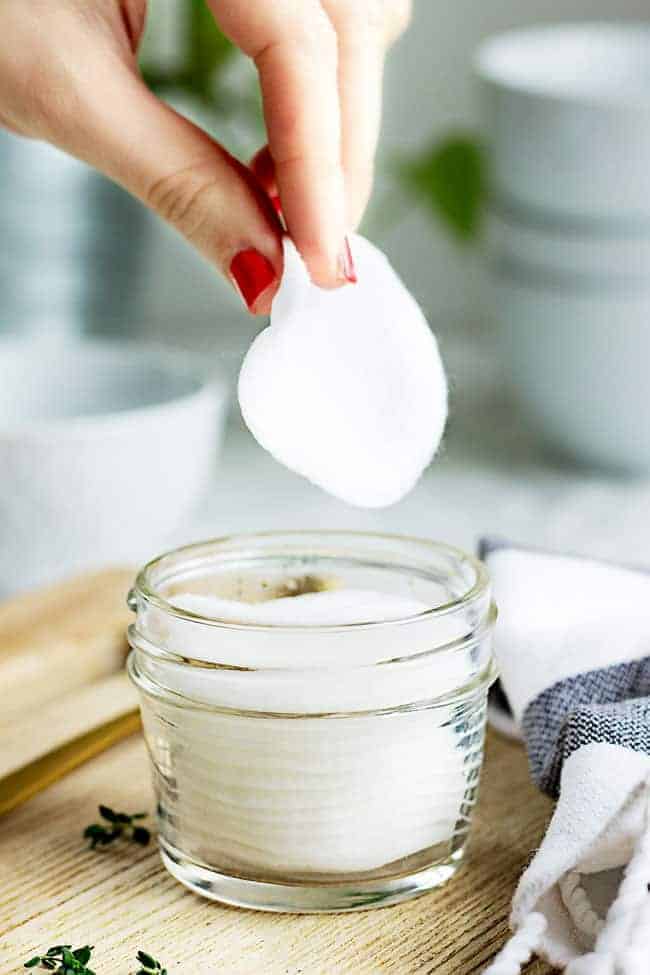 You can make DIY makeup remover pads?!
Yep! You can make your own makeup remover pads with a few ingredients you probably already have at home – seriously, they're so easy. With this gentle, water-based makeup remover and a few quilted cotton pads, you can drastically speed up your nightly face-washing ritual and save money in the process.
What I love about this is that if you're willing to put in the time to make the solution, make (or buy!) reusable cotton rounds, you're doing more than creating a better option for just yourself. You're making a better option for the planet by reducing your waste. The unfortunate truth is that makeup remover wipes aren't biodegradable or recyclable – and neither is their packaging, so this is a great, zero-waste option!
Even conventional, disposable cotton rounds aren't the best choice – it takes a lot of resources to grow cotton. To use all those resources for something that only gets used for 15 minutes doesn't quite sit right with me – even if they are biodegradable. That's why I opt for reusable cotton rounds since you can get a lot of uses out of them!
If you're feeling crafty and are good with stitching, it's actually incredibly easy to make your own cotton rounds. I recommend using organic cotton flannel fabric, as it's super soft and gentle to the eye area. I prefer lighter colors for my cotton rounds just so I can see the makeup coming off, but you can totally use whatever color you like to add a bit of brightness to your day!
To make a single cotton round, cut two circles of the same size out of the fabric, lay them on top of each other, and stitch them around the edges. While a single layer of fabric probably could be okay, thicker layers make them more comfortable to use. You can use more than two layers, but if you're hand stitching, you might find it a little hard to push through too many layers. If you're not the most confident with your stitching skills, you can definitely find reusable cotton rounds online! They're getting easier and easier to find as eco-friendly options become more mainstream, which I'm pretty thrilled about!
Another little life hack is to buy washable nursing pads to use as your cotton rounds – they're almost always made of a super soft, super plush fabric like bamboo or cotton and they come in all kinds of cute colors. Some even come with their own washing bag so you can throw them straight into the machine – win!
After using your gorgeous DIY makeup remover pads, put the used ones in a safe spot – like another empty jar – and just toss them into your washing machine with your other laundry when it's time to make a fresh jar. A great tip to keep them all together is to use a little mesh bag to keep them all together to make sure that none of them gets eaten by the washing machine! Maybe this is the solution to stopping my socks from 'disappearing' too….
Wait, how does it work?
It works because it contains oil, water, and a gentle cleanser. It's literally that simple! A lot of DIY eye makeup removers call for coconut oil, but I find that when the oil heats up it inevitably tends to get in my eyes, which then stings and leaves me seeing double for days. As much as I love coconut oil for my hair and body, I just can't handle it around my eyes.
So instead, I opt for jojoba oil, which is a little less greasy and a lot gentler on the eyes – but you can pretty much use whichever oil you're most comfortable with. Whichever oil you choose, when combined with a dash of unscented baby Castile soap it'll be sure to do a number on eye makeup without irritation.
The combination of Castile soap and a gentle oil is a potent combo for gently removing makeup – first, the oil in the formula melts any silicone or oil-based makeup for easy removal. This includes long-wearing waterproof mascara, which is probably some of the most difficult to remove makeup known to mankind – but not if you have the right makeup remover!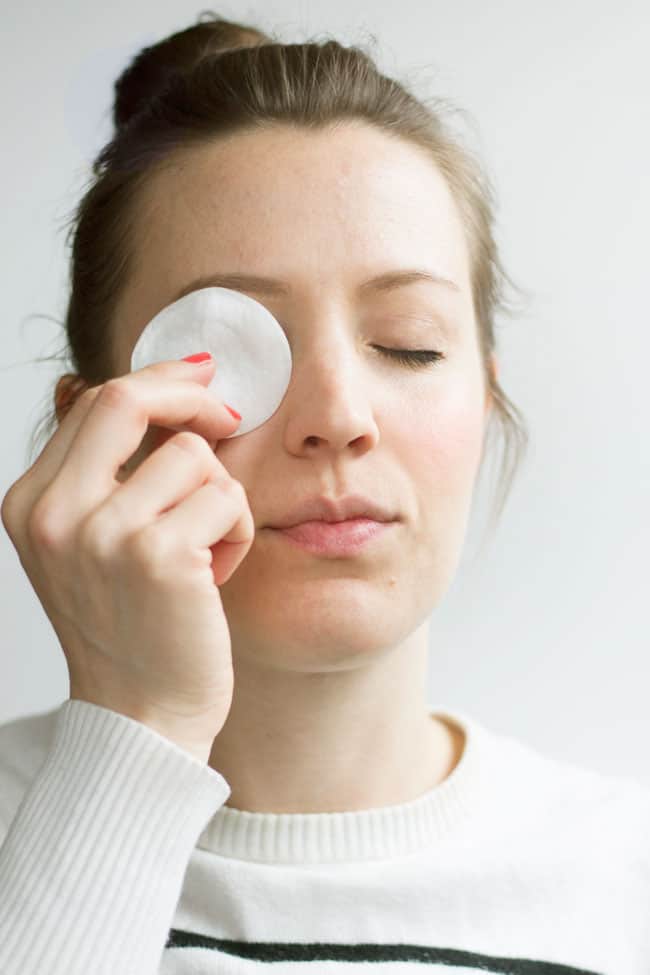 For particularly stubborn eye makeup, gently press the pad to your eye for about thirty seconds before wiping away. It gives the makeup remover the best chance at dissolving the makeup and makes it super easy to just swipe away – no more tugging on your delicate eye area. It
The added oil also moisturizes skin, instead of stripping like makeup wipes tend to do. This is critical for an area as delicate as the eyes – it's ten times thinner than the rest of the skin on our face and is easily irritated. The blend of Castile soap and water in the formula help to carry away of the dissolved makeup from your skin, leaving it feeling super fresh and clean – and ready for the next part of your skincare routine.
Check out the video below to learn how to make your own 3-ingredient makeup removing pads.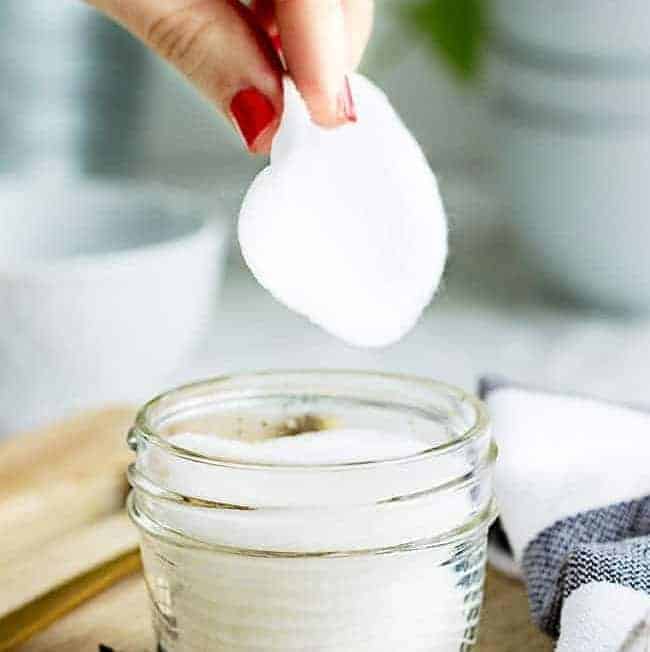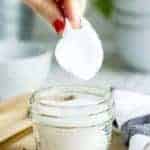 Print
DIY Eye Makeup Remover Pads
Make your own DIY eye makeup remover pads, made with natural ingredients that gently remove your makeup at the end of the day.
Equipment
Small bowl

4-ounce jar with lid
Instructions
Whisk together the water, jojoba oil and castile soap in a small bowl.

Place a stack of quilted cotton pads in a small jar. Pour the solution over the pads until they are all thoroughly soaked through.

To use, remove a cotton round from the jar, close your eyes and gently sweep the pad over the entire eye area, being sure not to tug on the gentle skin surrounding the eye.
Notes
To be safe, store the pads in the refrigerator when not in use. Make fresh cleansing pads weekly.
48