Ever since I was a child, I have always loved playing with makeup. While a full face of makeup is a luxury I can't always find the time for these days, I try to at least apply a little eye makeup every day to feel put together. But let's be honest, even that little bit of makeup can be a pain to take off at night. But for the sake of your skin and eyelashes, it's gotta go!
I think we've all heard how essential it is to wash your face before bed to prevent clogged pores and premature wrinkles, but it's so hard to do when you're tired. And store-bought face cleansing wipes are incredibly convenient, but the cost adds up if you use them every day. Plus, they're not exactly eco-friendly, either.
So what options do we have? Well, reusable makeup remover pads are great for the planet—and your wallet. If you're the crafty type, grab some old cotton fabric and a pair of scissors, and cut out a few reusable cotton rounds you can toss in the washer every week. Otherwise, stick with the single-use cotton rounds in your medicine cabinet; we won't judge.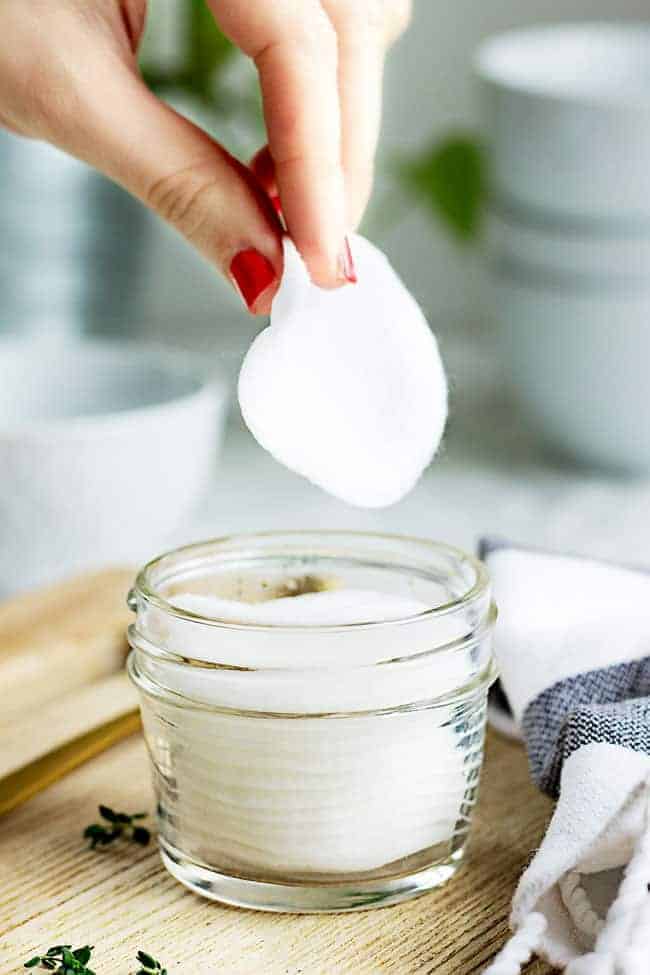 You can make DIY makeup remover wipes
?!
Yep! You can make your own makeup remover pads with a few ingredients you probably already have at home. Seriously, they're so easy. With this gentle, water-based makeup remover and a few quilted cotton pads, you can drastically speed up your nightly face-washing ritual and save money in the process.
The unfortunate truth is that makeup remover wipes aren't biodegradable or recyclable, and neither is their packaging. Even conventional disposable cotton rounds aren't the best choice because it takes a lot of resources to grow cotton. To use all those resources for something that only gets used for 5 minutes doesn't quite sit right with me, even if they are biodegradable. That's why I opt for reusable cotton rounds since you can get a lot of uses out of them!
If you're willing to put in the time to make both the solution and reusable cotton rounds, you're doing more than creating a better option for just yourself. You're helping the planet by reducing your waste.
We did a whole post showing you how to make your own cotton rounds from dish towels a while back. I recommend using organic cotton flannel fabric, as it's super soft and gentle to the eye area. I prefer lighter colors for my cotton rounds just so I can see the makeup coming off, but you can totally use whatever color you like!
Another little life hack is to buy washable nursing pads to use as your cotton rounds. They're almost always made of a super-soft, super-plush fabric, like bamboo or cotton, and they are available in all kinds of cute colors. Some even come with their own washing bag, so you can throw them straight into the machine—win!
After using your gorgeous DIY makeup remover pads, put the used ones in a safe spot, like an empty jar, and just toss them into your washing machine with your other laundry after using. A great tip to keep them all together is to put them in a small delicate laundry bag before tossing them in the wash. That way, none of them will get eaten by the washing machine! Maybe this is the solution to stopping my socks from disappearing, too!

Wait
,
how does it work
?
These homemade eye makeup remover wipes contain oil, water, and a gentle cleanser. It's literally that simple!
A lot of DIY eye makeup removers call for coconut oil, but I find that when my body heat melts the oil, it inevitably gets in my eyes and leaves me seeing double for days. As much as I love coconut oil for my hair and body, I just can't handle it around my eyes.
So instead, I opt for jojoba oil, which is a little less greasy and a lot gentler on the eyes. But you can pretty much use whatever you're most comfortable with. Sweet almond, olive, rosehip, sesame, and even argan oil are all great for skin. Whichever oil you choose, when combined with a dash of baby unscented Castile soap, it'll melt your eye makeup without irritation.
Mixing Castile soap with a gentle oil makes a potent combo for removing makeup. First, the oil in the formula melts any silicone or oil-based makeup for easy removal. This includes long-wearing waterproof mascara, which is probably some of the most difficult to remove makeup known to mankind—not if you have the right makeup remover!
The added oil also moisturizes the skin instead of stripping it like the conventional makeup wipes tend to do. This is critical for an area as delicate as the eyes—it's ten times thinner than the rest of the skin on our face and is easily irritated. The blend of Castile soap and water in this formula help to carry away the dissolved makeup from your skin, leaving it feeling super fresh, clean, and ready for the next part of your skincare routine.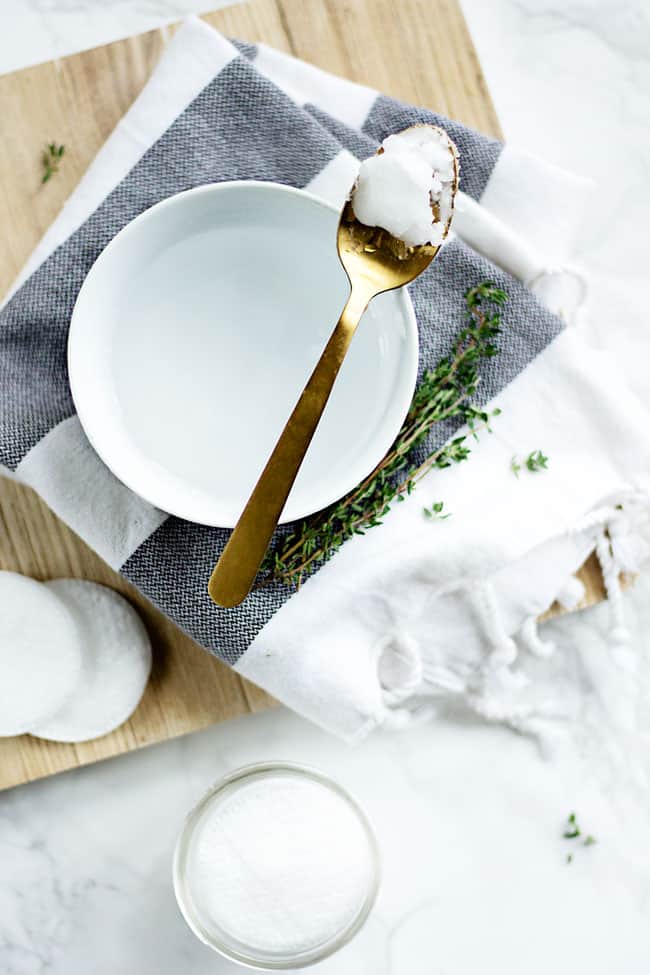 5 Simple Eye Makeup Remover Recipes
Our basic eye make remover recipe is my personal favorite, but there are plenty of options to choose from. Simply combine the ingredients in a small bowl and whisk well. Then, place several cotton rounds in a glass jar and pour the eye makeup remover over the top.
Basic Eye Makeup Remover
—1 cup filtered water
—1 teaspoon jojoba oil
—1/4 teaspoon unscented Castile soap
Rose Water Eye Makeup Remover
—1/2 cup rose water
—1/2 tablespoon sweet almond oil
—3 drops lavender essential oil
Witch Hazel Makeup Remover
—1/2 cup alcohol-free witch hazel
—2 tablespoons jojoba oil
—2 teaspoons aloe vera gel
—2 drops tea tree essential oil
Micellar Water Makeup Remover
—1/3 cup micellar water
—1/4 cup filtered water or alcohol-free witch hazel
—1/2 teaspoon carrot seed oil
Aloe Makeup Remover
—1/3 cup filtered water
—1/4 cup aloe vera gel
—1 teaspoon vegetable glycerin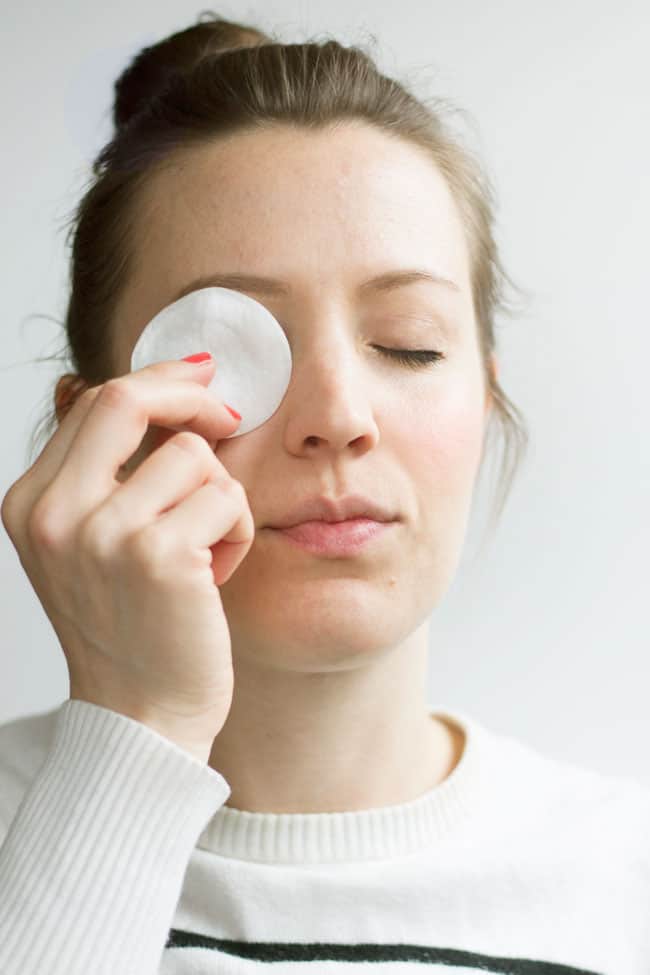 How to Use Eye Makeup Remover Wipes
The eye area is delicate, so you need to be careful when removing your eye makeup. Never drag the wipes or tug at the skin around your eyes.
1. Start by washing your hands so as not to transfer bacteria from your hands to your skin or eyes.
2. Take a makeup remover pad from the jar and gently squeeze it to get rid of excess makeup remover.
3. Gently dab the eye area, and use soft circular motions to blot the eye makeup without damaging the skin.
4. For particularly stubborn eye makeup, gently press the pad to your eye for about thirty seconds before wiping it away. This gives the makeup remover the best chance at dissolving the makeup and makes it super easy to just swipe away—no more tugging on your delicate eye area.
5. Rinse off your eye makeup remover. Even though these remover wipes are extra gentle, you still don't want to get oil or Castile soap in your eyes. So splash your eye area with cool water to rinse off as much remover as possible.
6. Blot the skin dry and apply an eye serum or cream to nourish your skin while you sleep.
Check out the video below to learn how to make your own 3-ingredient makeup removing pads.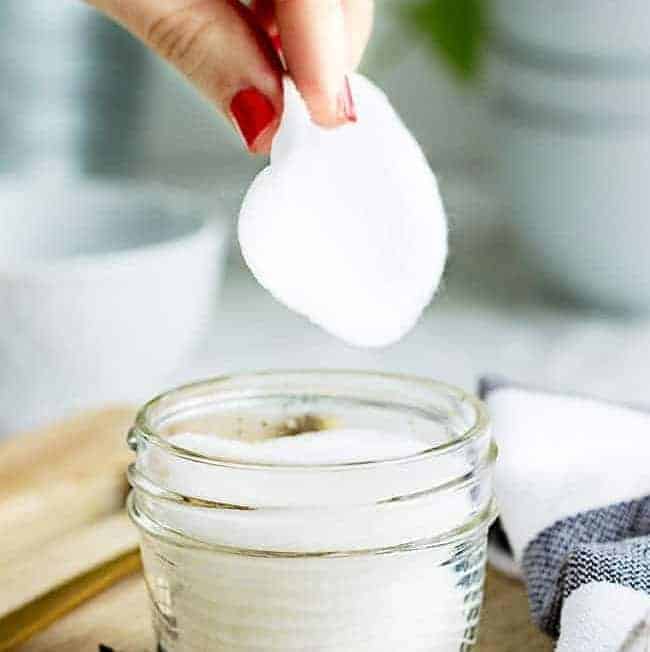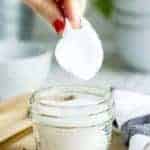 Print
DIY Eye Makeup Remover Wipes
Make your own DIY eye makeup remover wipes with natural ingredients that gently but thoroughly remove your makeup at the end of the day.
Equipment
Small bowl

4-ounce jar with lid
Instructions
Whisk together the water, jojoba oil, and Castile soap in a small bowl.

Place a stack of quilted cotton pads in a small jar. Pour the solution over the pads until they are all soaked through.

To use, remove a cotton round from the jar and squeeze to remove excess liquid. Close your eyes and gently sweep the pad over the entire eye area, being careful not to tug on the gentle skin surrounding the eye.
Notes
To be safe, store the pads in the refrigerator when not in use. Make fresh cleansing pads weekly.
Rose Water Eye Makeup Remover
1/2 cup rose water
1 tablespoon sweet almond oil
2 vitamin E capsules
3 drops lavender essential oil
Witch Hazel Makeup Remover
1/2 cup alcohol-free witch hazel
2 tablespoons jojoba oil
2 teaspoons aloe vera gel
2 drops tea tree essential oil
Micellar Water Makeup Remover
1/3 cup micellar water
1/4 cup filtered water or alcohol-free witch hazel
1/2 teaspoon carrot seed oil 
Aloe Makeup Remover
1/4 cup filtered water
1/4 cup rose water (or just double the amount of filtered water)
2 tablespoons aloe vera gel
1 teaspoon glycerin
77