Eyelash serums, growth enhancers, lash perming, and lash extensions are extremely popular lately. While the desire for strong, long lashes never goes out of fashion (mascara, curling wands, and false eyelashes have been around for decades!), the tools and treatments used today are most definitely new. As an esthetician based in Los Angeles, I see a range of eyelash treatments offered at dermatologist offices and beauty salons. But each treatment comes with its own pros and cons that should be weighed carefully.
Don't let the cost and maintenance of lash care deter you from giving a little TLC to your eyelashes, which can be done quite easily and inexpensively at home. Long, healthy lashes mean you can even skip mascara if you choose, or when you do wear mascara, the difference will be quite noticeable. Try one of these lash conditioning treatments or serums regularly to encourage lash growth and strength. Typically, it takes about 8 weeks to notice a difference in lashes, so be patient and consistent.
DIY Eyelash Growth Serums For Lovely + Long Lashes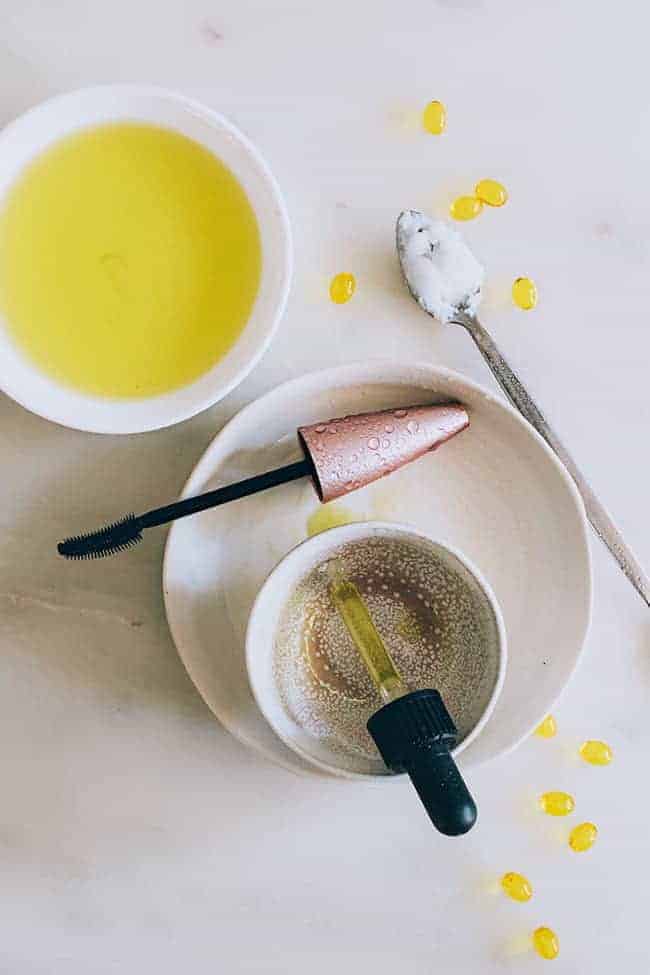 Castor Oil Lash Strengthener
Known for its proteins and mild texture, castor oil has long been used to improve hair thickness and strength. In a clean, glass container add castor and coconut oil. Pierce and drain the Vitamin E capsules into the container and mix well by shaking. Using a disposable mascara wand, dip the wand into the solution and apply nightly. Apply to clean lashes as you would mascara, concentrating at the lash roots. Store in a cool, dark place.
Argan Lash Conditioner
These three oils combined create a powerhouse for stimulating hair growth. You can even apply it to eyebrows as well if you're looking to create a thicker and stronger brow line. Combine equal parts of all three oils in a container. Shake well before each application with a disposable wand. Apply nightly to clean lashes and or brows.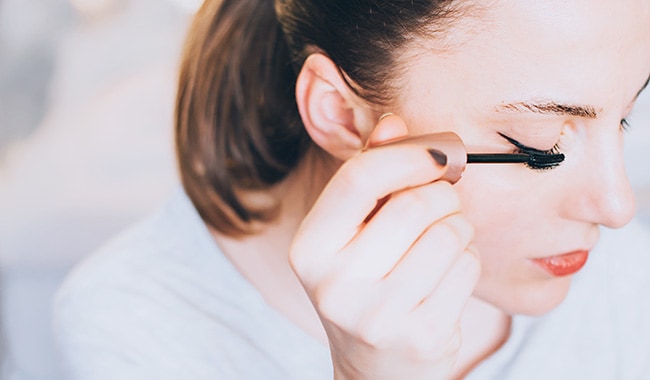 Vitamin E Deep Lash Treatment
Straight vitamin E oil does wonders for hair follicle damage, not only repairing but encouraging growth. Using a vitamin E capsule or vitamin E liquid, apply using a lash brush or disposable mascara wand for a deep treatment for your lashes. This treatment can be done once a week.
Discontinue using any of these treatments if any eye irritation develops. One last tip for encouraging lash growth and thickness: try adding biotin to your daily vitamin routine. Biotin, also known as Vitamin H, is usually sufficiently found in the foods we eat such as egg yolk, cauliflower, nut butters, mushrooms, bananas, etc., but on occasion we need additional biotin if we are deficient. 30-100mcg of biotin is the daily recommended allowance for adults, and if your body doesn't need the extra, it just passes through your body and expels through urination.
Happy lash growing and strengthening!
Photos by Ana Stanciu
85