I used to think bedtime routines were just for unruly children—that is until I started having sleeping problems myself. As most of us know all too well, it can be hard to unwind after a long, stressful day. It feels like we're always plugged-in, either to the phone or email or the TV, and this can wreak havoc on our ability to fall asleep quickly and stay asleep through the night.
In addition to making a concerted effort to avoid technology, caffeine and exercise prior to bedtime, it can also be helpful to turn to herbs and essential oils to encourage relaxation. This pillow spray uses natural botanicals to help you unwind when you need it most, so you can fall asleep fast and stay asleep until morning.
Fall Asleep Fast Pillow Spray
I like to use mine in the evenings when I'm getting ready for bed. About an hour or so before bedtime, I'll spritz it on my pillow while I go about my nightly routine and let the essential oils go to work. Something about the ritual reminds my brain that it's time to unwind and let go of the day's events.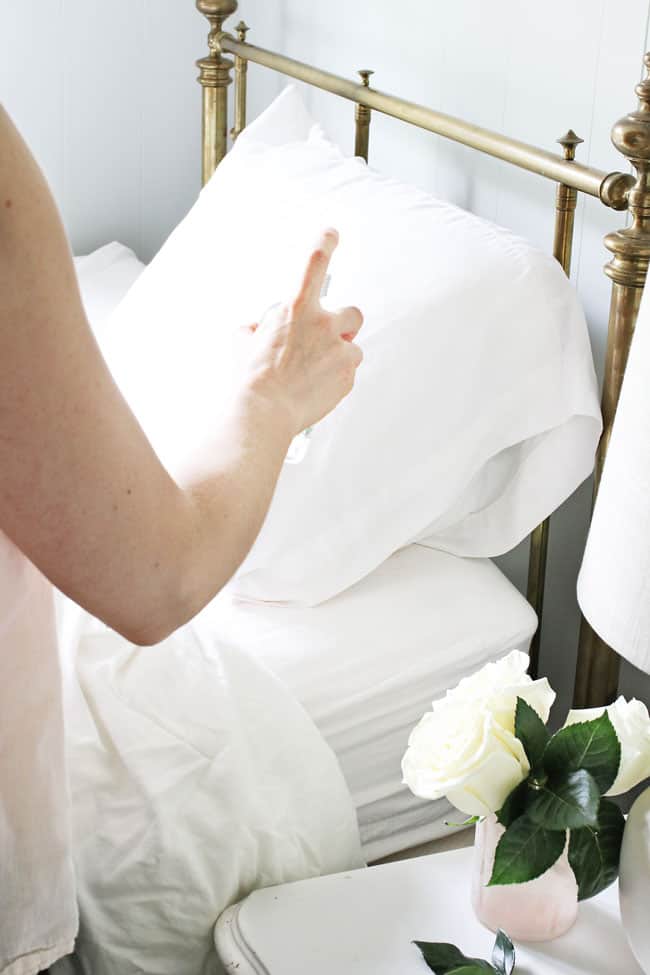 Here's how it works:
Lavender
Lavender is well-known for its calming, stress relieving and relaxation properties. That's why it's so effective at helping you get to sleep! And you'll usually find it in bath and body products because, according to a 2013 study, it's effective at at calming the nervous system and physically relaxing the body.
Chamomile
Another herb known mostly for its relaxing properties, chamomile is a potent anti-inflammatory and antioxidant. It's often consumed as a tee or diffused into the air because it works magic both inside the body and out. When used before bed, it acts as a mild tranquilizer and sleep inducer.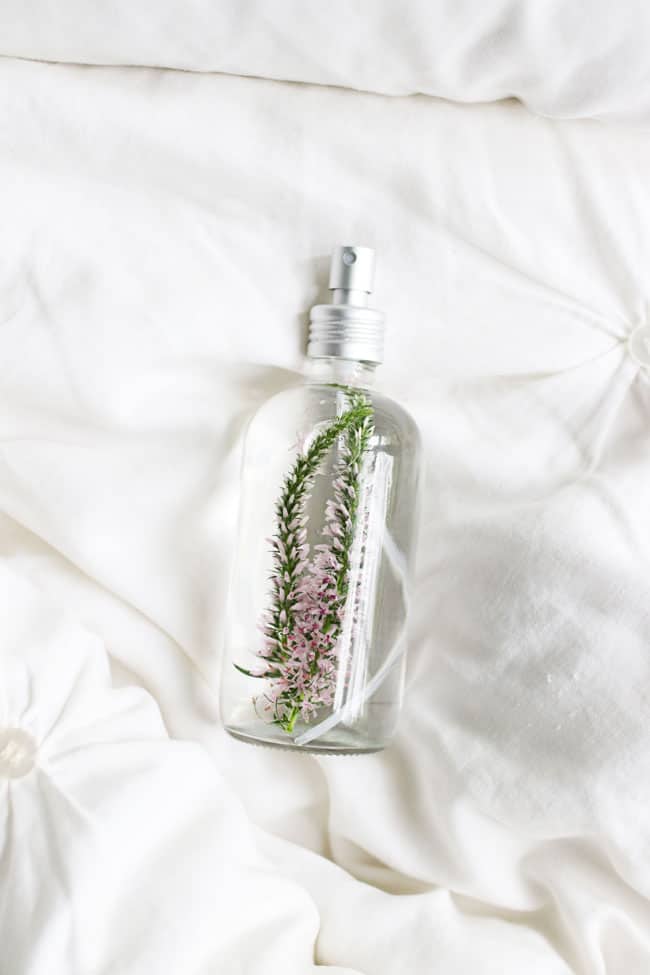 Vetiver
Known as "the oil of tranquility", vetiver is widely valued for its uplifting, healing and protective qualities. Vetiver has also been used for centuries to treat mild insomnia. Although most essential oil claims aren't yet backed by science, a 2016 study done on animals showed that inhaling vetiver essential oil decreased brain wave activity during sleep and may even decrease sleepwalking episodes in prone individuals.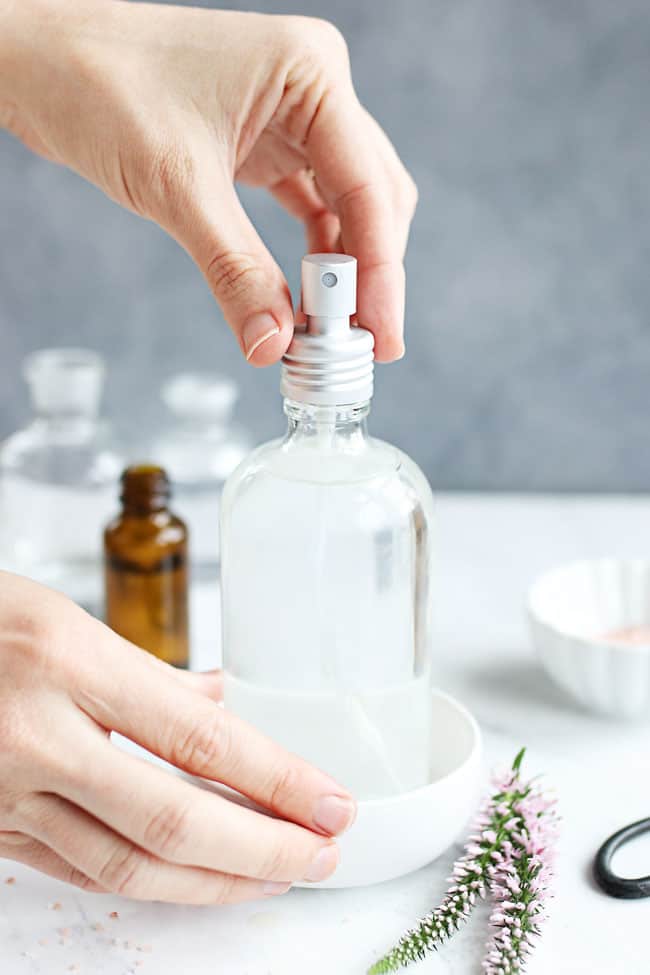 When combined, these three herbs help to calm the body and quiet the mind so you can fall asleep as soon as your head hits the pillow. Simply spritz your pillow 30 minutes to an hour before bed and inhale slowly and deeply. To really get your body prepared for sleep, be sure to keep artificial lights (especially blue light) to a minimum and try to calm your mind by reading, journaling or meditating (my personal fave).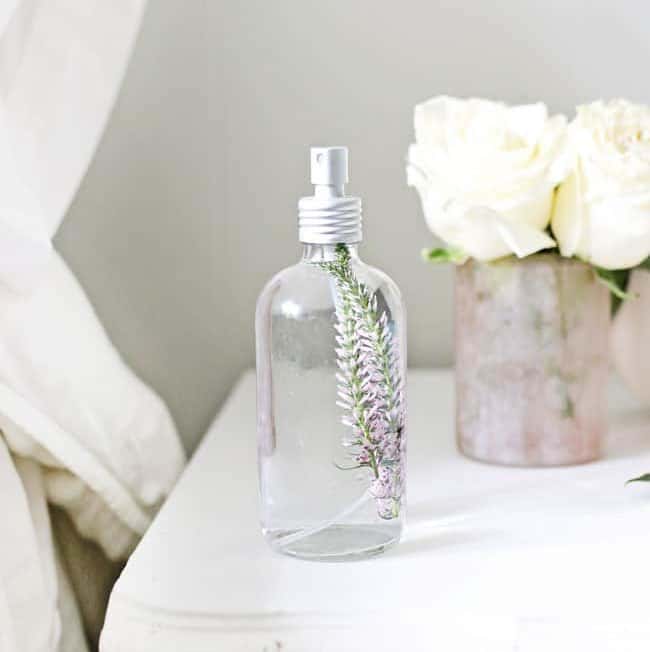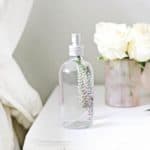 Print
Fall Asleep Fast Pillow Spray
If you struggle with insomnia, you need to whip up a bottle of this Fall Asleep Fast Pillow Spray, which uses aromatherapy to help you relax and sleep well.
Equipment
Glass bottle with spray nozzle
Instructions
Combine ingredients in spray bottle and shake to combine.

To use, shake the bottle and spritz a fine mist onto your pillow about an hour before bedtime.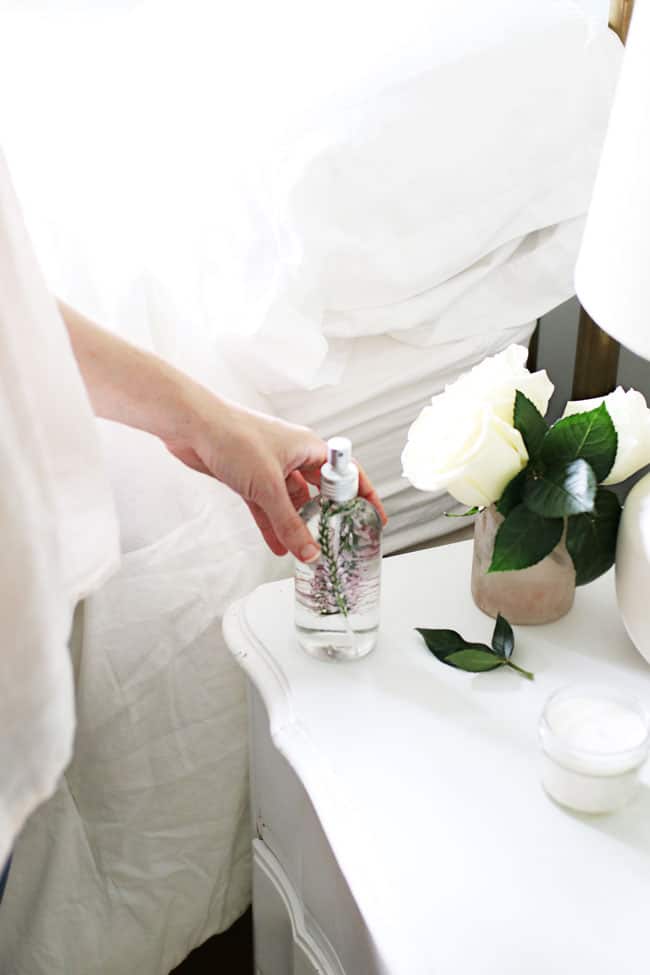 36