Fall always feels like a good time for a fresh start. Even more so than in spring, I feel the urge to deep clean the house and weed out my closet as I rotate in the warmer wardrobe. This year, I went through all of my bathroom cabinet drawers, and, whoa, was it a mess. It took a whole trash bag to handle all the bottles and clutter!
After that big purge, I was on a roll and decided to re-evaluate my skincare regimen. And for the first time, I feel confident about creating all of my products from scratch!
My skin falls under the aging category, which is linked with dryness. Here's how I'm transitioning my nighttime cleansing ritual to add more moisture and lock it in.
1. Change Up Your Cleanser
The air in our houses and offices becomes much less humid in fall and winter (thanks, gas heat!). So while your skin was probably a bit shiny and oily during summer, it will soon feel drier than the Sahara Desert. Time to put away the products for eradicating a shiny forehead and transition to a milder cleanser.
Cleansing balms feel amazing on chapped, red skin. Just don't get too aggressive when removing it with the muslin cloth.
The other thing my skin really needs in the fall and winter seasons is exfoliating on the regular. I'm working on getting rid of discoloration and acne scars, and cell turnover is key.
But skin is more sensitive and easily irritated when it's dry, so my advice is to go easy and stop scrubbing with anything harsh. This simple face scrub is my new favorite. It's premixed, and I can keep it by the sink.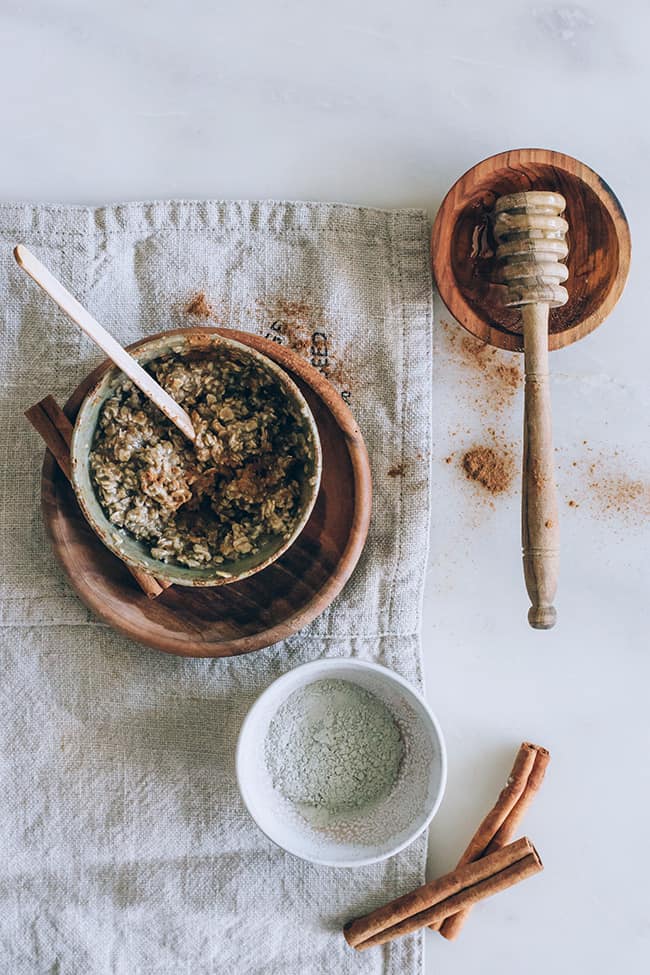 Honey Cinnamon Oatmeal Cleanser
1 tablespoon finely ground old-fashioned oatmeal

1 tablespoon

Bentonite clay

1/2 teaspoon ground cinnamon

3 tablespoons honey
Use a coffee grinder to grind the oats into a fine powder. Add the oat and clay powders and cinnamon to a small bowl. Pour in the honey, and stir until well combined. Store in a 2-ounce glass jar with a lid.
Do a patch test before using it on your face to make sure your skin won't be irritated by the cinnamon. If you're worried about that ingredient, it's totally fine to leave it out.
2. Bring In Fall Flavors
This toner adds a dose of cranberry juice for a fall-flavored antioxidant boost. Antioxidants are the good guys that fight the free radicals that cause wrinkles, redness, pigmentation, and fine lines [source].
Cranberry juice has tons of vitamin C, which boosts collagen [source], while its antimicrobial properties [source] help to ward off acne. The juice is naturally acidic, so be sure to dilute it well.
I was also thinking about using apple cider vinegar—because, it's fall! So that's another option. It needs to be diluted well, too, so I would add 2 tablespoons to a cup of white or green tea (they also have mega antioxidants).
Start checking labels because you want to avoid alcohol in your toner at all costs. It's super drying to your skin!
Stick with gentle DIY toners that include hydrosols or witch hazel. Witch hazel is an astringent that combats oil and tightens skin, but, weirdly, it's also helpful for dry skin. It contains gallic acid that has anti-inflammatory, moisturizing, and healing properties to help soothe conditions like eczema [source] that are often exacerbated by dry skin.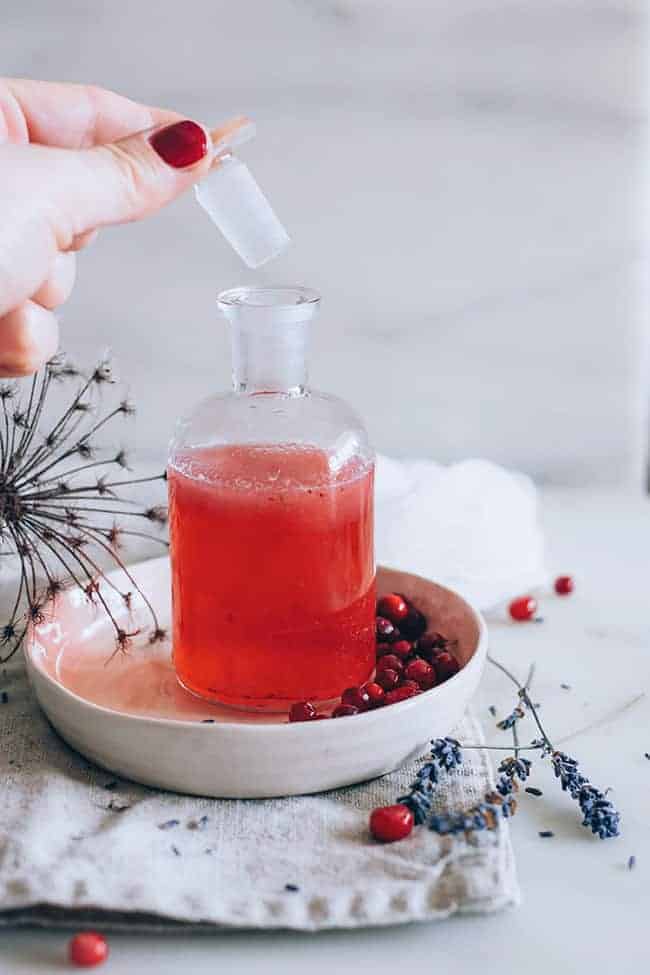 Cranberry Toner
Pour the witch hazel into a measuring cup. Add the hydrosol and cranberry juice and stir to combine.
Using a funnel, slowly pour the mixture into a clean 6-ounce bottle. Shake before each use and then swipe over the face with a cotton pad.
You can also put the toner into a spray bottle and spritz it on your face. Let the liquid absorb into your skin before applying moisturizer. Store in the refrigerator for 2–4 weeks.
3. Hydrate at Night
During the colder months, this serum calms almost any dry, itchy skin condition. Pomegranate seed oil is a transdermal enhancer, which means it allows the other components to more deeply penetrate the skin [source] to accelerate healing.
Avocado oil is loaded with vitamins A and D as well as fatty acids that improve skin hydration and elasticity. It has also been shown to increase collagen synthesis [source].
And rosehip oil, my favorite, contains carotenoids and tocopherols [source], natural antioxidants that help reverse sun damage and the effects of aging.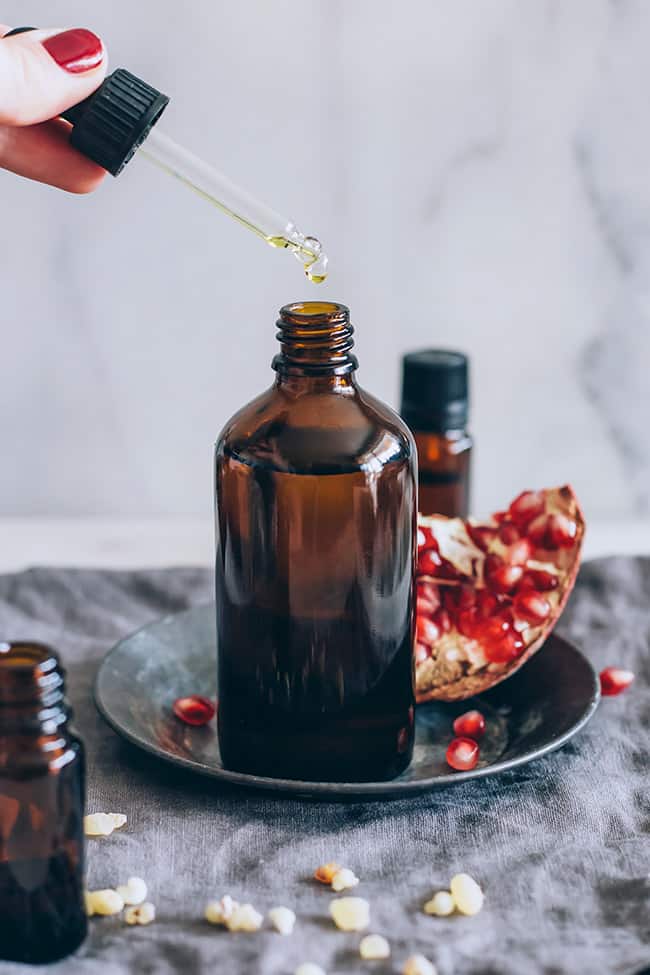 Pomegranate Face Serum
Add the avocado, pomegranate, and rosehip seed oils. Add the essential oils and swirl. Replace lid cover and shake again.
Apply 2–4 drops to your fingers and pat onto your face. Don't rub or pull the skin.
And, as always, wear sunscreen during the day—every day. This tinted moisturizer is my favorite way to get SPF on my face without it feeling thick or making me look like a mime.
4. Add a Fall Facial
As fall arrives, it brings the perfect opportunity to change up your skin routine with an at-home mini facial. Seasonal changes in the temperature, weather, and humidity can be good indications to change your daily regimens.
This steam, scrub, and mask could only get better with a hot cup of cider and a cozy blanket—a fall facial is the perfect way to unwind a little, with the added bonus of having glowing skin afterward!
This facial could be done bi-monthly, but feel free to use each recipe separately on its own as a little boost to your skincare routine.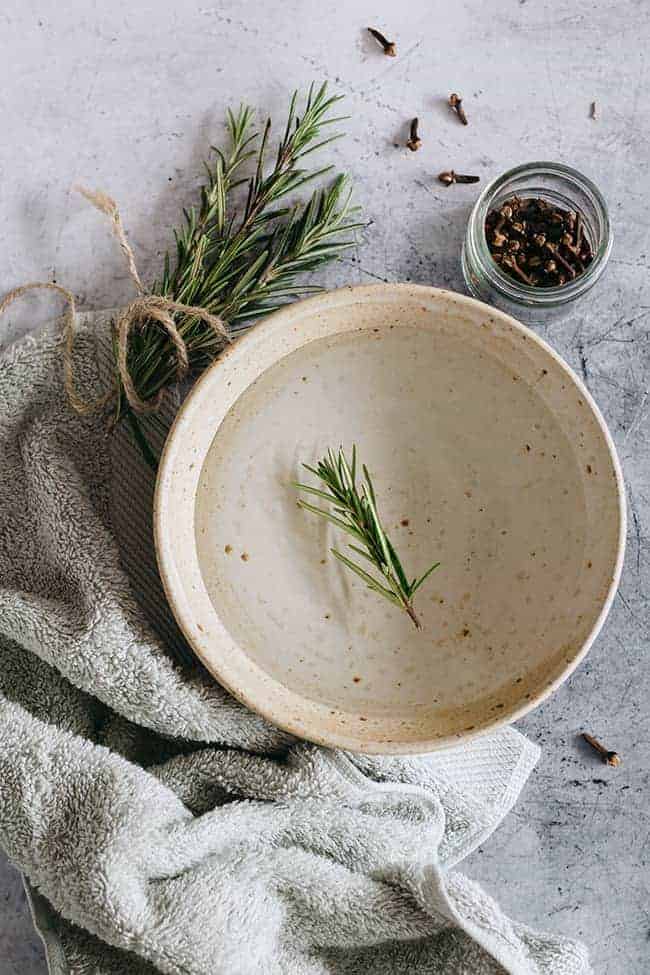 Clove & Rosemary Facial Steam
Steaming is essential in a facial as it opens pores, softens skin, increases circulation, and allows better penetration of various serums and moisturizers.
1 tablespoon rosemary (fresh or dried)

1 teaspoon cloves

Pot of boiling water

Heat-safe bowl (ceramic/glass)

Towel (large enough to cover your shoulders, head, and the bowl)
Start with freshly washed skin. Boil a pot of water and add the cloves and rosemary. Transfer to a heat-safe bowl and place on a flat countertop.
Immediately drape a towel over your face, shoulders, and the bowl, keeping your face about 10–18 inches from the steam. Steam for 5–10 minutes, being careful not to oversteam as that will reclose the pores and have the opposite effect than what's desired.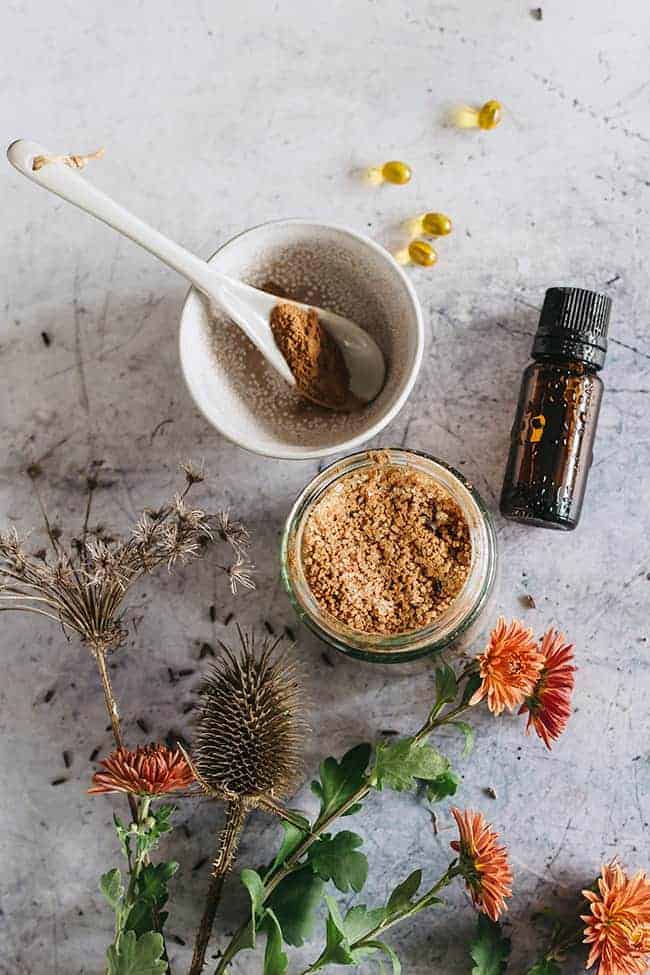 Firming Pumpkin Spice Facial Scrub
Physical exfoliation of your face is key to moisturizer absorption. As dead skin cells are sloughed off, it allows for better penetration of serums because the barrier has been removed.
1/2 cup brown sugar (the finer, the better)

1 tablespoon

rosehip seed oil

1/2 teaspoon pumpkin pie spice

1/2 teaspoon

vitamin E oil

or oil from a few vitamin E capsules
Combine all of the above ingredients in a bowl and mix well. Apply to clean skin using your ring and pinky fingertips and warm water.
Gently move the scrub around your face and neck, avoiding the eye area. Once you've done a few rotations over your face, rinse with warm water. Remember, the lighter the pressure, the better!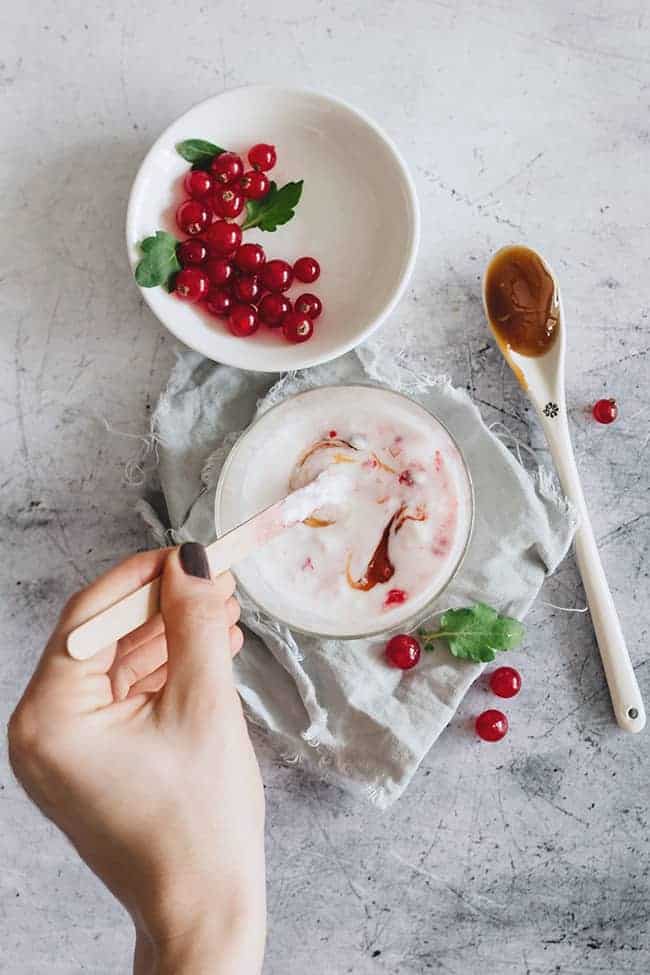 Vitamin C Cranberry Facial Mask
Rich in antioxidants and vitamins C and K, cranberries are a powerful facial ingredient that tones and feeds the skin. Its phytochemicals work as anti-inflammatories that can help boost collagen production and fight the oxidative stress caused by UV damage [source].
Yogurt and organic maple syrup will soothe and hydrate any irritation or dryness. Yogurt masks not only can fight acne and brighten skin, but because it contains lactic acid [source], it can help remove dead skin cells and reduce pigmentation.
A handful of fresh cranberries (7–9 should be plenty)

1 teaspoon organic maple syrup

1 teaspoon plain organic yogurt
Place the cranberries in a blender and run until they are well-blended. Place them and the remaining ingredients in a small bowl. Mix well to combine.
Apply with fingertips to the face and neck or use a facial brush. Leave the mask on for 15 minutes before washing off with warm water. Follow with moisturizer or serum. This mask should be applied at nighttime to avoid any sun sensitivity due to the lactic acid.
Have you given yourself an at-home facial recently?
This article was medically reviewed by Dr. Gina Jansheski, a licensed, board-certified physician who has been practicing for more than 20 years. Learn more about Hello Glow's medical reviewers here. As always, this is not personal medical advice and we recommend that you talk with your doctor.
79