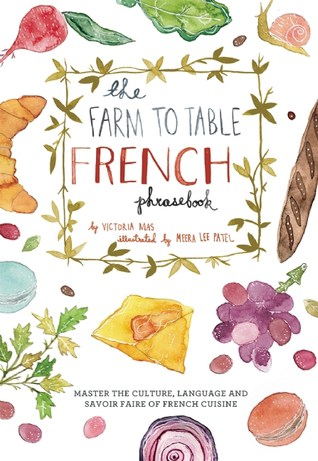 The Farm to Table French Phrasebook, written by Victoria Mas and now available from Ulysses Press, has 2 subtitles: "Master the Culture, Language and Savoir Faire of French Cuisine," and "Dine, Drink, Converse, Indulge a la Francaise." The subtitles perfectly sum up the intent of the book, which is to demystify French cuisine, French terms, and (often presumed) French attitudes so you feel comfortable eating some of the best food in the world.
The portable book begins with a short guide to French grammar and pronunciation. These few pages alone were worth the price of admission – as French food and cooking styles are increasingly more common, I often find myself feeling like a foreigner in my own country, one who has to point to menu items because I simply can't pronounce them. Now that this potentially embarrassing social situation is behind you, read on to explore French customs. Who knows, all this knowledge may entice you to change your vacation plans.
The Farm to Table French Phrasebook Giveaway – 3 Winners
Three readers will win their own copy of The Farm to Table French Phrasebook by Victoria Mas, courtesy of Ulysses Press. Containing guides on etiquette, commonly used French terms, and of course recipes to classic French dishes, Victoria Mas' book will prepare you for eating and drinking, cooking or dining, in France or on this side of the Atlantic.
What aspect of French cuisine are you looking forward to exploring with your new-found confidence?
0