Mother's Day is always a big deal, but dad deserves some love too! Think beyond the classic 6-pack and tie, and pamper him with natural grooming products, modern utilitarian designs, and of course, gourmet treats! We have a few ideas that he'll surely love – scroll down and get our Father's Day picks for the year: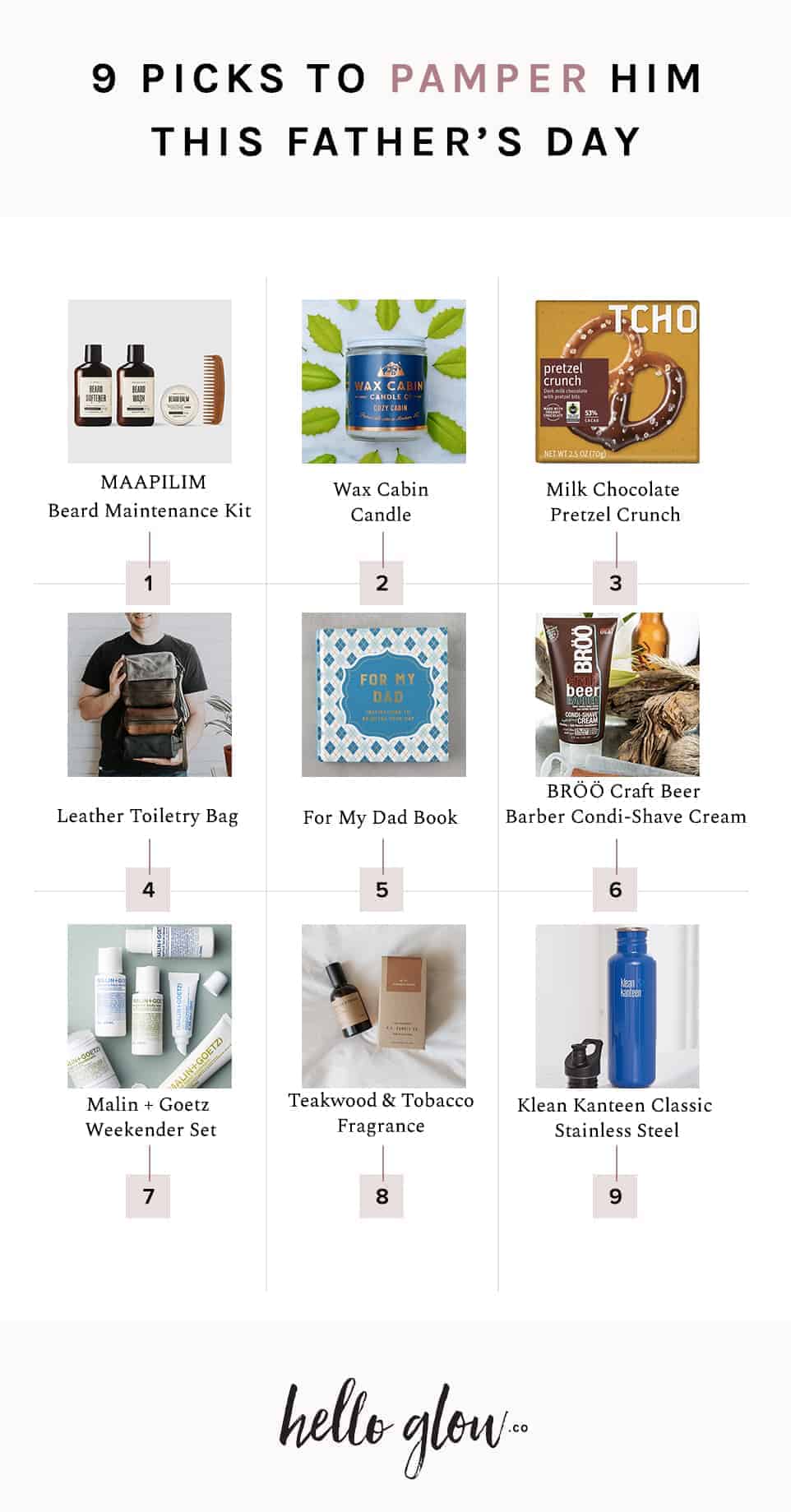 1. MAAPILIM Beard Maintenance Kit // This kit of Maapilim beard essentials includes everything he needs to give his beard the attention it deserves.
2. Wax Cabin Candle // "Cozy Cabin" is a soy based candle that combines sweet tobacco and leather, a warm yet masculine scent.
3. Milk Chocolate Pretzel Crunch TCHO Bar // For the dad with a sweet tooth, these gourmet bars combine salty, crunchy pretzels with creamy milk chocolate.
4. Pegai Leather Toiletry Bag // These minimalist toiletry bags are handmade from genuine leather, making them long-lasting and timeless, too.
5. For My Dad Book // This small books gathers an array of quotes that will make even the toughest dad melt a little!
6. BRÖÖ Craft Beer Barber Condi-Shave Cream // Beer saves the day! This 2-in-1 product is a shaving cream that doubles as a beard conditioner and it's made with clean ingredients – including beer!
7. Malin + Goetz Weekender Set // Ideal for the frequent traveler, this set of grooming essentials includes everything from hand creme, cleanser and face moisturizer to body wash and lip moisturizer.
8. Teakwood + Tobacco Fragrance // This unisex fragrance features a subtle musky scent thanks to a sandalwood, cedar and patchouli base, a heart of black tea and black pepper, plus top notes of orange, tobacco, and amber.
9. Klean Kanteen Classic Stainless Steel // This classic design is made from durable, easy clean stainless steel topped with a chip-resistant powder coating, making it ideal for adventures inside and out of the city.
0