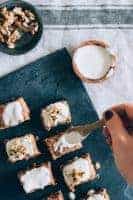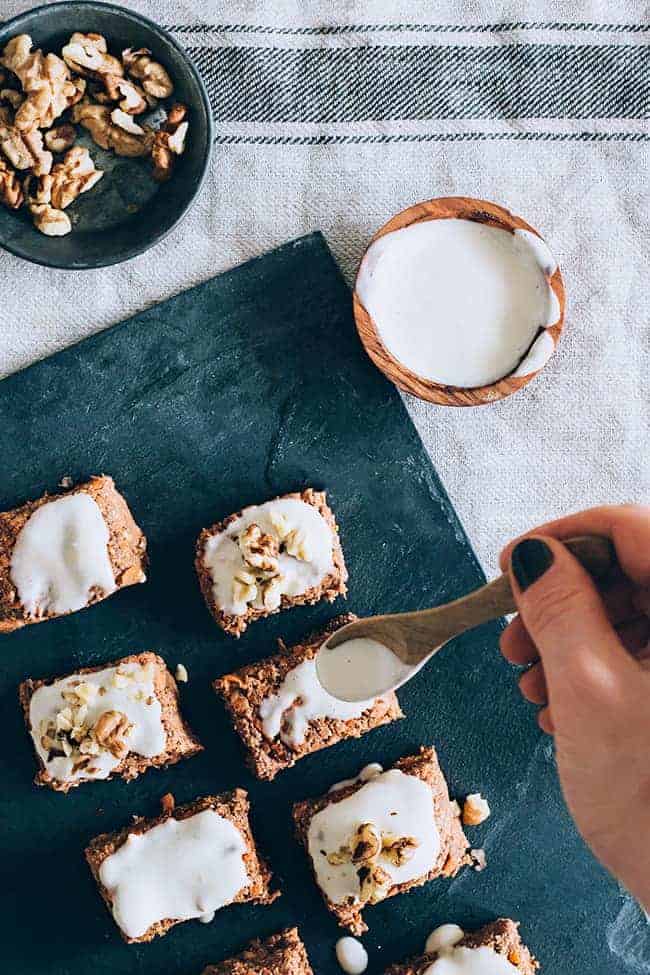 Carrot Cake with Creamy Lemon Icing
Ingredients
Cake:
1 ½ cup grated carrot
½ cup almond meal
1/3 cup coconut flour
1/3 cup chopped walnuts
¼ cup raisins
¼ cup goji berries
1 teaspoon lemon zest
1 teaspoon cinnamon
1 teaspoon nutmeg
1 teaspoon vanilla powder
Icing:
¼ cup cashews, soaked for 2 hours and rinsed
1 tablespoon coconut oil, melted
1/2 teaspoon vanilla powder
1 teaspoon fresh lemon juice
Pinch of salt
2 tablespoons raw honey or stevia, to taste
Instructions
Cake:
Add all the ingredients to a bowl and mix well with a hand blender until combined (alternately, you can pulse the ingredients in a food processor). Mold the mixture into a cake shape and refrigerate for 2 hours. To make the mixture into cupcakes, grease a cupcake pan with coconut oil or use cupcake papers. Shape the mixture into balls and press them into cupcake tray. Refrigerate for 2 hours.
Icing:
Combine the ingredients in a blender and blend until smooth and creamy. Add a little water if necessary to facilitate blending. Transfer to bowl and chill in the freezer for about an hour to allow it to thicken. Spoon over cake/cupcakes and serve.
Recipe by Hello Glow at https://helloglow.co/favorite-clean-desserts/