Summertime for most means more sunshine, adventures, pool days, beach time — and, unfortunately, extra summer breakouts. Why do we break out in summer more than other seasons? As temperatures rise, so does our oil and sweat gland activity. They are working overtime to keep our body temperatures cool. Add in extra sunscreen applications and longer days spent outside in the elements, and you've got yourself a recipe for a summer breakout. I've put together a few tips and tricks for combating breakouts in the summer.
How to Avoid Summer Breakouts
Never reapply sunscreen over makeup. It'll clog your pores. Carry makeup removing wipes or rinse off your makeup before reapplying sunscreen. Or even better, try summer out as a makeup-free season! You might grow to appreciate your natural complexion and you may be surprised how clear your skin will get without foundations or powders.
Carry a wide-brimmed hat with a high SPF with you or in your car at all times. Hats with a built-in SPF work even better than sunscreen at shielding harmful UV rays. And they won't clog your pores on hot and humid days.
Keep hydrated with water! Keeping yourself internally hydrated is a great way to signal to your sweat glands that they can chill and you've got your internal body heat under control.
Wash your face immediately after exercising. Instead of keeping the sweat, dirt and oil on your skin, try to cleanse your skin soon after a workout.
Eat plenty of fresh fruits and vegetables. Take advantage of all the fresh produce available during the summer season. Fruits and vegetables are fantastic for fighting pimples.
Switch up your normal product routine. The moisturizer you used all winter long will most likely be too rich and heavy for summertime. Swap it out for a lighter moisturizer, even oil-free if you are constantly battling breakouts.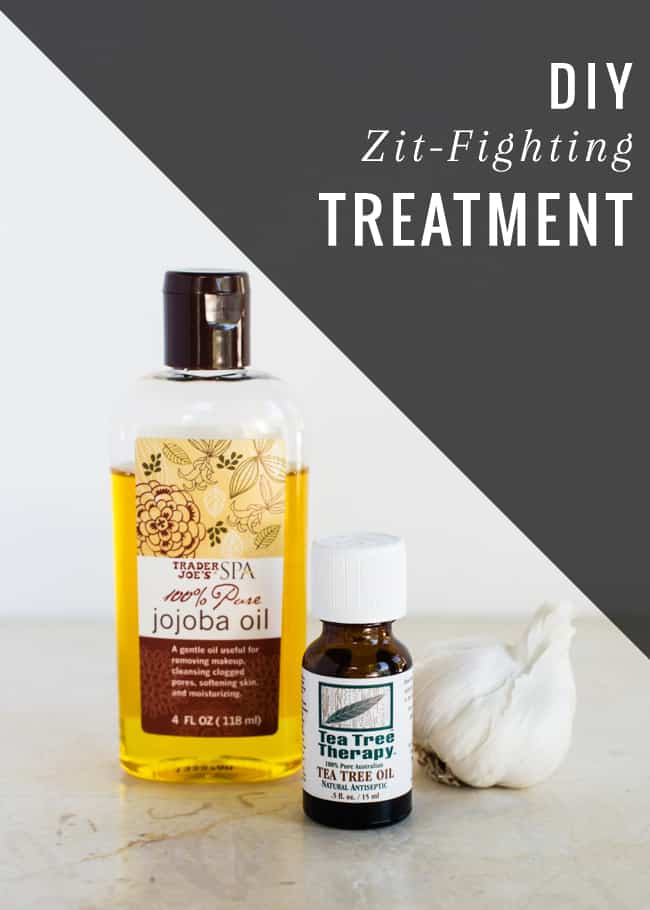 Sometimes acne is inevitable, even if you do follow every tip and try your best to keep your skin clean and clear. This homemade zit treatment is great for those occasions. Jojoba oil is known for fighting the production of excess oil. Garlic is both antibacterial and anti-inflammatory, and tea tree oil is antiseptic, antibacterial, and it reduces redness and inflammation.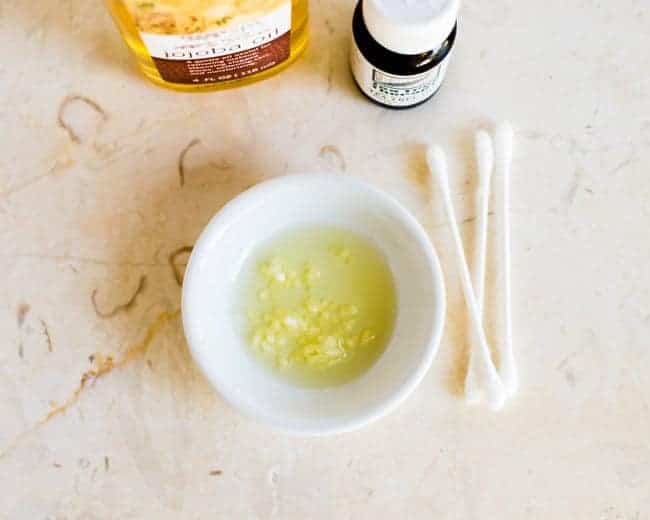 This spot treatment works best when it's made as fresh as possible, so make small batches.
Take half a garlic clove and chop finely or mash it really well with the back of a spoon (or mortar and pestle). Add 1/2 teaspoon jojoba oil to the garlic. Be sure not to substitute another oil in place of jojoba as some oils can clog your pores, defeating the purpose of the treatment. Add 1-2 drops tea tree oil and mix.
Apply to any acne spots or pimples with a clean finger or Q-tip. Don't be afraid to leave pieces of garlic on pimples to let them work their magic. Leave the spot treatment on overnight and then wash off in the morning. The mixture can be stored in the refrigerator for a few days, but again, fresh is best for potency.
Photos by Lindsey Rose Johnson
8