Is it wet, cold and dreary where you live? For much of North America, winter is a time when stagnant energy rises and the doldrums set in. According to the Indian wellness system of Ayurveda, however, there are things that we can do to make ourselves feel more balanced in this heavy, damp time of year.
Kapha is one of the three doshas (constitutions) in Ayurveda. It governs the earth/water element in the body. Winter is the season of kapha, so just as vata people tend to feel most imbalanced in the fall, people who are primarily kapha might find it even more of an uphill battle in the earliest months of the year.
Have you noticed that laziness is getting the better of you? That you have very little motivation to get things done? Have you lost energy and gained weight? Are you feeling more depressed or down than usual? These are all signs of kapha in a state of imbalance.
Everyone has this constitution to some degree, but people who have a dominant kapha dosha tend to have solid bodies (they put on weight easily and find it very hard to shed), oily skin, thick hair and large eyes. They also tend to have very little get-up-and-go energy, but once they get moving their stamina is second to none! If you aren't sure of your dominant dosha, try an online quiz to find out.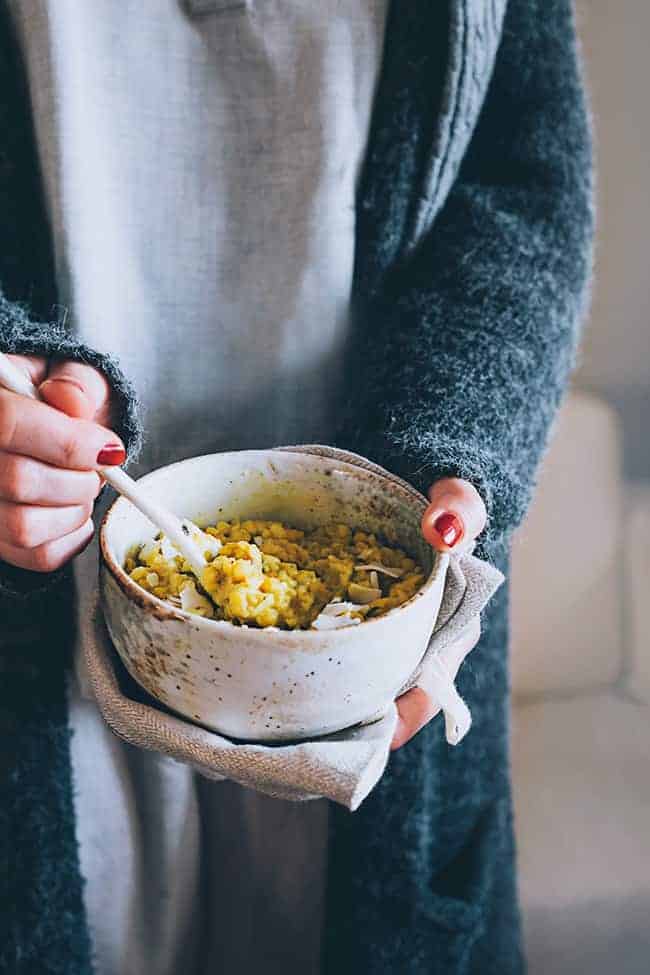 Here are some Ayurvedic tips to help you kick the lazies to the curb and find more of the energy you've been missing this season.
1. Kick dairy to the curb
Kapha types already have a tendency towards too much moisture/mucous in the body (think lung and sinus infections every time you get a cold), and dairy increases mucous production. It's also very high in sugar. If you feel you must have dairy, make sure it's low fat and used minimally. Goat milk products are also a better choice for kapha types than those made of cow's milk.
2. Eat bitter, dry and raw
If your diet is high in nuts or sweet and heavy fruits and vegetables like avocados, coconuts, melons, bananas, sweet potatoes or squash/zucchini, try taking a pass on them until spring. Right now what you need is lots of lean white protein like chicken, fish or eggs, and green vegetables that err on the bitter side (think okra, brussels sprouts, kale, beet greens and collards.) Keep the added fats like oils and spreads to a minimum. Try baking or roasting instead of wet cooking methods like poaching, steaming or boiling. Raw and sprouted foods are great for kapha as they increase prana (energy) in the body.
3. Cut the sweets
When kapha is out of balance, so is the sweet tooth! You may find yourself more drawn to sticky pastries and treats, but now is a good time to consider that sugar detox plan. Some honey is okay for kapha, but processed sugar is definitely a no-go. Try adding a bit of fruit juice to the dressings you use on your foods, and choose low-sugar alternatives to satisfy your cravings. Dark chocolate is a step up from the usual chocolate bar if you must give in, and if you're hunting around for a snack, try popcorn as it's dry and relatively low fat.
4. Spice up your life
All of the doshas have particular spices that help to bring them into balance, and the ones that work best for kapha are the ones that have kick! Black pepper, garlic, cayenne, ginger, mint, mustard, cumin and cinnamon are all great choices to add flavor and interest to those healthy, raw meals. They will help to invigorate both you and your digestive system.
5. Sweat it out
Being motivated to exercise can be a chore on the best of days, but when kapha energy is dominant it can feel nearly impossible. Even though you might feeling like giving in to the take-a-bath and get-a-massage self-care model, the best thing you can do for yourself is to move your body and move it well. Kapha is like a frozen river—it needs heat to get it moving!
Find a hot yoga studio and make a date with a friend so you won't back out. Join a kick-boxing gym or a spin class, anything that will get you sweating… a lot. Exercise can also be a great way to get a better handle on persistent low moods that many of us experience at this time of year.
6. No naps!
It can be tempting to give into the call for some mid-day naps but it's not what you need to fill your energy bucket—in fact, it will only deplete you further. Try not to oversleep at night as well. It can be tempting to hit the snooze button, but contrary to what you're thinking at the time, you won't feel better by giving in to the call for more zzzs. Use that extra time for fitting in those gym dates or prepping some healthy meals for the day.
7. Try something new
Kaphas are creatures of habit, but it also means that they can find themselves bored and unmotivated. If you feel "stuck" right now, take that as a sign that it's time to shake things up and try something new. Sign up for classes, workshops or lessons that make you feel excited and engaged. Be a beginner at something again. Stimulating your mind will help you to fight the feelings of stagnation that can also contribute to the down moods of the season.
8. Avoid dampness and stay warm
Skip the saunas, the humidifiers and the aquafit classes. Keep your home environment dry and warm. It's great to get out there and work up a sweat, but be sure to dry off completely and don't let yourself head out into the frigid temperatures unless you are bundled to the hilt. Wear a scarf and keep your throat, mouth and nose covered on those dampest days.
Sometimes it can feel like these winter months will last forever. And when our moods are in the gutters and our energy levels have bottomed out, it can be even harder to make it through. But no one wants to squander away a quarter of the year because they can't seem to get themselves going. Following a kapha-pacifying protocol can help to bring you back to that place where you feel more equipped to meet your day head-on, with energy and vitality.
Photos by Ana Stanciu
Save
Save
1