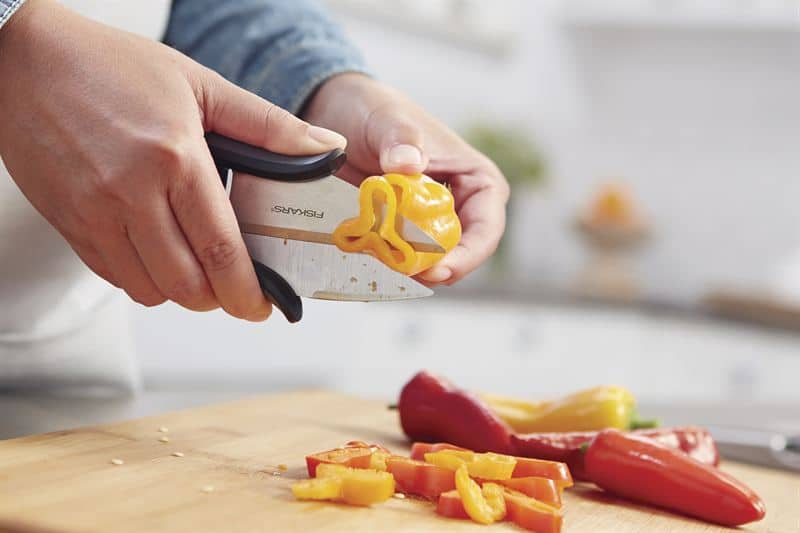 Fiskars believes that even the simplest things can be made better and smarter. "Every tool we make should feel like it was designed for your body, the way the you like to work and the activity you love — because it was. From immersive work-along interviews to collaborative ideation with pros to careful consumer segmentation research, we put in the study before we create. We call this holistic philosophy Advanced Human Engineering, and it has made our tools favorites among passionate people worldwide."
Fiskars makes amazing kitchen scissors, which are probably the most efficient way to mince herbs and veggies right into the bowl. If you are growing your own herbs this summer, these scissors are the perfect way to add them to your salads, pastas, soups, and more!
Fiskars Fast-Prep Shears Giveaway
Hello Glow partnered up with Fiskars to offer one reader a quick improvement to their kitchen! Here's what you can win:
Fast Prep Herb Shears – Ideal for quickly mincing herbs and veggies right into the bowl, these dexterous, dishwasher-safe shears feature a more compact stature to maximize accuracy when preparing fresh  ingredients like chives, thyme, mint, and basil.
Fast Prep Kitchen Shears – This streamlined, dishwasher-safe design makes it easy to chop vegetables, herbs, and even meat…with no cutting board required.
Hello Glow received product for review purposes. All opinions are 100% ours.
0