A luscious chocolate cake that is gluten-free and also dairy-free? Yes, it is possible, and we are such big fans of desserts that come together without effort or skills. This recipe for flourless chocolate cake is dense, fudgy, packed with dark chocolate and walnut flour that gives it a delicious nutty taste. It comes together really easy, it's light and healthy. Definitely a keeper!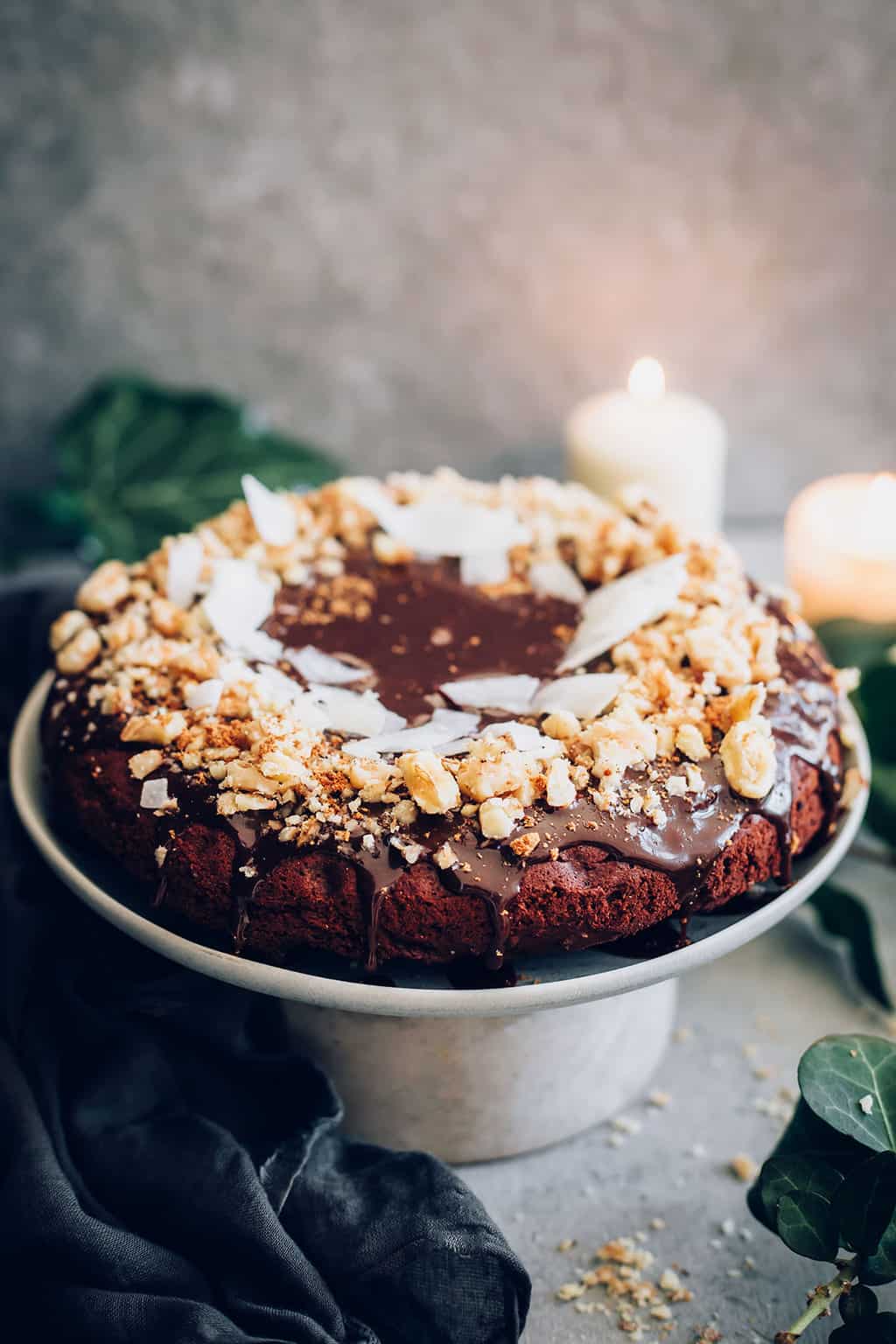 How to make a flourless chocolate cake

The secret to making a fudge flourless cake is to replace plain flour with fine ground nut flour. The eggs and melted chocolate will do the rest of the work, while replacing the butter with coconut oil will still make it fudgy and moist. So, here are the main ingredients we used for this gluten-free chocolate cake:
Melted dark chocolate – it is the first step towards a fudge cake. The cocoa butter is a healthy fat that will give your cake the moisture we all love.
Walnut flour – this isn't a real flour, but actually lightly toasted walnuts ground in the food processor. This will add a delicious nutty taste and substitutes plain flour, for a healthier take on classic chocolate cake.
Coconut oil – to make our cake dairy-free too, we swapped butter for coconut oil. It gives the cake a fudgy texture and a mild, delicate coconut flavor.
Plant milk – instead of cow milk.
Coconut sugar – instead of refined sugar, to reduce the glycemic index, and turn the chocolate cake into a guilt-free one, that won't burden your digestion or dramatically raise your blood sugar level.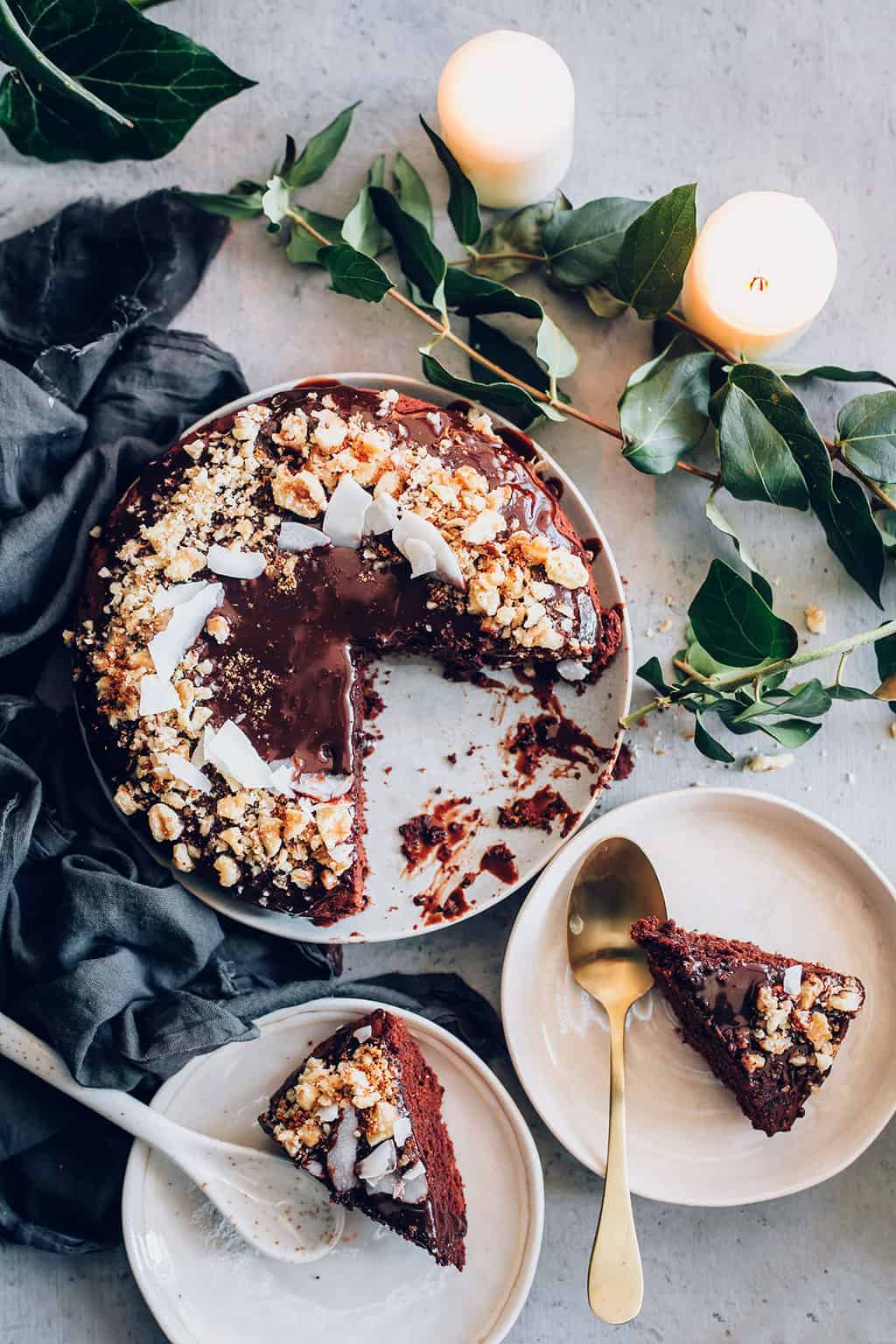 Can I freeze flourless chocolate cake?

We love this very easy dessert also because it freezes perfectly. You can bake it a week before the holidays and freeze it, for a a delicious home-baked dessert that doesn't waste any of your time on Christmas Day.
Looking for more easy chocolatey treats? Try our Healthier Chocolate Fudge, the Christmas Edition, our Dark Chocolate Cherry Granola Bites or our Vegan Triple Chocolate Doughnuts.
Did you try this recipe? Post your photo and tag us #helloglowblog on Instagram so we can share it with our community.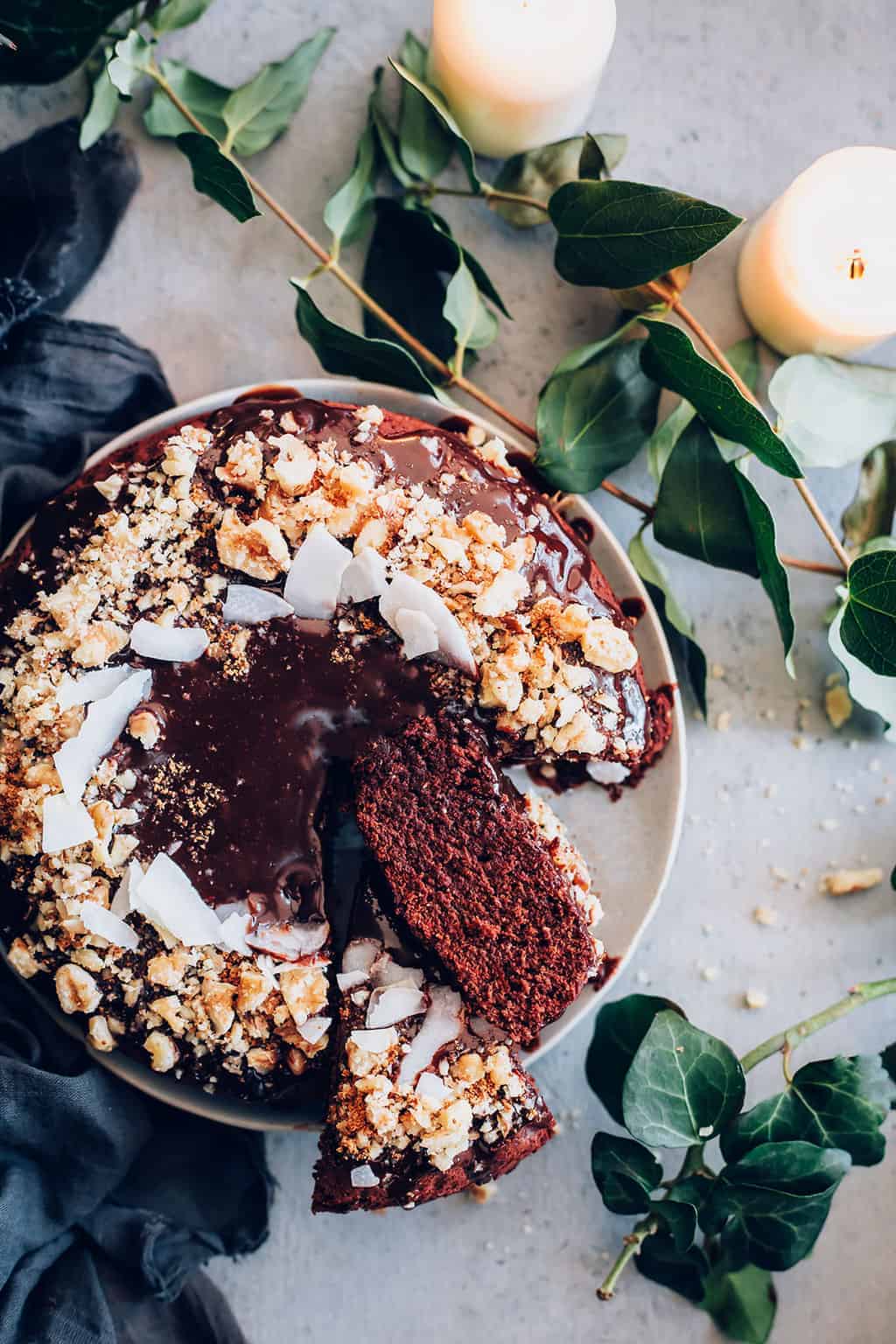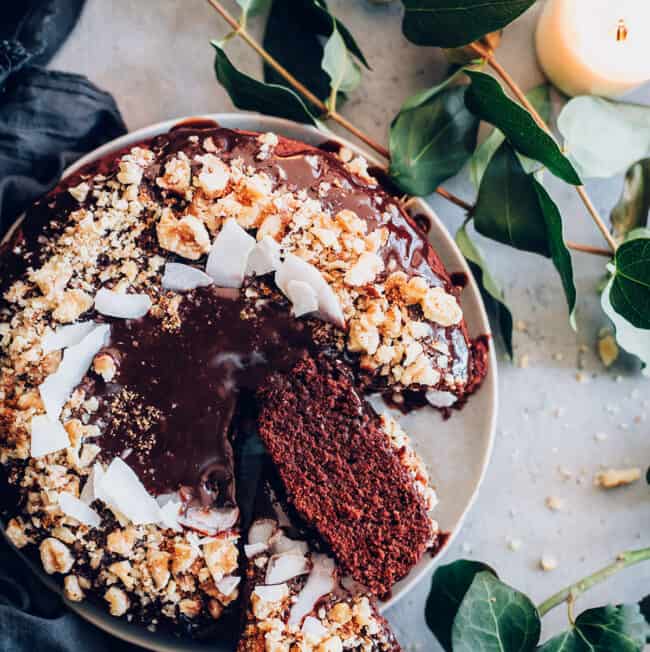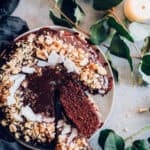 Print Recipe
Gluten-Free Chocolate Walnut Cake
Gluten-free and dairy-free, this easy chocolate cake is the best guilt-free dessert to enjoy with the whole family.
Ingredients
12

oz

vegan dark chocolate

chopped

5

tbsp

coconut oil

melted

1

cup

walnuts

lightly toasted

2

tbsp

dark cocoa powder

5

organic eggs

3

tbsp

coconut sugar

1/4

tsp

salt

1

tbsp

coconut flakes

to garnish
Instructions
Preheat the oven to 175C/346F. Grease a 9' round baking pan with coconut oil and set aside.

Add the chopped chocolate and coconut oil into a heatproof bowl and place over a pot with simmering water. Turn the heat to low and let the chocolate melt, stirring frequently, to incorporate the coconut oil. When the chocolate is completely melted, remove the bowl from the pot and set aside.

Beat the eggs into a large bowl.

Add the walnuts into the food processor and pulse a few times to obtain a fine flour. Add Save 1 tbsp for garnishing, then add the cocoa powder and salt, pulse one more time to incorporate and transfer into the bowl with the eggs.

Slowly add 2/3 of the melted chocolate coconut mixture to the egg bowl, mixing constantly, to incorporate. Save the 1/3 left for garnishing the cake.

Pour the mixture into the baking pan and bake for 30 minutes, until set.

Remove from the oven and let cool completely before removing from the pan.

Pour the rest of the melted chocolate mixture on top of the cake, and garnish with walnut flour and coconut flakes. Cut into slices and serve.
Nutrition
3