We partnered with iHerb to share some of our favorite beauty hacks, but all opinions are our own. Thanks for supporting our advertisers!
Some of the healthiest foods we have in our pantries can do double duty on our faces too! And doesn't that just make sense? If it has vitamins and nutrients that nourish your body, of course those same ingredients will also nourish your skin. We're all about creating our own beauty products here because it's a great way to avoid unsafe ingredients and save a little money in the process. Here are 3 simple natural beauty hacks you can make with food:
Green Tea Toner
I love using green tea as a skin toner. It contains huge amounts of antioxidants, enzymes, amino acids and polyphenols. Plus it's also rich in B vitamins, folate, manganese, potassium and caffeine–all of which are amazing for skin. When applied as a toner, it may help combat free radicals, rejuvenate skin, heal blemishes and improve skin elasticity.
To make, simply brew a cup of tea (I like using St. Dalfour Organic Green Tea with Mango), pour into a small glass jar and let it cool. Dip a cotton ball in the mixture and apply to skin twice a day. Store in the refrigerator for up to a week before replacing with fresh tea.
Raspberry Lip + Cheek Stain
Believe it or not, freeze-dried raspberries make the best lip and cheek stain. Grind Nature's All Foods Freeze-Dried Organic Raspberries in a coffee grinder or crush them using the back of a spoon. Then mix 1 teaspoon of the raspberry powder with 1 teaspoon melted coconut oil (if you're not a fan of the seeds, strain through a mesh strainer before using). You don't even have to wait for it to solidify. Just dab a bit on cheeks and lips for a fresh–and natural–glow.
Raw Honey Acne Spot Treatment
As much as I would prefer to not have to use this in my thirties, I still get the occasional hormonal breakout. And rather than turn to harsh pimple creams, I always apply a dab of raw honey to the inflamed areas. It's gentle, nourishing and effective. Plus, raw honey is loaded with antioxidants, vitamins and minerals so it heals without aggravating my skin even further.
And last but not least, it's antibacterial and anti-inflammatory which makes it an amazing for breakouts. Let it sink in overnight and rinse off in the morning. Continue to apply it until the zit has disappeared. Oh, and make sure you use a high quality honey, like Y.S. Eco Bee Farms Raw Honey.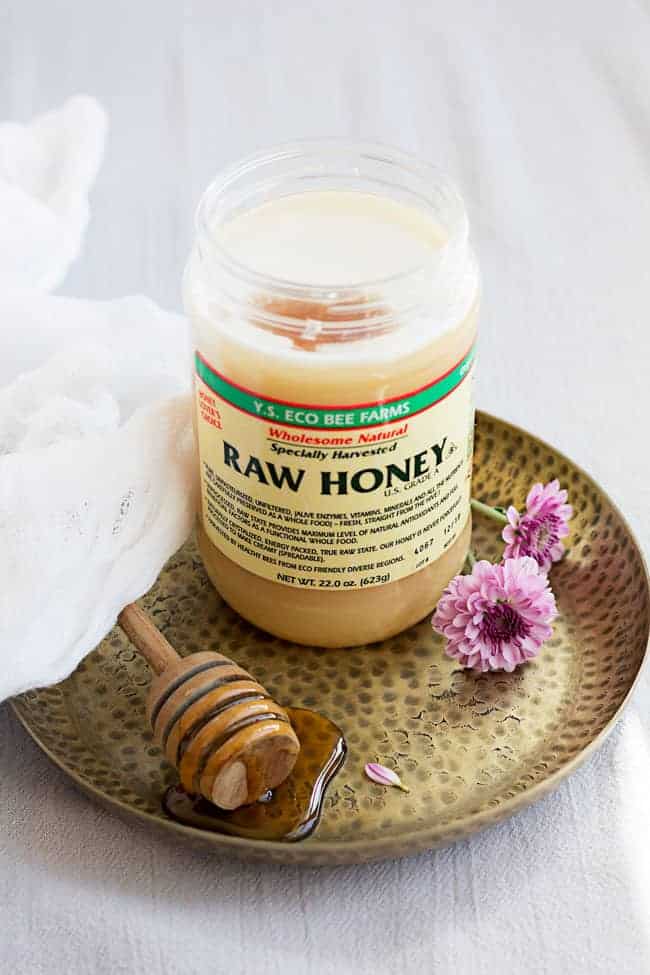 All of the products used in these hacks are from iHerb, an online natural products company that sells over 35,000 products and ships to over 160 countries–and they're a Google Trusted Store with a Customer Service team that provides support in 10 different languages.
But iHerb is more than food! They also have an amazing selection of natural, organic, non-GMO, and paraben-free beauty products, for those times when you don't have time to whip up something on your own, but you still want to make sure what you're using is safe.
And as an added bonus, you don't even have to leave your house. You can shop from your sofa and count on their 3-5 day shipping to deliver your goodies before the week is over. Always a plus.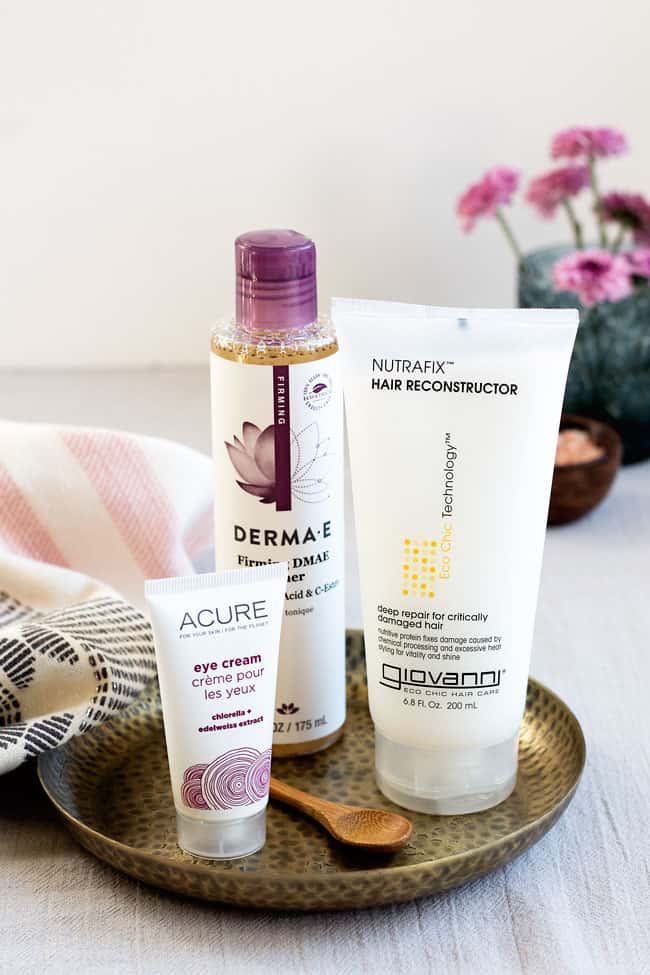 For less than $60, I was able to score a face mask, eye cream, hydrating hair mask and several awesome grocery items that are great for skin. That's unheard of in the natural beauty world, so needless to say I'm a fan. Here's my beauty haul: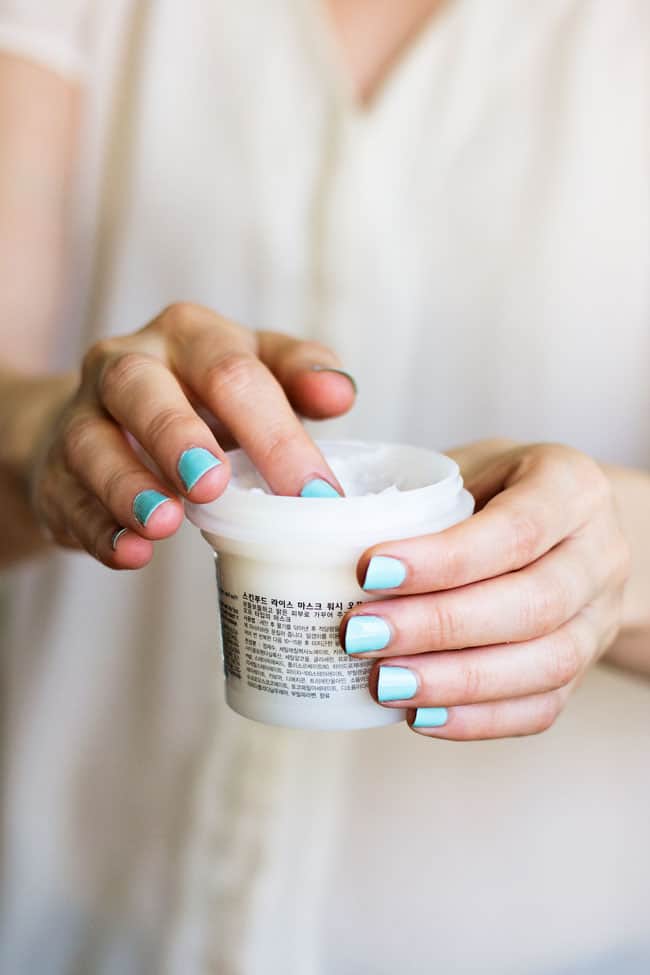 My hair is a little on the parched side. And while I love natural hair masks (avocado + egg yolk for the win), sometimes you don't have the time or ingredients to DIY it. This hair reconstructor from Giovanni delivers. Simply hop in the shower, wash your hair as usual and follow up with this intense moisturizing mask for ten minutes while you shave your legs. Then just rinse and style as usual. It will leave your hair so soft you won't be able to stop touching it.
I keep hearing that eye cream is a must as we get older. Shea butter is a great alternative for use as an under eye cream, but sometimes, you need a product that is made specifically for your eyes. This cream from Acure is loaded with chlorella and edelweiss extract to hydrate the skin and lock in moisture. I love that it's non-greasy, doesn't irritate my eyes and (best of all) doesn't cause my concealer to run.
I didn't know how much I needed a good toner until I bought this. I'm a huge fan of oil cleansing to remove makeup and dirt from the day, but the first time I used this I was blown away. It got rid of so much dirt and grime from my face I couldn't stop looking at the cotton ball. It was incredible.
It's alcohol free, pH balanced and loaded with Alpha Lipoic Acid and Vitamin C to refresh skin. I have noticed that it definitely helps minimize the look of fine lines and wrinkles, and it deep cleans skin to help prevent occasional breakouts.
Rice has long been used to help nourish skin and keep it feeling soft and supple. It's a rich source of Vitamin E, an antioxidant that fights aging and free radical damage, and linoleic acid which helps regenerate skin. I love that this mask contains small chunks of rice bran to help gently exfoliate dead skin. Plus it smells amazing.
I like to apply it just before I hop in the shower and let it sink in while I wash my hair. Then I'll do a quick scrub to wipe away dry skin and rinse off.

Save $5 on Your First iHerb Order
Want to give iHerb a try? Use this link to get $5 off your first order!
2