Inflammation is a natural reaction that our body has to foreign invaders such as microbes, allergens, pollen, or chemicals. This is a vital and protective measure our bodies take to keep us healthy! When inflammation becomes chronic, however, we suffer the consequences. Cancer, heart disease, arthritis, and Alzheimer's disease have all been linked to chronic inflammation.
The best cure for inflammation is prevention, and this can easily be achieved through an anti-inflammatory diet. By choosing the right foods–and avoiding those known to cause inflammation such as refined carbs, fried foods, and processed meats–we can eat our way to better health.
You don't have to make a trip to any specialty stores to find anti-inflammatory super foods. Leafy greens, nuts, fatty fish, fruits, and berries all contain powerful compounds that fight inflammation. And more is more when it comes to these foods; eating combinations of anti-inflammatory foods only enhances the overall effect.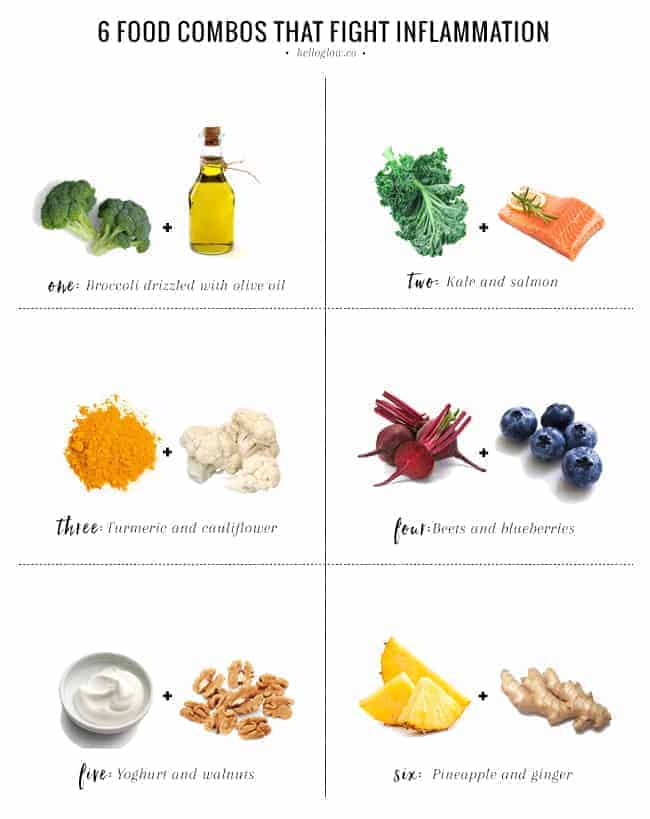 1. Broccoli drizzled with olive oil
One of my favorite ways to eat broccoli is lightly steamed, drizzled with olive oil, and sprinkled with nutritional yeast. Turns out this is a great anti-inflammatory food combo.
Olive oil is loaded with antioxidants and phytonutrients, and contains heart-healthy monounsaturated fatty acids. Broccoli is a rich source of vitamins and minerals, including potassium and magnesium, as well as antioxidant flavonoids and carotenoids that help fight chronic inflammation. When drizzled with olive oil the fat-soluble vitamins in broccoli become more easily absorbed by the body, while also enhancing absorption of antioxidants like lutein and beta-carotene.
2. Kale and salmon
Green leafy vegetables such as kale, Swiss chard, and bok choy are extremely high in antioxidants. Kale in particular is rich in vitamin A and C, as well as vitamin K, which can protect you from oxidative stress. Salmon is an excellent source of essential fatty acids, including omega-3 fatty acids, which are powerful anti-inflammatories. When eaten together, the fat from the fish helps us to absorb fat-soluble vitamin K, which is found in the kale.
3. Turmeric and cauliflower
Turmeric is one of the most powerful anti-inflammatory foods available to us. Studies have shown that curcumin, the ingredient in turmeric that is responsible for its golden color, has anti-inflammatory effects that are comparable, if not better, than pharmaceutical anti-inflammatory drugs such as ibuprofen.
Cauliflower is a cruciferous vegetable, in the same family as broccoli, kale, and cabbage, with antioxidant and anti-inflammatory health benefits. It's an excellent source of vitamin C, vitamin K, and folate. Try combining these anti-inflammatory superfoods by making turmeric cauliflower rice! A sprinkle of black pepper to finish the dish is not only delicious, but it also increases the bioavailablity of the turmeric.
4. Beets and blueberries
Have you noticed all of your athlete friends doubling down on beets lately? That's because beets are a rich source of nitrates, which help muscles work more efficiently and improve the flow of oxygen during a workout. The red colour of beets comes primarily from betalain antioxidant pigments, where as the deep purple color of blueberries comes from anthocyanins. Both of these compounds are powerful anti-inflammatory agents. Make a beet salad sprinkled with blueberries, or a deep dark purple smoothie, and you'll get a mega dose of anti-inflammatories.
5. Yogurt and walnuts
Not all yogurt is created equal, but naturally fermented yogurt (unsweetened, of course) is a great source of probiotic bacteria that help keep our digestive tracts happy. The same goes for other lacto-fermented dairy products such as kefir, and some non-dairy options such as fermented coconut yogurt, or kombucha, if dairy isn't your thing.
Why the nuts? Well, natural nuts with the skin on, such as walnuts or almonds, act as a prebiotic. That is, they feed the probiotics found in fermented food. And all those happy, well-fed bacteria in your intestines keep themselves busy fighting off intestinal inflammation.
6. Pineapple and ginger
In addition to being high in vitamin C, potassium, and manganese, pineapple is a rich source of many antioxidant and anti-inflammatory compounds. One notable compound in pineapple is bromelain, a digestive enzyme that, among other things, has been seen to help regulate the immune response that creates inflammation. Bromelain is also the compound, that, in the right doses, can help induce labor, which is why you see your pregnant friends chowing down on pineapples!
Ginger also acts to moderate immune responses that trigger inflammation, and is delicious together with pineapple. Make yourself a bloat busting smoothie or a gingery non-alcoholic pina colada and toast to your good health!
11