This is a sponsored post written by me on behalf of Helix for IZEA. All opinions are 100% mine.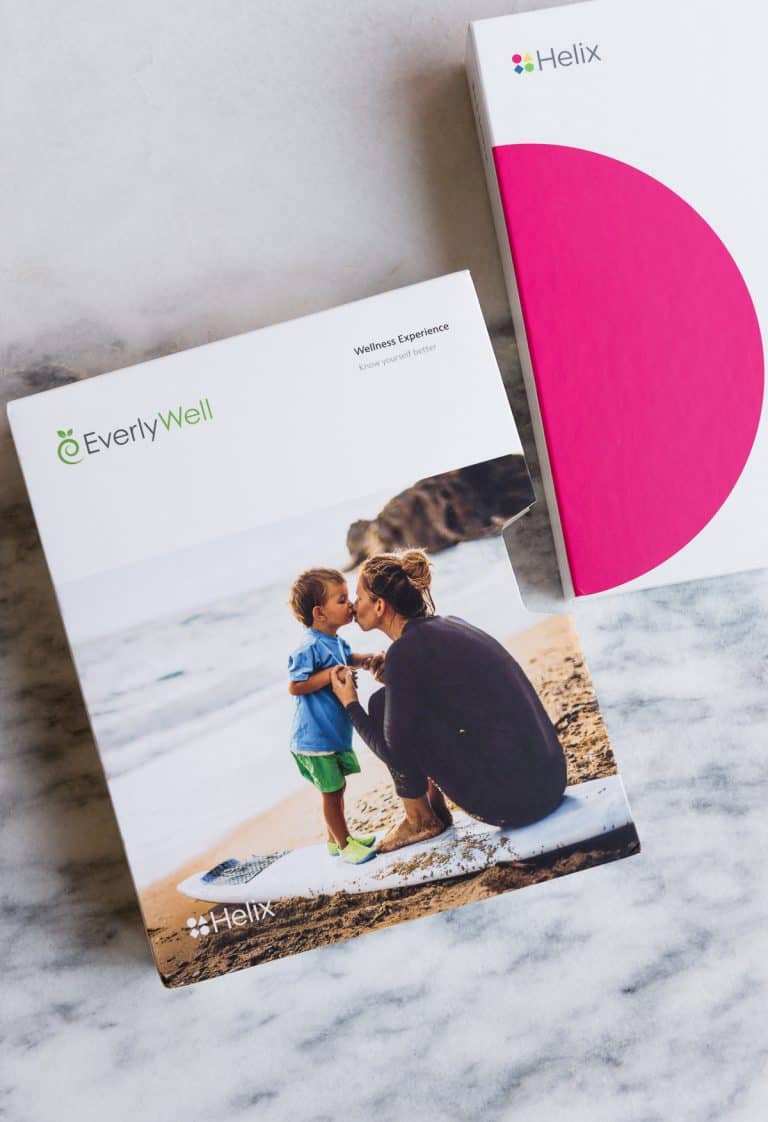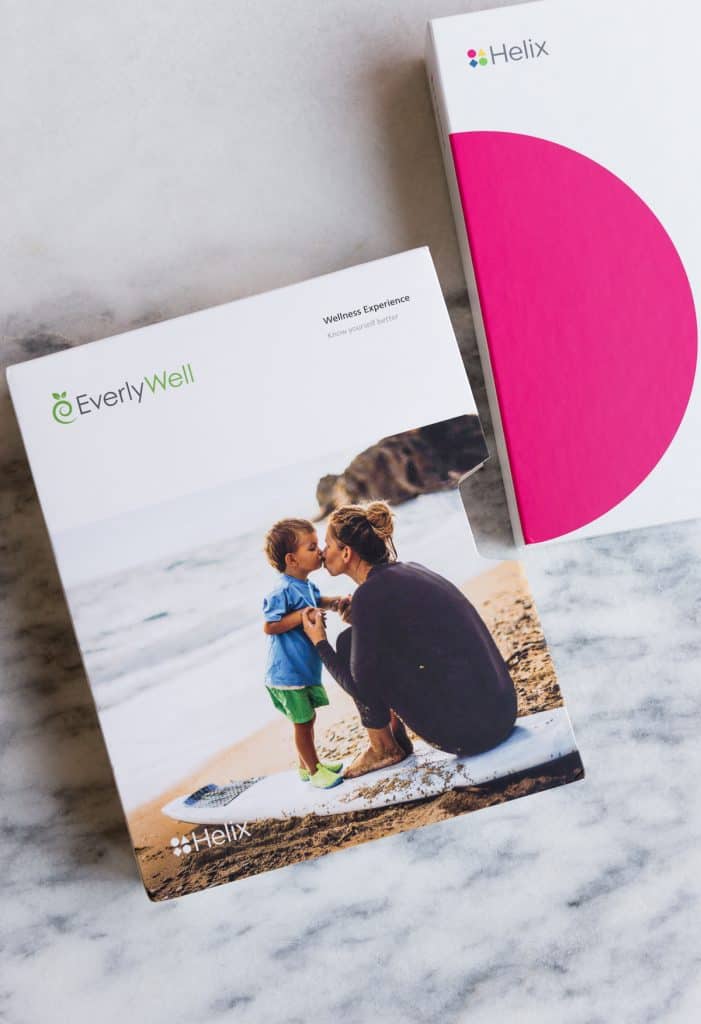 I've always been someone who liked to know more about myself. I love those silly quizzes in magazines and have taken just about every personality test there is. (I'm an INFJ, in case you're wondering.) One thing I have been especially curious about myself happens to go a little deeper into my genetic code, and that has to do with food sensitivities.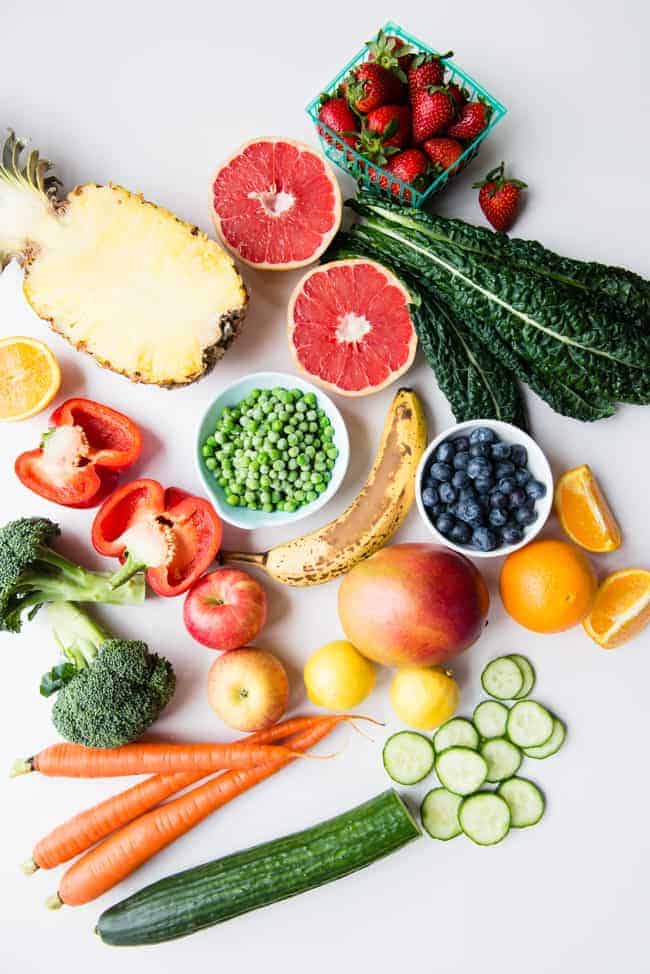 About seven years ago I first discovered the connection between my diet and how I was feeling. It was liberating and frustrating. Overnight I decided to eat a vegan, gluten-free diet for 30 days and see how I felt. I was as strict as I could be with my limited experience. Spoiler alert: I felt amazing. I had energy. I didn't ache. I felt like I could think straight. My skin was glowing.
Sooner or later, however, I slipped back into old eating patterns and was pretty inconsistent with my diet. I've been mostly good with not eating gluten…but some of those other foods are so hard to avoid.
More recently a friend of mine had been experimenting with diet changes of her own to combat some of her health issues. I didn't realize that there were home tests available to me that could give me some of the answers I was seeking. I absolutely loved the idea and couldn't wait to do a food sensitivity test of my own.
Now before I jump into my experience with taking the test, it's important to understand what a food sensitivity test is for and how the results can be used.
Food Sensitivities vs. Allergies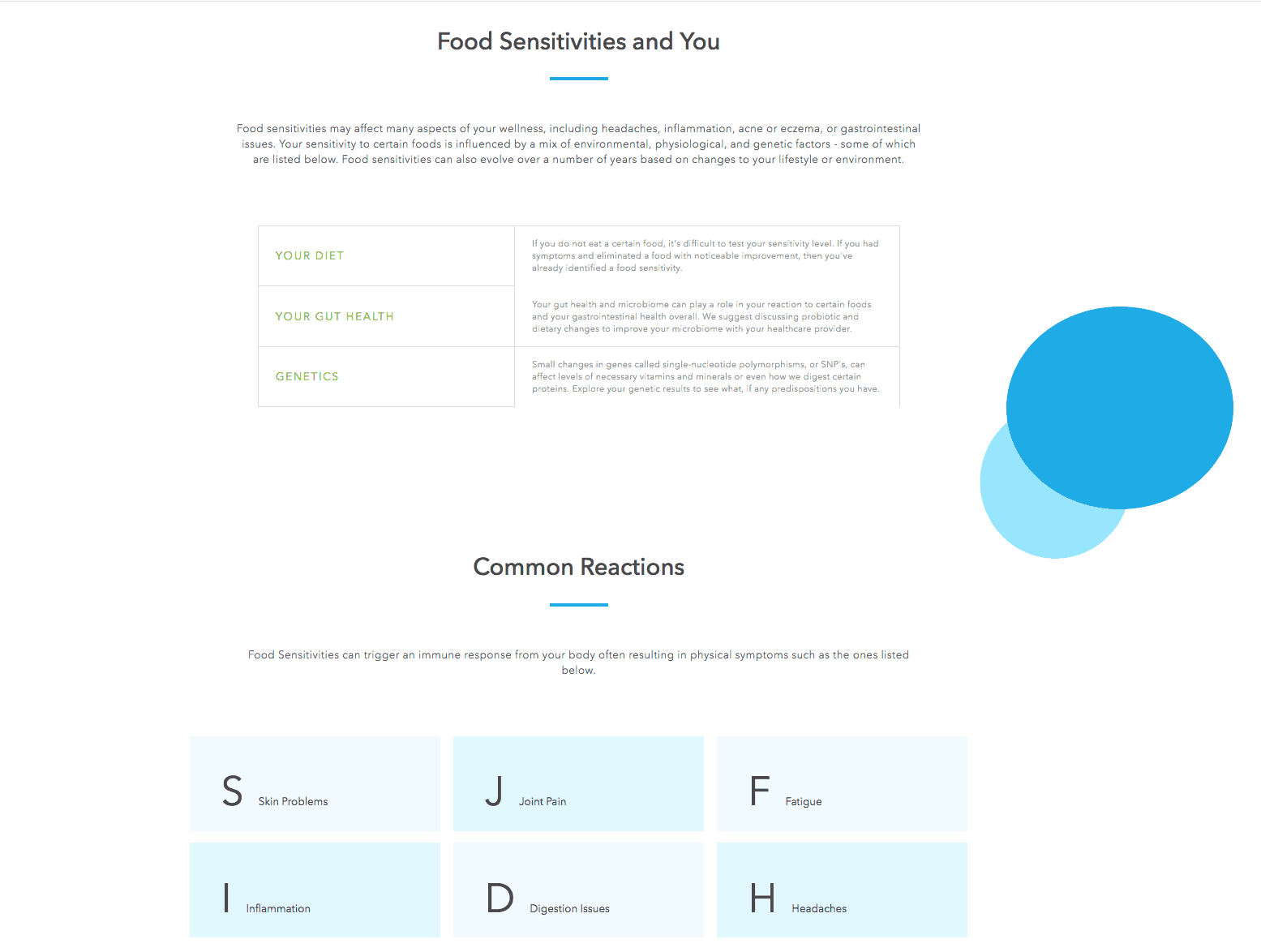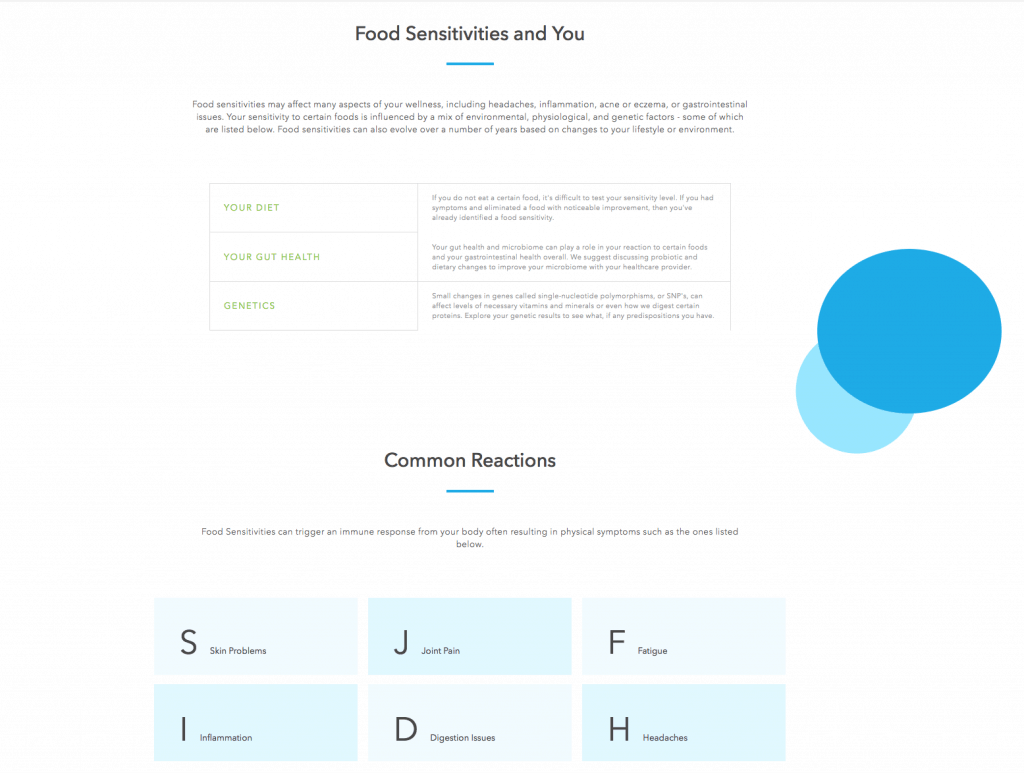 Food sensitivity and life-threatening food allergies are not the same thing. Sensitivity or reactivity is a delayed immune response by the IgG antibody (Immunoglobulin G), the largest antibody circulating in the body's immune system. This is different than the IgE response (allergy) which is more immediate and sometimes dangerous. Allergies typically cause respiratory (nose, throat, mouth) and skin reactions (hives, flushing, swelling). The foods that cause the delayed response may cause uncomfortable symptoms like eczema, joint pain, headaches, gut malabsorption, fatigue, and other chronic problems or inflammation. Not every IgG reactivity towards a certain food will cause unwanted symptoms but it's an excellent starting point if you experience any of those symptoms that don't have another underlying cause and suspect they are related to your diet. I am one of those people which is why I was so anxious to take the Food Sensitivity+ test.
Helix + EverlyWell At Home Testing Could Not Be Easier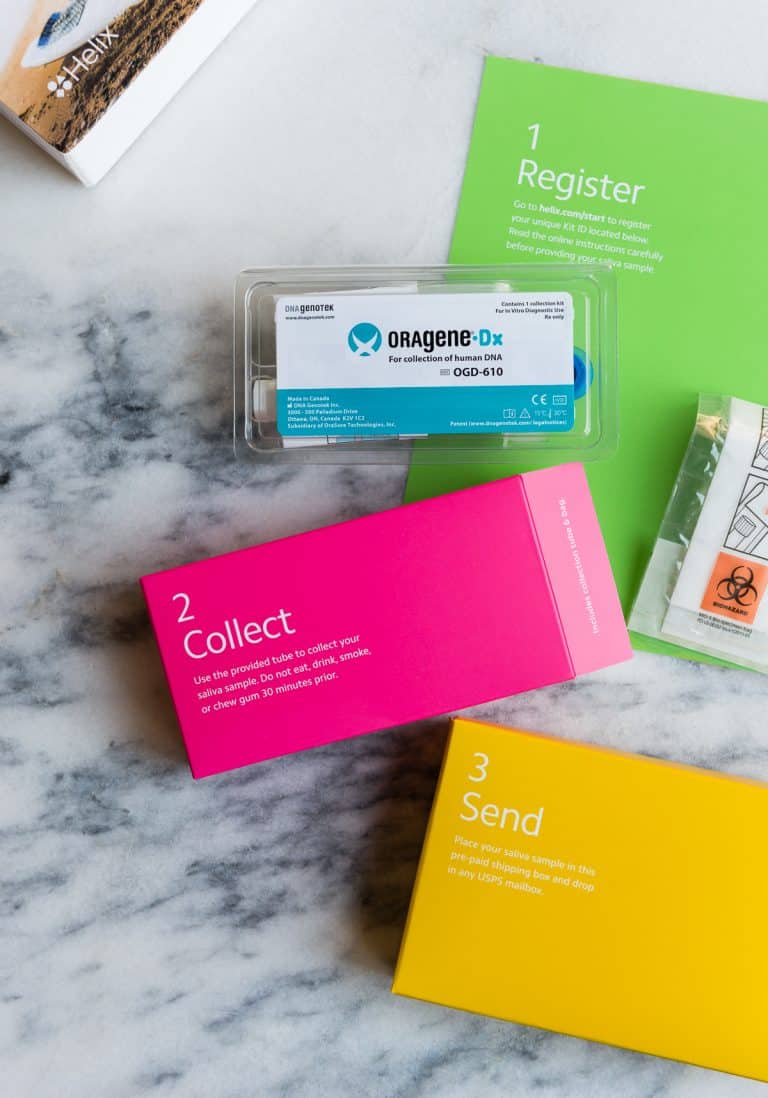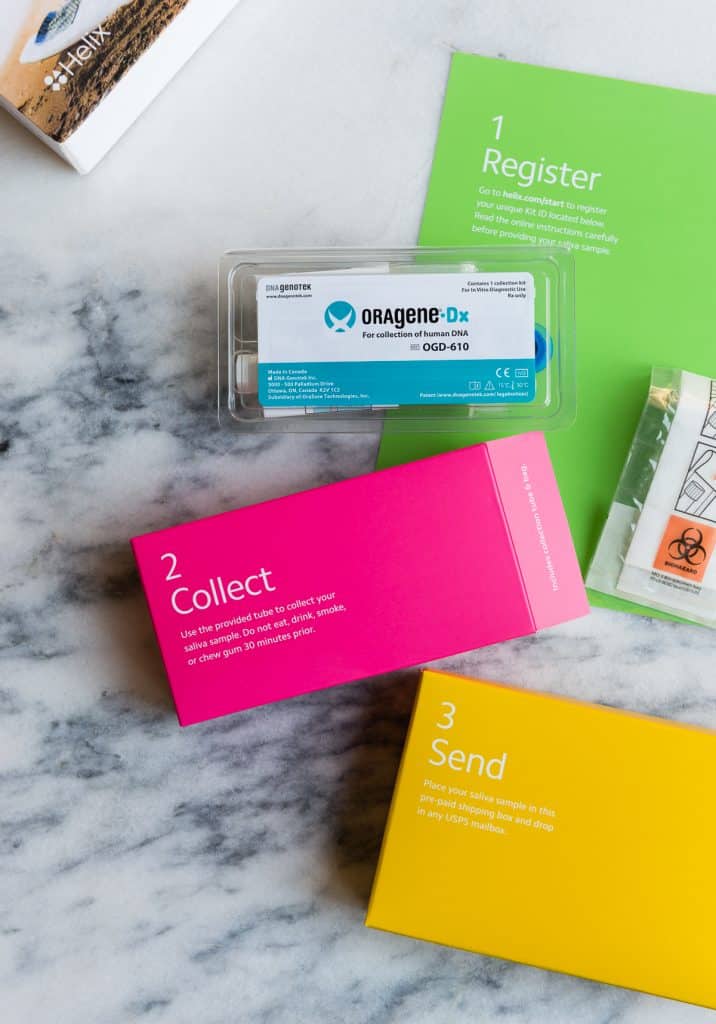 It's very easy to order the kits online. If you are new to Helix and EverlyWell, you'll order Food Sensitivity+ on the Helix Store. From there you'll receive your DNA kit (saliva sample) and an EverlyWell kit (blood sample) will come soon after in the mail. If you have already done the DNA portion with Helix before, then you'll just order Food Sensitivity+ and a EverlyWell kit will come in the mail. (As a side note, there are a bunch of other tests too. I have several others I'm planning on doing.)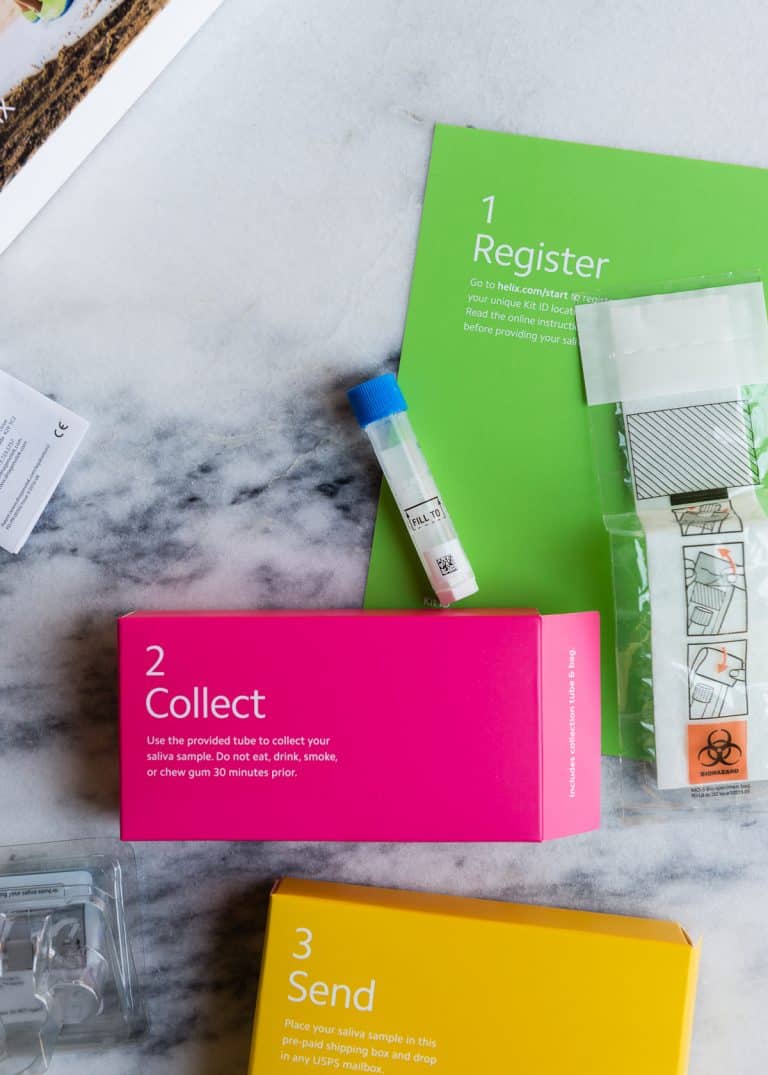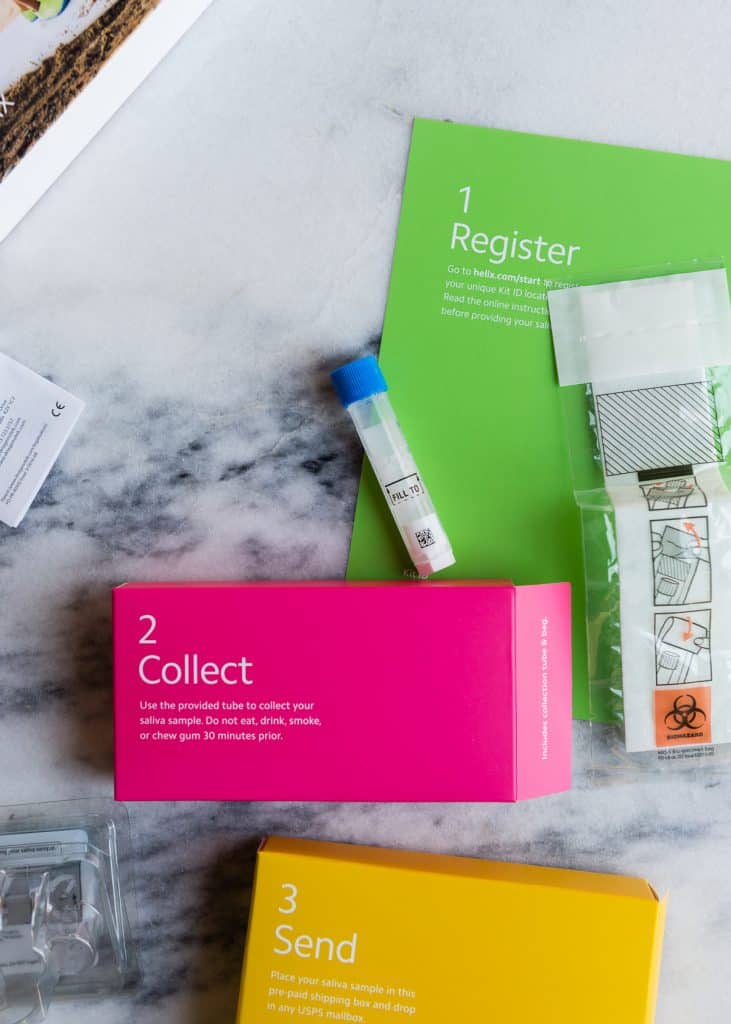 The kits arrive quickly in the mail and are very simple and straightforward to use. The instructions that come with the kits, as well as the FAQ section on the website, are very clear and help eliminate any trouble completing the tests. The DNA test uses a saliva sample and comes with a special tube for collection. For me, the hardest part of taking the tests was not drinking anything for 30 minutes for the DNA portion. Ha!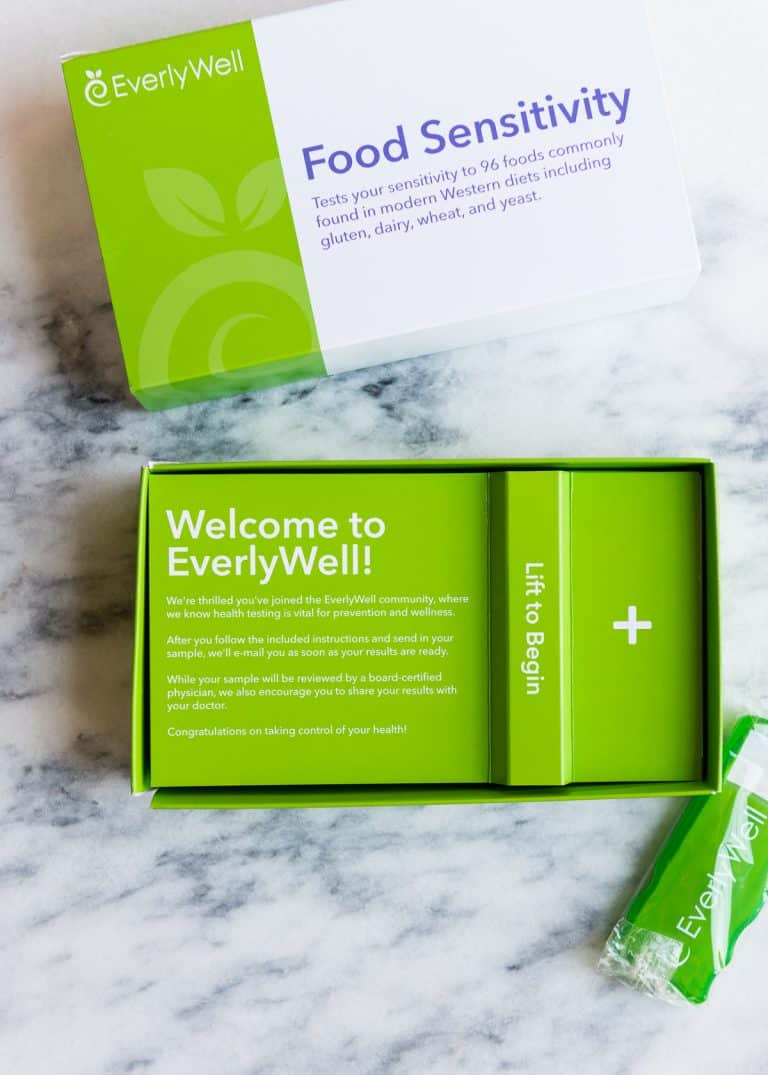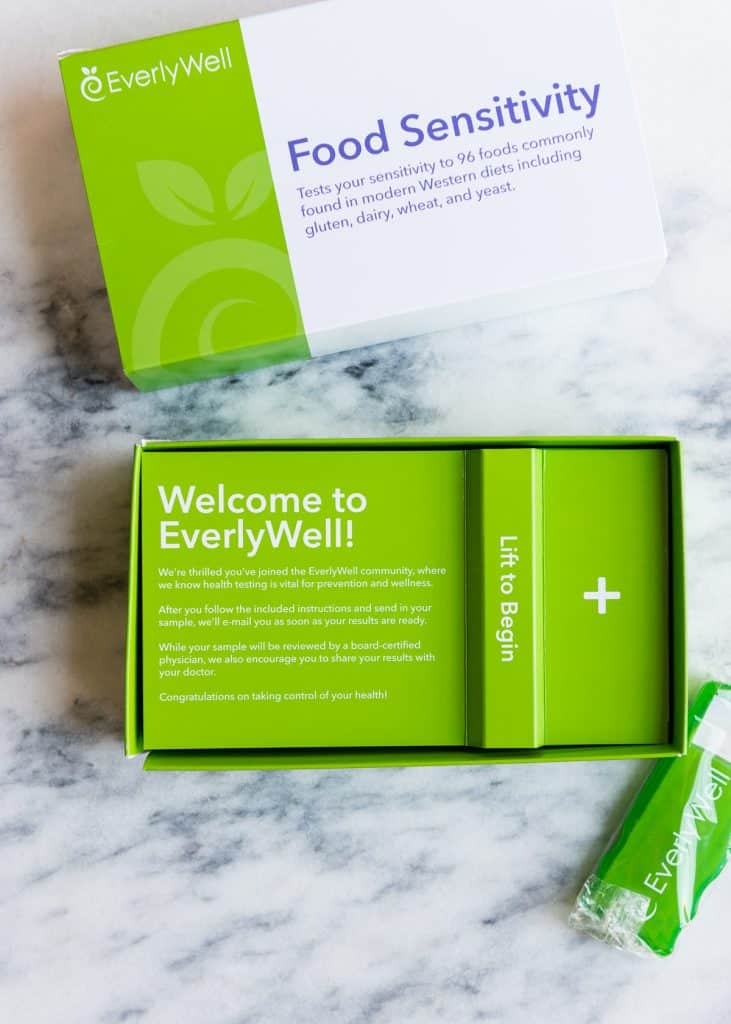 The Food Sensitivity+ test also relies on a small blood sample. Everything you need comes in the box–lancets, test card, bandages, and shipping materials.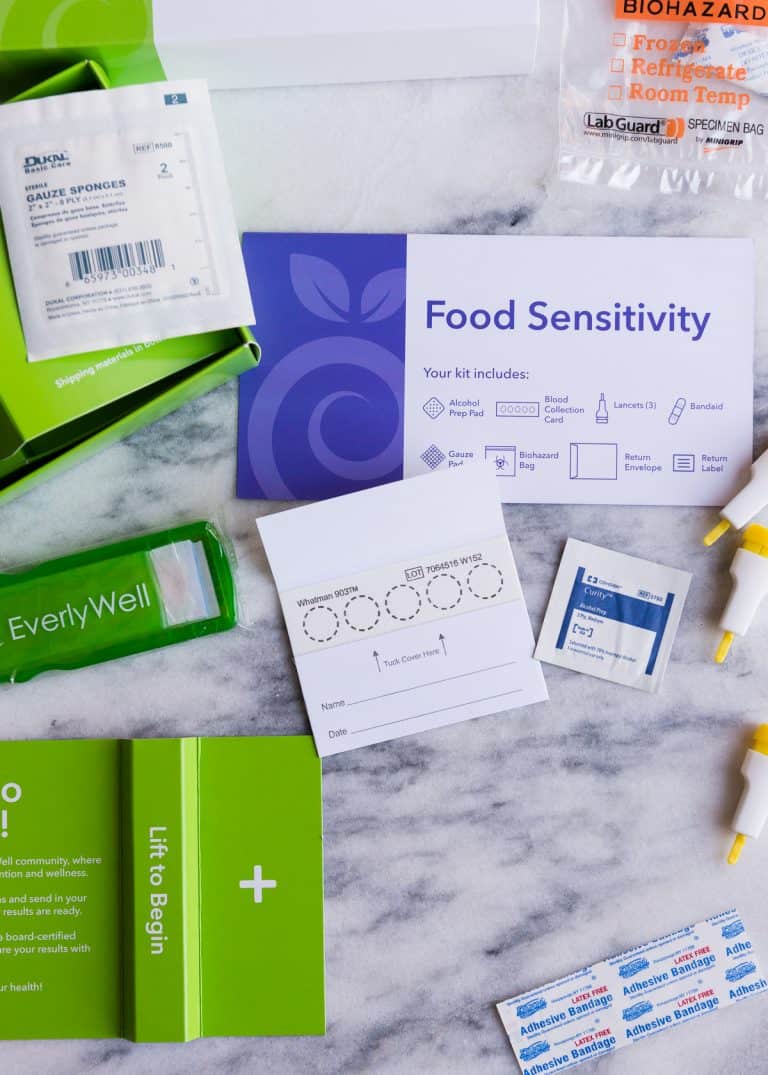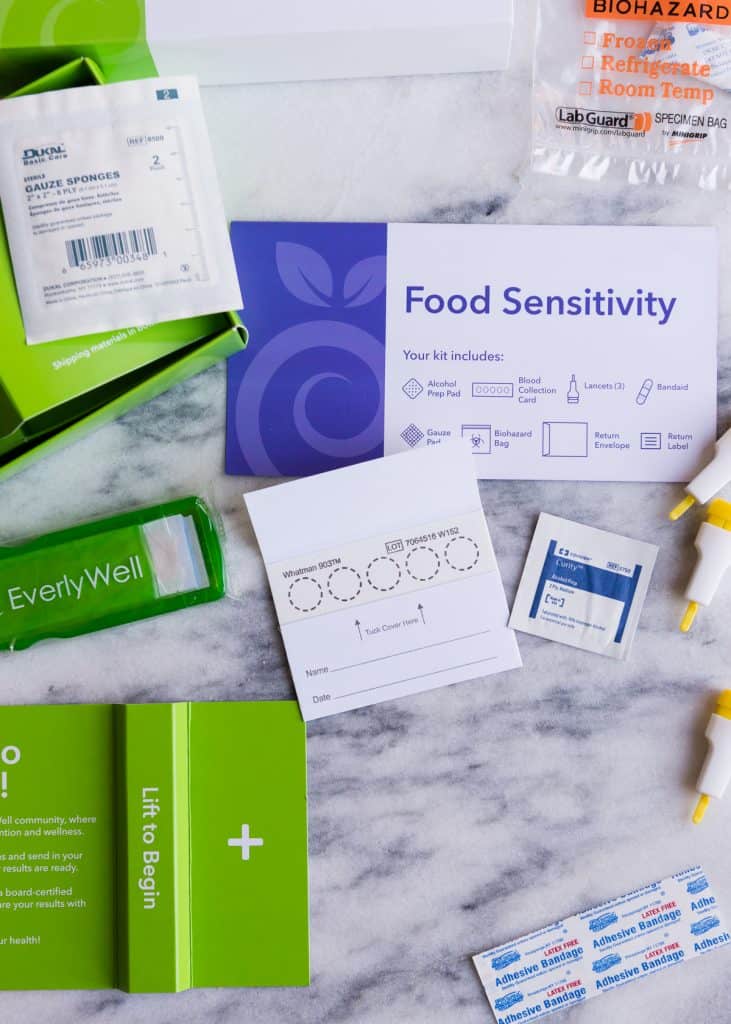 It took me maybe 10 minutes from beginning to end. Just a quick prick of the finger and few drops of blood and you're done. (Note: the blood sample does need to dry completely so that takes a little bit more inactive time.) The kits come with prepaid, addressed shipping packages to send the samples back to the lab. It could not have been any easier.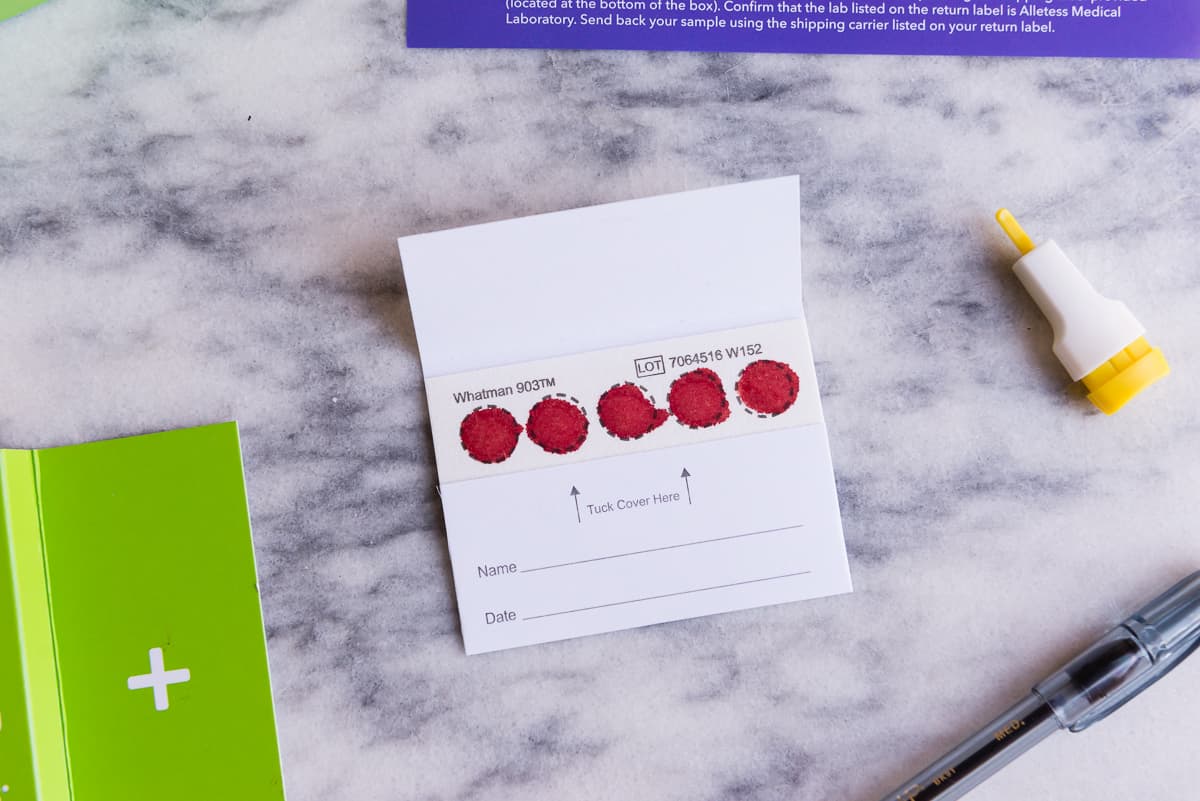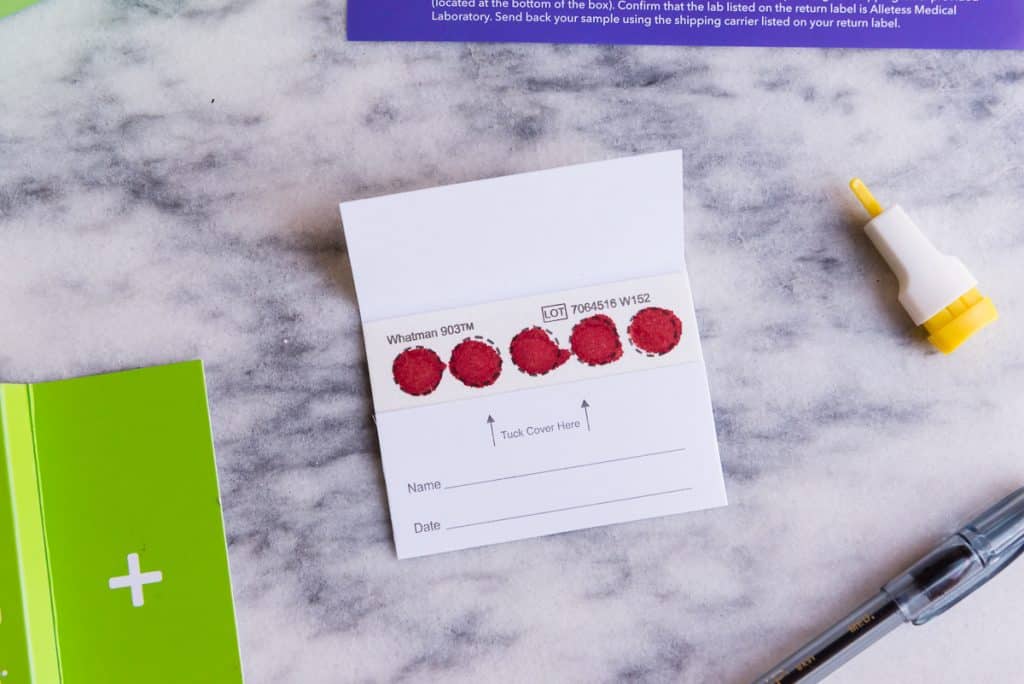 What would my tests say?! I eagerly awaited my results…
The Results
The Food Sensitivity+ results came back quicker than I had expected. It only took about a week. The DNA results take somewhere between 6-8 weeks. The progress can be checked online and you'll also receive updates via email telling you when sequencing has begun and when your results are ready.
As soon as I received the Food Sensitivity+ email telling me my results were ready, I quickly logged into my EverlyWell account with a mix of excitement and apprehension. I've always been someone who would rather know the news, good or bad, instead of wondering. And this was no different…would there be any surprises?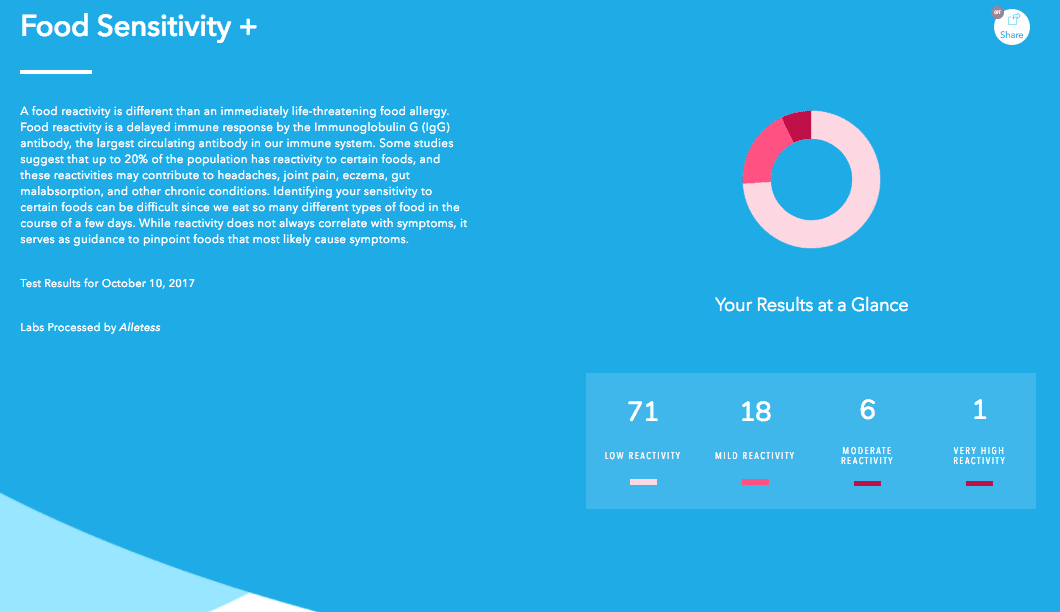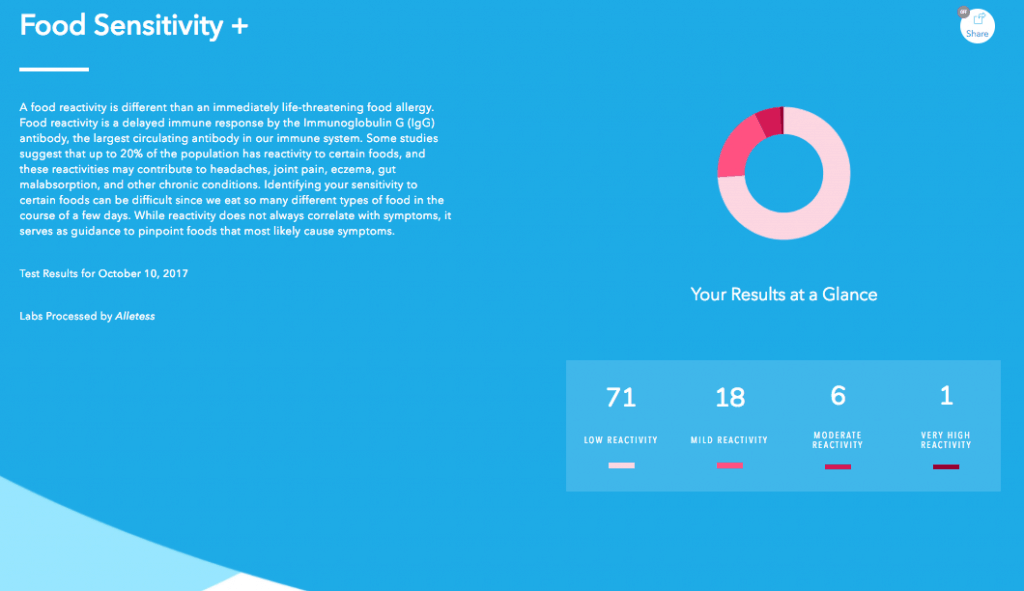 When I logged into the EverlyWell panel, I could easily see my results. The color coded graph shows how many of the 96 foods I reacted to. As I scrolled down, I could see the specific foods and to which degree. From what I've read on their website, the foods I should focus on are those with mild, moderate, and very high reactivity. The low reactivity foods may not cause me issues at all. The only way to know for sure is to experiment with an elimination diet.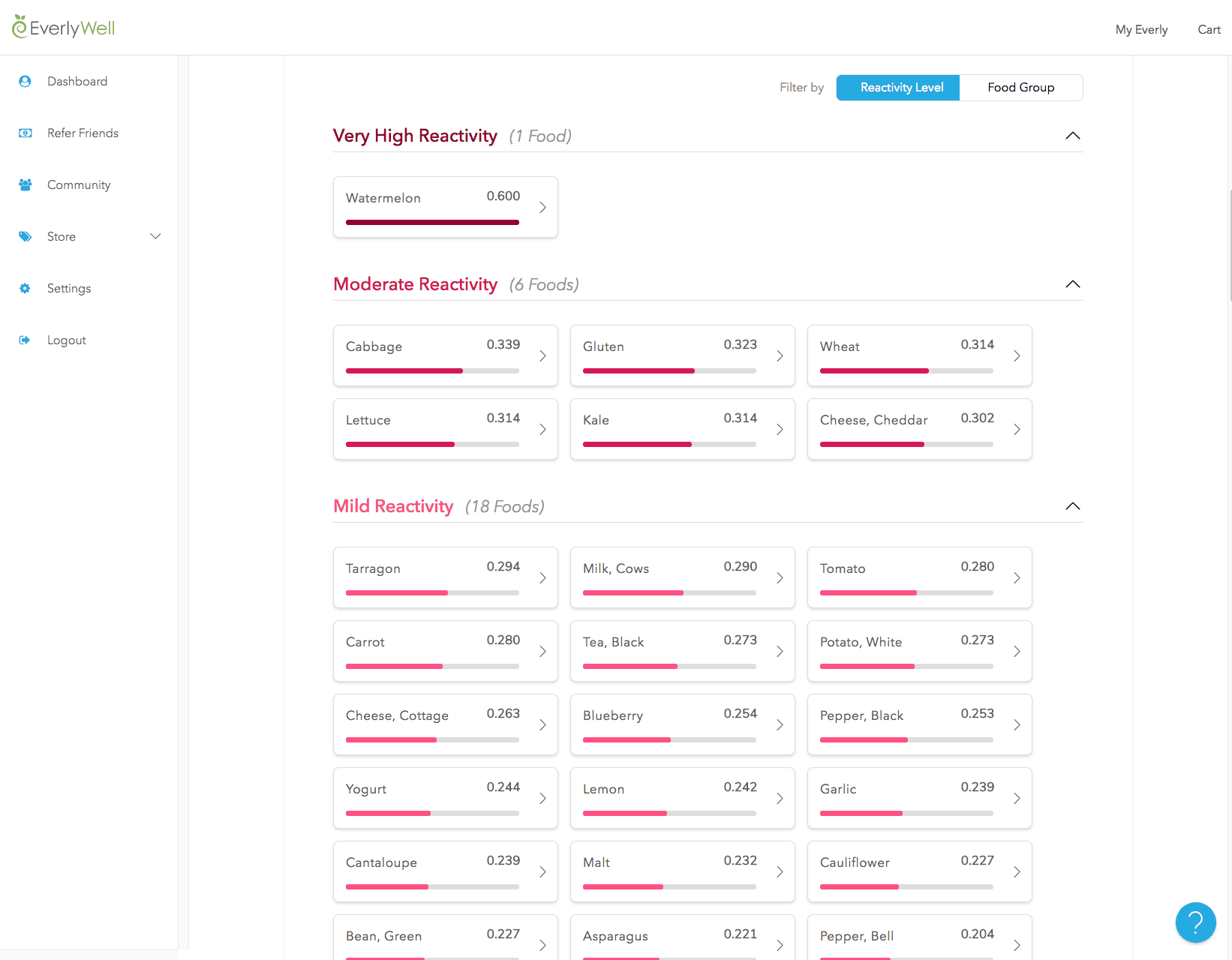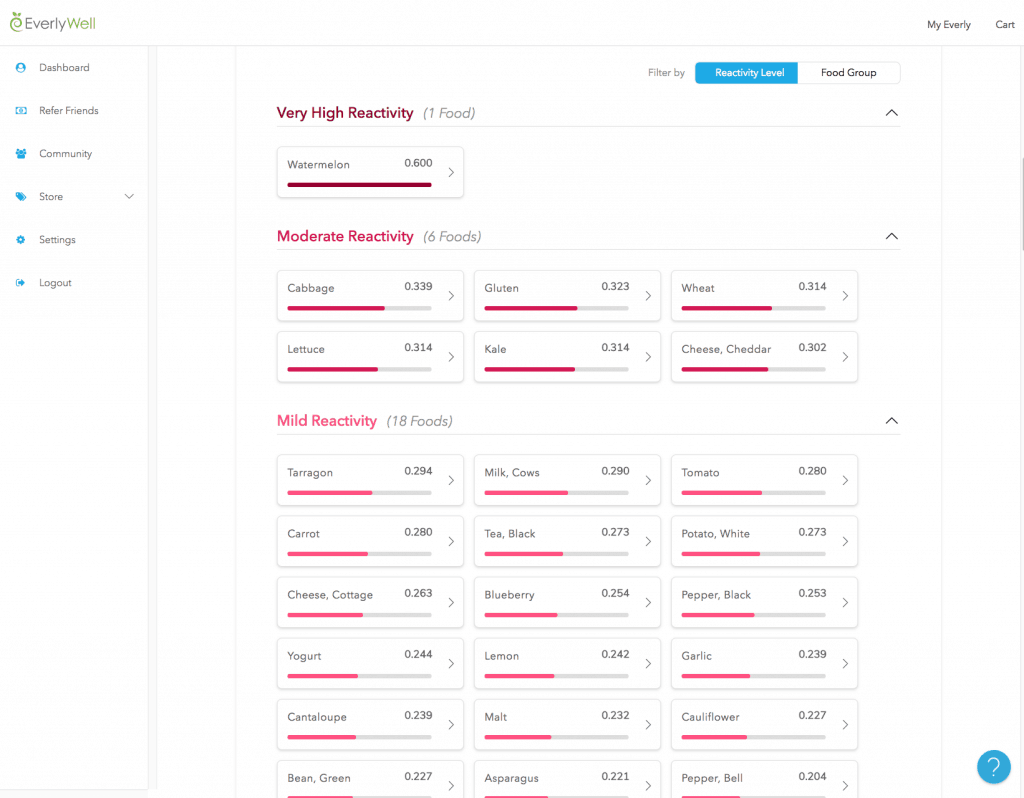 The highest reactive response was from watermelon, which was not a surprise at all. Since I was a child, I have suspected I have an allergy or sensitivity to melons. Some of the moderately reactive foods were also not that surprising: wheat, gluten, and cheddar cheese. (I was so hoping wheat and gluten would not be on the list, but alas, they were.) I was totally surprised by the cabbage, kale, and lettuce. What?! That is just so crazy to me! I eat all of those on a weekly basis and had no idea they could be giving me trouble.
My mildly reactive foods did really surprise me though…and were a little disheartening, if I'm honest. A lot of my favorite foods are on the list and I plan on doing a full elimination diet to see if there are any that I can add back into my diet and which ones I'll need to avoid from now on. Eliminating mildly reactive foods may not be right for everyone, but as I said, I'm happy to know the results because it's a great starting place for me.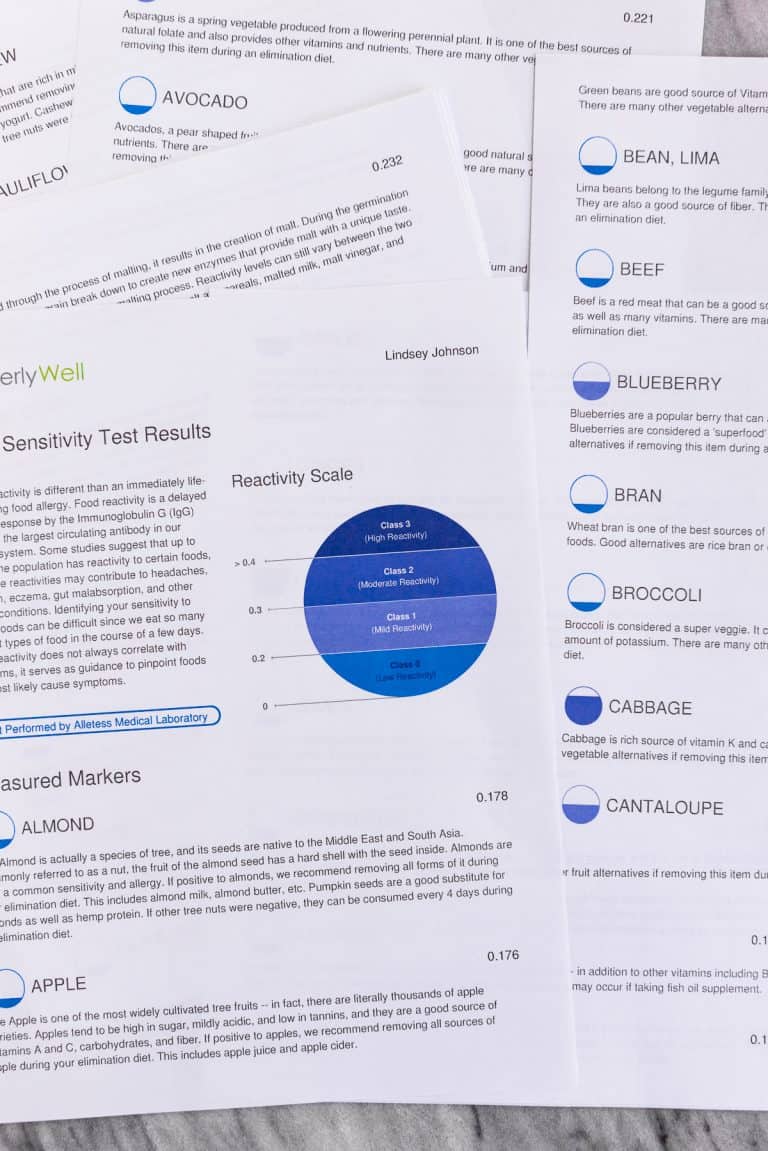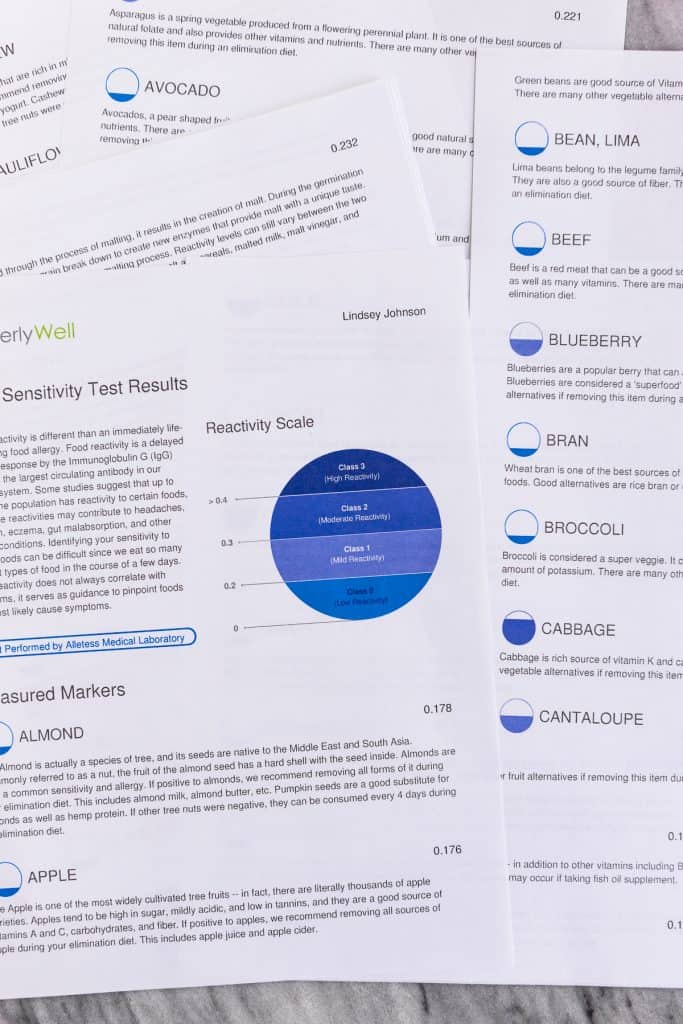 I was able to easily print my results to have on hand as an easy way to see which foods I need to pay attention to. I also like that there are details and tips about each food as well as what can be substituted in the diet if a particular food is reactive.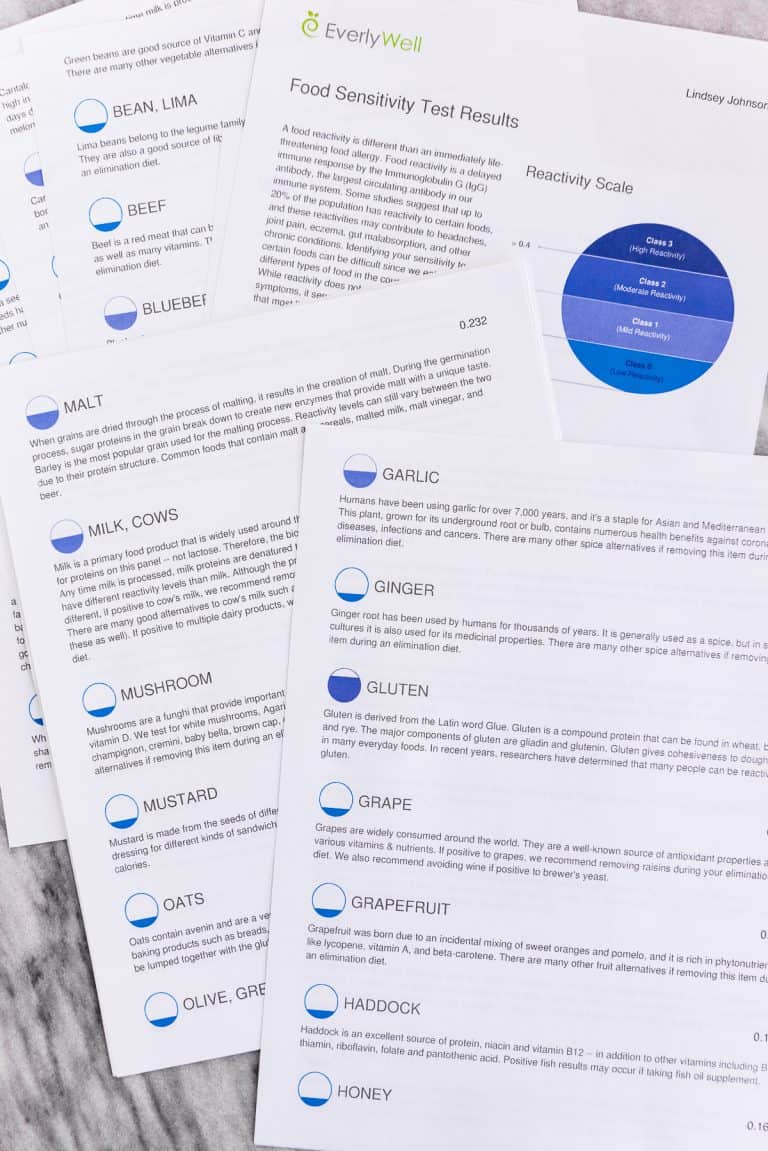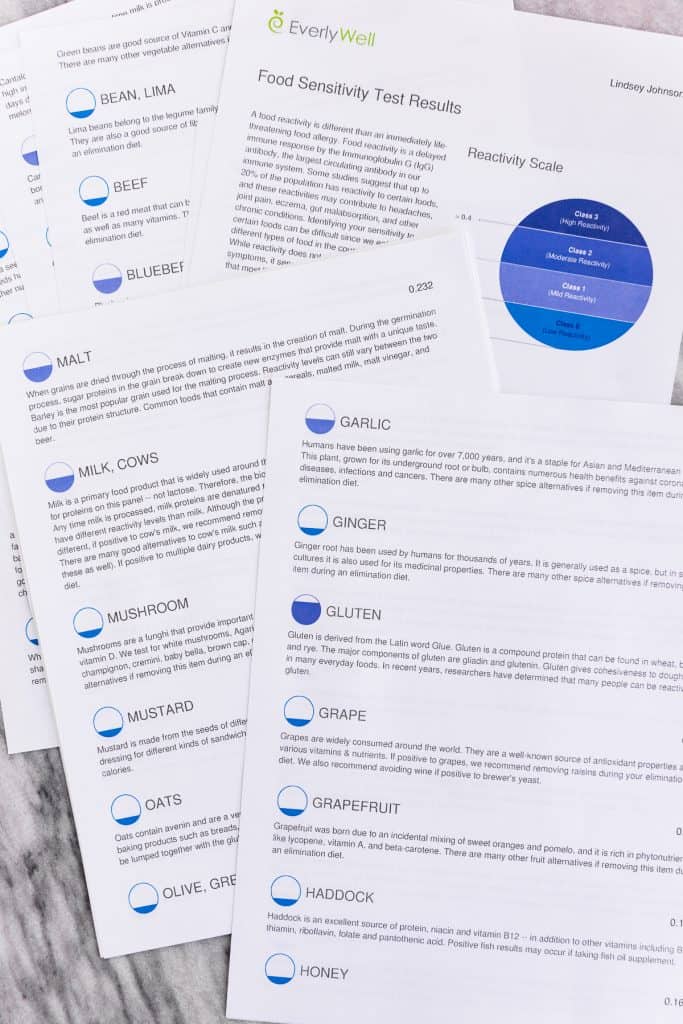 My Plan Moving Forward
Again, to reiterate, these are not allergies. The immune response to certain foods that show reactivity is a delayed one, and may not even cause any symptoms at all. The results indicate a sensitivity. I don't have to eliminate any or all of these foods if I don't want to. It serves as a way for me to start with eliminating foods that have a higher potential to cause me problems. It's also important to note that reactivity can change over time. I may eliminate some of these foods for a long enough period of time and be able to reintroduce them, and not have any symptoms. Others may always cause me problems. For example, I already know that wheat and gluten will always cause me problems because I've eliminated them off and on for about seven years and, unless I remove gluten from my diet, the symptoms never go away. The same goes for dairy, though a little now and then seems to be okay, which brings me to the DNA portion.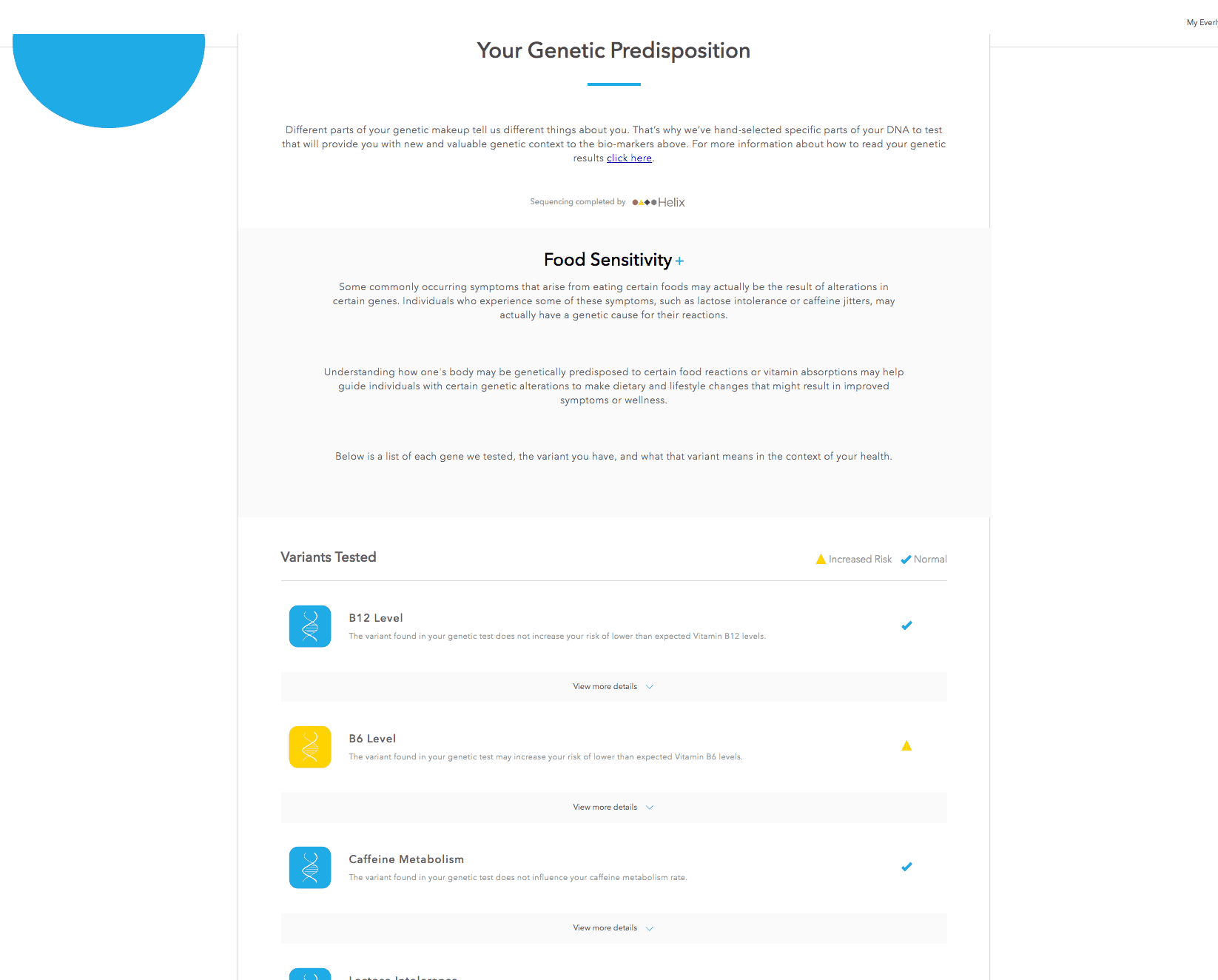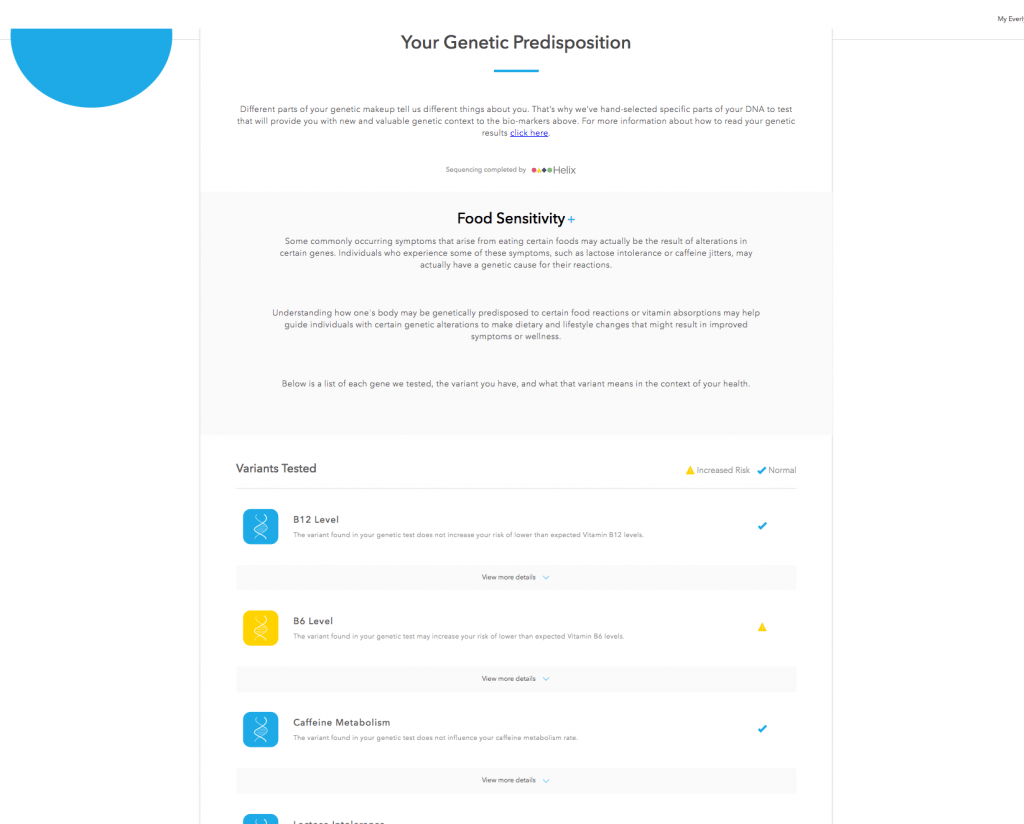 My understanding is that the DNA markers used for the Food Sensitivity+ test help give a more complete look at reactivity and what to do moving forward. The variants tested for the food sensitivity portion are B12, B6, Caffeine Metabolism, Lactose Intolerance, and Magnesium Levels. The only one that came back as having increased risk is the B6, which was very surprising to me. After reading more about it, I realized that some symptoms I experience may have to do with low Vitamin B6.
Final Thoughts
I am definitely pleased with my results and would recommend these tests to anyone suffering from food-related issues. Obviously I can't diagnose myself with health conditions based on these tests, Helix and EverlyWell recommend following up with a medical professional to discuss the results, which is what I am going to do. But I feel like I have a better understanding of all of this and am more knowledgeable as I move forward.
11