Ideally, we'd have all the time in the world to make ourselves a lunch from scratch everyday. But life doesn't work that way and lunch often ends up being pieced together from various convenience foods. The good news is that even if you have to rely on packaged and pre-made foods for your lunch, that doesn't mean your lunch has to be unhealthy. These are some of our favorite food swaps to make your lunch a little bit more nutritious.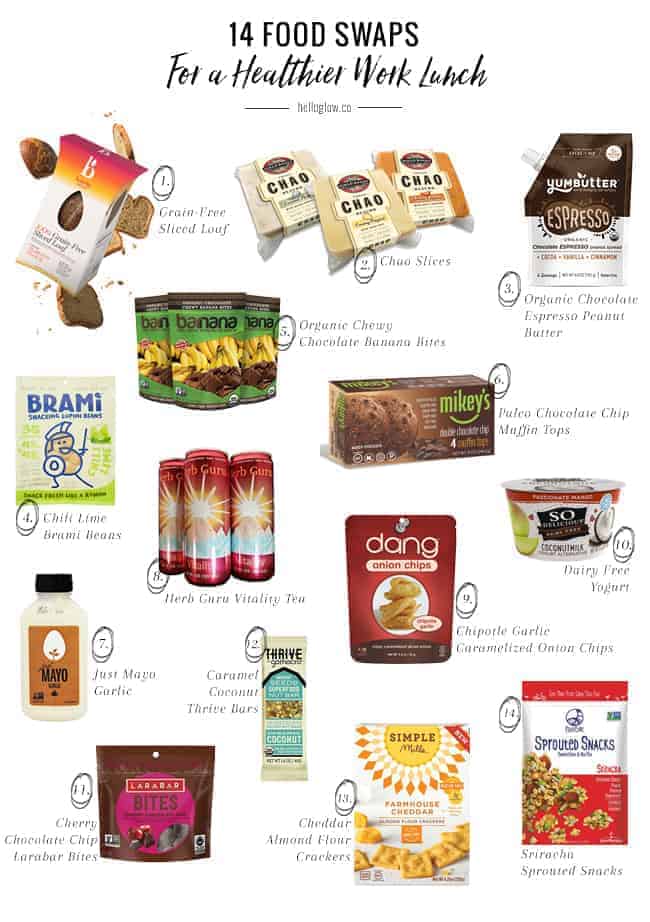 1. Barely Bread Sliced Loaf // No need to skip the sandwiches if you're on a grain-free diet—this bread is perfect whether you're gluten-free or paleo.
2. Chao Slices // If you're vegan and you're looking for a cheese to put on your sandwiches, this is the one—simple, whole food ingredients make for a tasty dairy-free cheese.
3. Yumbutter Organic Chocolate Espresso Peanut Butter // Bananas are great, but eat them alone and you'll be hungry again soon thanks to all those carbs. Pair them with this chocolaty peanut butter and the protein and healthy fat will leave you full and satisfied.
4. Chili Lime Brami Beans // Lupini beans are packed with fiber and protein, with the bonus of having very few calories. And they are super tasty too!
5. Barnana Organic Chewy Chocolate Banana Bites // Best. Snack. Ever.
6. Mikey's Double Chocolate Chip Muffins // Traditional muffins are sugar bombs, not to mention all those refined grains. This paleo version is lightly sweetened and made without wheat flour.
7. Garlic Just Mayo // There are a lot of vegan mayos on the market, but this is the best by far. So good.
8. Herb Guru Vitality Tea // Energy drinks and soda might get you over that afternoon hump, but the inevitable crash is so not worth it. We love this herbal vitality tea instead.
9. Dang Chipotle Garlic Caramelized Onion Chips // These are like a more delicious, socially acceptable version of Funyuns. (They're also great as a topping for salads.)
10. Passionate Mango Cultured Coconut Milk // Vegan yogurts have come a long way in the past few years and this is one of our favorites.
11. Cherry Chocolate Chip Larabar Bites // Anyone else need a bite of something sweet after a meal? Larabar bites are truffle-sized balls of chocolaty deliciousness.
12. Caramel Coconut Thrive Bars // Try Thrive bars and you'll never go back to regular granola bars again. Not only are they loaded with plant-based protein thanks to ancient seeds and superfood nuts, they come in flavors like Caramel Coconut too. Yes!
13. Simple Mills Farmhouse Cheddar Almond Flour Crackers // A healthier version of those neon orange cheese-flavored crackers, these are perfect for anyone avoiding grains or gluten.
14. Blue Bike Sriracha Sprouted Snacks // If you need a little crunch in your lunch, skip the chips and opt for these spicy sprouted snacks, made with millet, pumpkin and sunflower seeds, instead.
1