The person in your life who occasionally calls themselves a "foodie" can sleep well tonight: you've got it covered. Their gift, that is!
We've rounded up tasty, useful or just plain amazing gifts for those who know their way around a kitchen. Pamper them with a snack subscription or a set of new knives, and they're bound to cook even more delicious things in the new year.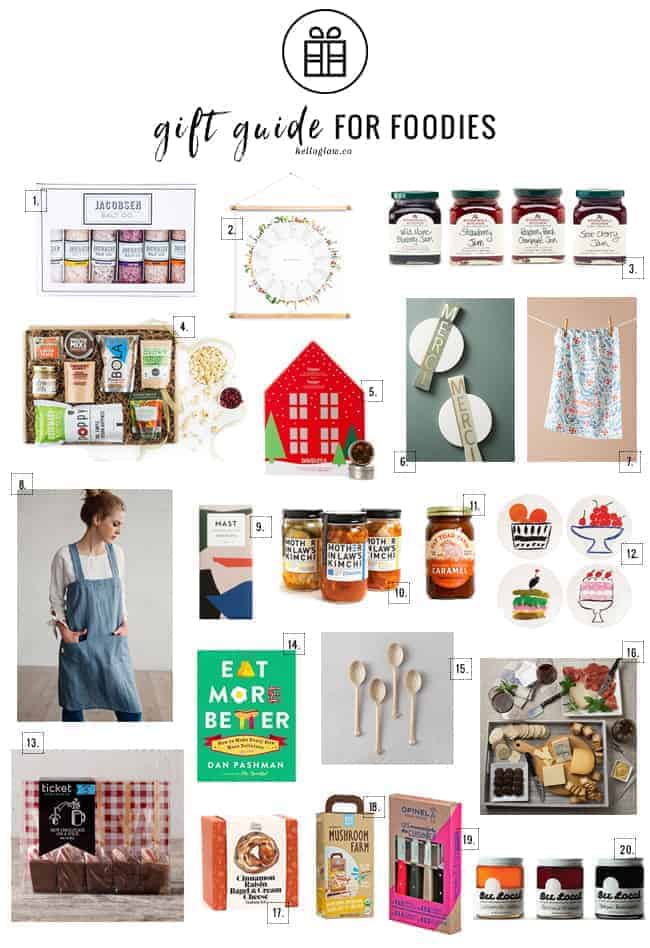 1. Jacobsen Salt Co. 6 Vial Salt Sampler // Lemon Zest, Pure Flake Finishing Salt, Vanilla Bean, Pinot Noir, Smoked and Ghost Chili, a starter pack for the adventurous chef.
2. Vitamin Wheel Art Print // This gorgeous print is useful too–it shows which foods are the best sources for each vitamin. Perfect for hanging in the kitchen!
3. Stonewall Kitchen Jam Collection // You know how people can't decide which jam is best? With this 4-jar set, they won't have to: each one tastes incredible!
4. Snacks Every Month // Who doesn't love a gift that keeps on giving? A snack club subscription that will arrive at their doorstep for a few months is definitely a winner!
5. DAVIDsTEA Hygge Tea Gift Box // Because everyone could use a little more hygge in their lives, right? Pair it with a fun color changing mug for a gift any tea lover will adore.
6. Festive Marble Cheese Board // The avid entertainer will be pleasantly surprised by these fun, festive cheese boards.
7. Peppermint Wishes Dish Towel // Tea towels always make great hostess gifts, especially when you know she's the foodie type.
8. Pure Linen Pinafore Apron // This handmade linen apron is perfect for the conscious, minimalist cook. You can get it in 12 different colors!
9. MAST Dark Chocolate Blended with House Roasted Almonds // Mix and match a couple of MAST chocolate bars and you're bound to make an impression!
10. Mother In Law's Kimchi // Long strips of Napa Cabbage are brined in a thick chile sauce and fermented slowly. The sauce is enriched with beef broth, shellfish and fish sauce.
11. Fat Toad Farm Maple Caramel Sauce // A delicious addition to ice cream sundaes, morning coffee, fresh fruit or cheese, this goat's milk caramel is flavored with pure maple syrup.
12. Pretty Pantry Set of 4 Appetizer Plates // No appetizer will look boring on these cake-adorned plates from Kate Spade!
13. Hot Chocolate Peppermint Stirring Sticks // Stir a block of fine milk chocolate into hot water or milk to create a rich mug of cocoa with a touch of peppermint.
14. Eat More Better // Having fun with your food should be a priority. Fans of the Sporkful podcast are already familiar with Dan Pashman's humorous approach to eating. And for those who aren't, the holidays may just be the best time to start.
15. Honeycomb Spoons // The prettiest spoons ever, handmade from pewter with an antiqued bronze finish.
16. The Little Bit of Everything Collection // Sample a gourmet collection of cheeses, meats and other goodies from around the world.
17. Cinnamon Raisin Bagel & Cream Cheese Kit // New York style bagels at their fingertips with a kit that contains everything they need to bake the tasty treats.
18. Back to the Roots Mushroom Farm // People of all ages will enjoy growing their own oyster mushrooms and using them in tasty dishes.
19. Opinel "Les Essentiels" Loft Kitchen Knife Set // The only knives they'll ever need: paring, vegetable, serrated and peeler.
20. Bee Local Artisan Honey Gift Set // A tasting set of three premium varieties of honey: Willamette Valley, Portland Farmland and Oregon Buckwheat, all made in small batches in Oregon.
0