The person in your life who occasionally calls themselves a "foodie" can sleep well tonight: you've got it covered. Their gift, that is!
We've rounded up tasty, useful or just plain amazing gifts for those who know their way around a kitchen. Pamper them with a snack subscription or a set of new knives, and they're bound to cook even more delicious things in the new year.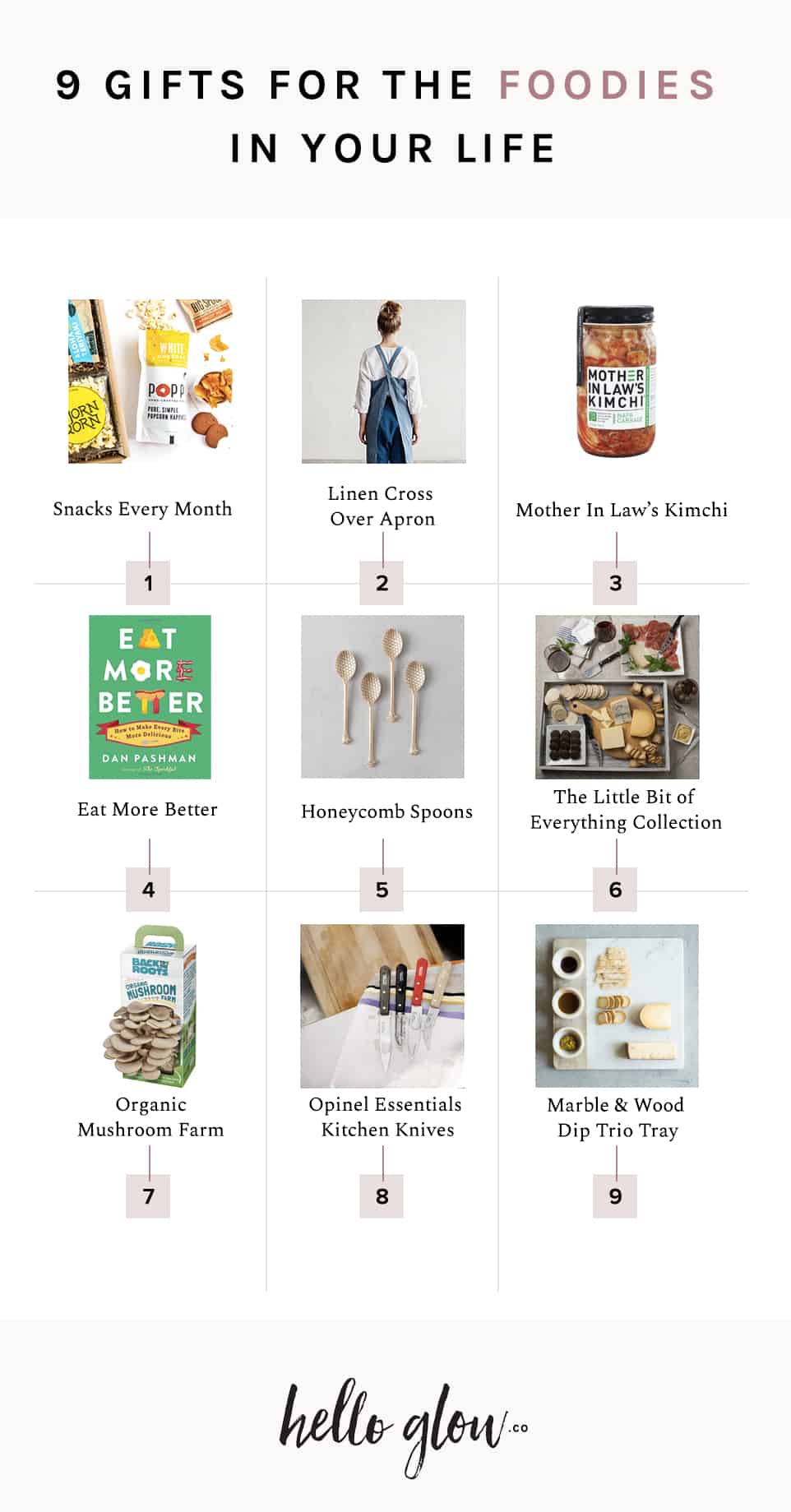 1. Snacks Every Month // Who doesn't love a gift that keeps on giving? A snack club subscription that will arrive at their doorstep for a few months is definitely a winner!
2. Pure Linen Pinafore Apron // This handmade linen apron is perfect for the conscious, minimalist cook. You can get it in 12 different colors!
3. Mother In Law's Kimchi // Long strips of Napa Cabbage are brined in a thick chile sauce and fermented slowly. The sauce is enriched with beef broth, shellfish and fish sauce.
4. Eat More Better // Having fun with your food should be a priority. Fans of the Sporkful podcast are already familiar with Dan Pashman's humorous approach to eating. And for those who aren't, the holidays may just be the best time to start.
5. Honeycomb Spoons // The prettiest spoons ever, handmade from pewter with an antiqued bronze finish.
6. The Little Bit of Everything Collection // Sample a gourmet collection of cheeses, meats and other goodies from around the world.
7. Back to the Roots Mushroom Farm // People of all ages will enjoy growing their own oyster mushrooms and using them in tasty dishes.
8. Opinel "Les Essentiels" Loft Kitchen Knife Set // The only knives they'll ever need: paring, vegetable, serrated and peeler.
9. Marble & Wood Dip Trio Tray // The ideal entertaining set, it comes with both a gorgeous wood and marble tray, and three matching dipping bowls. Hello, gorgeous festive tables!
2