Inflammation is a buzzword in the health and wellness world, and anti-inflammatory diets are all the rage. You might be wondering what it means to have inflammation, how it affects you, and why it's so bad. I'm going to try to clear some things up for you in today's post!
Inflammation is not inherently bad. In fact, we actually need it!
Acute inflammation is the body's natural response to protect itself from infection and heal. When the response is prolonged, it can lead to chronic inflammation in which the body is attacking itself [source], a sign that the immune system is stuck in overdrive.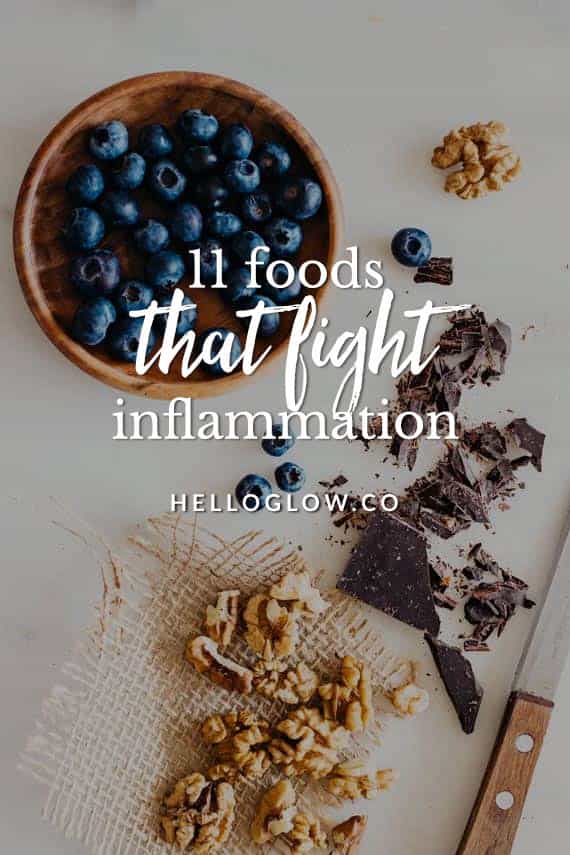 Ultimately, chronic inflammation wears down the immune system, which is why it is often at the root of many health issues and modern diseases we face as a culture, e.g., accelerated aging [source], autoimmune conditions [source], IBS [source], arthritis [source], cardiovascular disease [source], obesity [source], diabetes [source], Alzheimer disease [source] and dementia [source], and cancer [source].
Causes of Inflammation
Some common causes of chronic inflammation are:
Standard American diet (SAD) – high in refined sugars, gluten, animal products (including dairy), processed foods, and hydrogenated oils [source]
Gut health issues, leaky gut [source]
Chronic stress [source]
Environmental toxins (including alcohol, drugs, tobacco)
Lack of sleep [source]
Sedentary lifestyle [source]
Chronic inflammation can show up in a variety of ways, including acne, allergies, weight gain, digestive issues, joint pain, fatigue [source], depression [source], and aging [source]. However, for some people, inflammation can be festering beneath the surface without manifesting observable symptoms, and they may not know it's there!
So, at your next annual physical, I suggest you ask your doctor to include C-reactive protein (CRP), a pro-inflammatory marker released by the liver, as part of your routine lab work [source]. If you experience any of the above warning signs or your CRP levels are higher than 1 mg/L, don't worry just yet—food is one of your most powerful inflammation fighters.
What you put at the end of your fork three or more times a day will either feed the fire or help to extinguish it. The best way to offset the damage and cool inflammation on a cellular level is to eat a diet full of anti-inflammatory foods.
An anti-inflammatory diet comprises foods widely regarded as healthy for you, otherwise known as functional foods, including those high in fiber, omega-3 fatty acids, vitamins, minerals, antioxidants, and phytonutrients, such as fruits and veggies [source]! Here is a list of my favorite foods for keeping inflammation in check.
Inflammation Food Fighters List
1
.
Blueberries
Blueberries, and other dark-colored berries, contain a broad range of antioxidants, specifically resveratrol, gallic acid, and proanthocyanidins, which protect you from oxidative stress and have been shown to reduce inflammatory markers [source].
Anti-inflammatory prescription: Include half a cup of blueberries in your diet several times a week, like in this Blueberry Kale Smoothie.
2
.
Ginger
Ginger has been a prized food in Ayurvedic medicine for thousands of years, owing to its powerful immune-boosting and cleansing properties. It is rich in inflammation-fighting compounds that have been shown to help with pain relief [source].
Anti-inflammatory prescription: Add one teaspoon of dried ginger powder or one tablespoon of fresh ginger root to your meals a few times a week. My favorite way to use fresh ginger root is to grate and add it to sauces and salad dressings; it's also great in drinks, like our Ginger Lemonade.

3
.
Cacao
Cacao is unroasted, so it contains up to twice the antioxidants of traditional cocoa, which is made from roasted beans. Cacao is a rich dietary source of polyphenols, powerful compounds with beneficial effects on high blood pressure and the prevention of atherosclerosis [source].
Anti-inflammatory prescription: Eat a square of 85% dark chocolate each day (that's right!) or, better yet, use raw cacao powder and cacao nibs for the antioxidant benefits without the sugar, like in this Hormone-Balancing Hot Chocolate.
4
.
Turmeric
Curcumin, the active compound in turmeric, has potent antioxidant and anti-inflammatory properties that help with everything from pain relief to managing chronic disease [source]. Studies have shown curcumin to be as effective in reducing inflammation and pain as ibuprofen and similar medications [source]!
Anti-inflammatory prescription: Add ½ teaspoon of dried turmeric powder or ½ inch of the fresh root to your diet a few times a week. Combining turmeric with a little pinch of black pepper is known to significantly increase the intestinal absorption of turmeric—this savory pancake recipe includes both. Some people may not want to spice their food with turmeric often, so an alternative is taking it daily in supplement form.

5
.
Green tea
Green tea is rich in anti-inflammatory polyphenols, particularly EGCG, a powerful antioxidant known for inhibiting cancer cell growth and reducing the risk for heart disease and other chronic inflammatory conditions [source].
Anti-inflammatory prescription: Replace one of your daily coffees with green tea (coconut milk matcha latte, anyone?) or try cooled green tea as the liquid base of your smoothie.
6
.
Leafy green veggies
Leafy greens again? Yep. Without a doubt, they're always included in my list of favorite foods because of their incredible nutrient density!
Super rich in chlorophyll, vitamin C, A, E, the natural antioxidants, as well as tons of other vitamins, minerals, and phytonutrients, spinach [source] and other leafy greens [source] protect against oxidative stress caused by free radical damage. There are lots to choose from—spinach, collard greens, swiss chard, watercress, dandelion greens, mustard greens—so mix it up each week!
Anti-inflammatory prescription: Aim to get in two servings of raw or cooked leafy greens per day. Try these tasty spinach smoothie recipes.

7
.
Cruciferous veggies
Cruciferous veggies include broccoli, radish, cauliflower, kale, bok choy, arugula, cabbage, and Brussels sprouts and are invaluable to an anti-inflammatory diet. The flavonoids and carotenoids they contain work together to battle chronic inflammation and reduce cancer risk [source].
Anti-inflammatory prescription: Include a serving of cruciferous veggies a day. They can be delicious, like in this Cauliflower Rice Tabbouleh.
8
.
Wild-caught fish
Wild-caught fish like salmon, mackerel, sardines, trout, and halibut are rich in essential fatty acids, especially omega-3s, which are potent anti-inflammatory substances that have a beneficial effect on the gut microbiota [source]. Your body can do so many amazing things, but it can't make its own omega-3s, so you have to get them through food and/or supplementation.
Anti-inflammatory prescription: Eat a 4- to 6-ounce serving of wild-caught fatty fish 2–3 times a week. Try this Pesto Baked Salmon Recipe.
9
.
Fermented foods
Gut problems like leaky gut and dysbiosis (microbial imbalance) activate the immune system and set off an inflammatory cascade in the body. Your gut microbes team up with immune cells to boost their overall defense, protecting you against harmful bacteria, other pathogens, and toxins. Introducing good bacteria into your gut via fermented foods will boost its defenses and reduce inflammation [source].
Fermented foods are lacto-fermented, raw, and contain live cultures and enzymes. Some great choices are sauerkraut, kimchi, kombucha, kefir, and yogurt.
Anti-inflammatory prescription: Include at least one of these foods into your diet each day, e.g., add 1 spoonful of sauerkraut or kimchi to a lunch wrap, or drink 4 ounces of kombucha.

10
.
Fiber
Most people think a diet high in fiber means eating more wheat bread, and they know it has something to do with preventing constipation. But fiber has a much larger role in human health, one that has been mostly overlooked in favor of a mistaken focus on the almighty protein!
Dietary fiber is found in all fruits and veggies—plants—but not in animal products. Although most Americans believe they eat enough fiber, it is estimated that only about 5% meet the recommended intake [source].
Fiber functions as a body detox machine, preventing the absorption and promoting the elimination of environmental and other toxins. When bacteria ferment fiber in the colon, it produces butyrate, an anti-inflammatory compound that fights the aging process [source]. The many other actions of fiber include preventing cardiovascular disease [source], cancer, diverticulosis, diabetes, inflammatory bowel disease, and many other chronic medical conditions [source].
Anti-inflammatory prescription: Focus on getting plenty of fruits and vegetables, nuts, beans and legumes, and healthy whole grains every day.
11
.
Peppers
It's interesting that in all peppers, the very compound known to cause that burning sensation, capsaicin, is its most potent anti-inflammatory compound. Not only does capsaicin block the inflammation-promoting big gun, NF-kB [source], but it also has an anesthesia-like effect, which is why it is often used in arthritis and other painful conditions [source]. Recent studies have shown its beneficial effects in treating asthma, dermatitis, stomach ulcers, and preventing heart disease and cancer [source].
Anti-inflammatory prescription: Start adding a daily dash of cayenne to your morning water or smoothie or even hot chocolate. Crunch on peppers at snack time by dipping in hummus or in a DIY Lunchable-style rollup.
There you have it – using food as medicine to douse the fire of chronic inflammation! I picked out a few of my favorites, but adding a wide variety of nutrient-dense foods is important for an effective anti-inflammatory diet.
In addition to diet, be sure you're also focusing on your gut health, managing stress, optimizing sleep, exercising, and minimizing toxins in your diet, home environment, and personal care products.
This article was medically reviewed by Dr. Gina Jansheski, a licensed, board-certified physician who has been practicing for more than 20 years. Learn more about Hello Glow's medical reviewers here. As always, this is not personal medical advice and we recommend that you talk with your doctor.
55