A few weeks ago I was browsing through the gift shop at my local art gallery when I came across a book entitled, Forest Bathing: How Trees Can Help You Find Health and Happiness.
The author is Dr. Qing Li, who also happens to be the chairman of something called The Japanese Society for Forest Medicine—I could just imagine how fantastic the process of attaining that medical degree would smell! In this book, Li digs into the Japanese concept of Shinrin-yoku (forest bathing) and suggested that spending quality time connecting with the natural world might just be the best thing to fold into our wellness plans.
What is forest bathing?
Shinrin-yoku is forest therapy. Research has shown that simply being surrounded by nature in all its wild and verdant splendor can do wonders for our health, primarily by reducing feelings of stress, and thus lessening the impact that stress can have on our bodies (cortisol, blood pressure, energy) and minds (mood, quality of sleep, focus).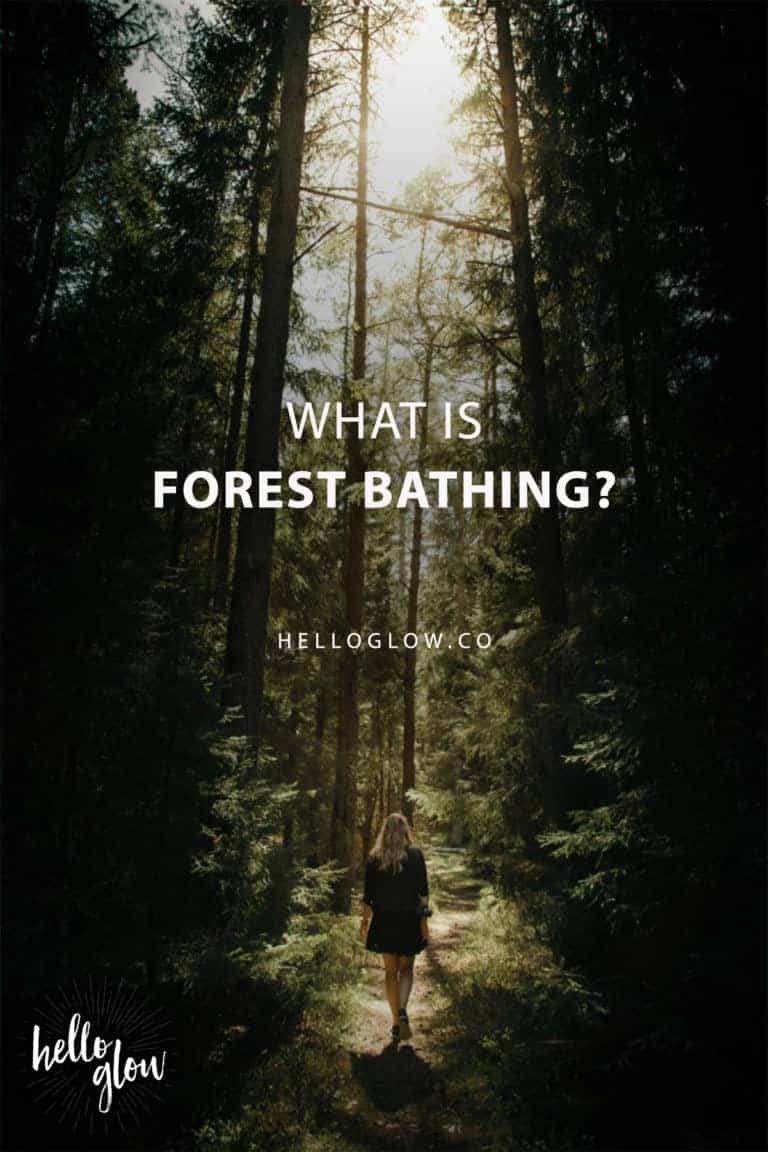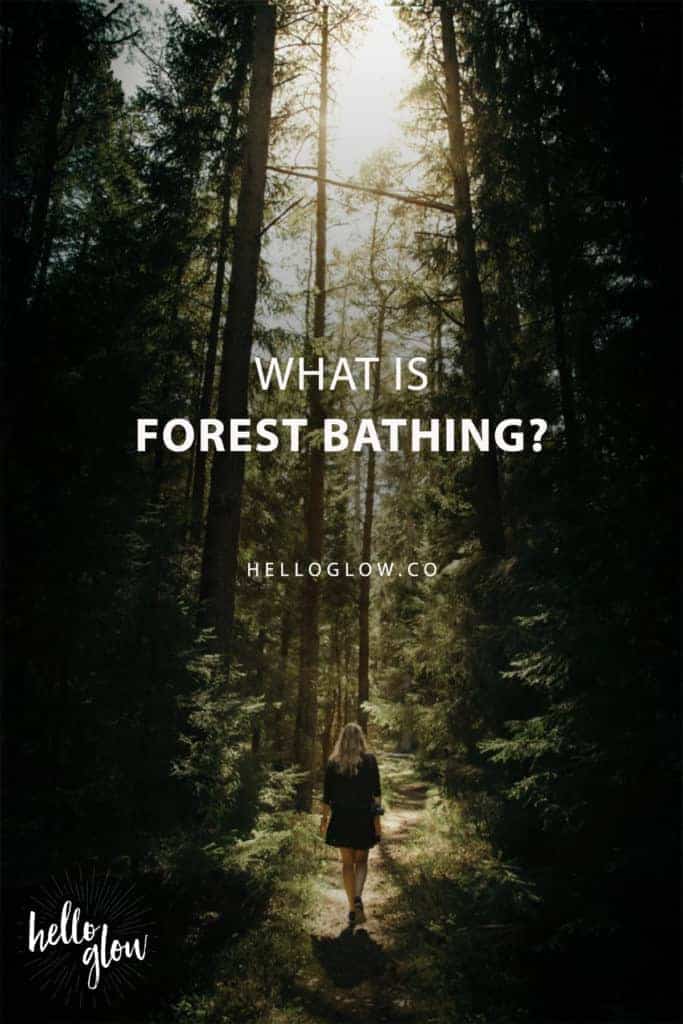 Whether you are surrounded by natural abundance, or live in a city where greenery is at a premium, Li argues that there are ways to incorporate aspects of forest bathing into your day.
The recommended dosage of Shinrin-yoku is 2-4 hours per session; it may be a struggle to fit that much time for stillness and reflection into your schedule, but if there is one day per week where you can manage a longer stretch, see the smaller pockets of time spent in nature throughout the week as an added bonus.
1. Find a spot in nature to sit and relax
Whether it's along a path in the forest, in the midst of a sprawling field, at the shore of a body of water, or even in the most quiet corner of a park, find a place to settle yourself.
Put away distractions.
Pack away your phone, camera, watch, or any other distracting device you may typically carry. If it's essential that you are on your way at a particular time, set an alarm, and then put your phone away.
Notice your environment.
Tune in and experience your five senses one at a time, noticing the environment around you and how you are connected with it. Listen to the sound of the tall grasses swaying, the waves lapping, birds chirping, or squirrels rustling. Feel the movement of air on your skin, the sun on your face, and the support of the earth beneath you; run your hands through the grass.
Can you smell the earth, the lake, the lawn, the trees? Is there a taste to the air? Let your eyes rest upon a tree, follow the fractals as the branches divide, notice the colors, the movement, and keep your gaze soft. Deepen and slow the breath.
If you can, walk/stand barefoot.
The connection of our feet to the earth can be one of the most immediate ways to ground and connect. When I first walked barefoot in my local Toronto park, it felt absurd—what if I were to step on garbage, raccoon droppings, or something worse?
Just keeping my gaze soft and on the ground ahead of me as I walked was enough to settle my fears (I also had to tell myself that feet can be washed, after all).
2. Be outdoors when you can
We may be limited in terms of how many hours we can spend outside each day, but if you have
the option of indulging in some al fresco time, take it!
If it's a nice day, eat your lunch outside.
Even in the colder months, if you dress appropriately, it can be a pleasure to breathe fresh air and clear the mind.
Exercise in green spaces.
Go for a jog along paths rather than on treadmills. Walk to work, or get off public transport a stop or two early/park a few blocks further away, and finish the trek by foot. Meet friends for a walk rather than a coffee or glass of wine at the cafe.
Walk more.
If you have children and live within walking distance of their school, try accompanying them by foot rather than the easy drive. Not only is this time in the fresh air important for you, but it is healthy for them as well! Take different routes, talk about what you see/hear/feel/smell in nature, or play I-Spy.
3. Bring the outdoors in
If you are looking for the benefits of forest bathing but just don't have sufficient access to quiet natural spaces, try bringing the outdoors in. Whether you seek to transform your home or office, you can incorporate some of the benefits of Shinrin-yoku into your life.
Invest in more plants.
Find ones that will be able to survive with whatever light sources you are working with, and green-up your space—it's not only a beautiful sight, but helps to filter and clean the air you're breathing. I like the combination of hanging plants, floor plants, and smaller ones that I can sit upon surfaces.
If you don't have enough light to keep potted plants alive, you can always pick up affordable flowers or inexpensive green fillers from florists, and place them around your space. Hanging dried flowers, herbs, and boughs is another way to bring nature in when light is dim.
Scent your space in natural, earthy fragrances.
Reed diffusers are great, and opting for essential oils such as cedar, sandalwood, fir, or pine can be very grounding. Other natural scents such as wintergreen, bergamot, jasmine, or rose offer brighter options.
If you go the scented candle route, choose natural beeswax, as some of the more inexpensive, highly-scented varieties can release chemicals into the air—and if your goal is to be breathing deeply, it can be counter-productive to your health.
Burning dried sage, cedar, or floral bundles can also be a way to ground your space. The other night I smudged my home with sage, and my son smiled wide and said it smelled like a cosy campfire. Natural connections make us feel good!
Incorporate nature sounds in your space.
Find ambient "music" to play softly in the background as you sit in quiet reflection. The options are almost limitless, from rainforest squawks to ocean waves, from crickets to rainstorms. I would recommend avoiding the recordings that add instrumental music, and allow for the simple sounds of the natural world to stand alone.
Keep the air fresh and clean.
Open a window briefly each day, allowing for the air to circulate… even in the winter! Use humidifiers and dehumidifiers to keep the moisture in the air balanced, and stir up some movement with a fan.
Get your feet on the ground.
Take off your shoes and socks and connect with the earth each day. You may consider investing in an earthing (or grounding) mat to encourage the flow of the earth's electrons upward, helping to ground our bodies which are said to accumulate a positive charge over time. There are many people who swear by them, but getting your feet on the earth can be a great place to start.
Whether you have an opening in your schedule for the recommended 4-hour forest bath, a 2-hour park sit, or a deeply-connected lunch break on a bench in the courtyard, know that making the time for a grounded, natural connection can do wonders for your overall health and wellbeing. If you've been feeling stressed and anxious, take a dose of what the Germans call Waldeinsamkeit—woodland solitude, or the feeling one gets from being alone in the woods.
Photo by Geran de Klerk on Unsplash
12