French manicures are staging a comeback, and the 90's child in me is thrilled. While nail art certainly occupies a lot of real estate in the social media ether, the flashier styles aren't exactly something I would rock every day. But a classic French manicure always looks polished and professional—and it's super easy to do with a couple of nail tools and some regular ol' nail polish. So, don't worry if painting your own nails has never been your forté. I'll show you how to do a French manicure at home that looks salon perfect.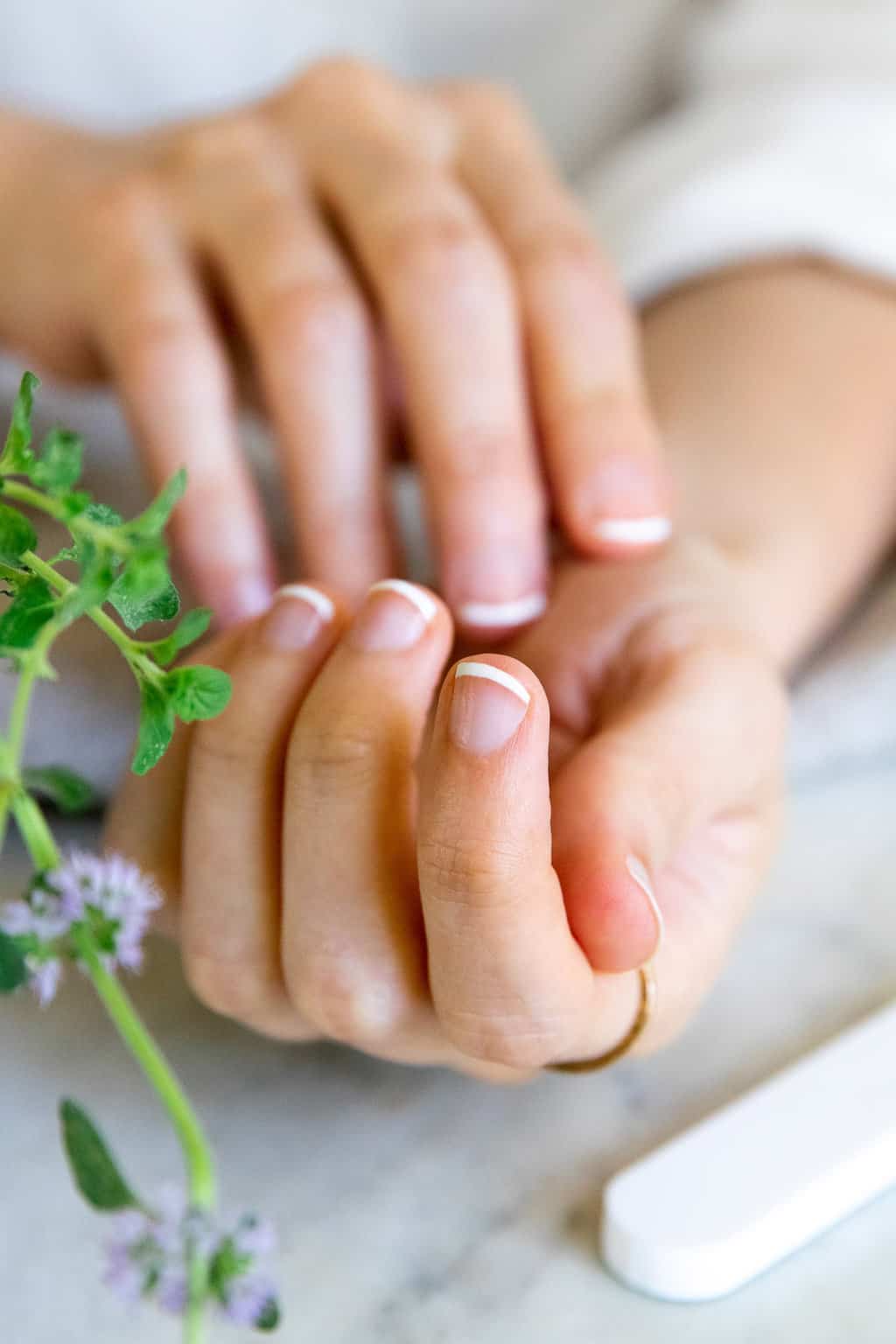 What Is a French Manicure?
Traditionally, a French manicure is one where the nail bases are painted pink or left natural, and the tips are painted white. It simply accentuates the natural look and shape of the nails without adding too much flash, making them ideal for formal events or daily wear at the office.
More recently, the French manicure has been given a modern twist by using fun colors, glitter, or an ombré effect at the tips instead of plain white. So while I walk you through how to do a traditional French manicure in this post, I don't want you to feel hemmed in. Get creative and use any color combos you prefer.
How to Do a French Manicure
Before you get started, remove any old nail polish using an acetone-free nail polish remover. If your fingers are grimy or you have dirt under your nails, it helps to soak your nails in some warm, soapy water and gently scrub them with a soft bristle brush.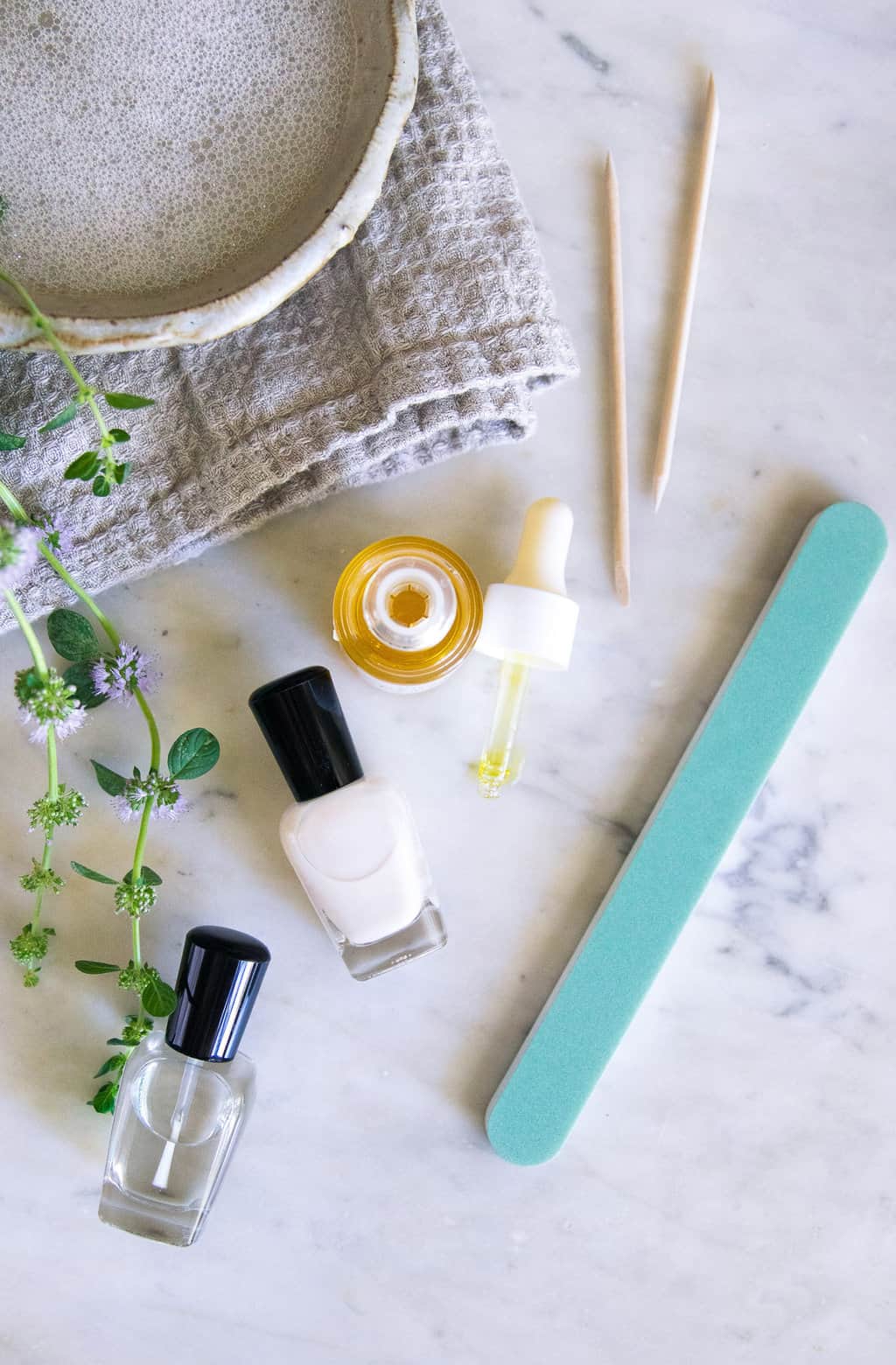 Supplies Needed
—Acetone-free nail polish remover
—Base coat (light pink or clear)
—Optional: French manicure strips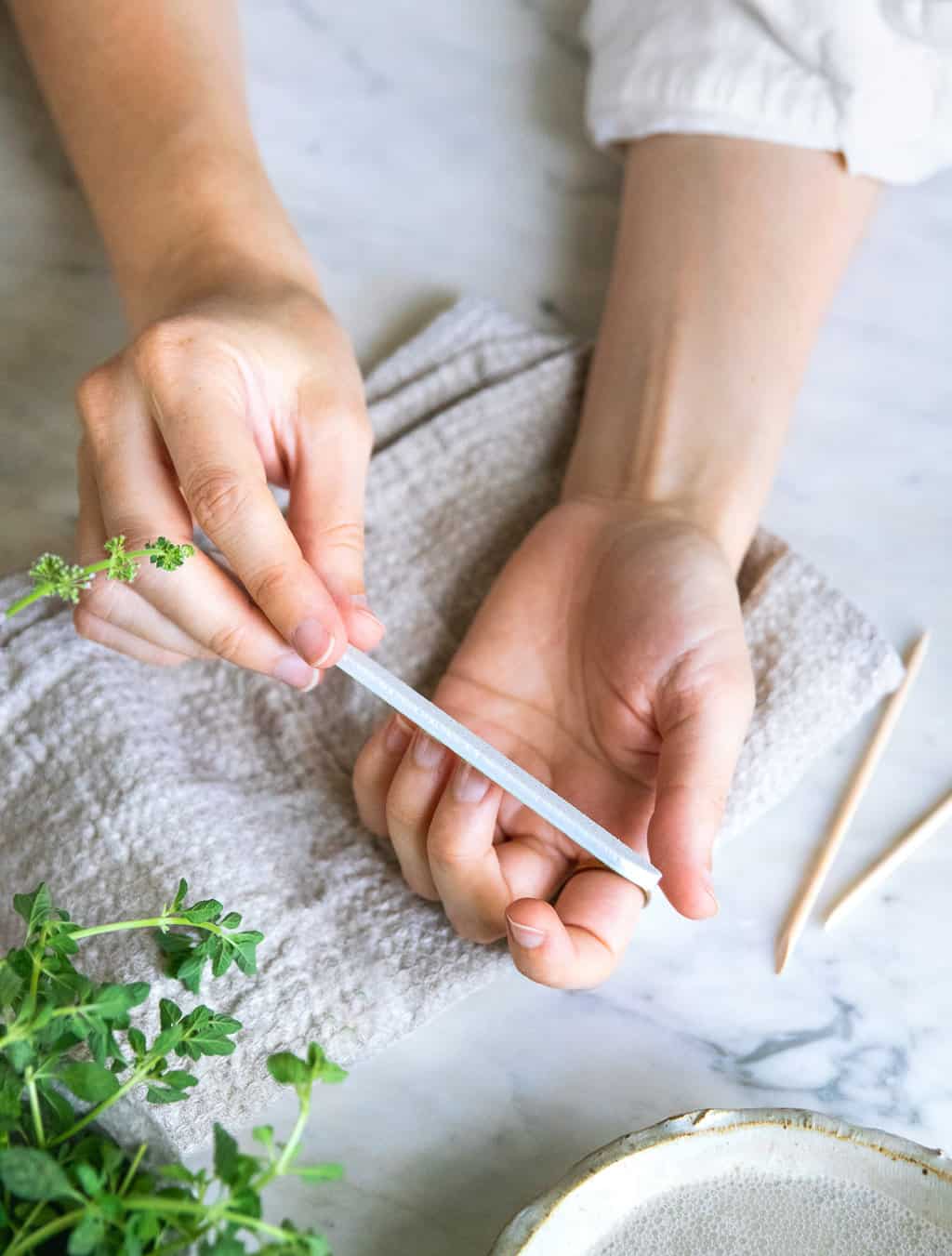 Step 1 | Trim and shape nails
Whether you prefer square, oval, or stiletto, trim your nails and then file them into the desired shape. Personally, I keep it simple and just accentuate my nails' natural shape, which is slightly square. The longer your nails, the easier it will be to give them an entirely new shape since you have more nail to work with.
If you can't decide which shape to make, try mirroring the shape of your cuticles. If you have straight or squared-off cuticles, go for square or squoval (square-oval) nails. If you have round cuticles, try a round or oval shape.
And when it comes to nail files, remember that they're not all created equal. For lightly refining nails, choose a fine grit file no lower than 250 grit. And for reshaping nails entirely, choose a chunkier grit, no lower than 180 grit.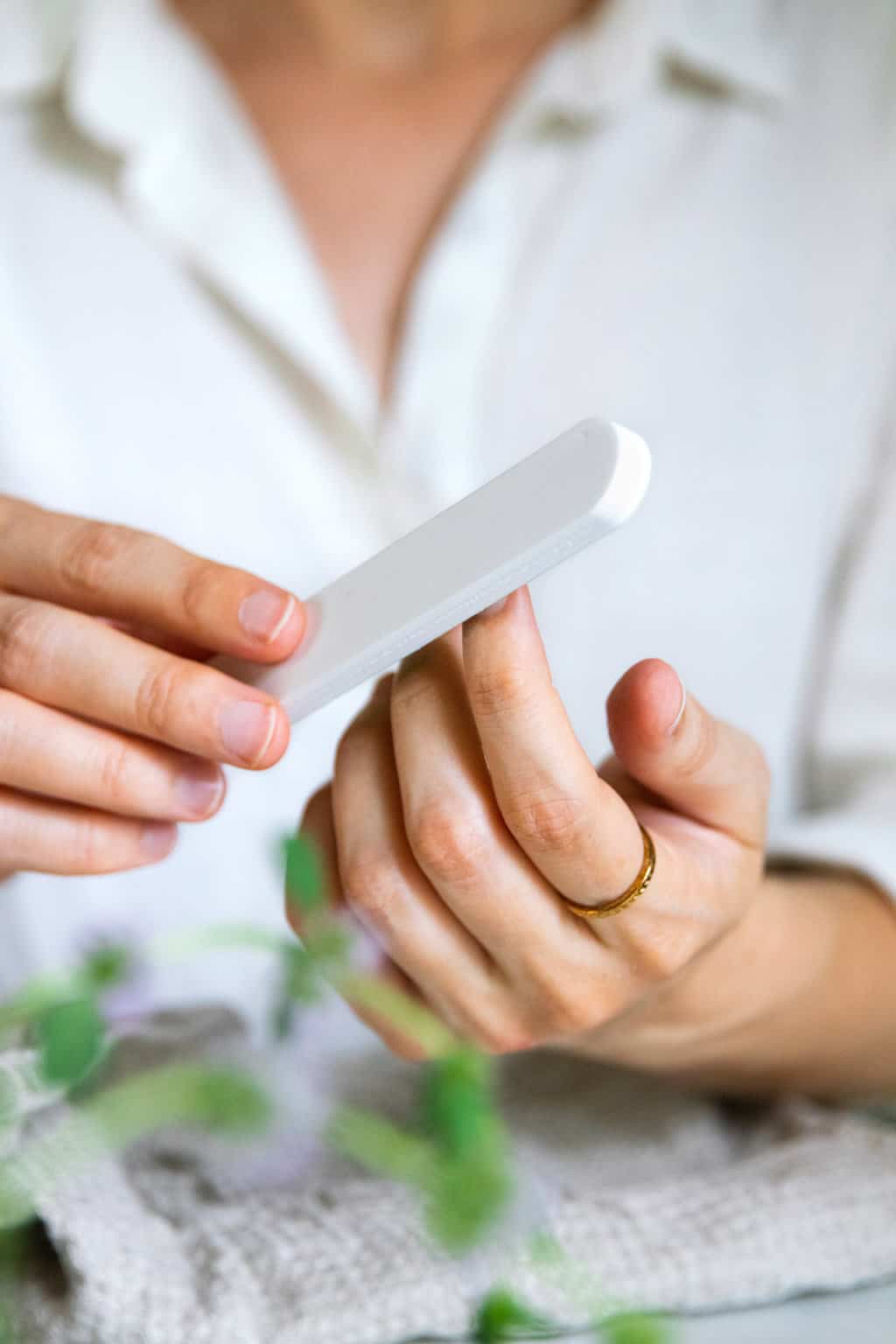 Step 2 | Buff the nail plate
Once your nails are shaped, use a nail buffer to smooth the nail plate.
Using the roughest part of the buffer, gently buff the surface of each nail to smooth out any ridges and get rid of discoloration. Continue buffing until the nail becomes cloudy.
Next, using the smoother part of the buffer, buff the nails until they become shiny.
Wipe away dust with a damp towel. If there's any remaining dust around the edges of the cuticles, I find it easiest to just wash and thoroughly dry my hands before moving on.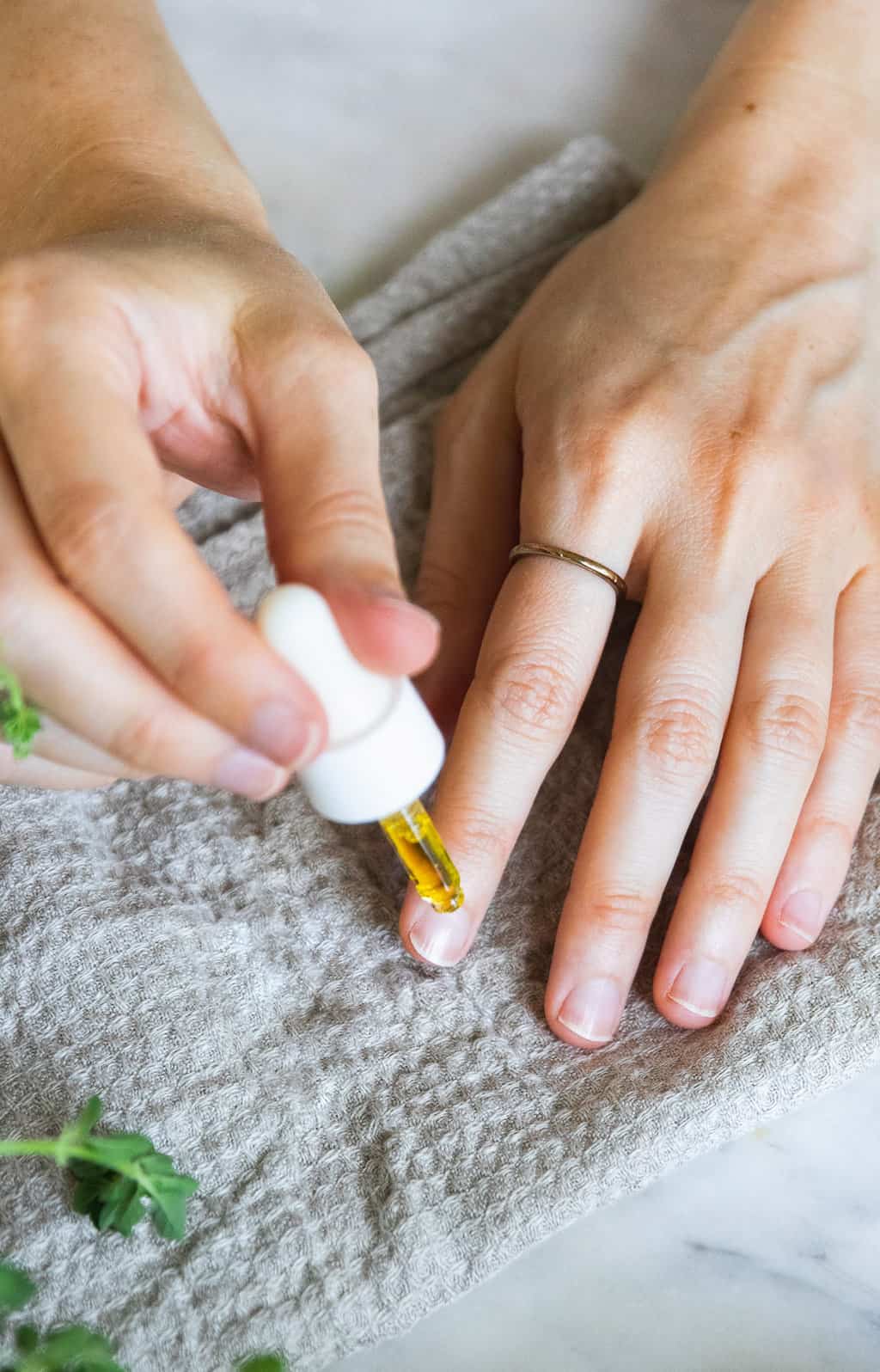 Step 3 | Hydrate cuticles with cuticle oil
Since cuticles have a tendency to dry out and peel from the chemicals in nail polish, cuticle oil is a must. However, you don't need a fancy oil to seal in moisture and prevent hangnails. Sweet almond, jojoba, or olive oil can help nourish and soften cuticles, so they don't dry out and crack. Personally, I prefer a cuticle oil with enzymes to help soften my cuticles and prepare them for trimming. What kind you decide to use is completely up to you.
Start by applying a drop or two of oil to the base of each nail. Then massage it into the cuticles for about 30 seconds. The longer you massage, the softer and more hydrated they'll be, so take your time.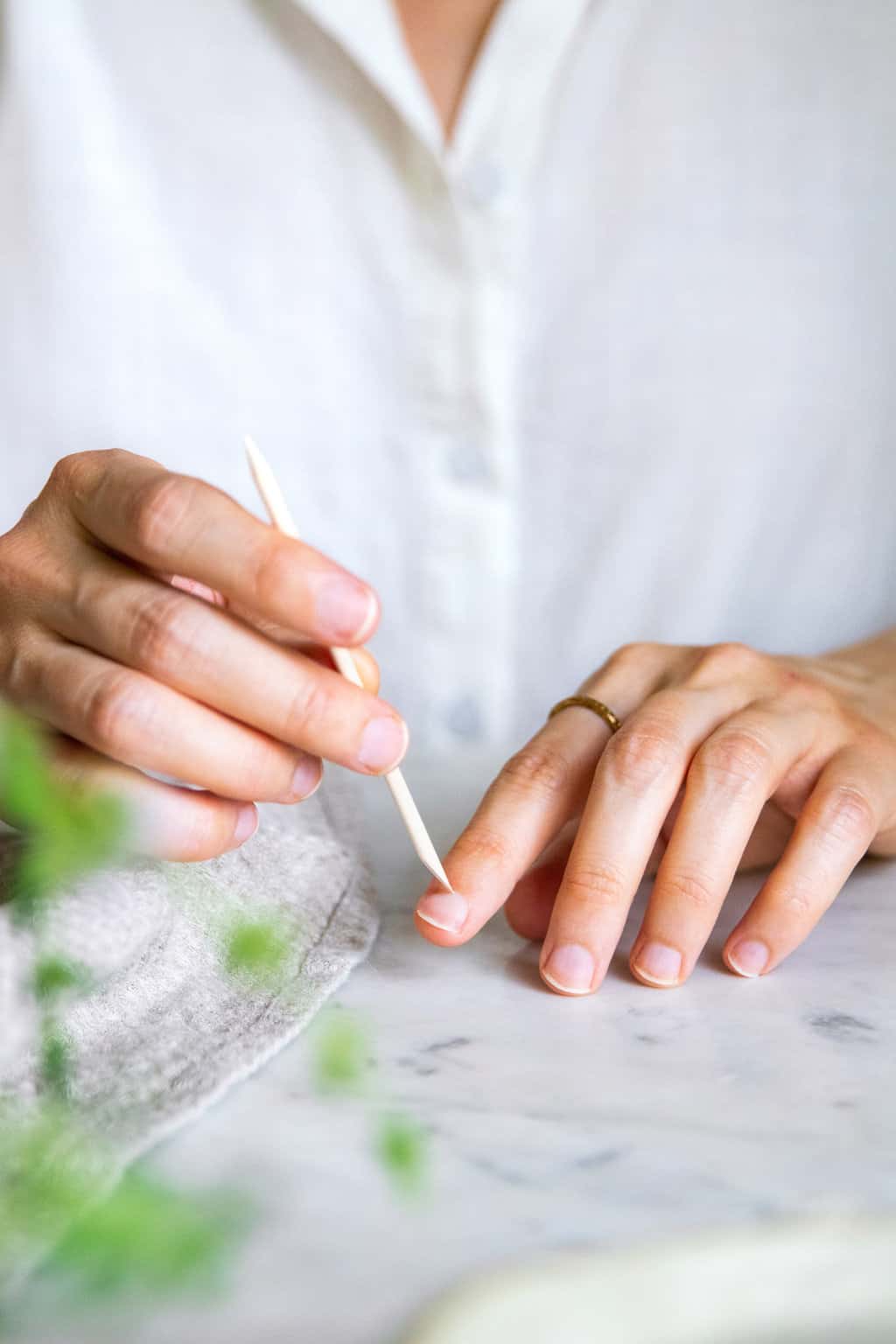 Step 4 | Push cuticles back or trim them
Now that your cuticles are hydrated, it's time to clean them up. I find that the more I mess with my cuticles, the more they crack and peel in the future, so I keep this part to a minimum. Clip hangnails and get rid of skin that may snag. Then trim your cuticles and use a cuticle stick to gently push them back if you desire.
Rinse off your nails to get rid of any lingering oil that may interfere with the application of your polish.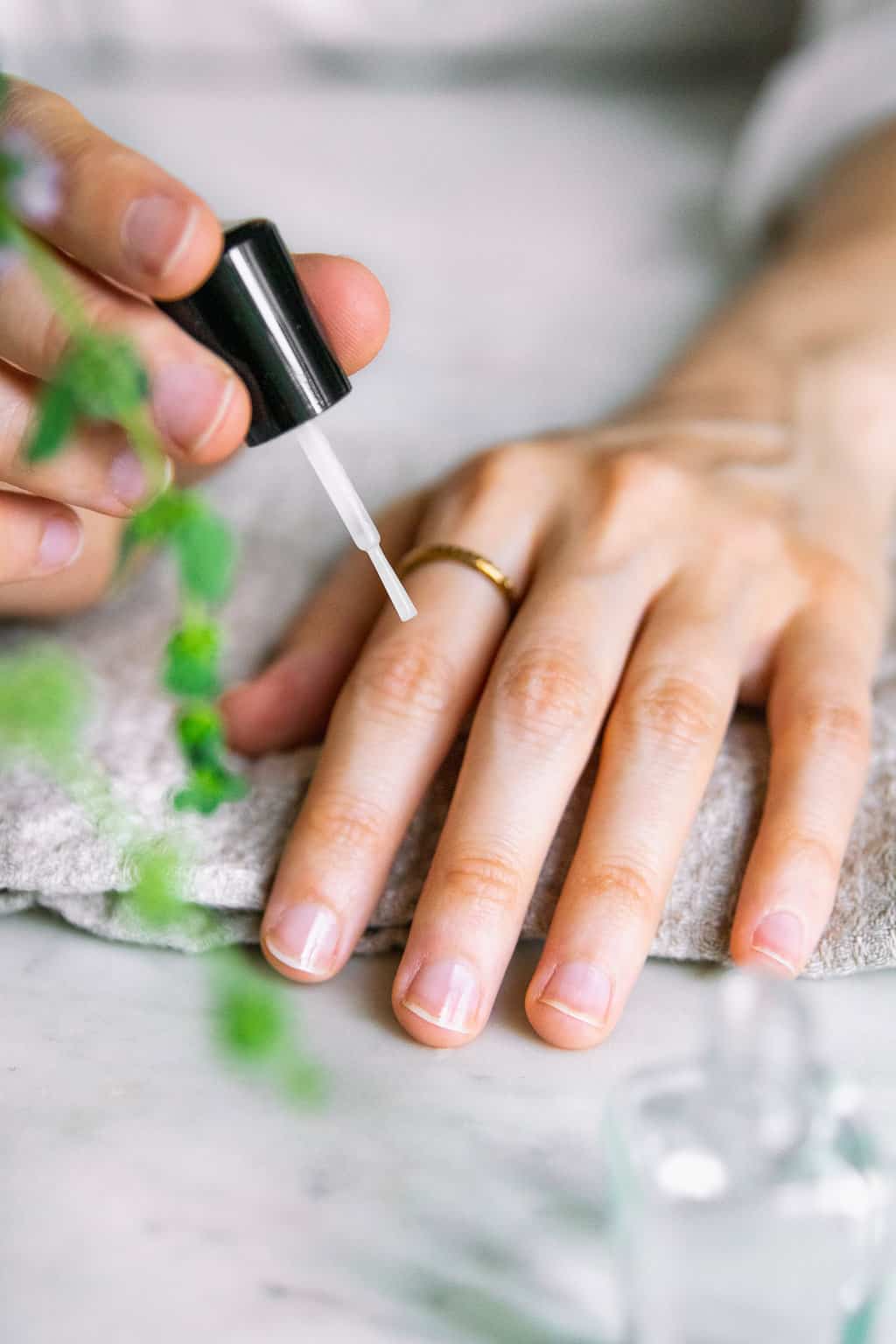 Step 5 | Apply a base coat
With clean, trimmed nails, it's time to apply the base coat. Note: if you plan to use French manicure tape to paint your tips, the glue may remove your base coat. In that case, skip the base coat entirely and just seal your nails using a top coat.
Make sure to let the base coat dry thoroughly before moving on to the next step.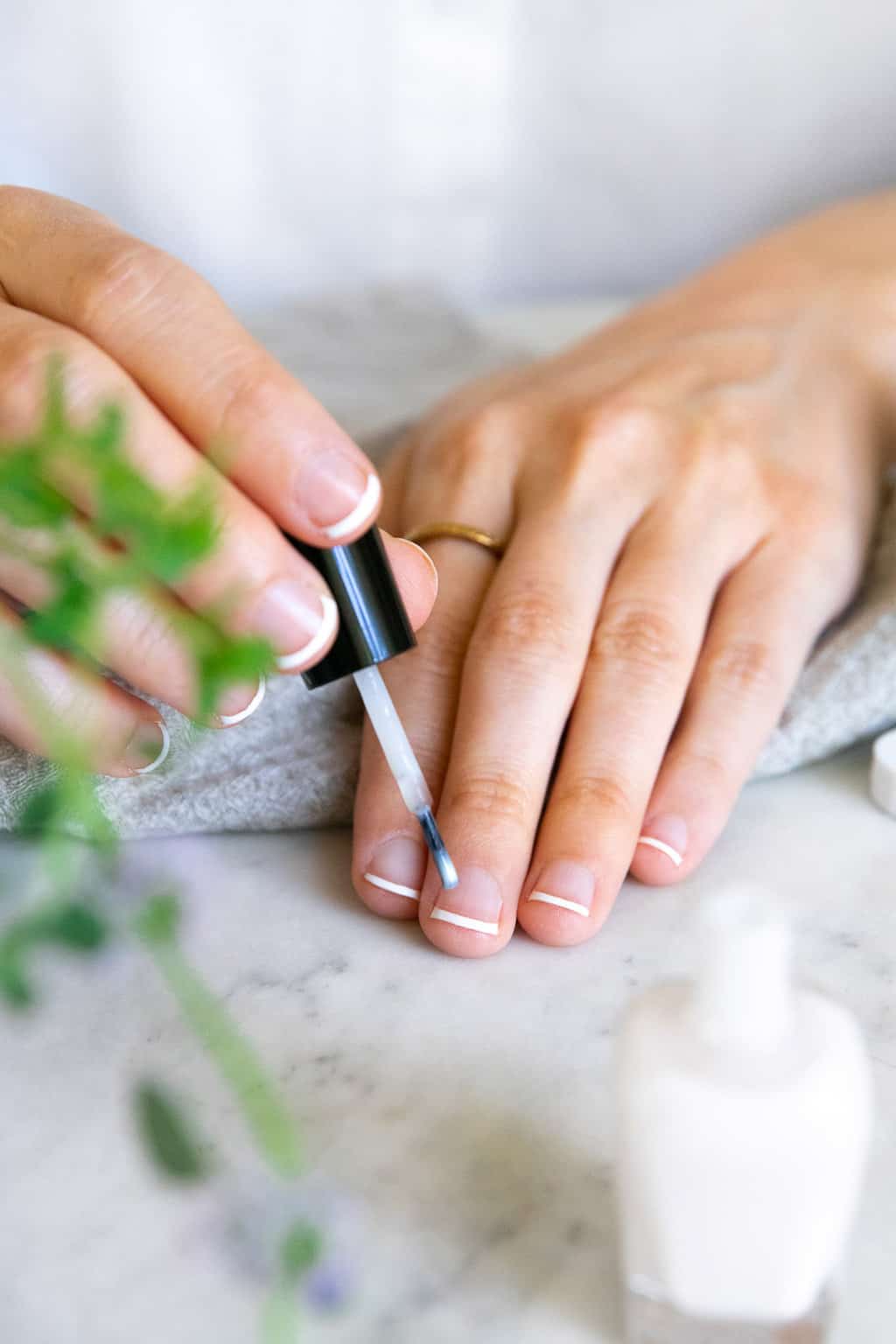 Step 6 | Paint the tips
You can either paint a straight or curved white strip along the tip of each nail. It helps if you follow the shape of your tips. That way, you don't have any of your natural nail tip peeking out from under the nail polish.
Using the brush that came with your polish, remove as much color as you can so you don't have any drips getting in the way. Then simply swipe it along the tip of each nail.
If you get some polish on your skin, wait until it dries and then go back with a manicure clean-up pen or a Q-tip soaked in nail polish remover and clean things up.
Alternatively, if you decide to use French manicure strips, apply the sticker just below the tip of each nail, then paint. While the paint is still wet, remove the strip. Let your nails dry thoroughly before cleaning up any stray nail polish with a clean-up pen.
Step 7 | Apply top coat
Last but not least, apply a thin layer of top coat. The top coat will help seal in the color and prevent polish from chipping, so your manicure lasts longer.
Make sure to let your nails dry for at least 1 to 2 hours before washing your hands or doing anything that might smudge the paint before it's had a chance to cure.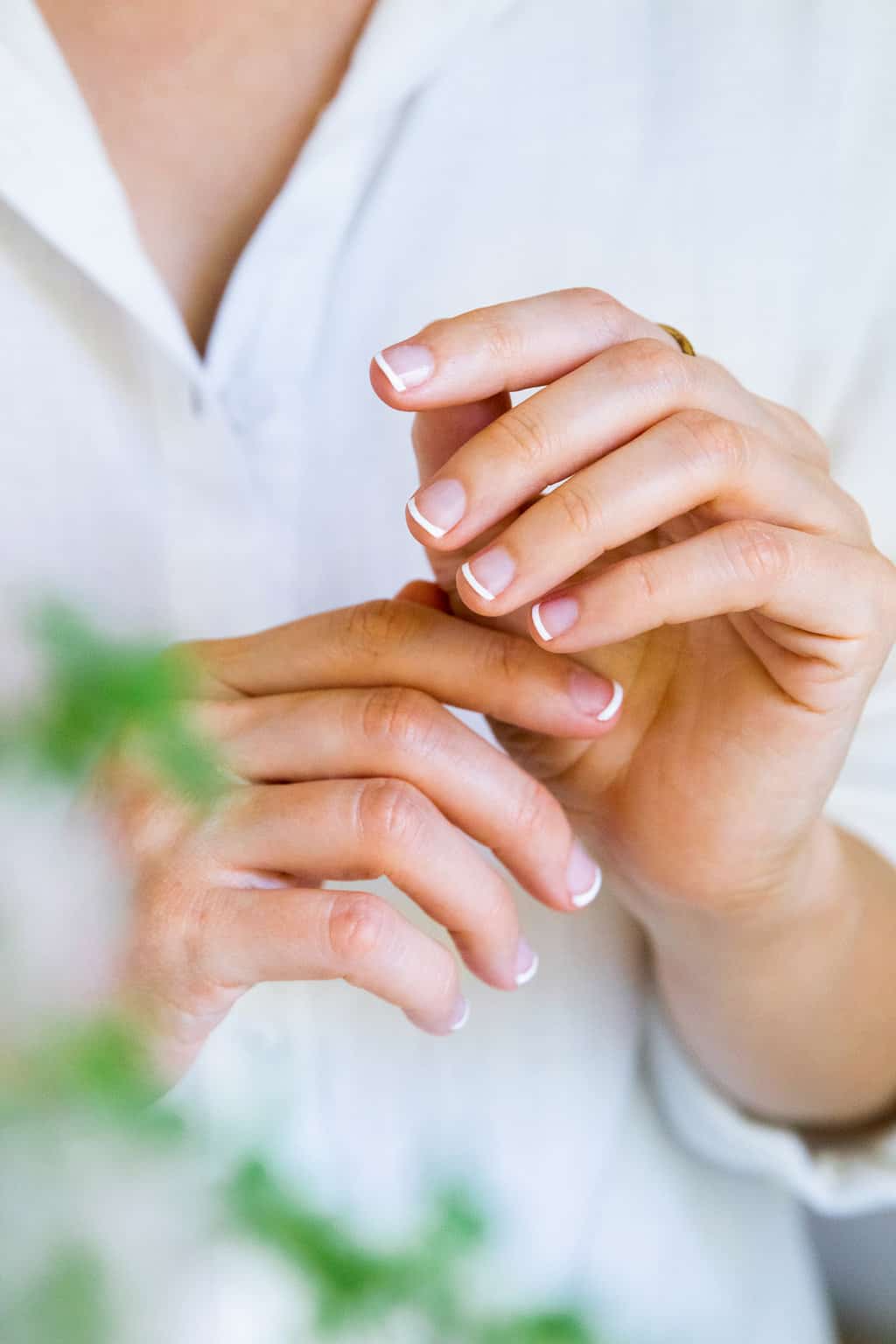 7