Spring is right around the corner, and now that the ground is beginning to thaw, I'm seeing blooms popping up everywhere. Not only is all the gorgeous color a sight for sore eyes, but all those flowers can be put to good use in a myriad of fun ways. One of my favorite ways to use them is by making my own flower petal perfume.
You don't need a lot of equipment or supplies to make your own sunny scent—just some flowers from your garden (or the grocery store, if that's more your speed) and a few essential oils. Plus, since Mother's Day will be here before you know it, this will make an awesome gift for your mom! So break out that pretty spray bottle you've been saving, and let's bottle some blooms.
Note: Just be sure and plan ahead because this recipe takes a little over a week to be ready for Mother's Day.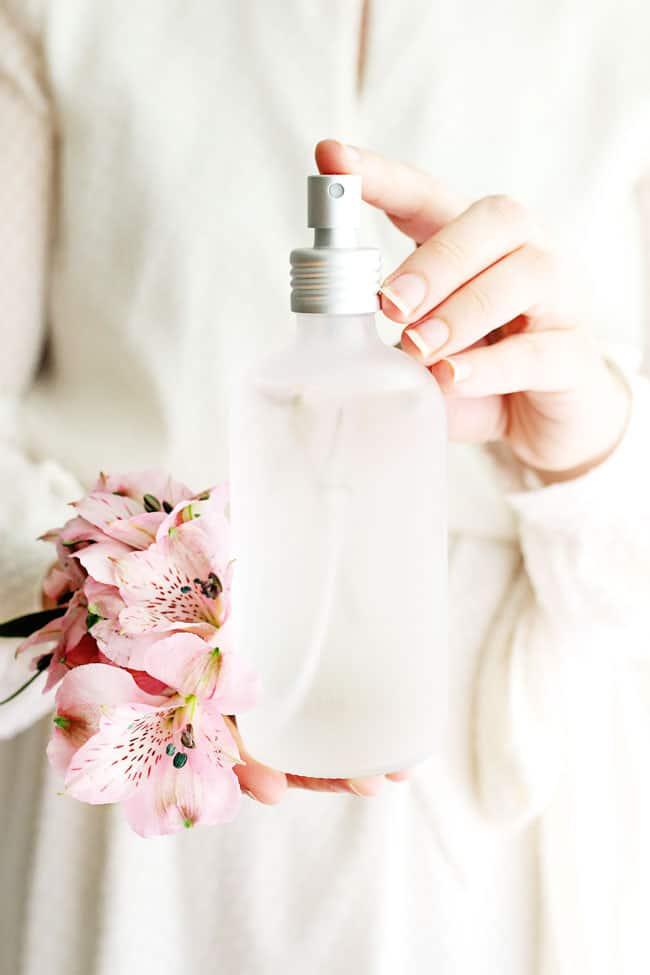 How to Make a Fresh Flower Petal Perfume
Making your own perfume from scratch might sound complicated, but it's actually a lot simpler than you think. Most perfumes are nothing more than a mixture of fragrance (I prefer essential oils for a soft, natural scent), water, and alcohol. Simply mix them all together and spritz!
But to make homemade perfume really come alive, you can add fresh flowers cut straight from the garden. Not only does it add depth and a sense of earthiness to your perfume, but it's free and fun—always a plus, right?
If you're not the gardening type, feel free to pick up some fresh flowers from the grocery store. Since this perfume is going to be spritzed directly onto skin, look for organic blooms if you can find them. A local nursery, health food store, or farmers' market is a great place to start. That way, you won't end up with chemicals and pesticides in your perfume.
You can also forage for wild-grown flowers outside in nature—just make sure you're not accidentally trespassing or taking someone else's prized buds.
My favorite flowers for homemade perfume are:
Rose

Lavender

Honeysuckle

Jasmine

Violet

Gardenia
But you'll have an easier time finding flowers that are local to your area, so keep an open mind and use what you've got. Once you've selected your flowers, you can always customize your essential oils to accentuate their natural scent.

How to Make Your Own Custom Scent
When making your own flower petal perfume, the pros recommend that you layer scents to create base fragrances, mid-tones, and top notes. When you smell a perfume, the top notes are typically the first thing you smell, followed by middle and then base notes.
But when making your own perfume, you'll want to start with base notes first and work your way up.
Base Notes
Think heavier, warm scents like:
vanilla

cedarwood

frankincense

sandalwood
Middle Notes
Your typical floral fragrances work well here. I prefer:
rose

lavender

honeysuckle

peony
Top Notes
You'll finish things off with uplifting top note fragrances, such as:
orange

grapefruit

bergamot
Choose one or two scents from each category, and combine them until you end up with a fragrance that really speaks to you.
If that's too complicated, just skip the layering process and follow your nose. You naturally know what smells good, so trust your instincts and choose whatever fragrance combinations you like. You can't mess it up, I promise.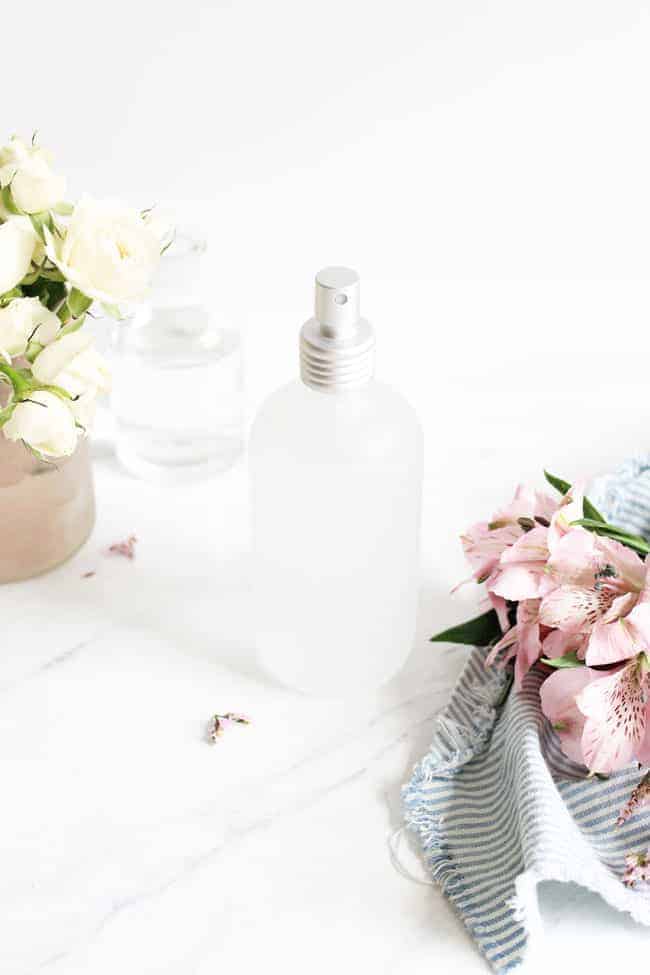 Flower Perfume FAQ
What can I do to keep the essential oils from separating
?
The vodka should act as an emulsifier, which helps to disperse the oil throughout the water. If needed, add more vodka until the essential oil disappears completely when you shake the bottle.
How can I make the smell of my flower petal perfume last longer
?
By its very nature, homemade perfume won't have as much staying power as the store-bought stuff. Spray your perfume on pulse points, such as on your wrists, behind the ears, and on your clavicle. And reapply as needed to refresh the scent throughout the day.
Will using a preservative keep my perfume from going bad as quickly
?
Since this recipe contains water, it needs to be used up pretty quickly. But adding a broad-spectrum preservative will help keep it fresh longer.
How do you make perfume without alcohol
?
A solid perfume uses oil instead of alcohol to carry the scent. While it doesn't use fresh flowers like this one does, you can customize your scent using any essential oils you like.
This article was medically reviewed by Dr. Gina Jansheski, a licensed, board-certified physician who has been practicing for more than 20 years. Learn more about Hello Glow's medical reviewers here. As always, this is not personal medical advice and we recommend that you talk with your doctor.
499