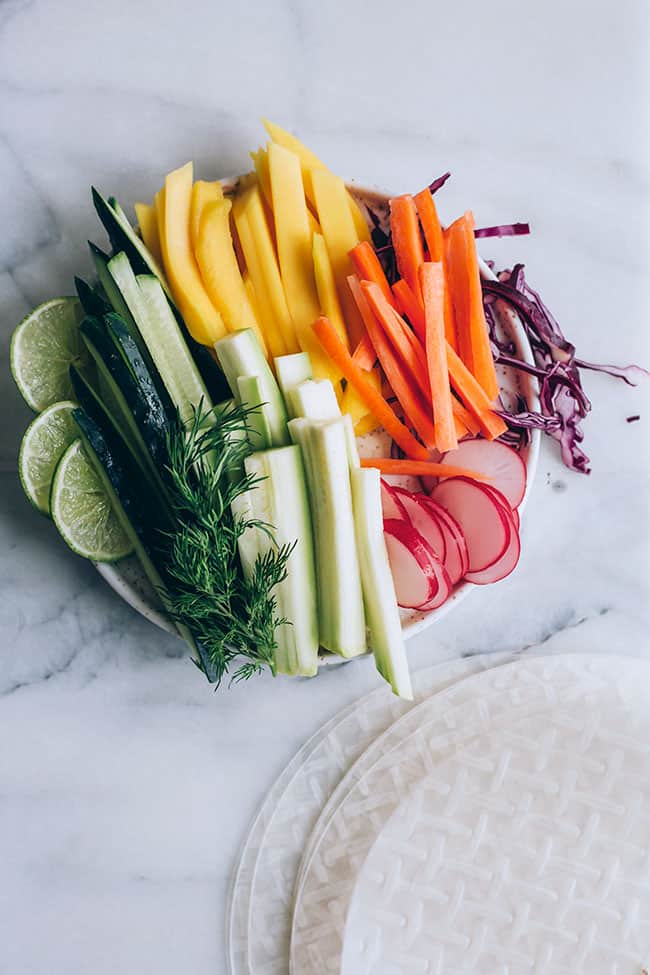 March at last! New vibes, new plans. Although not every green plant I longed for during winter is available at the farmers market yet, my body feels that we are almost there, and happily accepts everything fresh. We are slowly getting out of comfort food mood, and embracing a nutrient-packed, fresh ingredient-loaded diet, while spending more time outside. Sounds like life is really going on!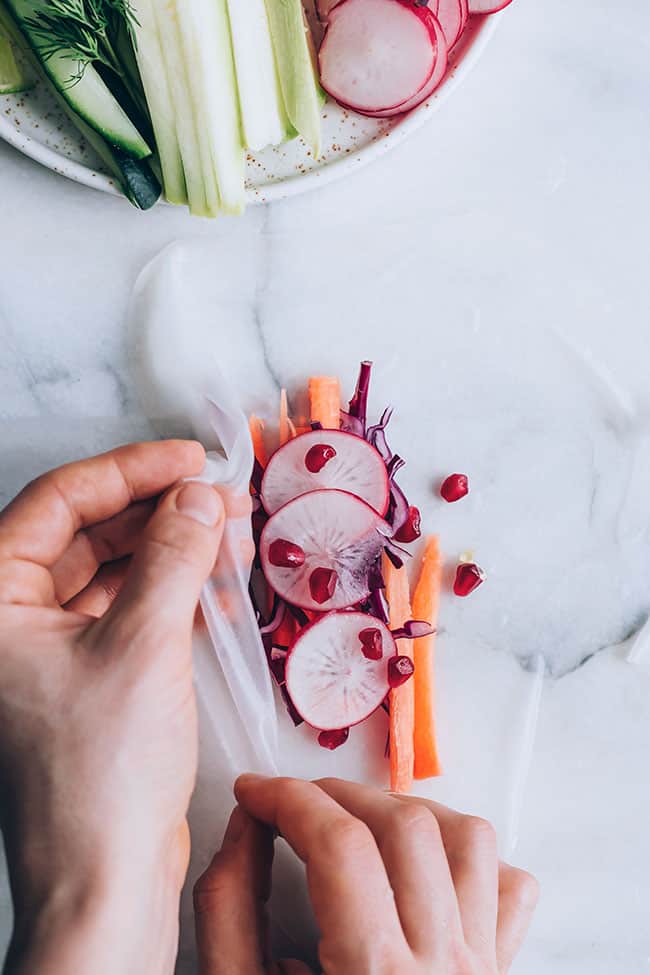 Fresh spring rolls are the perfect transition snack, because you can stuff them with raw fruits, veggies and any available greens and herbs to fuel your cells with antioxidants and prepare them for a real spring detox.
There isn't a fixed recipe for creating the spring rolls–just make sure you use plenty of fresh ingredients to provide a variety of nutrients. Here are my go-to ingredients for creating a delicious combo:
1. Veggie base – crisp veggies such as zucchini, cucumbers, radishes, cabbage, carrots or beets, for fiber, minerals and vitamins.
2. Fresh fruits – especially citrus, pomegranate and mango, for a tangy twist and extra antioxidants.
3. Avocado – to add creaminess and a good dose of healthy fats to increase nutrient absorption.
4. Fresh aromatic herbs – for extra flavor and digestive aid.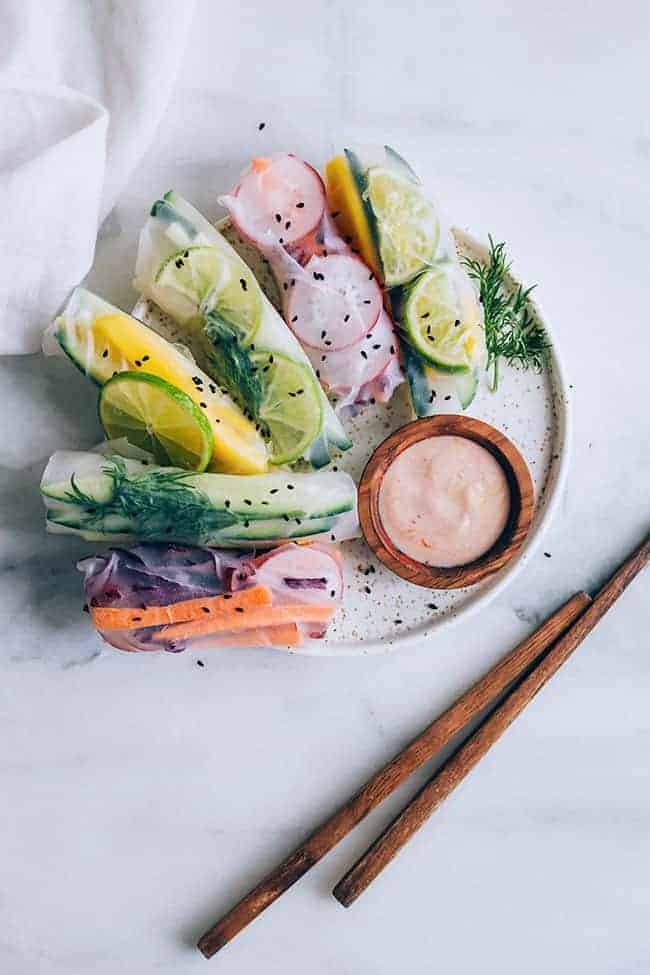 For the dipping sauce I went for a probiotic rich combo made with coconut yogurt and peanut butter. The friendly bacteria in the coconut yogurt refreshes the gut microbiome, boosting immunity and improving the digestion process.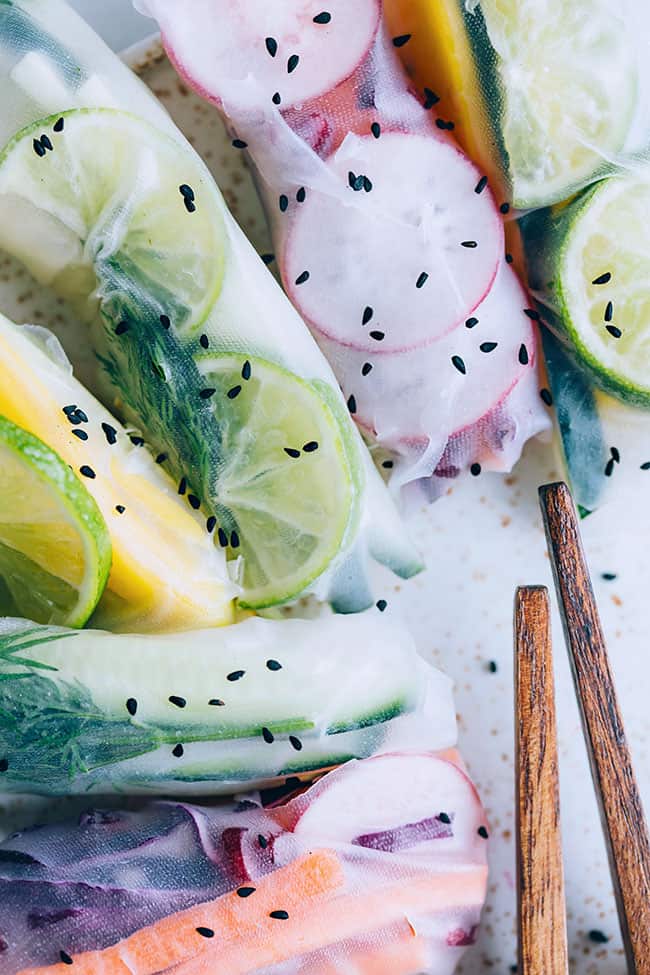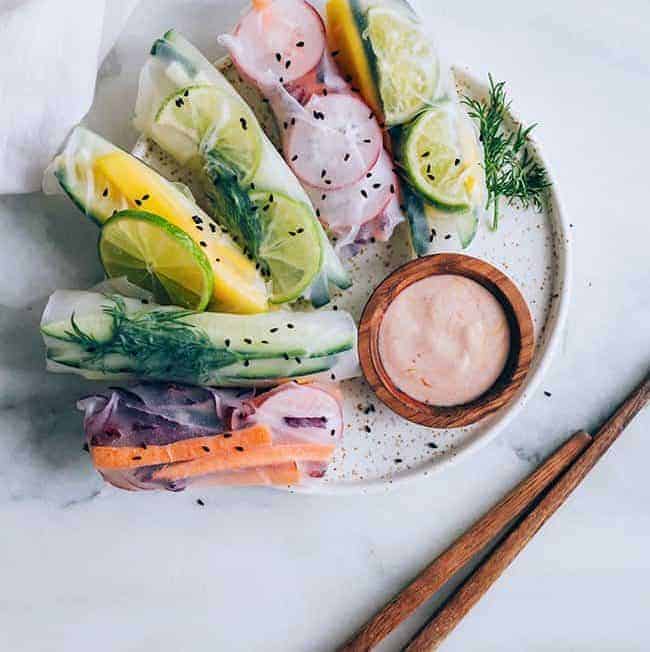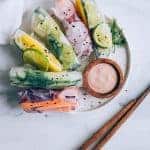 Print Recipe
Fresh Spring Rolls with Coconut Peanut Butter Sauce
Customize these fresh spring rolls with your favorite fruits, vegetables, and herbs and serve them with a tangy coconut peanut butter sauce for dipping.
Ingredients
1/2

ripe mango

peeled and cut into strips

1

avocado

peeled and sliced

1

cucumber

cut into strips

1

zucchini

cut into strips

1/8

medium red cabbage head

sliced

2

radishes

thinly sliced

1

carrot

cut into strips

1/2

organic lime

thinly sliced

1/2

pomegranate

seeds only

Fresh mint leaves

Fresh dill

1

teaspoon

black sesame seeds

To assemble: Rice paper wrappers
For the dipping sauce
1/2

cup

coconut yogurt

2

tablespoons

fresh lime juice

1

tablespoon

light soy sauce

1/2

tablespoon

peanut butter

1

teaspoon

agave syrup

1/4

teaspoon

cayenne

2

garlic cloves
Instructions
Add all the sauce ingredients into a blender, process until smooth, transfer into a bowl and set aside to allow the flavors to combine.

Before assembling, soak each of the rice paper sheets in warm purified water for two minutes.

Transfer the rice paper sheets onto a cutting board and arrange the ingredients. Place the ingredients you want to show on the top on the bottom of the roll, and the rest down toward the middle of the sheet.

Fold the right and left sides of the rice sheet over the filling, then roll tightly from the bottom up, to cover all the ingredients.

Repeat with remaining ingredients, then arrange finished rolls on a plate, sprinkle with black sesame and serve with dipping sauce.
10