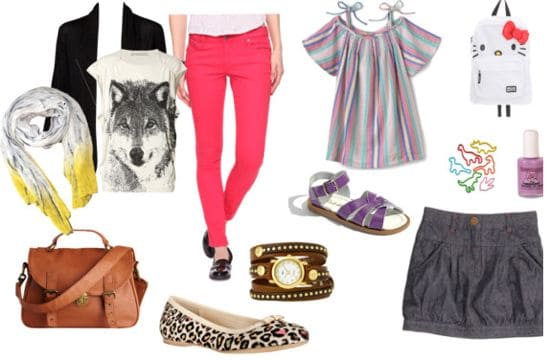 First day of school by henryhappened

Happy Friday everyone! Do you have big plans for the long weekend? We are headed off on a loooong roadtrip for a family reunion.
When we get back, it's time for preschool to start. Hallelujah! Though I probably shouldn't admit it, I can.not.wait.
But neither can Caroline – she keeps asking when school is back from vacation so I think she's ready too! This year she goes into the 4-year-old room. She turns 4 on Sunday so she'll be the youngest in her class for sure.
I love all of the planning and prepping beforehand. New school bags and lunch boxes. I've been thinking about what Caroline should wear on Day 1, but I'm more worried about what I will wear! (What does this say about me?? Let's not dwell….)
Here's what I'm dreaming of us wearing. Of course Caroline will be totally cute no matter what she wears, lucky girl :)
Head on over to Long Distance Loving and check out all of the Friday Fancies. You can click the thumbs up to "like" my entry while you're there (I'm number 39!).
Thanks & have a great weekend!
0