What are you up to on the long weekend? I've got some shopping to do this weekend – two birthdays next week plus we are in dire need of new shoes and lunchboxes. And mom needs new office supplies and stationary. I'm thinking cute cards, brand new blank notebooks and colorful pens for the whole back to school fuss: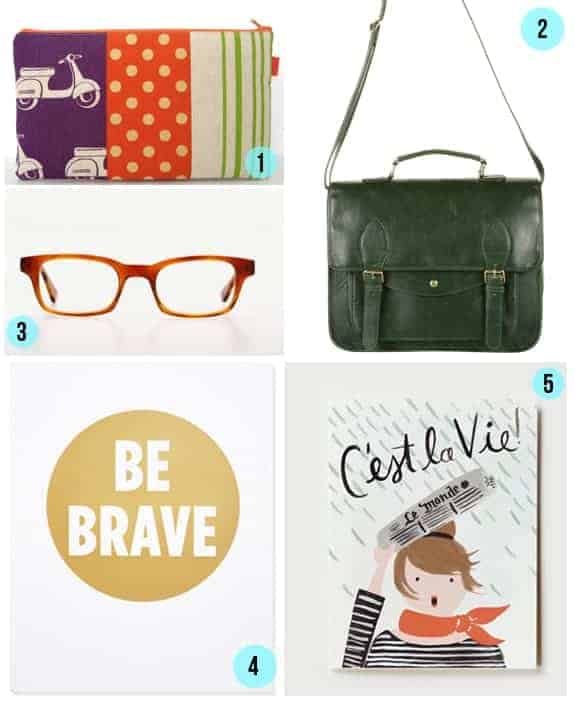 1. Pencil pouch from Prints n Patterns 2. Satchel from Topshop 3. Eyeglasses from Bonlook 4. Be Brave print from Jess LC 5. Note cards from Rifle Paper Co.
Don't you love this Be Brave print? It's a great reminder for a 5-year-old starting a new school and a mom trying to figure out the mommy social scene. (Why is that so stressful?!) A few more links for your long weekend:
Buyable
Great list of fall essentials from Gaby – I've got my eye on the sassy sweatshirt
This blazer is amazingly affordable
Doable
Love this edgy upgrade to a pair of flats
When 5 minutes is all you've got to look fabulous
Best tutorial I've seen for the collage impaired (that's me)
Readable
The best blog I found this week – love her pretty collections and these yummy ice cubes
Finally getting started on my book club book. Everyone raves over it so I can't wait. Are you reading anything good?
See you back on Tuesday!
0