One of my favorite "mommy needs some alone time" outings is to the hardware store. I find it soothing to roam the aisles of nuts and bolts (though I do get strange looks from the guys who work there). It's definitely a great place to find inspiration! I still wear my hose clamp bracelet but these five projects have me ready to make another trip to Home Depot.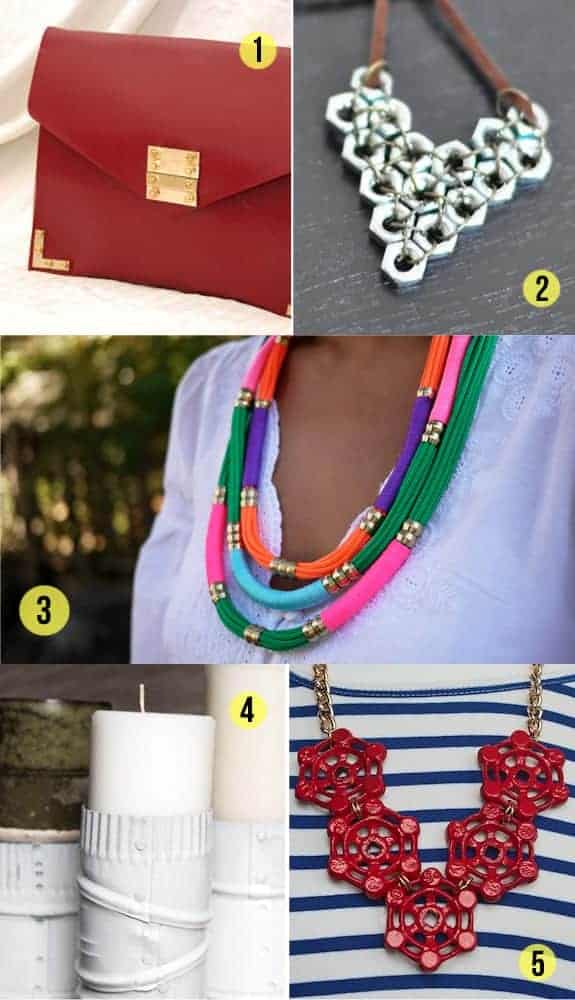 1. Hardware Clutch from Runway DIY 2. Hex Nut Pendant from I Try DIY 3. Utility Rope Necklace from Honestly WTF 4. White Candle Holders from Alisa Burke 5. Nautical Red Necklace from Stripes and Sequins
What's your favorite place to go for inspiration? Here's a few more inspiring links for your weekend!
Buyable
Doable
This painted desk organizer is my fave.
With Halloween already in the air, it's not too early for these adorable pumpkin pops.
Happy birthday to Gloria, who made these stunning decorative flowers!
Readable
I loved reminiscing with Danni through her old posts, but especially over her engagement story.
End the week with a smile.
0