Healthy snacks don't have to be boring. These fruity frozen yogurt bites are as fun as they are healthy and delicious. (And trust me, they aren't just for kids!)
I am a fan of easy-to-make snacks that are also easy to eat. These little bites don't take long to make and they're full of healthy fat and protein.
If I didn't know any better, I might even say these babies pass for a nutritious meal. The hardest part is not opening the freezer a dozen times to see if they're ready yet only eating a few at a time.
Honey Peach FroYo Bites
You only need three all-natural ingredients to make these yummy, frosty fro-yo bites: honey, yogurt and fruit.
It seriously doesn't get any simpler than that.
To make 'em, all you need to do is mix yogurt with a little honey and chopped fruit and spoon it into ice cube trays. I usually don't measure my ingredients because it's hard to go wrong with these.
Instead, I just eyeball the ingredients and combine them in a small bowl. Then I'll give it a little taste to see if it needs anything extra. (What can I say, I'm a rebel like that.) But for you, I measured the ingredients to make sure I wasn't leading you astray.
Once everything tastes A-OK, I transfer the mixture to small ice cube trays so I end up with little bite-sized yogurt pops. While you're free to use standard ice cube trays, the smalIer trays are perfect for children who might choke on the large cubes as well as adults who like to pop as many bites into their mouths as possible. I mean, not that I would ever do that.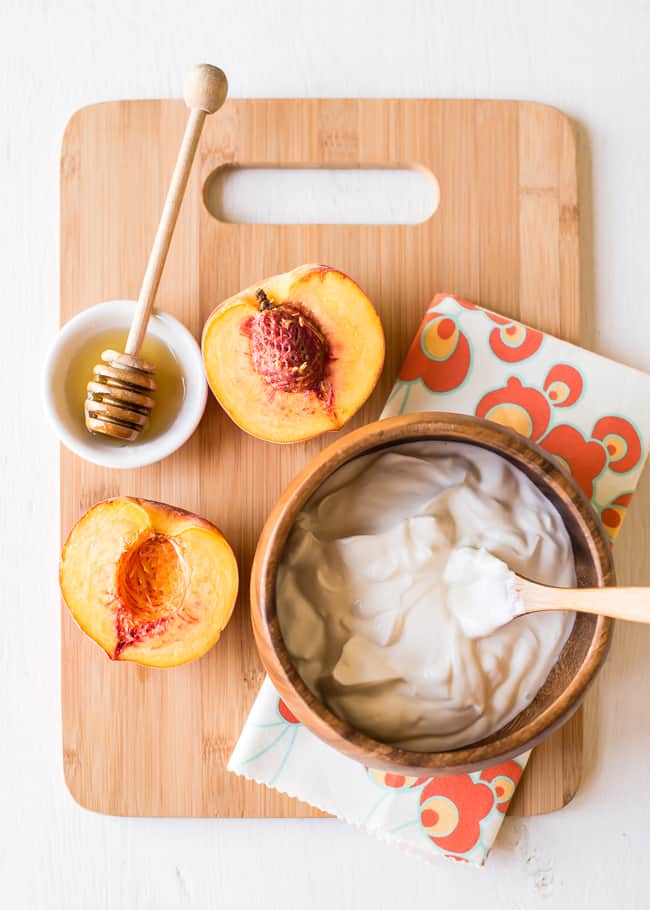 Alternatively, you can dip small chunks of fruit into the yogurt and place on a parchment-lined baking sheet and freeze them. It takes a little longer to do it this way, but it saves you from having to rush out and purchase brand new ice cube trays. Personally, I like the ice cube tray route a little better.
A few more frozen yogurt tips:
-Use the ripest, sweetest fruit you can find
-Cut fruit into small pieces because big frozen chunks of fruit are more difficult to eat and are prone to hurt your teeth
-Store the cubes in an airtight container until you're ready to eat them. They should keep a month or more, if they last you that long!
-Double or triple the recipe and turn into popsicles or push pops.
-I found my ice cube trays at IKEA. (In case you were wondering.)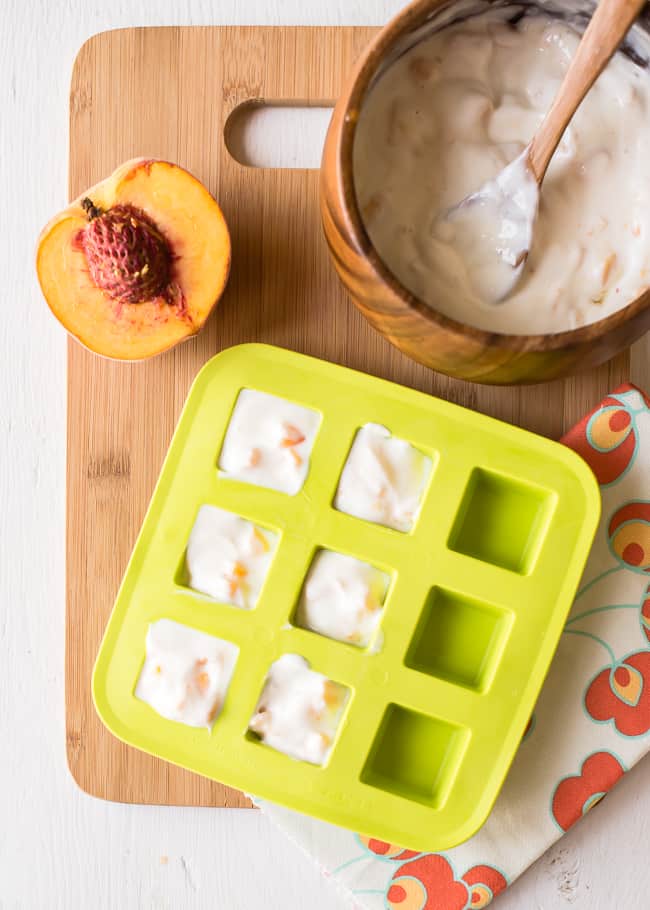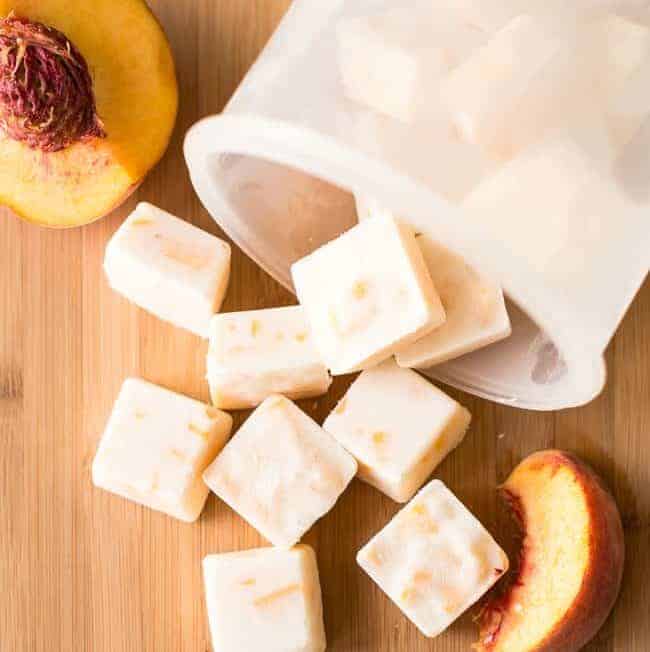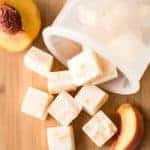 Print Recipe
Honey Peach Frozen Yogurt Bites
These frozen yogurt bites are made with just three natural ingredients and are the perfect snack.
Equipment
Ice cube tray or silicon candy mold
Ingredients
1

cup

plain yogurt

1

large peach half

diced (about 1/2 cup)

1

tablespoon

honey
Instructions
Mix everything together in a bowl and spoon into several small ice cube trays. Freeze until sold. Pop out and transfer to an airtight container. Keeps well for about a month.
Notes
A few more frozen yogurt tips:
Use the ripest, sweetest fruit you can find 
Cut fruit into small pieces because big frozen chunks of fruit are more difficult to eat and are prone to hurt your teeth
Store the cubes in an airtight container until you're ready to eat them. They should keep a month or more, if they last you that long!
Double or triple the recipe and turn into popsicles or push pops.
I found my ice cube trays at IKEA. (In case you were wondering.)
21