My favorite gift guide to write last year was gifts that give back, so I decided to do it again this year. Because what better way to celebrate the holidays than to give gifts that also benefit a cause you believe in?
While so many of us bemoan the materialism of the holiday season–I'm definitely one of them–it's hard to skip out on buying people gifts without looking like a jerk. No one wants to look like a jerk! So gifts like these are the perfect solution. From panda hats to peppermint scrubs, there's something here for everyone on your shopping list.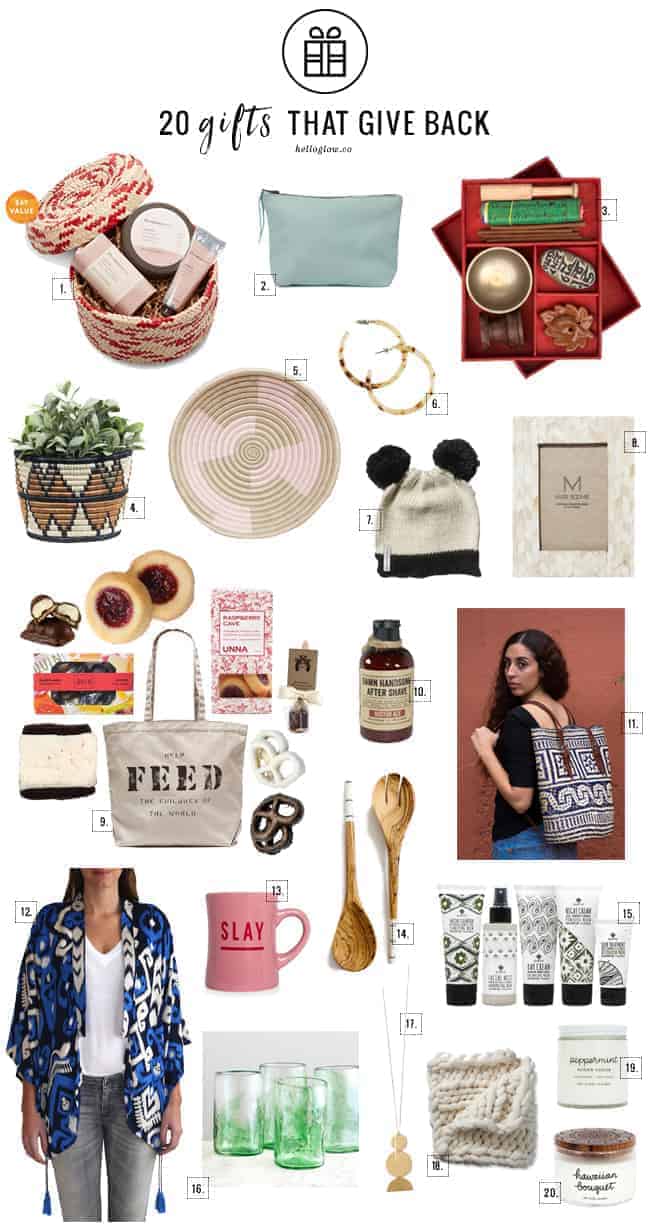 1. NaturaBrasil Castanha Body Collection // If you haven't heard of NaturaBrasil, it's time to get to know them! This beautiful basket is handmade in a Brazilian cooperative that's committed to educating and empowering women, teaching them business skills and boosting local economies.
2. Pebbled Emnet Pouch // A pretty blue pouch handmade with buttery distressed leather in Ethiopia. Use it as a clutch or put it in a larger bag to stay organized.
3. Ten Thousand Villages Meditation & Relaxation Kit // Ethically sourced and handcrafted in Nepal, this gift set comes complete with a singing bowl, incense, meditation mantra rock, and prayer flags.
4. KAZI Black + Brown Sugar Planter // The green thumb in your life will love this handwoven planter, made with sisal agave and sweet grass by women in Rwanda.
5. Indego Africa Pink and Tea Plateau Use this pretty plateau as a basket or hang it on your wall. All profits go to fund education programs for the women who handcraft them.
6. Modela Hoop Earrings // Handmade with non-petroleum based acetate, these eco-friendly earrings are sure to make a statement.
7. Krochet Kids Panda Hat // Kids will adore this super soft (and super fun!) panda hat, made by women who are paid fair wages in Uganda.
8. Artemis Frame // For that relative who's always asking you to send more pictures—put one in this beautiful handmade frame from India.
9. FEED + Mouth Holiday Sweets // If you're gift giving from afar, this is a special delivery everyone will love. Each purchase provides 10 school meals for children around the world.
10. Damn Handsome Scotch Ale After Shave // Guys are so hard to shop for, right? But he'll appreciate this handcrafted after shave made with spent grains from Michigan breweries. Every purchase provides soap to someone in need.
11. Modela Navy and Cream Palm Backpack // Woven palm and leather straps make this Oaxacan backpack one of the most beautiful we've ever seen.
12. TAMGA Lia Kimono // This unique kimono can be dressed up or down. It's ethically made in Bali using Tencel, a safe and sustainable fabric colored with low-impact, GOTS-certified dyes.
13. The Created Co. Slay Mug // There's no doubt you know someone who needs this mug. (Maybe it's you?) 20% of the purchase price goes to charity.
14. Kidogo Utensil Set // Crafted with locally sourced olive wood, these serving utensils are made with love in Kenya—your purchase helps provide scholarships, micro loans, and job training there.
15. Alaffia Neem Turmeric Face Care Set // Alaffia supports a wide array of empowerment projects and their products are fair trade too. We love their Neem Turmeric line, which balances and soothes troubled skin.
16. Studio Xaquixe Handblown Tumblers // Any drink will look better in these stunning tumblers, made from recycled glass.
17. Aura Necklace // This geometric brass necklace from ABLE is handmade in Nashville by women who have overcome difficult circumstances.
18. Nublado Throw // On our wishlist this year? This soft, chunky throw, handwoven by a master weaver in Peru.
19. Bright Endeavors Peppermint Sugar Scrub // This minty, refreshing sugar scrub is made with all natural ingredients by female artisans in the United States.
20. Hawaiian Bouquet Prosperity Candle // In the middle of winter, who doesn't want their house to smell like the islands?! Each purchase empowers artisans at Prosperity Candle in the United States and Matr Boomie in India.
2