What better way to celebrate the holidays than to give gifts that also benefit a cause you believe in? While so many of us bemoan the materialism of the holiday season–I'm definitely one of them–it's hard to skip out on buying people gifts without looking like a jerk.
No one wants to look like a jerk! So gifts like these are the perfect solution. From honey to beanies, there's something here for everyone on your shopping list.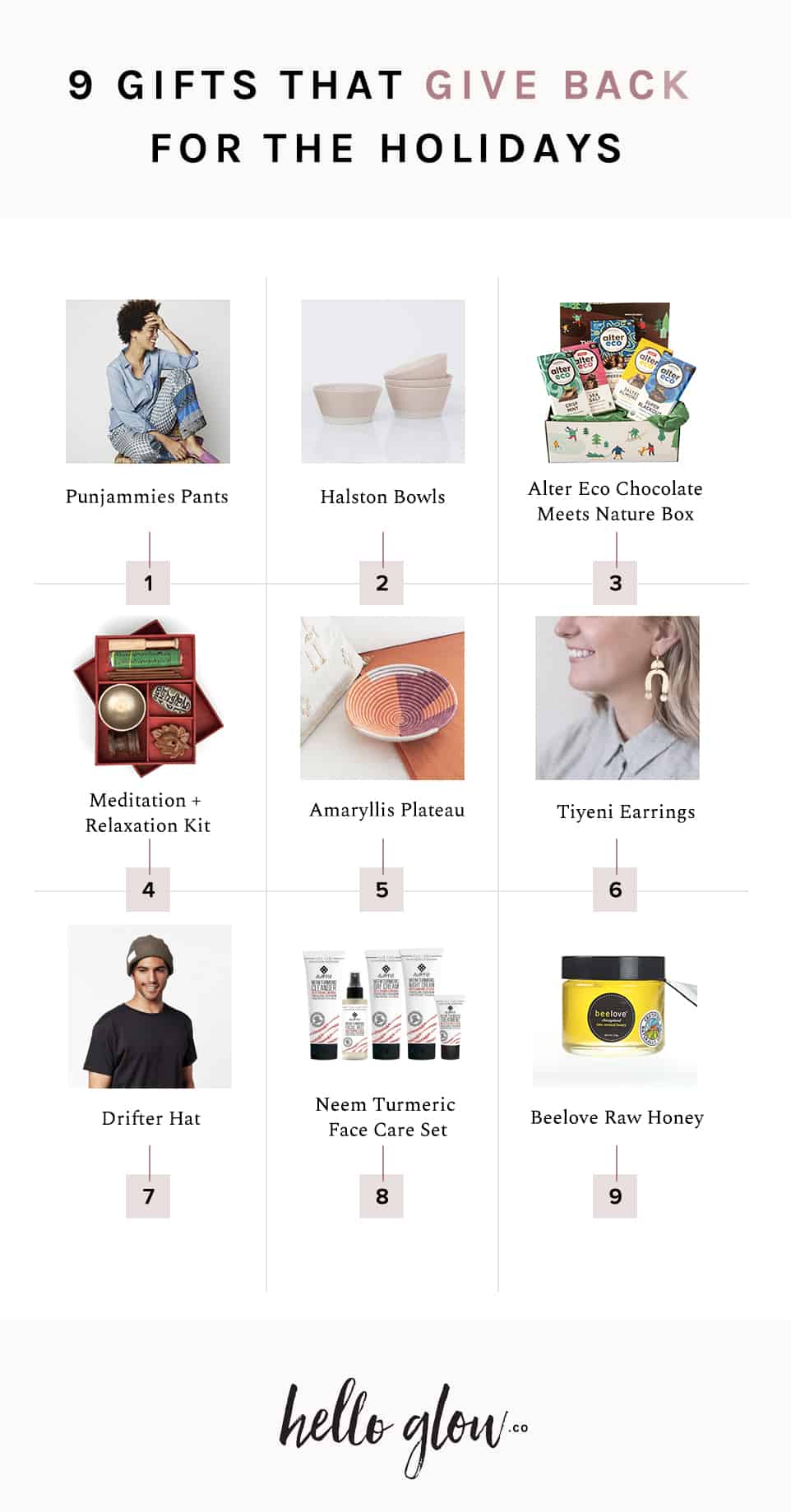 1. Sudara Punjammies // These gorgeous lounge pants are made by women in India who are working to remain free from sex slavery.
2. Halston Bowls // The Citizenry partners with artisans around the world to sell their products and provide them with fair wages.
3. Alter Eco Chocolate Meets Nature Box // With each gift box purchased, Alter Eco will plant one tree in the Peruvian Amazon where its fair trade farmers grow organic cacao.
4. Ten Thousand Villages Meditation & Relaxation Kit // Ethically sourced and handcrafted in Nepal, this gift set comes complete with a singing bowl, incense, meditation mantra rock, and prayer flags.
5. Amaryllis Plateau // Use this pretty plateau as a basket or hang it on your wall. All profits go to fund education programs for the women who handcraft them.
6. Tiyeni Earrings // We love Thistle Farms jewelry—stylish and modern, it's made by women survivors of abuse, addiction, trafficking and prostitution.
7. Drifter Hat // Guys are so hard to shop for, right? But he'll appreciate this timeless knit beanie. Every purchase helps provides fair-wage jobs and empowerment for women in Uganda and Peru.
8. Alaffia Neem Turmeric Face Care Set // Alaffia supports a wide array of empowerment projects and their products are fair trade too. We love their Neem Turmeric line, which balances and soothes troubled skin.
9. Beelove Raw Honey // The natural, high quality products are produced by men and women returning from incarceration, using honey from urban apiaries in Chicago.
Looking for more gifts? Check out our wellness gift guide and essential oil gift guide as well.
12