Ginger has a long history of medicinal uses for a healthy body and mind. Ginger root is one of the healthiest spices, and I can't talk about ginger without mentioning it was a powerful nausea antidote for all three of my pregnancies!
Originating in China, this flowering plant contains gingerol, one of the active components of this textured spice. The flesh of the ginger may be a variety of colors from red, yellow, or white, while the outside has a light brown thick skin. This spice is not just for reducing nausea or adding a kick of spice to your recipe; ginger has benefits extend to the external as well.
Ginger's Skin Benefits
antiseptic properties which fight acne
stimulates circulation
fights dandruff
antioxidants which help aging skin and environmental damage
stimulates hair growth
detoxifies
contributes to hair sheen
Ginger Hair Oil for New Hair Growth
Ginger stimulates blood circulation which is wonderful for also stimulating hair growth. Blood flow brings added nutrients and oxygen to the surface, nourishing the scalp and hair follicles. This ginger-infused oil is easy to make at home and can be applied 1-2 times a month.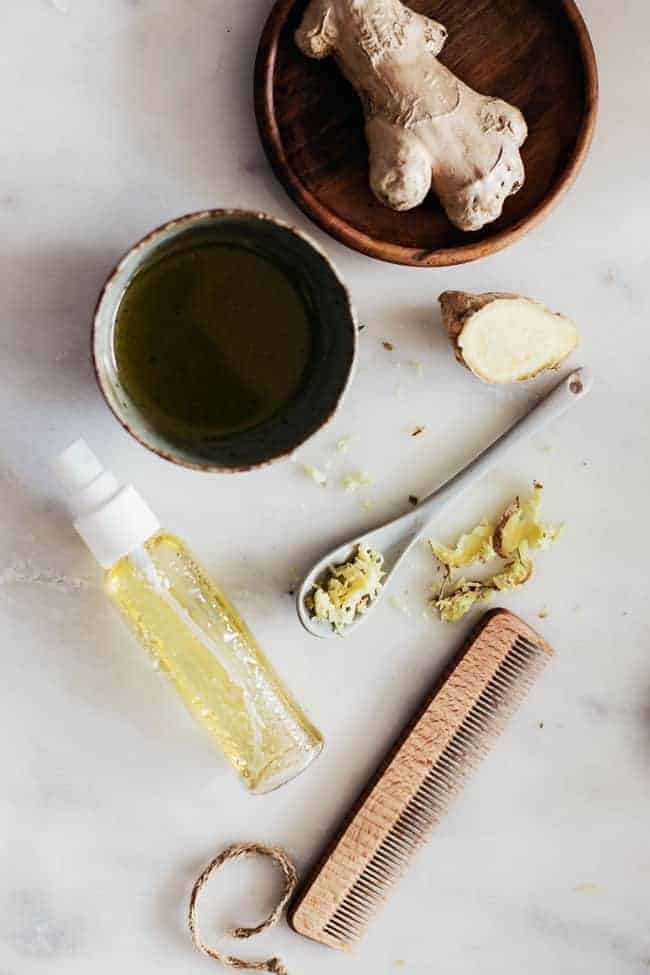 Ingredients
¼ teaspoon grated ginger
2 tablespoons olive oil
Instructions
Heat the olive oil on low heat and add the grated ginger. Once the ginger turns brown remove from the heat and allow to cool. Once cool, strain the ginger out of the oil. You've got yourself ginger infused hair oil! Apply to the scalp for 5-10 minutes and then rinse thoroughly, follow with shampoo and conditioner.
You can substitute the freshly grated ginger with 1-2 drops of ginger essential oil to simplify the process even more.
Health & Body Benefits of Ginger
Ginger can be found in many forms, not limited to just freshly sliced or grated ginger. Ginger root is found in pills, powders, juices and as a dried substance as well. It's a common ingredient in many food dishes, and there's no doubt as to why; the health benefits of ginger are through the roof! The next time you are in the kitchen, add some ginger to the meal and bask in the rewards of this plant.
reduces headaches
reduces nausea caused from sea sickness, chemotherapy, pregnancy
aids digestion by reducing indigestion and intestinal gas
fights the common cold & flu by enhancing immunity
helps muscle soreness
reduces arthritis pain and inflammation
reduces menstrual cramps
keeps gums healthy & fights gingivitis
stimulates circulation
Belly-Soothing Ginger Lemonade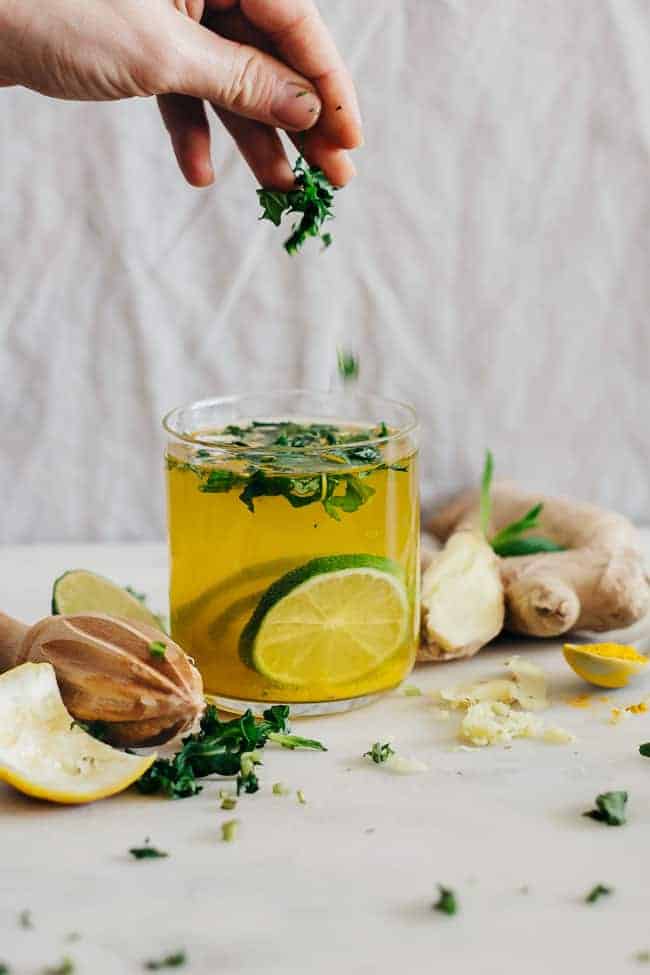 Ingredients
1 inch ginger piece peeled and grated
2 limes juice only
1 handful mint leaves
1 tsp turmeric
A dash freshly ground black pepper
2 tsp organic raw honey
2 cups purified water
To garnish: lime slices ice
Instructions
Add all the ingredients into the blender and pulse two or three times to combine the flavors.
Strain the liquid and pour evenly into the serving glasses, garnish with lime slices and serve.
Recipe and photos by Ana Stanciu
81