Now that Santa's left town you know what that means, right? Time to party! And if there's one day to do a beverage right, it's definitely New Year's Eve. This year we're making pears work double time – a ginger pear champagne cocktail for New Year's Eve and a detoxifying green juice for the morning after.
When it comes to cocktails, I like to keep it simple. Then you can add a not-so-common flavor combination – like pear and ginger – to make it feel fancy. For this Bellini all you need to do is make a simple syrup, puree some fruit and pop open a bottle of bubbly.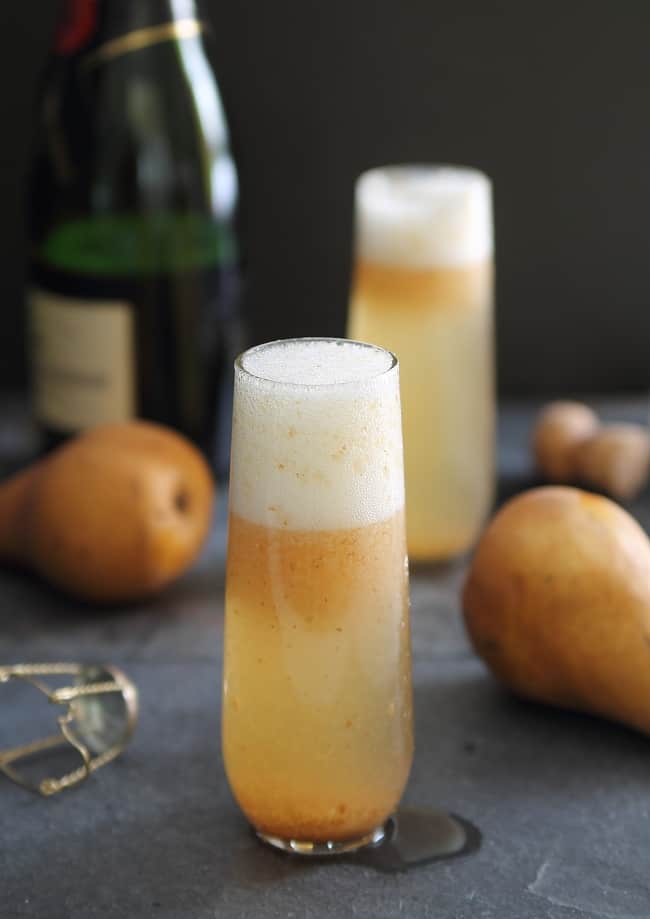 The next morning, throw pears, ginger and spinach in the juicer and say goodbye to that hangover while you say hello to the new year. So basically I'm giving my blessing to enjoy as many Bellinis as you want (and I'm betting you'll want a few when you taste these!) because we've got the morning after headache covered.
Ingredients
1 ripe pear
1/2 cup water
1/2 cup sugar
4 inch piece of fresh ginger quartered
champagne
Instructions
Puree pear in a food processor, set aside.
Combine the water, sugar and ginger in a small sauce pan. Bring to a boil and stir until sugar is dissolved. Cover, turn the heat off and let sit for 30 minutes.
Remove ginger pieces, pour the syrup into the pear puree, stir, cover and refrigerate until cold.
Once cold, spoon about 2 tablespoons of the puree mixture into a champagne flute, top with champagne and enjoy!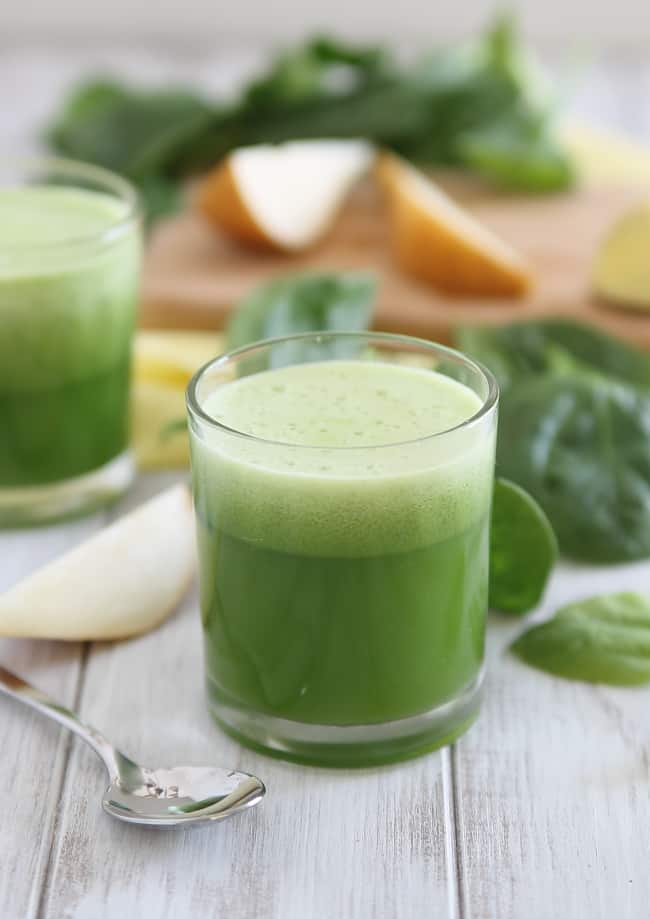 Ingredients
1 large cucumber roughly chopped
2 ripe pears roughly chopped
1 cup packed baby spinach
1 inch piece of fresh ginger
1/2 a lemon
Instructions
Add all the ingredients to a juicer, stir and enjoy!
54