A glorious pink-coloured recipe to turn those cranberries into a luscious chutney for accompanying your favourite Thankgiving dishes! This fresh cranberry chutney combines the sweetness of the cranberries with the warmth of Indian spices and sweetness of raisins. If you were looking for the perfect savoury cranberry chutney, you are in the right place! You can serve cranberry chutney as a cranberry sauce with a twist – it works great with veggies, rice, quinoa and cornbread.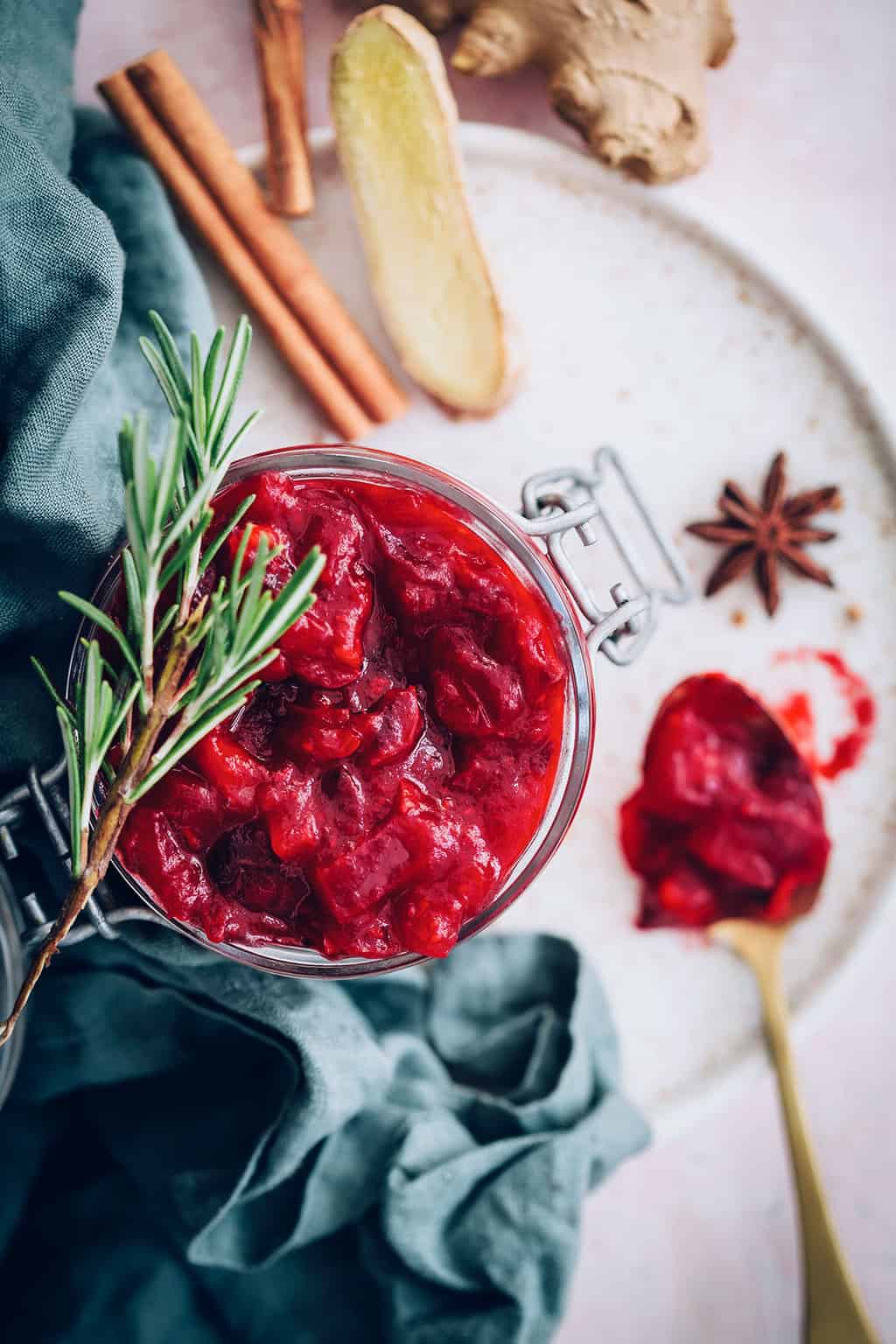 WHAT IS CRANBERRY CHUTNEY MADE OF
They might sound complicated, but chutneys are actually pretty easy to make. The secret stays in balancing the right flavours, to get a savoury sauce that is actually on the sweet and spiced side. While using sweet fruits like mango, for instance, make your pairing work easier, the tartness of cranberries needs a little attention in order to get the right flavour balance. If you are on a keto diet, you can omit the raisins, and use erythritol instead of coconut sugar to balance the tartness of cranberries. Here are the main ingredients for creating a fresh cranberry chutney from scratch:
Fresh cranberries
Raisins
Red onion
Spices: freshly grated ginger, garlic, turmeric, cloves, anise star, cardamom, cinnamon and coriander seeds
Aromatic herb – rosemary
Sweetener – coconut sugar or erythritol (if you're on a low carb diet)
Apple cider vinegar
HOW TO MAKE CRANBERRY CHUTNEY
The recipe for a fresh cranberry chutney isn't complicated at all. Here are the simple steps of making it from scratch:
Add all the ingredients into a saucepan and add a few tablespoons of water, to help the cranberries cook easier.
Bring to boil over medium heat.
Simmer uncovered over low heat for 15 minutes.
Let cool then transfer into a lidded jar and keep in the refrigerator until ready to serve.
WHAT IS CHUTNEY USED FOR
Originally, chutney was used to balance a certain flavour or even enhance it. We think that chutney works best: as a topping on your cream cheese toast, as a dipping sauce for a cheese platter, served on top of cornbread, with rice or quinoa, or on top of pizza.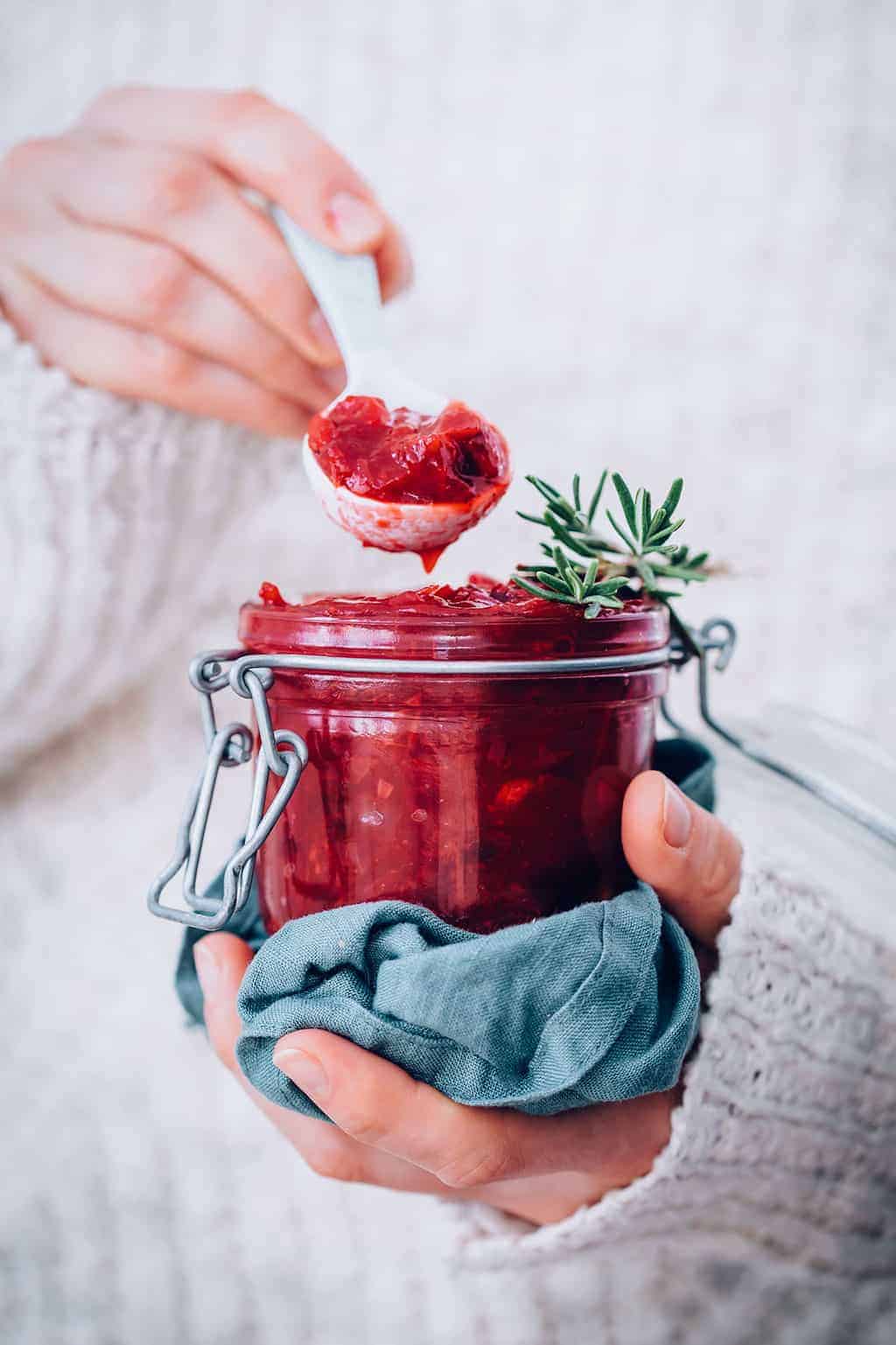 HEALTH BENEFITS OF CRANBERRIES
It's really a pity they get more attention during the Holiday season only, because cranberries, just like their superstar relatives, blueberries, are packed with antioxidants, minerals and fibre with health properties. Their antioxidants and anti-inflammatory compounds, especially vitamin C and anthocyanins, are present in high concentrations, while its minerals load, such as manganese and copper, contributes to the natural detoxification processes within our cells. While some of the vitamins are lost during the cooking process, there are still a lot of phytonutrients that remains active in cooked cranberries. To benefit from their health properties outside the season, you can freeze them.
Interested in experimenting with chutney? Try our Curried Red Lentil Bowl with Cilantro Mint Chutney.
Did you try this recipe? Post your photo and tag us #helloveggieblog on Instagram so we can share it with our community.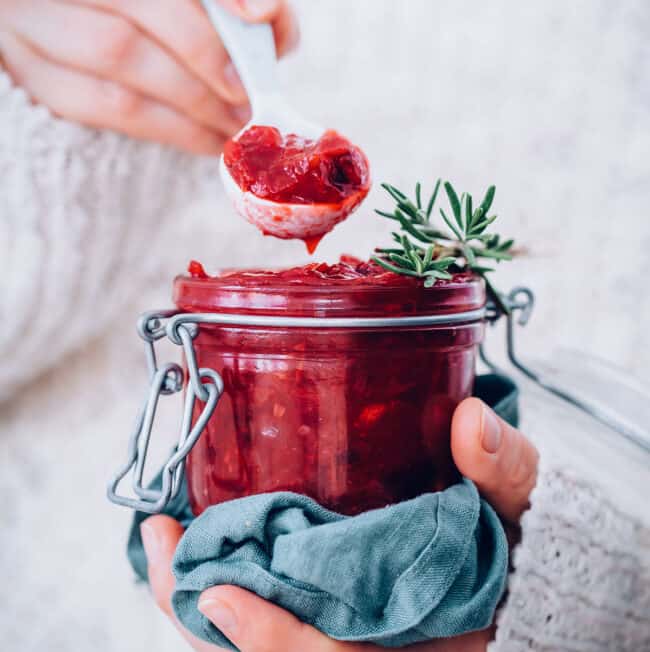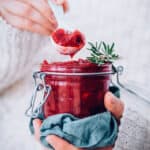 Print Recipe
Gingered Cranberry Chutney
A savoury cranberry chutney recipe to replace the classic cranberry sauce on your Thaksgiving dinner, while also being a great pairing fro your cream cheese toasts and cornbread.
Ingredients
4

cups

fresh cranberries

2

tbsp

raisins

1

red onion

finely diced

1

tbsp

apple cider vinegar

1

tbsp

coconut sugar

1

tsp

cinnamon

4

cloves

1

anise star

1

tbsp

freshly grated ginger

1/2

cup

water

2

cardamom pods

1

tsp

turmeric

1/4

tsp

cayenne

1

garlic clove

crushed
Instructions
Add all the ingredients into a medium saucepan, and bring to boil over medium heat.

Simmer uncovered for 15 minutes over low heat.

Serve warm, or let cool completely before transferring into an airtight container.

Keep into the refrigerator for up to 2 weeks.
Nutrition