This is a sponsored post written by me on behalf of Traditional Medicinals. All opinions are 100% my own.
A few years ago I found myself in a new desk job working 12 hour days. I wasn't exactly prepared for the new hours of operation, so I did what I could to make it work–which most days included 2, 3, sometimes even 4 refills of my coffee mug. As anyone who loves coffee will tell you, caffeine is a powerful stimulant. Not only does it cause nervousness, restlessness, and insomnia, but it can also wreak havoc on your stomach, heart rate, breathing, you name it.
Working 60 hour weeks with a max workload and a two-hour commute already had my system fully taxed, and my four-cup-a-day habit was only making matters worse. I had heart palpitations, constant jitters and was hardly sleeping at night, but had no problem zonking out for a quick nap at 3 pm. Maybe you know the feeling?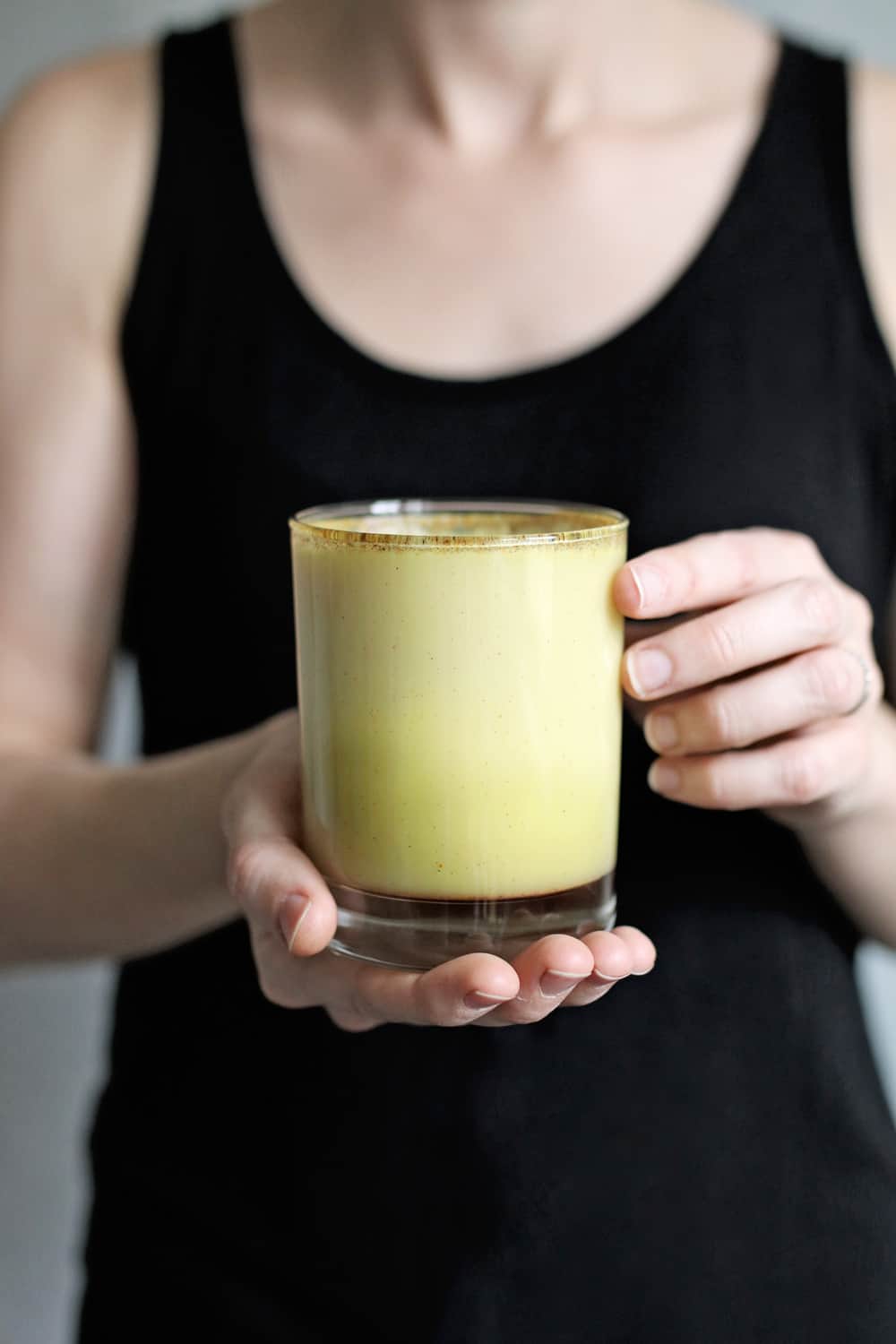 I have long since given up the coffee habit, but recently I have found myself slowly getting hooked on caffeine again thanks to more subtle sources like matcha tea or kombucha. I noticed that it's a little harder for me to get going in the morning without my cup of matcha and I've become reliant on my 3 pm naps. But rather than go back to my caffeine-fueled unhealthy ways, I decided this time I would take a little break to cleanse my system and reset my body.
How to Quit Caffeine
Kicking coffee to the curb can be difficult, but sooo worth it in the long run. You'll sleep better, you'll have more energy (yes!) and your overall health will improve once you stop frying your adrenals. And it doesn't have to be hard, I promise! So if you're ready to quit caffeine, read on for the complete guide.
Ease into it
I'm usually an all or nothing sort of person and going cold turkey works best for me. A clean slate motivates me to make changes and since I'm too scared to break the chain, I can usually keep going. But I would be lying if I didn't say that cold turkey can be a little more painful than it needs to be. If you're heavily reliant on caffeine or you find that a gentler approach works best for you, there is an easier way to quit that won't shock your system. Simply ease into it over a seven day period.
Here's how:
Day 1: Drink your usual amount of caffeine. Whether it's in the form of coffee, tea or soda, really take the time to savor it and make it special. I find that turning it into an event helps me psych myself up and mentally prepare myself to let go of the bad habit.
Day 2 – 4: Blend your regular drink with 50% decaf. If you drink coffee, simply ask for a "half caf" at the coffee shop, or make it yourself at home. If matcha is your brew of choice, mix it with decaf green tea or simply add fewer scoops of matcha powder and keep the amount of milk the same. Drink that for the next three days.
Day 5 – 6: Decrease to 25% caffeine, 75% decaf. Drink this for two days.
Day 7: 100 % decaf. You're free!
What to drink instead
Now that you're no longer allowed to hit the coffee pot, you'll need to find something to take the place of your morning brew. I make sure to drink 16 ounces of water first thing in the morning to flush my digestive system and help me wake up. I also try to drink at least 80 ounces of water throughout the day. After that, it's all about the tea.

I keep boxes of Traditional Medicinals herbal teas stocked in my kitchen pantry for every occasion, and quitting coffee is a great time to break into your stash. Now, I'll be the first to admit that I have an obsession with tea so this works well for me, but even if you're not usually a tea drinker there's sure to be a kind you like. And the best part? Traditional Medicinals teas are widely available at retailers nationwide. I usually pick up mine at my local Whole Foods Market. I love that they carry all of my favorite varieties.
Traditional Medicinals was founded by Rosemary Gladstar (if you're into herbalism, you might be familiar with some of her books) and Drake Sadler in the early 1970's. They set out on a mission to revive herbalism in North America, and make herbal remedies more commonplace. What I love most about Traditional Medicinals is that they only use the highest quality, pharmacopoeial grade herbs and they formulate their teas based on science (i.e., their teas work). They also rigorously test each herb's identity, strength and purity to make sure nothing funky ends up in your cup.
No other brands on the market have such high standards, so you can rest easy knowing exactly what you're getting. And since, when quitting a coffee habit, you're most likely experiencing withdrawal symptoms, it's important to nurture your body with only high-quality, organic teas. No artificial flavors, plastic tea bags or other chemicals that might tax your body and make you feel worse.
My favorites for sipping are the Tulsi with Ginger, Licorice Root (an acquired taste, I know) and Stress Ease.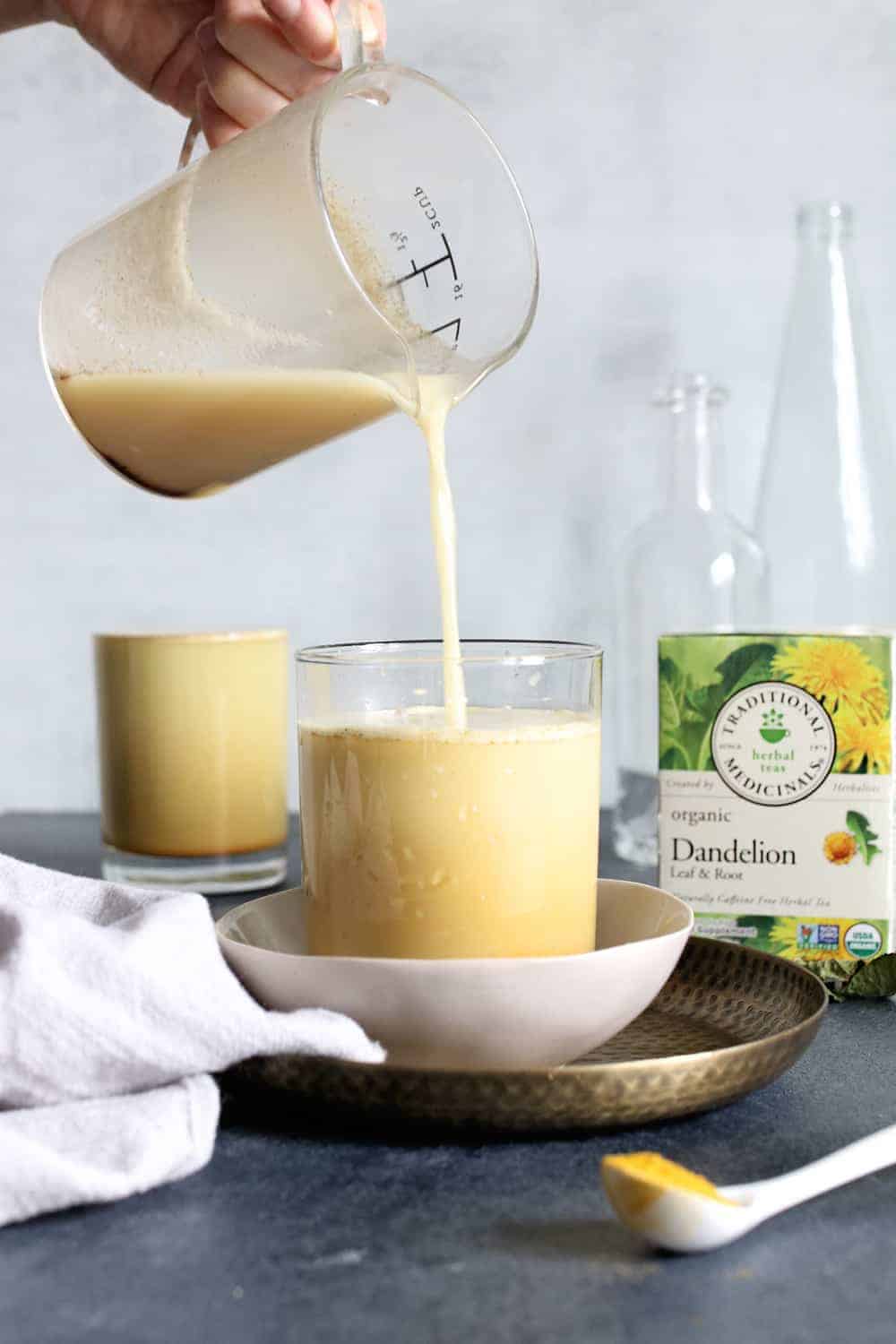 But if you're in need of a boost you should make this Turmeric Dandelion latte. Dandelion tea has a savory, nutty flavor similar to coffee. And when mixed with turmeric tea and coconut oil, it promotes healthy digestion and supports a healthy response to inflammation associated with exercise.*
Blend it in the blender until it's nice and frothy. I have been drinking some version of this latte for almost a month now, and it really energizes me for the day. I can promise you'll hardly even miss your daily cup of joe.
What to eat
To help your body fully detox from coffee, what you eat is important. Caffeine is obviously a no-no, but it's also important to stay away from foods that cause inflammation. To feel your best, avoid processed foods, white flours, refined sugars and alcohol. If you have skin conditions or think you might have a food allergy, it's also best to avoid gluten, soy and dairy.
Instead stick to clean, energizing foods like raw fruit and veggies, organic meats, and raw nuts. Carbohydrates may help settle your stomach and give you energy, so you should also eat gluten-free grains such as quinoa, millet, teff and brown rice.
What to expect
Quitting caffeine isn't easy and may come with a few side effects. Typically, the more caffeine you consume, the higher your chance of experiencing negative side effects.
Symptoms often begin around 12 to 14 hours after your last dose of caffeine and can last for up to nine days. It all depends on your body chemistry and the severity of your coffee habit, but these are some of the most common symptoms:
Chills or hot spells
Decreased alertness
Difficulty concentrating
Digestive issues
Fatigue, lethargy or sleepiness
Headaches
Irritability and restlessness
Insomnia
Muscle stiffness or pain
If you experience any of these symptoms, be sure to drink plenty of water and get lots of rest.
Maintaining your new habit
If you decide to quit caffeine for good, it's important to make new habits and break old ones in order to support your new lifestyle. For me, this means a new morning ritual that doesn't revolve around caffeine as my main energy source.
Rather than brewing a pot of java as soon as I wake up, now I put on my tennis shoes and head to the gym. I also take time to journal and clear my head. Only after I have exercised and set my intentions for the day do I brew tea or whip up a dandelion latte.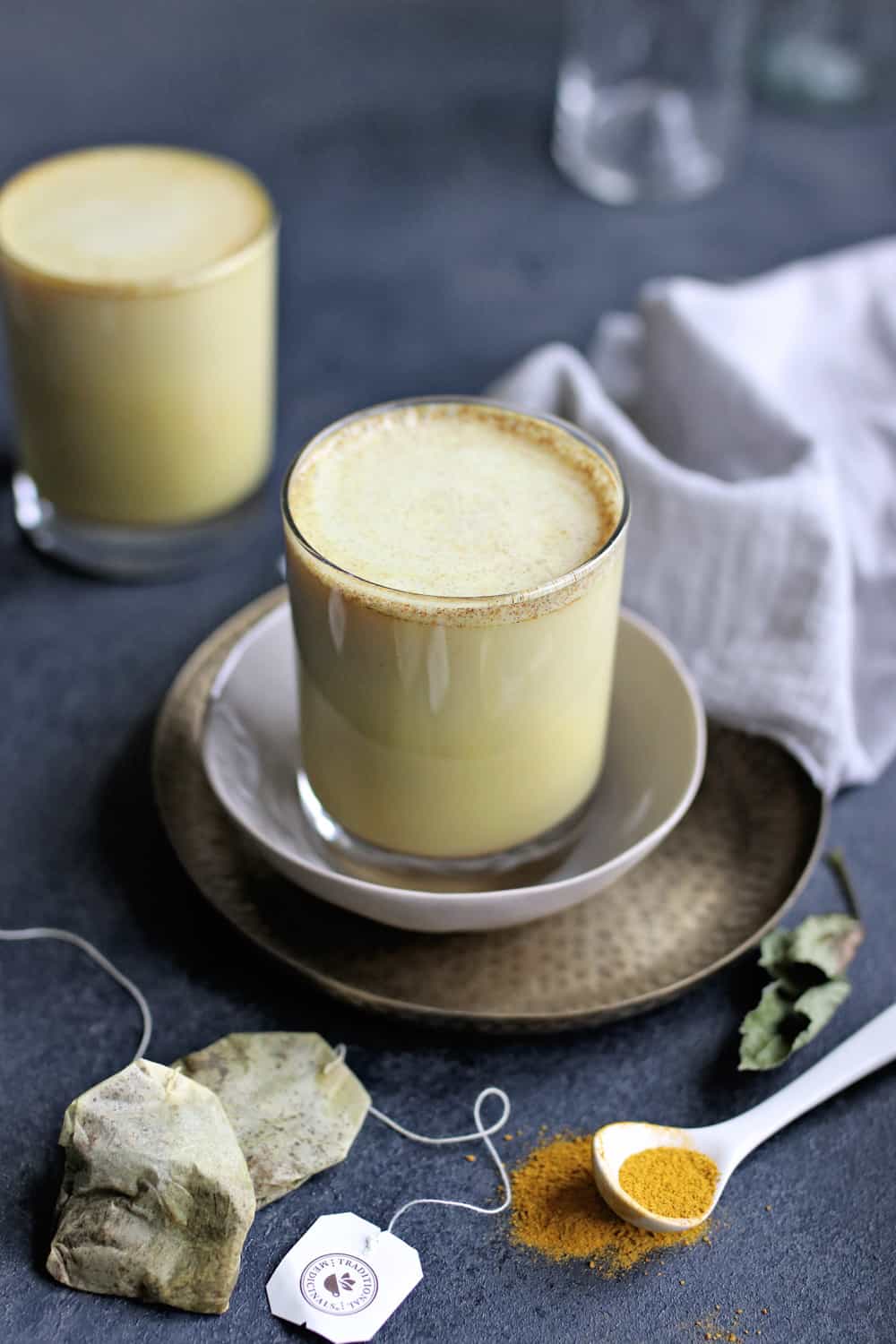 Also, it's best to avoid places that trigger your caffeine cravings. I personally stay away from coffee shops whenever possible. The smell of espresso is simply too tempting, and I know if I'm especially tired, stressed or otherwise weak (will-power wise), I'll cave.
Instead of working at coffee shops, choose a small restaurant with a similar vibe that has free wi-fi. And if you're used to meeting friends for coffee, why not meet at a park or get together over a meal instead?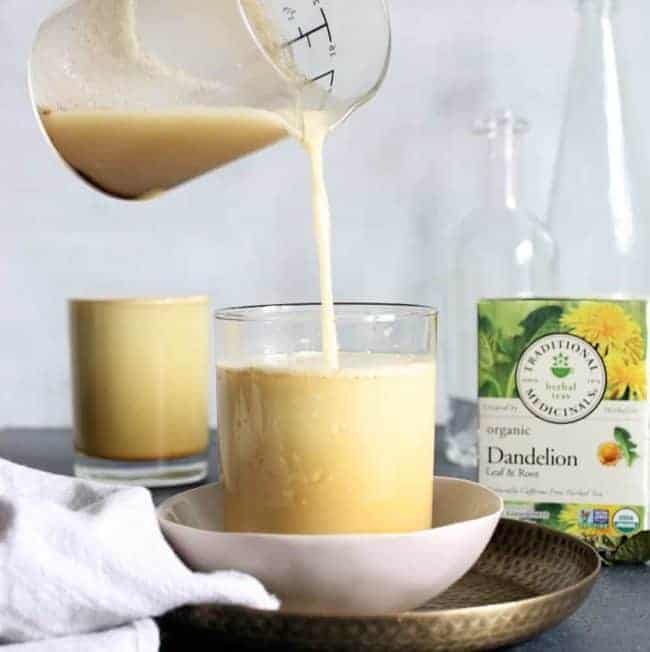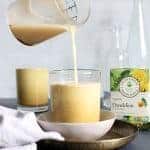 Print Recipe
Energizing Turmeric Dandelion Latte
An energizing Dandelion Turmeric Latte recipe to rev you up in the morning without coffee.
Ingredients
8

ounces

boiling water

½

cup

almond milk

½–1

tablespoon

coconut oil

¼

teaspoon

cinnamon

Pinch

sea salt

Stevia to taste

optional

A grind of black pepper and a pinch of turmeric

to garnish (optional)
Instructions
Steep tea bags in a cup of hot water for 10–15 minutes.

Combine tea with other ingredients in a blender and blend on high for 30 seconds until frothy.

Pour into a mug and top with extra turmeric and black pepper.
Notes
Drink 1-2 cups throughout the day as needed for a quick energy boost.
*These statements have not been evaluated by the Food and Drug Administration. This product is not intended to diagnose, treat, cure, or prevent any disease.
6