I'm sitting in a labor and delivery room as I type – waiting to meet my newest niece! Little Evangeline Leigh will be born sometime today, and it seems like it will be sooner rather than later. Second deliveries go so much faster! Inspired by a Madewell version, I made these pretty gold leaf DIY ornaments to commemorate her first Christmas.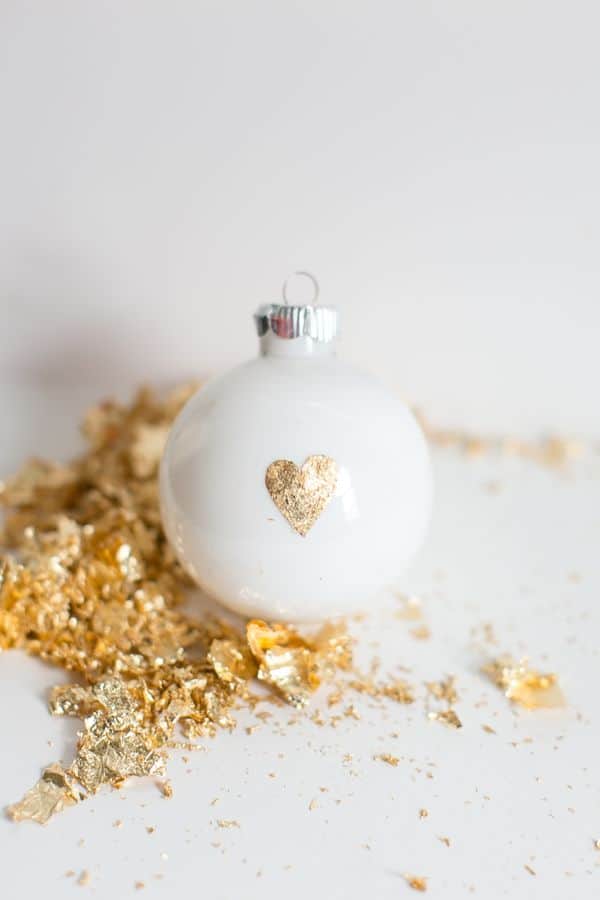 I love gold leaf. It's so shiny and decadent. I was working on a gold leaf ornament tutorial for CraftTut (coming soon!) and couldn't resist making this heart shape with double sided tape. You can buy a frosted ornament or paint the inside with white paint like I did. Then just apply the tape and dab on gold leaf with your finger or a paint brush. Too easy.
In other news, have you noticed the changes going on here at HH over the past couple of weeks? We've added several awesome food and home contributors and tweaked the homepage design to make it easier to find the latest posts by category. Since we're now posting more than once day I felt a weekly wrap up was called for. You don't want to miss any of the good stuff, right?
This week in HOME
A gorgeous Thanksgiving centerpiece – sourced from the backyard!
Company coming? Get ready this anti-stress aromatherapy kit
Dress up your table with DIY clay leaf napkin rings
22 more easy projects for your Thanksgiving table and 15 projects to do with the kids
This week in FOOD
A delicious take on a dessert classic – butternut squash + apple crumble
10 gluten free desserts for the holidays
Get out your crock pot! 5 ingredient Mexican pulled beef – plus weekly meal plan + shopping list
How to make homemade turkey stock
This week in STYLE
A stylish DIY way to store makeup brushes
20 stylish ways to set the Thanksgiving table
3