Here at Hello Glow, we're big believers in the saying "beauty starts from within." Nourish your body with the nutrients it needs to thrive and it will show on the outside, whether it's stronger nails, thicker hair, or clearer skin.
If your diet is full of antioxidant-rich foods and vitamin-packed produce, you probably don't need to worry about supplements. But sometimes that's easier said than done! The supplements below will help you get your glow from the inside out.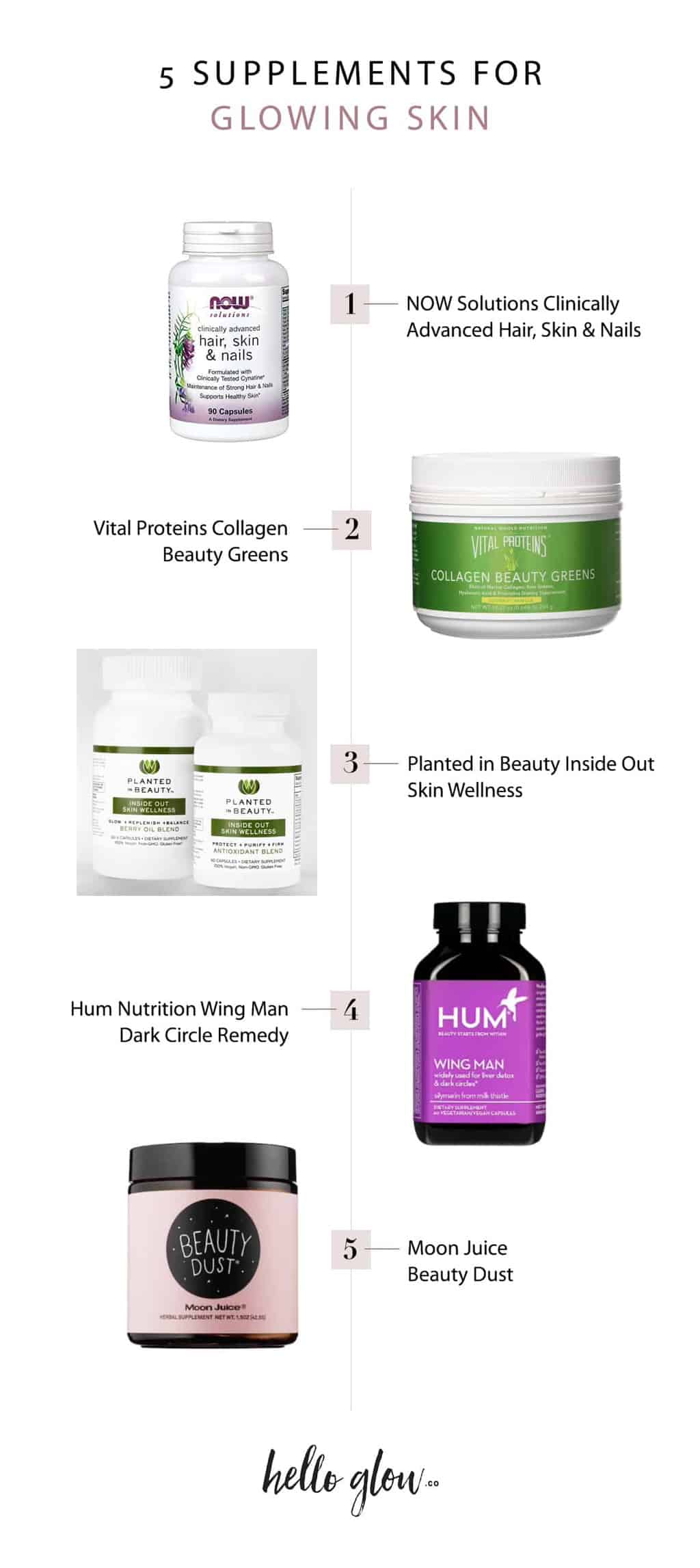 NOW Solutions Clinically Advanced Hair, Skin & Nails // You might have tried hair products with Keratin added, but did you know you can take it internally too? These supplements are made with Cynatine HNS, a solubilized keratin that can help skin retain elasticity, nails grow stronger, and, of course, hair grow thicker.
Vital Proteins Collagen Beauty Greens // We all know the benefits of collagen when it comes to healthy, supple skin, but Vital Proteins takes things up a notch by adding beauty-boosting raw organic greens for a dose of vitamins too.
Planted in Beauty Inside Out Skin Wellness // This supplement duo includes a capsule with water-soluble vitamins, minerals and antioxidants that boost collagen production and fight free radicals, and a softgel with oil-based antioxidants, berry oils, and phytoceramides to help your skin stay soft and hydrated.
Hum Nutrition Wing Man Dark Circle Remedy Supplement // Give dark under-eye circles the one-two punch by pairing your favorite eye cream with this detoxifying supplement from Hum.
Moon Juice Beauty Dust // We are so into adaptogenic herbs right now and when it comes to adaptogens, Moon Juice knows their stuff. This blend, which includes antioxidant berries and pearl powder, helps with firmness and elasticity, with the added bonus of helping the body cope with stress too.
10