Raise your hand if one of your New Year's resolutions is to lose weight. You can't see me, but I'm over here waving both hands in the air. :) Getting in the way is my major sweet tooth. I found these brownie cookies in an old issue of Clean Eating, and they sounded too good to be true. Gluten-free? Only 56 calories? And still have yummy chocolate? Yes, please.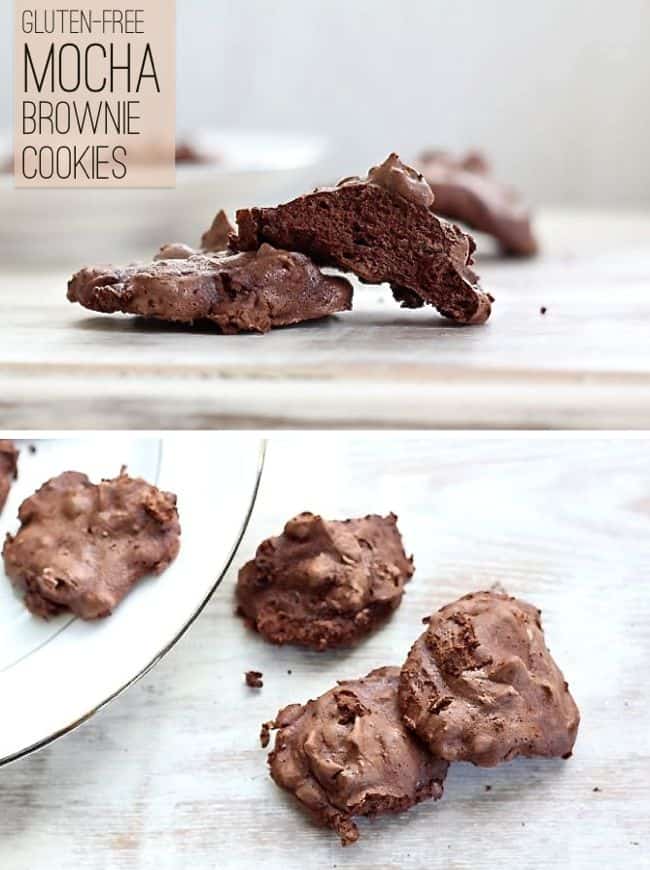 I know I should go cold turkey on sugar. I know. But let's get real. If I don't have something sweet around there's a high probability that I will destroy the kitchen searching for candy. Only to discover that there's nothing left but a bag of stale, forgotten candy corn. That might lead to major depression. Flourless chocolate treats are a happy medium.
Gluten-Free Chocolate Cookies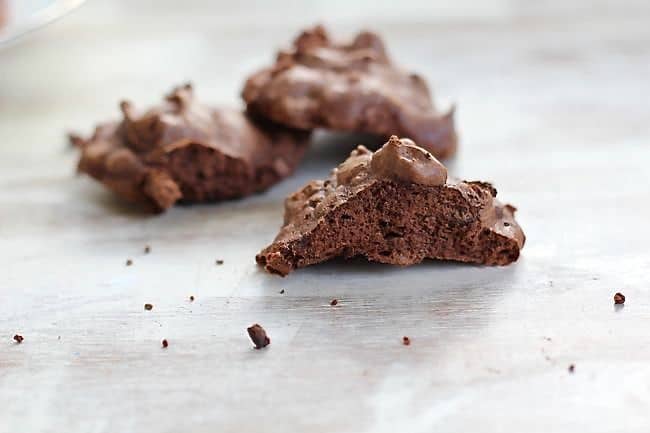 I couldn't decide if these taste more like a cookie or a brownie. I ate several so I could authoritatively say … they are somewhere in between. They have a chewy brownie like texture that's seriously addictive. So I'll just stick with calling them "brownie cookies."
Gluten-Free Mocha Brownie Cookies
6 egg whites
pinch sea salt
3/4 cup evaporated cane juice (I searched the store forever thinking this was a liquid. It's not. This is a fancy way of saying turbinado sugar.)
3/4 cup unsweetened cocoa powder
1 tsp instant espresso powder
1/2 tsp pure vanilla extract
1 oz dark chocolate, chopped
1/2 cup unsalted walnuts, chopped
Line 2 cookie sheets with parchment paper. If you're like me, you'll want to skip this part (I never line the pans!). But these guys are sticky so it'll be much easier to remove them if you use parchment paper. Preheat oven to 350.
In a large bowl, beat egg whites with salt using an electric beater until soft peaks form. Gradually add sugar and continue beating until stiff peaks form. Add cocoa powder, espresso, vanilla, chocolate and walnuts and mix until well combined. The mixture will loose some volume.
Drop rounded tablespoons onto cookie sheets. Bake one sheet at a time for 10-12 minutes until cookies are no longer shiny.
Recipe adapted from Clean Eating.
0