You couldn't have missed the memo: avocado is great for you. Whether you put it on your face or on your plate, you can't get away with an avocado-less fridge! This superfood is incredibly nutritious, packed with potassium, healthy fatty acids and fiber, lowers cholesterol, and has tons of beauty benefits. If you're still not sure how to include avocado in your diet, here are 50 healthy avocado recipes that will help you out, for every meal of the day.
Avocado Breakfast Recipes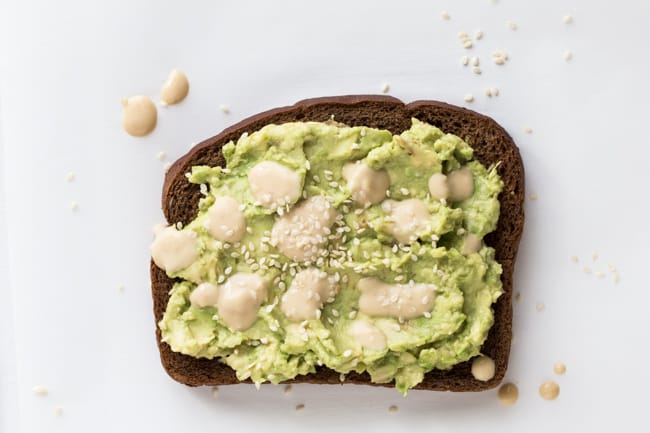 1. Sesame avocado toast by Hello Glow. Toast and avocado make such a great pair! This one also has a tahini dressing and sprinkled sesame seeds.
2. Breakfast bruschetta by The Original Dish. Tomato, avocado and ricotta blend their amazing tastes in these crunchy breakfast bruschetti.
3. Superfood Avocado Toast with Kale Tapenade by Hello Glow. Avocado toast quickly became an internet sensation for good reason – it's healthy, filling, and oh, so delicious.
4. Plant-Based Breakfast Bowl by Hello Glow. Power up your day with a veggie-packed bowl made with avocado, sweet potato and beans.
5. Mexican egg white omelet by Gimme Some Oven. Quick, easy, gluten-free, and delicious breakfast that never gets boring.
6. Salmon and avocado toast by A Zesty Bite. Get all the healthy fatty acids with this combination of salmon and avocado.
7. Chocolate mint green smoothie bowl by Hello Glow. Start the day with extra energy and a smoothie bowl that's super refreshing.
8. The ultimate egg muffin breakfast sandwich by Averie Cooks. Protein packed eggs, juicy tomatoes and nutritious avocado make the ultimate breakfast sandwich.
9. Mexican breakfast cups by The Wholesome Dish. Pour your eggs over a combination of beans, avocado, corn, cheddar and whatnot, and get these cute muffins for breakfast.
10. Blueberry avocado and chia breakfast pudding by The Iron You. A healthy breakfast that tastes like dessert is always on our list!
Avocado Lunch Recipes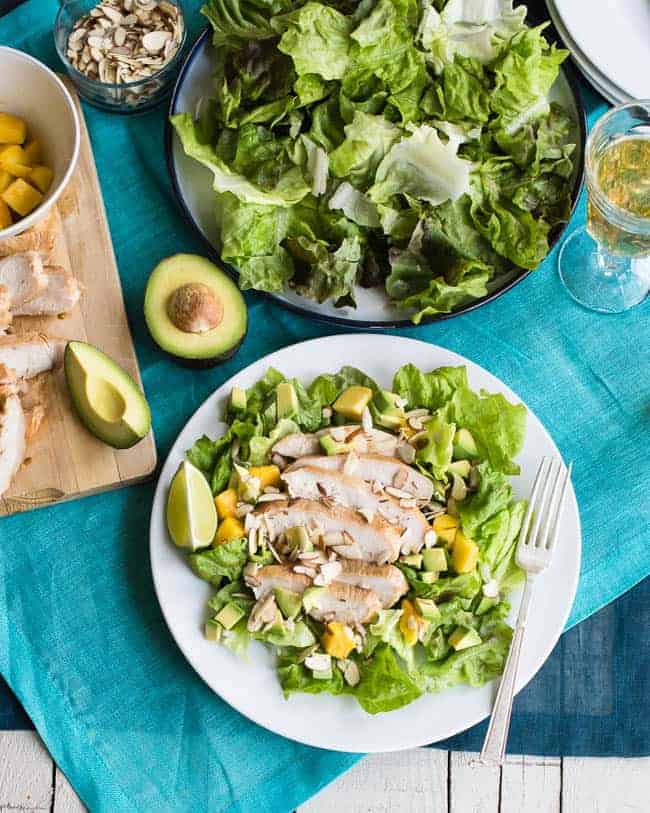 11. Jalapeno lime chicken salad recipe by Hello Glow. A light salad made with avocado and mango, to accompany the perfect lime chicken.
12. Buckwheat, green apple, cranberry and avocado salad by Hello Veggie. A dreamy combination of flavors, with all the benefits of daily avocado input.
13. Kale, Apple and Avocado Wraps by Hello Glow. You'll be pleasantly surprised by this combination of apple, avocado and kale. Especially since it's so neatly wrapped for lunch on the go!
14. Easy chicken posole verde by Gimme Some Oven. This pasole verde is topped with avocado and radishes, which makes it so colorful and refreshing!
15. Vegan Mexican corn salad by Hello Veggie. Salad in summer is a no-brainer, but it can easily become boring. This corn and avocado salad, thought, this is is next level stuff.
16. Citrus and Avocado with Lime-Cumin Vinaigrette by In My Kitchen. Yes, salad can be this simple. And it can be this refreshing, regardless of the season.
17. Caribbean grilled tuna steaks with mango avocado salsa by The Paleo Fox. Just reading the title makes my mouth watery!
18. Protein-packed kale, avocado and hummus wrap by Hello Glow. Wrap it up and take it to work. You'll pat yourself on the back for it later.
19. Turmeric Hummus, Goat Cheese and Avocado Tacos by Hello Veggie. Make these healthy, flavor-filled tacos for a middle of the day treat.
20. Sesame soba noodles by Orchard Street Kitchen. A cold noodle dish that's Asian inspired and vegan.
Avocado Dinner Recipes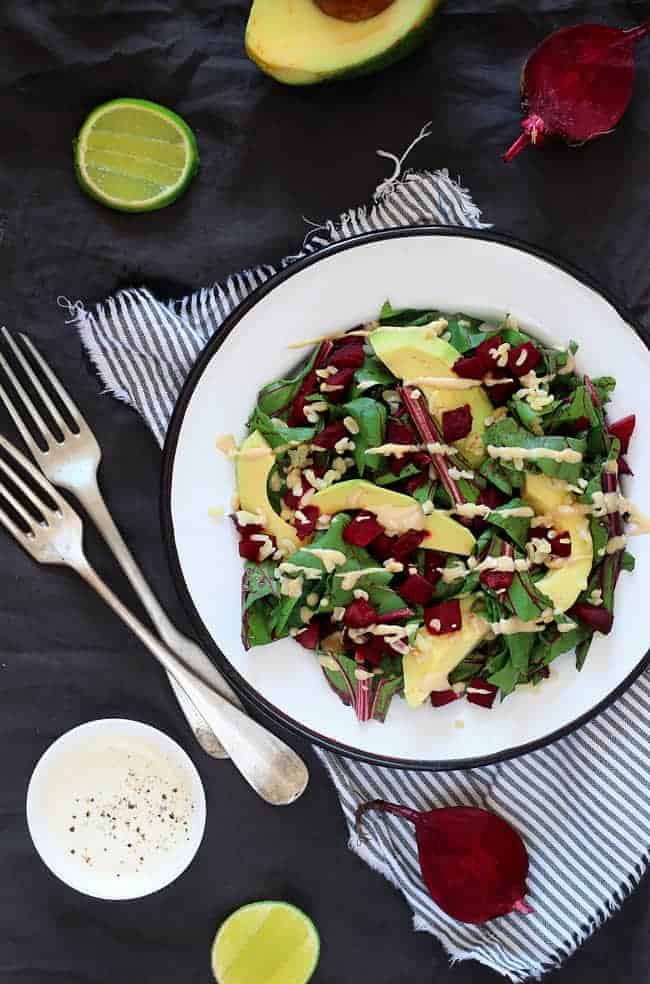 21. Beet greens & avocado with creamy tahini dressing by Hello Glow. Use beets as well as their greens for this nutritious, yet light salad.
22. Mexican lime soup by Cook the Story. A uniquely flavored soup with cilantro and cinnamon, that is satisfying because of the chicken and avocado.
23. Sweet Potato Burgers with Avocado-Lime Sauce by Hello Glow. A healthy vegetarian burger that makes dinner easy and delicious.
34. Avocado soup recipe by Hello Glow. This raw soup is packed with healthy greens, including cucumber and avocado.
35. Creamy avocado pesto zoodles by The Iron You. Zucchini noodles with creamy avocado pesto means guilt-free dinners any day of the week!
26. Buckwheat, Green Apple, Cranberry + Avocado Salad by Blissful Basil. Buckwheat is the ideal base for a filling and refreshing winter salad.
27. Honey lime chicken enchilada by Garnish & Glaze. Sweet citrus flavored chicken with melted cheese, avocado and tortilla, a filling and delicious dinner.
28. Southwestern spaghetti squash bowl by The Blonde Chef. Spaghetti squash with avocado, black beans and corn, served in a squash bowl.
29. Chicken Fajita Meal Prep Bowls by Hello Glow. Make these ahead and save yourself time when putting dinner on the table.
30. Chilaquiles Verdes by Hello Veggie. Use bottled salsa verde to make things quick and easy, or if you've got a bit more time, it's worth the effort to make homemade salsa verde.
Avocado Drink Recipes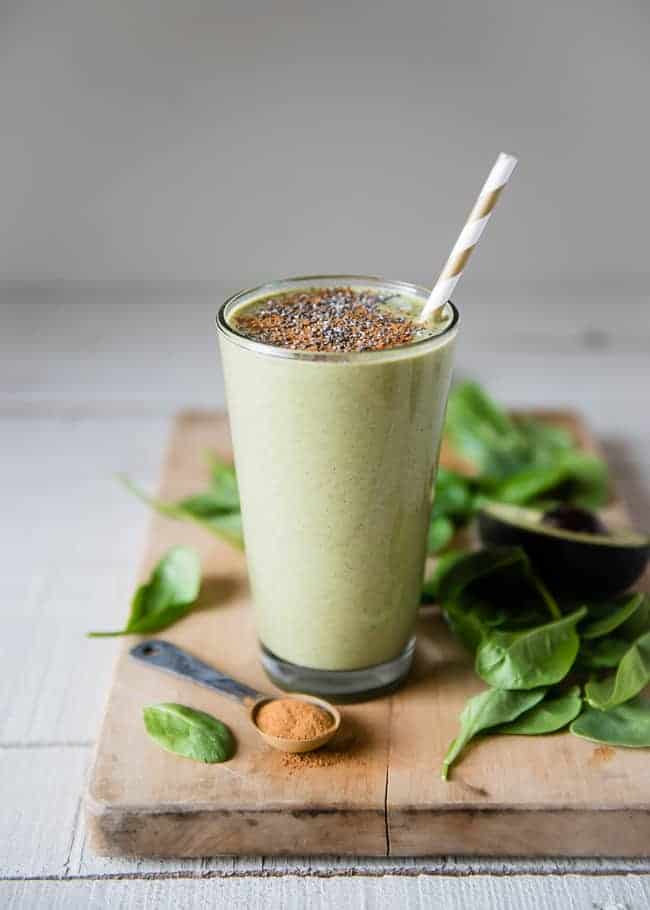 31. Gingerbread cookie smoothie by Hello Glow. A tasty smoothie made with cashew milk, which is very filling because of the avocado and nut butter.
32. Avocado apple with yakult by Ancoo Journal. A super healthy and nutritious drink that's as creamy as a smoothie and ready within minutes.
33. Avocado strawberry smoothie by So Good Blog. The creamy texture of avocado make this smoothie taste almost like a milkshake.
34. Mixed Berry Protein Smoothie by Hello Glow. Healthy fats, fiber, and lots of protein, this smoothie is a satisfying meal in sippable form.
35. Avocado caramel milkshake by Rice and Coconut. You're not gonna want to stop drinking this insane milkshake, ever.
36. Fruit Green Machine by Hello Glow. Avoid the afternoon slump with this energizing green smoothie.
37. Creamy spicy mango, avocado and strawberry smoothie by Cooking LSL. Tropical, creamy and spicy, this is not your usual smoothie!
38. Spring detox green smoothie by Hello Glow. Get rid of the toxins in your body while sipping on this great avocado, pineapple and ginger smoothie.
39. Go-To Beauty Smoothie by Hello Glow. This green smoothie is a lifesaver for winter skin!
40. Avocado margarita recipe by My Man's Belly. Tequila and avocado? That's something we have to try!
Avocado Dessert Recipes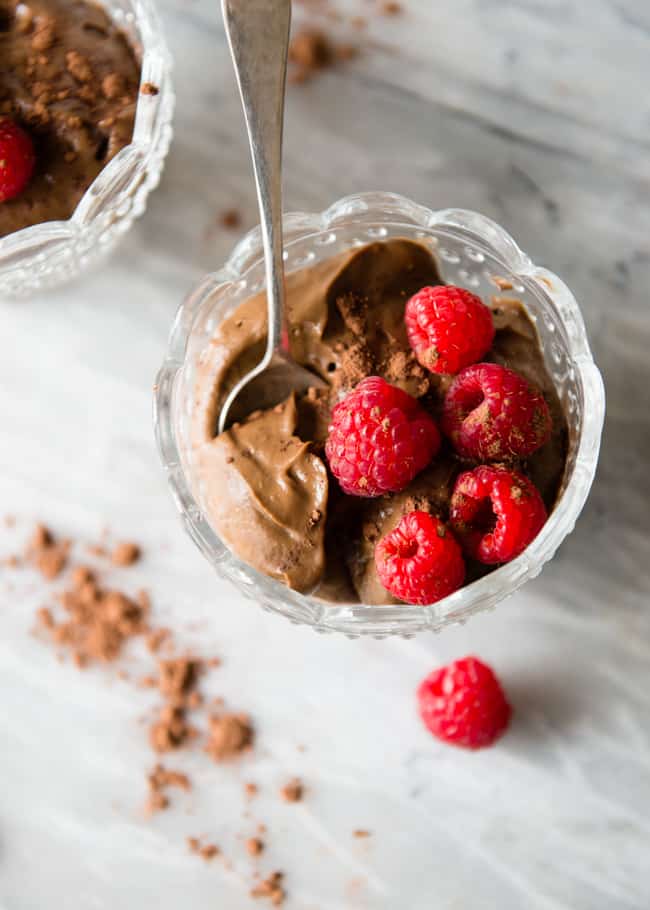 41. Healthy vegan avocado chocolate mousse by Hello Glow. Creamy avocado makes for a decadent chocolate mousse!
42. Raw vegan chocolate ice cream by Conoisseurus Veg. Yes, you read that correctly: a healthy, vegan chocolate ice cream that's made with avocado!
43. Raw Key Lime Pie by Hello Veggie. This key lime pie is a beauty, and it's far from the heavy raw desserts you may be used to.
44. Lenten lemon avocado muffins by The Foodie Corner. Refreshing muffins made with lemon, poppy seeds and a simple sugar glaze.
45. Raw Vanilla Mousse Tarts by Hello Glow. Clean and raw, this vanilla and avocado mousse is our new bestie.
46. Chocolate avocado brownie by The Macadames. A flourless, gluten-free and vegan friendly brownie that is fudgy and velvety.
47. Avocado and banana pudding by Green Evi. With just four ingredients and 10 minutes preparation time, the fridge does most of the work for this pudding!
48. Creamy Chocolate and Avocado Ice Cream by Hello Glow. Made with coconut milk, almond butter, and chocolate, this ice cream proves avocado belongs in desserts.
49. Avocado, coconut and lime granita by In Good Flavor. Welcome summer with this healthy granita recipe that is equally refreshing.
50. No-bake avocado lime parfaits by Yummy Healthy Easy. Parfaits are easy to make, but you can make them healthy as well, by using avocado and Greek yogurt!
3