I recently re-started my part-time job teaching a high school class. After a summer of working-from-home bliss, I forgot how awful it can be to deal with breakfast. I was so spoiled over the summer: letting oatmeal cook while I answered email, taking 20 minutes out of my morning to make eggs in my pajamas…. When you've got a designated start time though, there's a lot less lazy egg-making and a lot more last-minute panicking and stomach growling. Which is why I've had on-the-go breakfasts on the brain lately.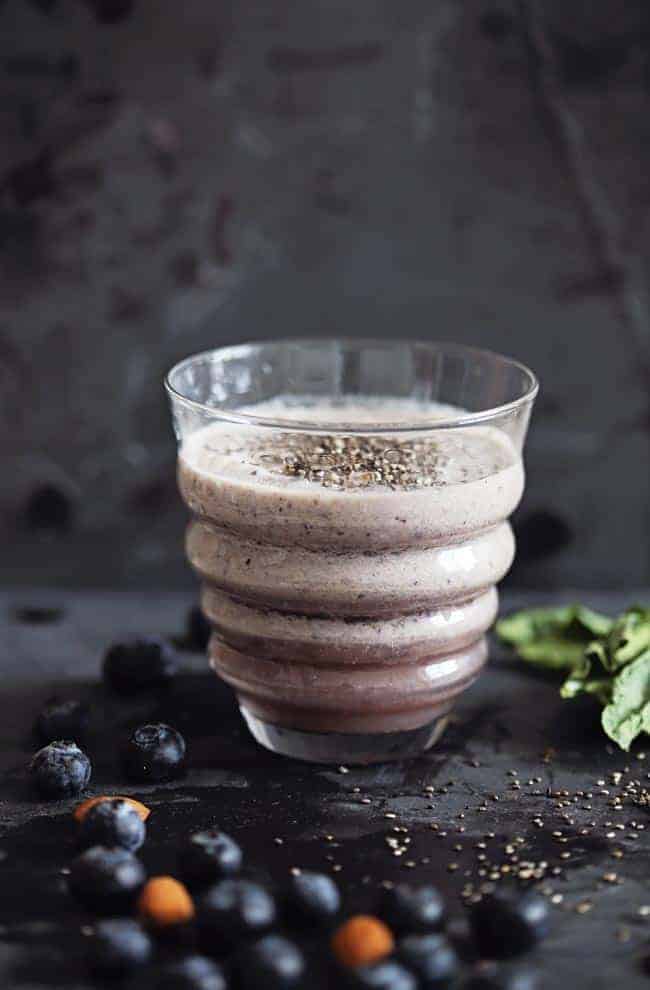 If you're good at planning ahead (I am not), make-ahead breakfasts are the way to go. Freezer-friendly breakfast burritos are a quick and portable morning meal. Smoothies are by nature extra easy to take with you, so they're a no-brainer.
If it were better for me, I'd probably eat a PB&J every morning, but instead I tried to recreate that satisfying, slightly sweet flavor in smoothie form. This vegan peanut butter and jelly smoothie contains simple carbs (from fruit and the optional honey) to get you going in the morning, as well as fiber, protein and complex carbs from kale, chia seeds and nut butter—all of which will keep your energy up and avoid a mid-morning crash.
It can even be made ahead if you want to hit the snooze button a couple times. Simply keep it in the freezer in a glass jar with a tight-fitting lid; the night before you drink it, pop it in the fridge so it starts to melt. In the morning, grab a straw, stir or shake it up a bit and head out the door.
The green tea is optional and will provide a little extra energy boost. If you like your smoothies sweeter or creamier I'd stick with the non-dairy milk (coconut, cashew or almond will be especially good).
Even more time-saving tips so you're never late again:
Smoothie ingredients can be portioned out into freezer bags in advance
To quickly make a smoothie in the morning, add the ingredients to the blender pitcher at night, cover, and blend up in the morning on your way out the door
When you make a frittata or egg bake, wrap a couple small portions in foil and freeze. Thaw overnight, and you've got a portable breakfast the next day. (You may need to wrap in a paper towel or waxed paper if you're literally eating on the run.)
Pre-portion out granola bars or cereal in small reusable containers that you and the kids can grab on the way out the door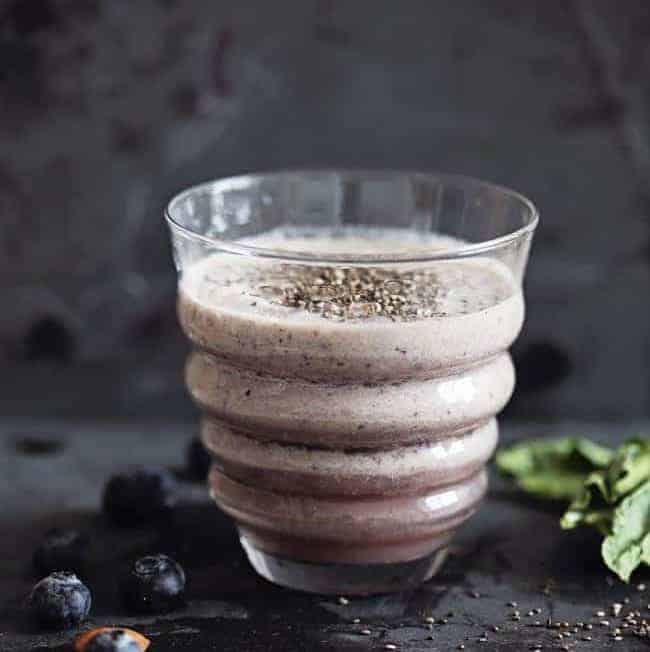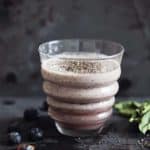 Print Recipe
PB&J Energy Smoothie
For an easy breakfast on the go, this vegan peanut butter and jelly energy smoothie will keep your energy going all morning long.
Ingredients
1

cup

unsweetened non-dairy milk OR cold green tea

1

tablespoon

chia seeds

1

tablespoon

peanut or almond butter

1

cup

berries

frozen will thicken the smoothie

½

cup

kale

1

teaspoon

honey

if desired (you may want to use more if you opt for the green tea)
Instructions
Add all ingredients to blender (place liquid in first) and blend until smooth.
Notes
If not drinking immediately, store in a covered glass jar in the freezer, then thaw in the refrigerator the night before serving.
27