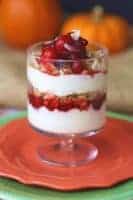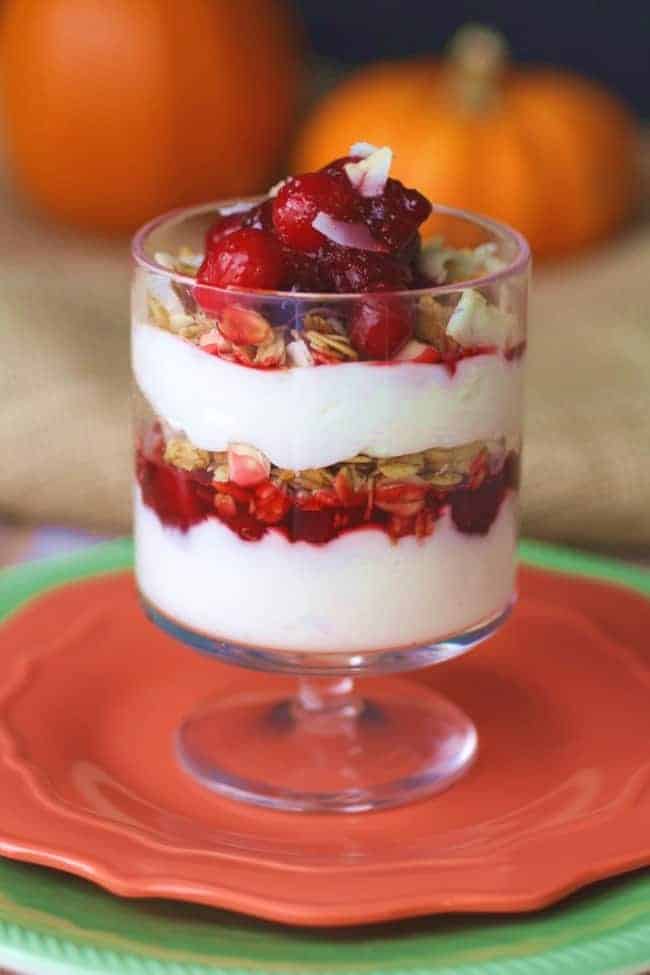 Cranberry-coconut Breakfast Parfaits
Yield 4
Ingredients
2 cups fresh cranberries
1/4 cup orange juice
Zest from 1 small orange
1/2 cup packed brown sugar (omit or reduce for a more tart cranberry taste)
1/2 teaspoon pure vanilla extract
1-1/2 cups plain granola
1/3 cup chopped almonds (or favorite nuts)
1/3 cup organic unsweetened coconut flakes (chopped a bit, as needed)
24 ounces low fat Greek vanilla yogurt
Instructions
Add the cranberries, orange juice, zest, brown sugar, and vanilla extract to a pan over medium-high heat. Stir to combine and cook, stirring occasionally, just until the cranberries begin to pop open (about 5 minutes).
Remove the cranberries from the heat, transfer them to a bowl and allow the mixture to cool.
In a bowl, mix together the plain granola, chopped almonds, and coconut flakes. Set aside.
Place the cranberry compote, granola mixture, and yogurt near your serving glasses (it's fun to use clear, vertical glasses so you can see the colorful layers in the parfaits). Layer the ingredients starting with the yogurt, followed by some of the cranberry compote, and the granola. Continue to layer the ingredients, finishing with a spoonful of the compote.
Serve immediately.
Courses Breakfast
Recipe by Hello Glow at https://helloglow.co/greek-yogurt-parfaits/