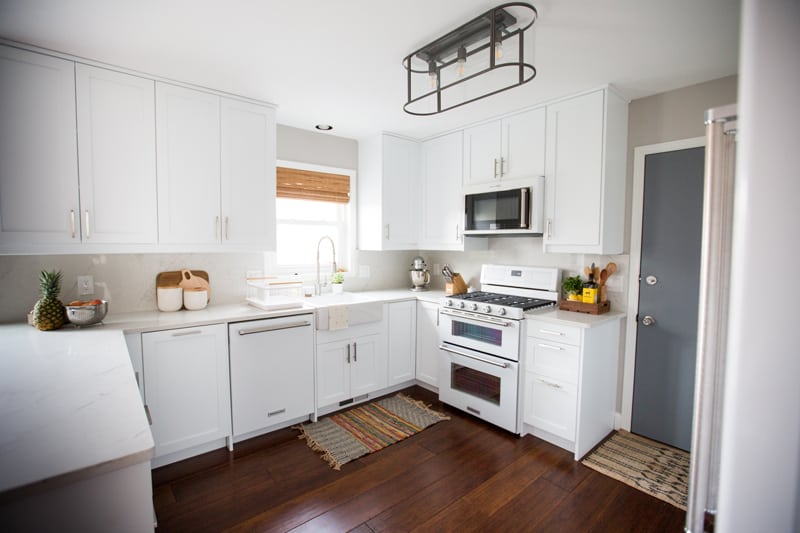 Thank you to SV Heart Photography for the gorgeous after photos!
This fall, I wrote about planning my green kitchen renovation. Having renovated another kitchen a few years ago (and dealing with migraines from the cabinets off-gassing for months), I knew this time that I wanted to go green—low VOCs, minimal waste and environmental impact, etc. Now that the kitchen is done, I'm so happy with that decision and completely thrilled with the results.
Of course, getting here was a bit of a challenge—if you've done any home renovations before, you know that snags, hiccups, and delays are inevitable. I won't bore you with the details, but needless to say, we had a lot of frozen pizza dinners and takeout over the past few months.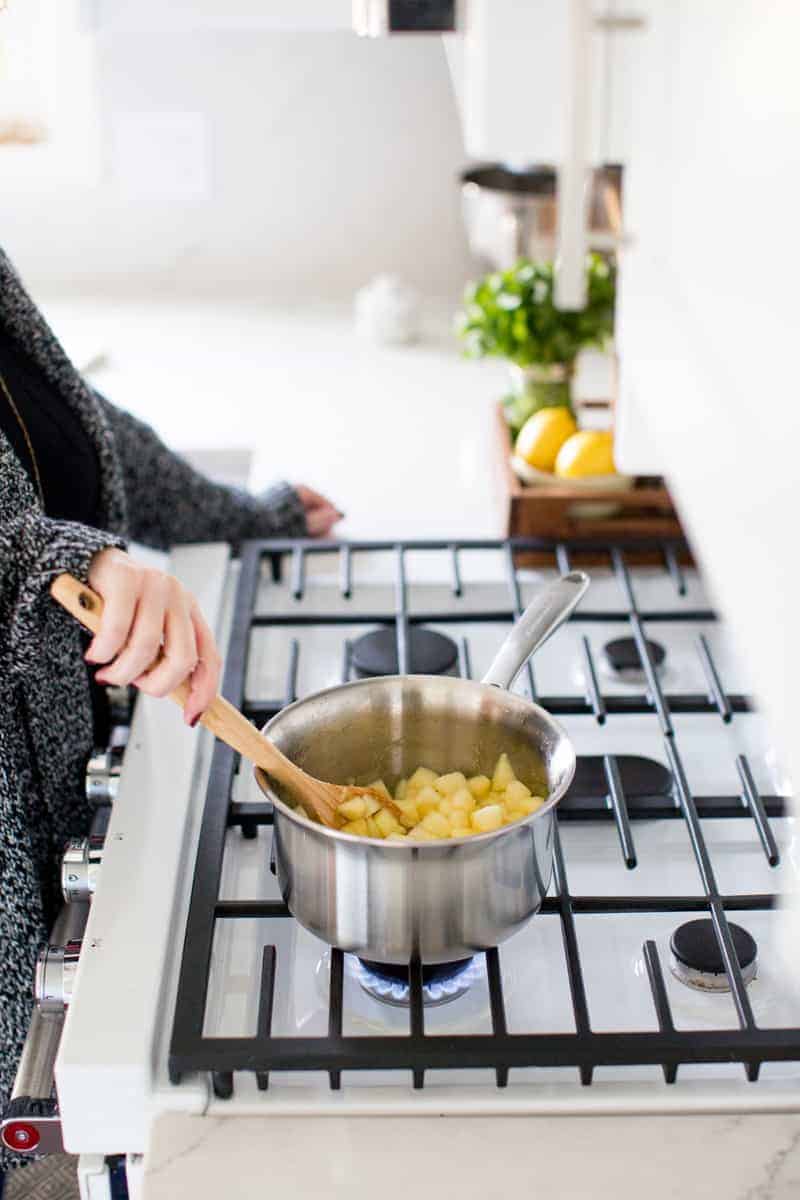 That said, a lot of the work went pretty darn seamlessly. We had IKD design our kitchen for us and Andrew from Kitchens and Carpentry make a few tweaks to the design and do the installation. If you're in the Upper Midwest and you're planning on using IKEA Sektion cabinets, I highly recommend Kitchens and Carpentry—Andrew worked quickly, was super knowledgeable, and everything looked perfect when he was done. If my husband and I had attempted the installation ourselves, I'm quite certain it would have taken us months to finish and wouldn't have looked half as good.
Because IKEA's shaker-ish style cabinet doors, Grimslöv, were a creamier white than our appliances (and would end up looking dingy next to them), we ordered doors from Scherr's and had them painted with a low VOC conversion varnish locally. I was so nervous that we wouldn't order the correct pieces or that something would go wrong, but Scherr's made sure we had exactly what we needed—and their doors are absolutely beautiful.
My IKEA Kitchen – Before + After
So! Without further ado, here are the before-we-moved-in and after shots: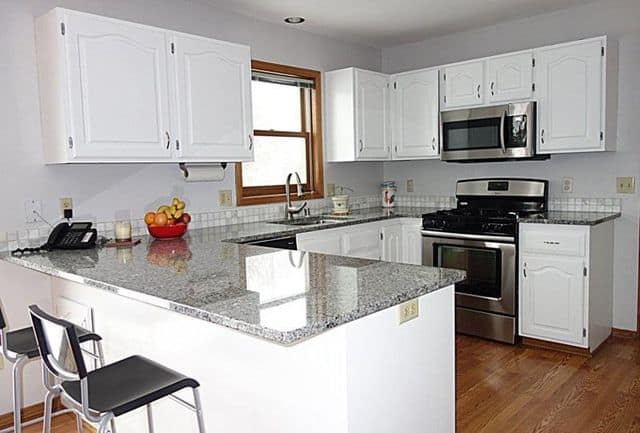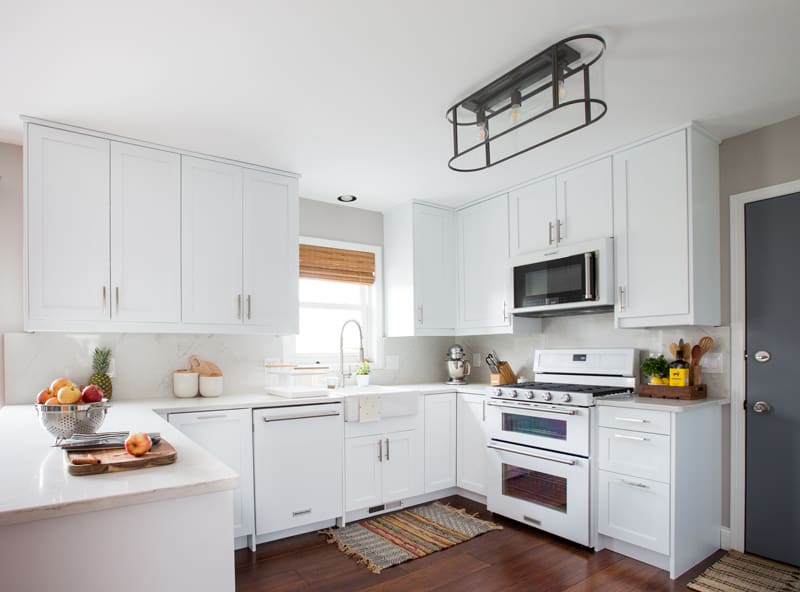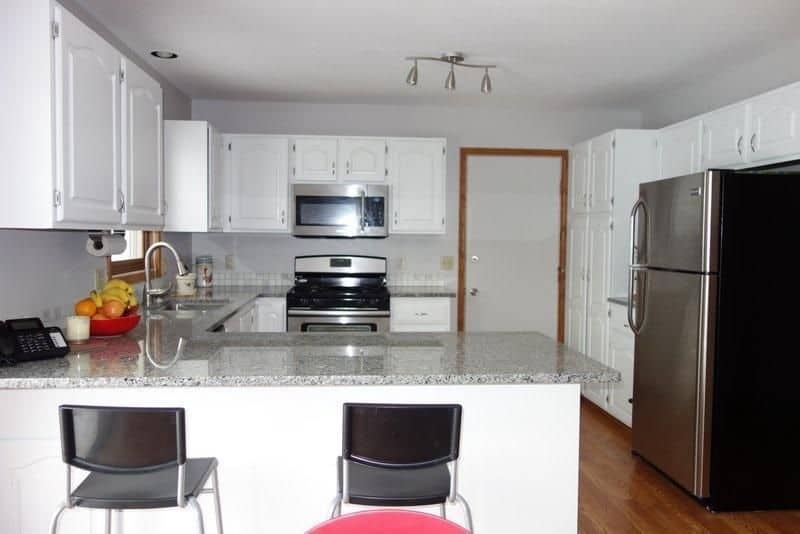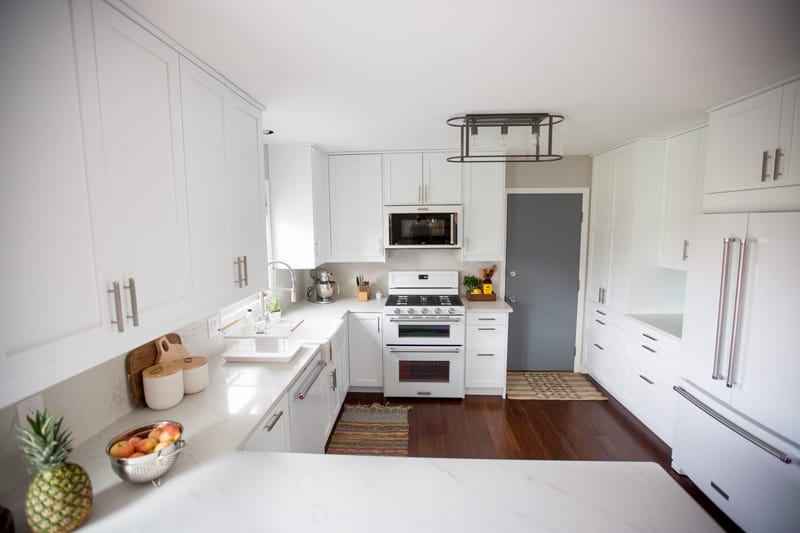 What I Love About My New Kitchen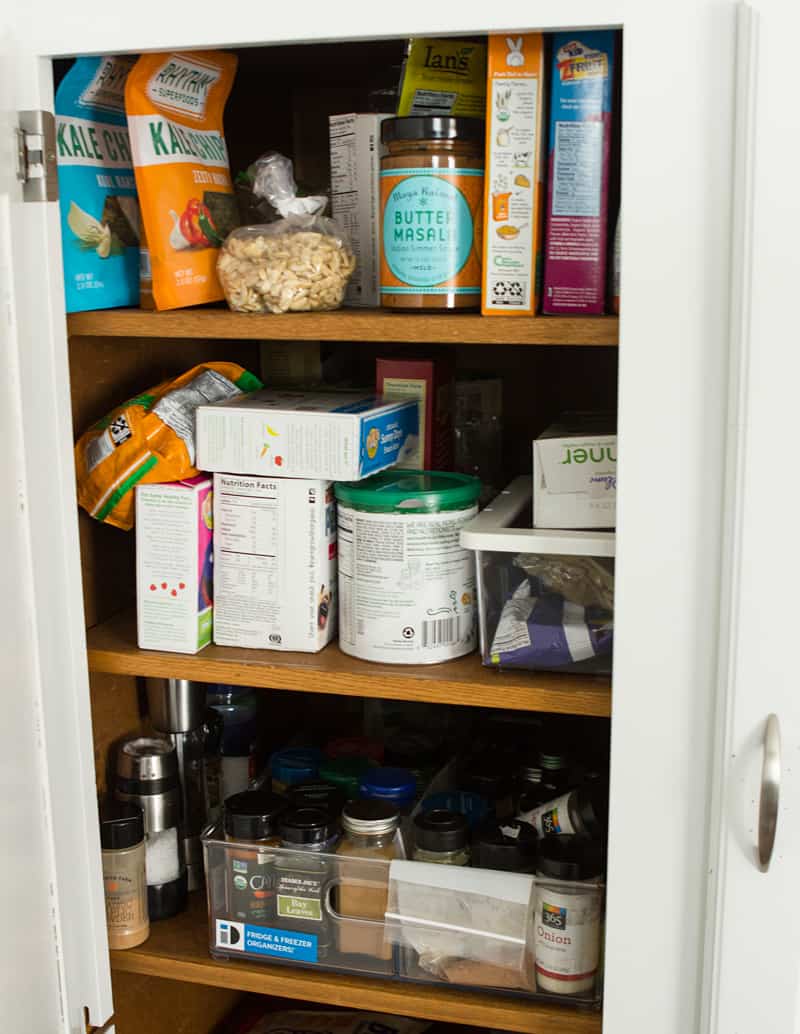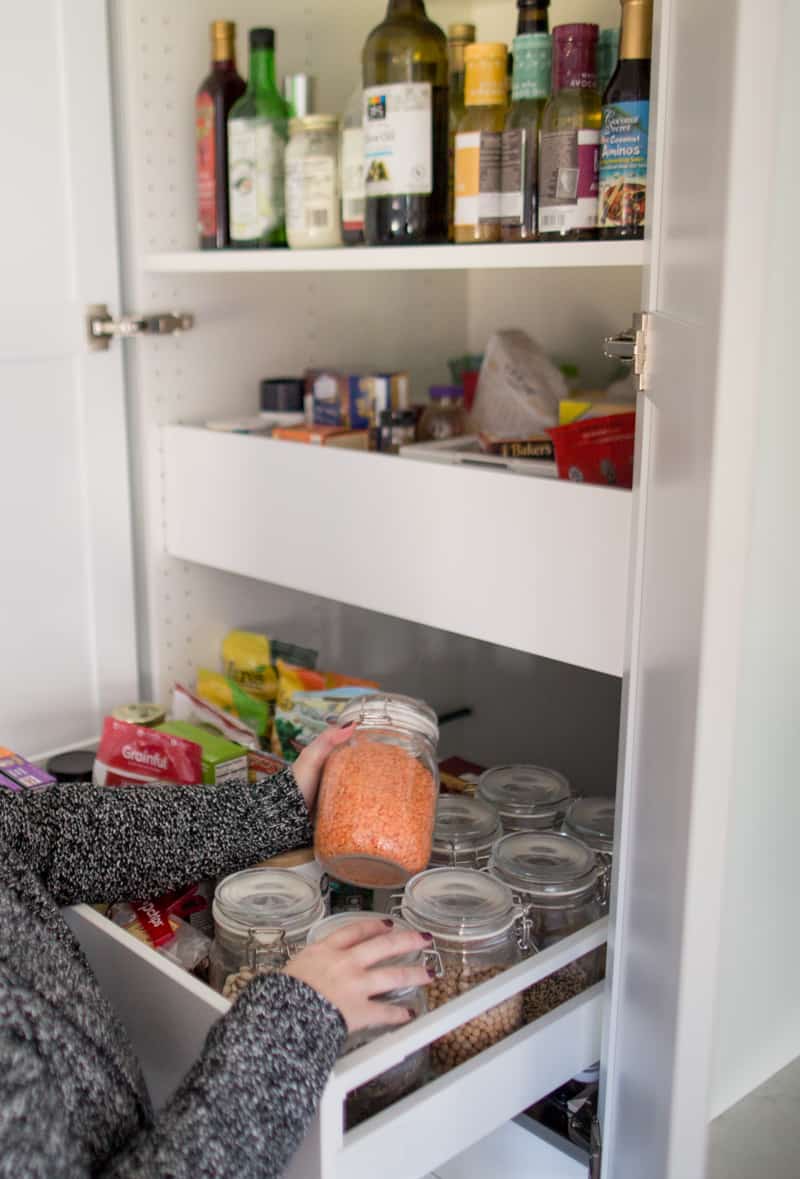 I think I'm most excited about the pantry. Our previous pantry space consisted of 2 very deep, narrow cabinets. In order to reach anything in the back, I'd have to take everything out of the front. It was impossible to keep organized. The shelves, which weren't adjustable, had too little space between them for bottles of olive oil and such—also annoying.
The IKEA Sektion pantry is legit. Big roomy shelves! Shelves that pull out! I can find everything I need without digging around.
And I really just love the cabinets in general. People seem to think that IKEA kitchen cabinets will be poor quality–they're not. We had so many issues with the high end cabinets in our previous home and I cringe to think about how much more we spent on them.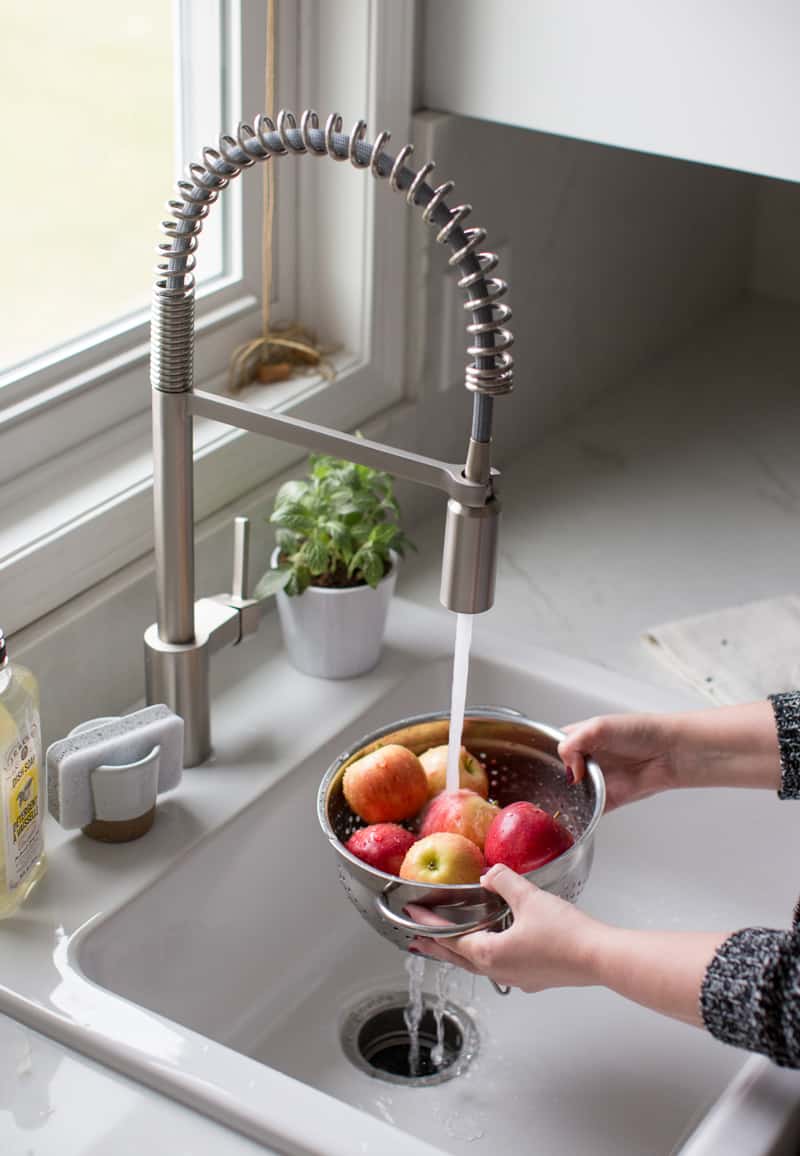 I also love our Moen Align faucet. The faucet we had pre-remodel made it impossible to do dishes without getting soaked with water. I love the way the spout on this one is angled straight down and I love the aesthetic of the spring pulldown hose. It also has a Spot Resist finish, so you never have to clean off fingerprints and water spots. I'm a person who enjoys handwashing dishes instead of throwing them in the dishwasher, so I appreciate the Power Clean spray to get all the baked-on gunk off of pots and pans. Sooooo nice.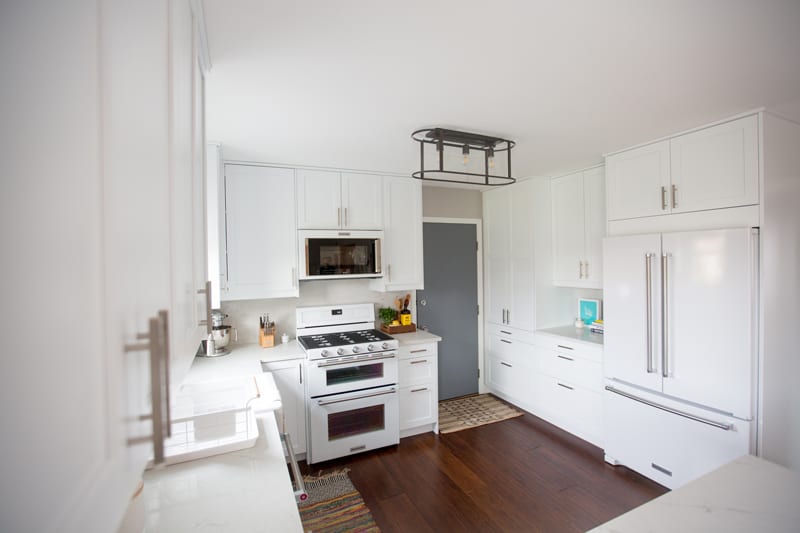 Another thing that I'm super excited about? Our light fixture! We thought about replacing the existing overhead light fixture with a few can lights and then doing pendants over the peninsula; ultimately, I decided it would be too much visually since we also have a pendant light over our eating area a few feet away. I'm really happy that we chose to forego the pendants in favor of the Trough flushmount from West Elm.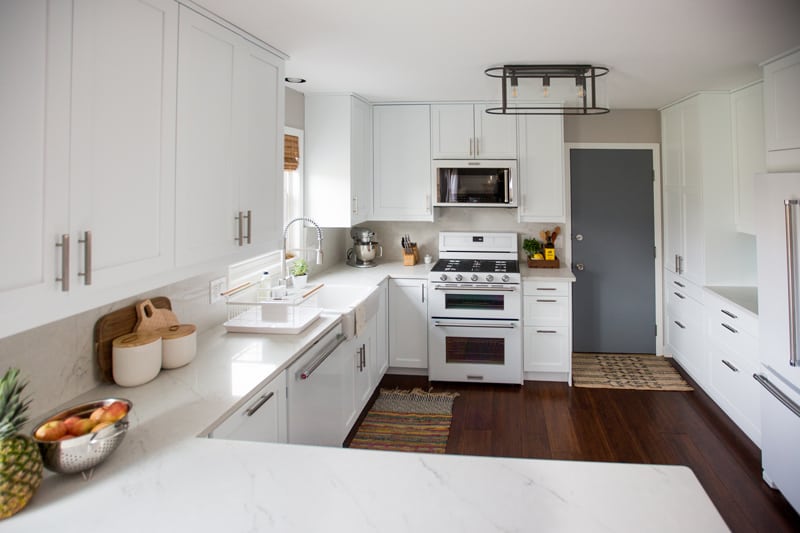 I'm also beyond thrilled that this remodel allowed us to bump out our kitchen and make it a bit bigger. We eliminated the overhang for the breakfast bar on the peninsula—we never used that space since our kitchen table is right on the other side of it. This tiny increase in size makes the kitchen look and feel so much bigger. Now, when we gather in the kitchen to cook as a family, we no longer feel cramped and claustrophobic.
This isn't a sponsored post, but I did receive a design from IKD and a faucet from Moen to write about here.
1