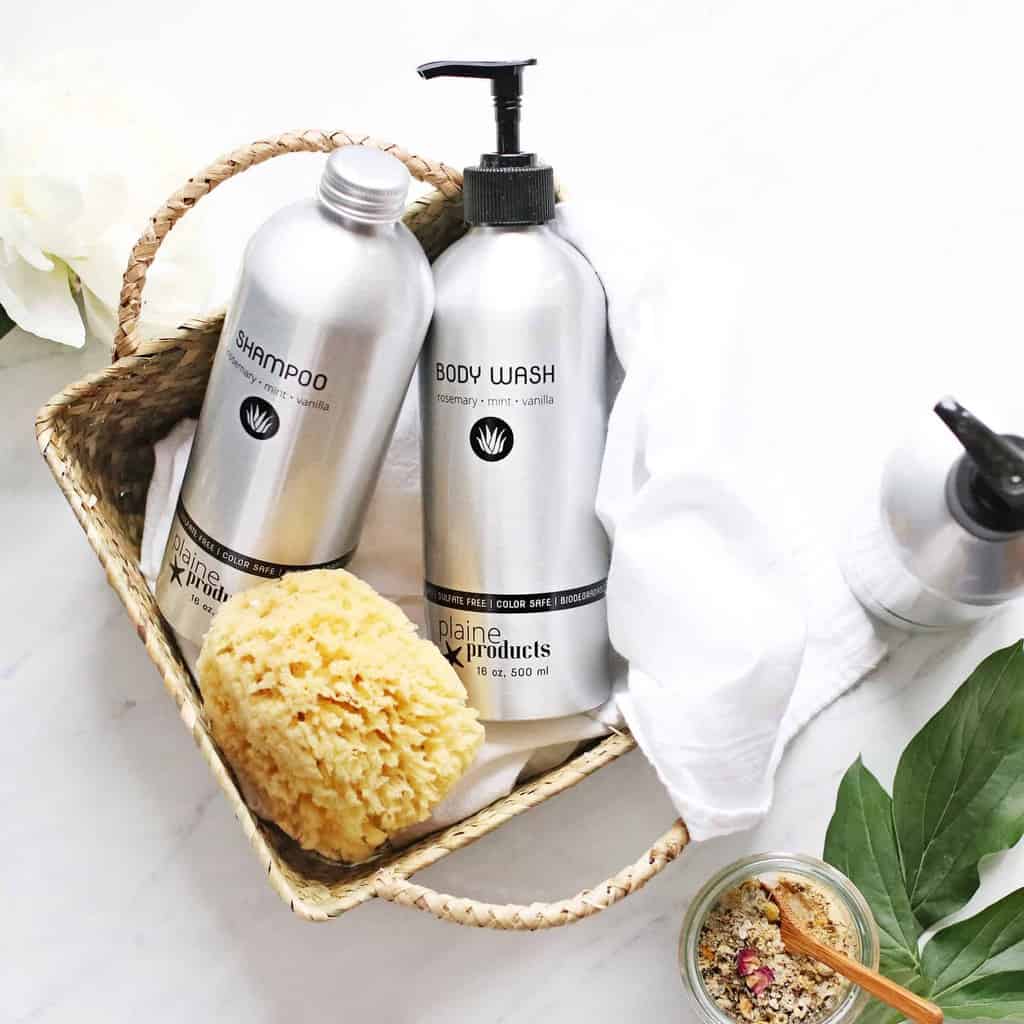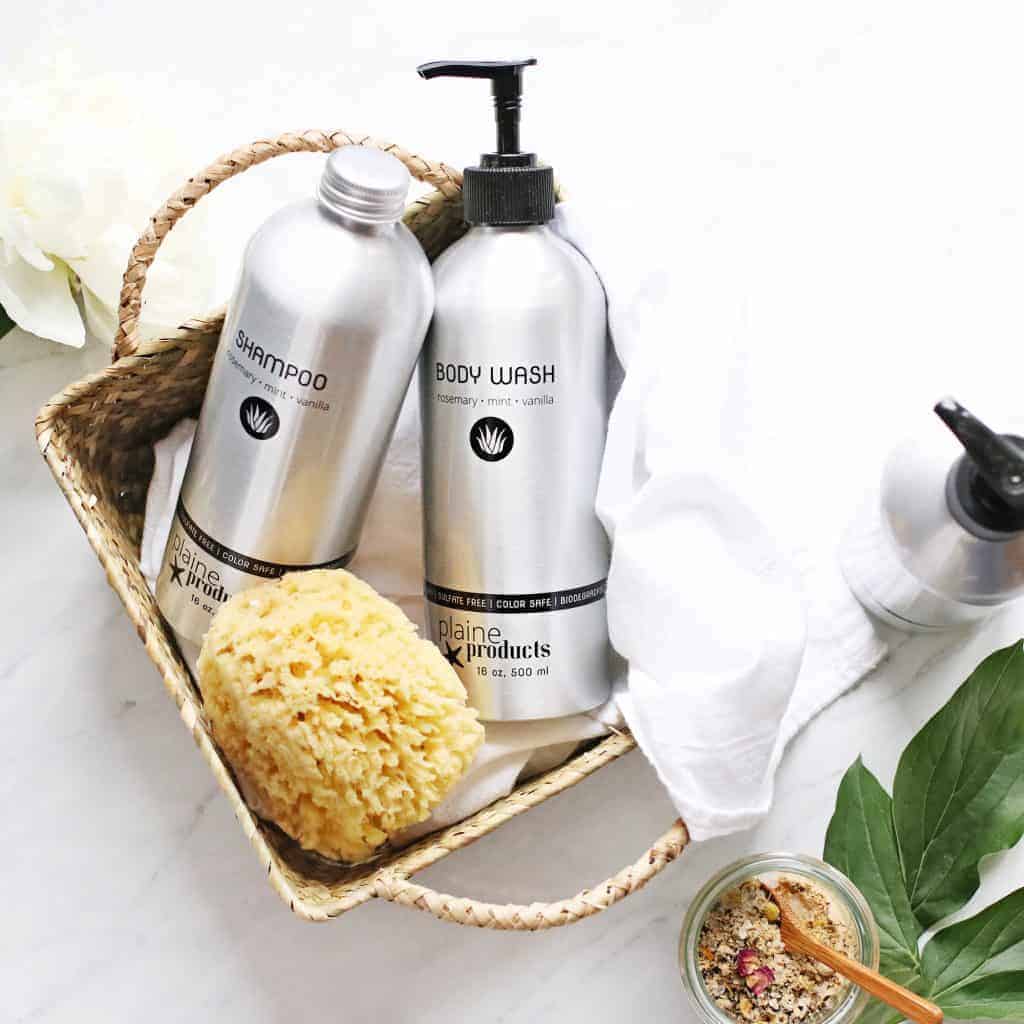 We've partnered with Plaine Products to create this post.
For many years, I recycled and I'd try to buy eco-friendly products when I could, but I really didn't think much about my impact on the environment. But that's been changing lately. I don't know if it's because I'm a parent now or if it's just the realization that we can't depend on the government to protect our natural resources—whatever the reason, I've been actively seeking out ways that I can minimize my family's environmental footprint. And there's no better place to start than the bathroom.
Here are 4 changes you can make for a greener bathroom routine.
Switch to Reusable Containers
Reusing bottles—whether it's for hand soap, shampoo and conditioner, or body wash—is one of the best ways to be a little bit greener in the bathroom. Just think of all the resources that go into making those bottles. And how many you throw away each year! Multiply that by all the people who use disposable bottles and you've got mountains and mountains of trash. (And if you think most of those bottles are being recycled, think again: only 5-10% of plastic is recycled.)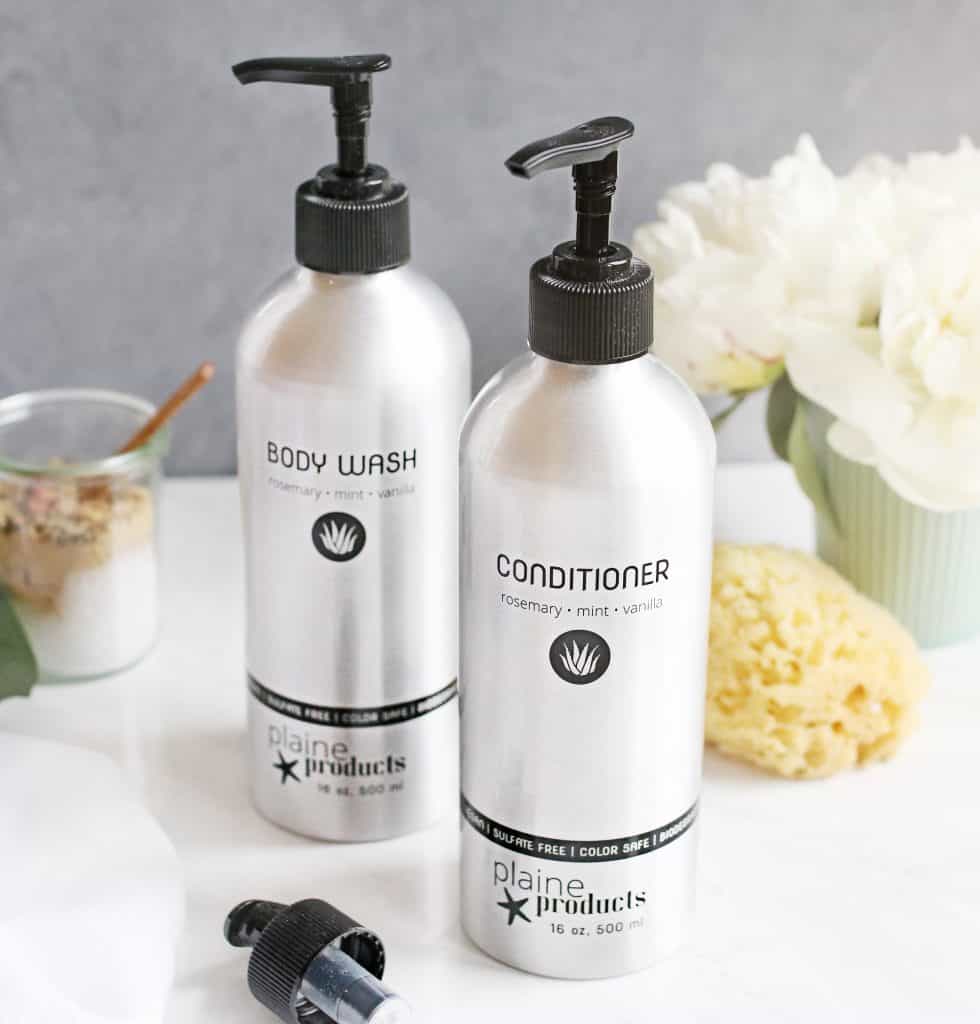 Reusable hand soap dispensers have been around for a while, but it's hard to find refillable options for body wash, shampoo, and conditioner. Plaine Products is changing that with their subscription-based model for eliminating single-use plastics—they'll send you shampoo, conditioner, and body wash when you need it and you'll send back the empty aluminum bottles for Plaine Products to reuse. They cover the cost of shipping and you don't even need to go to the post office—just leave the box outside your door for your mail carrier to pick up.
Try a Water-Saving Showerhead
Remember in the 90s when low flow showerheads first became a thing and they were terrible? Those days are long gone! Now, water-saving showerheads have air-induction systems that combine water with air for an intense spray that will get all the shampoo out of your hair—promise!
I used to be a sucker for a ginormous showerhead myself—the kind that's bigger than a dinner plate and makes you feel like you're caught in a rainstorm—but after the novelty wore off, I realized that a more concentrated spray used a lot less water, which is better for our water bill and for the planet. Look for a showerhead with a WaterSense seal, which means it's EPA-approved for water efficiency.
Swap Out Your Conventional Products For Natural + Organic
Here on Hello Glow, we talk a lot about why the ingredients in conventional bath and body products aren't good for you, especially if you have sensitive skin. But that's not the only reason to avoid them—they're not good for the environment either. Ingredients like sodium laureth sulfate and ammonium chloride are harmful to animals if they find their way into rivers and streams; triclosan may play a role in the development of antibiotic resistant bacteria; and many ingredients in conventional shampoos, conditioners, and body washes are byproducts of the crude oil industry. Natural and organic products have a lower impact on the environment.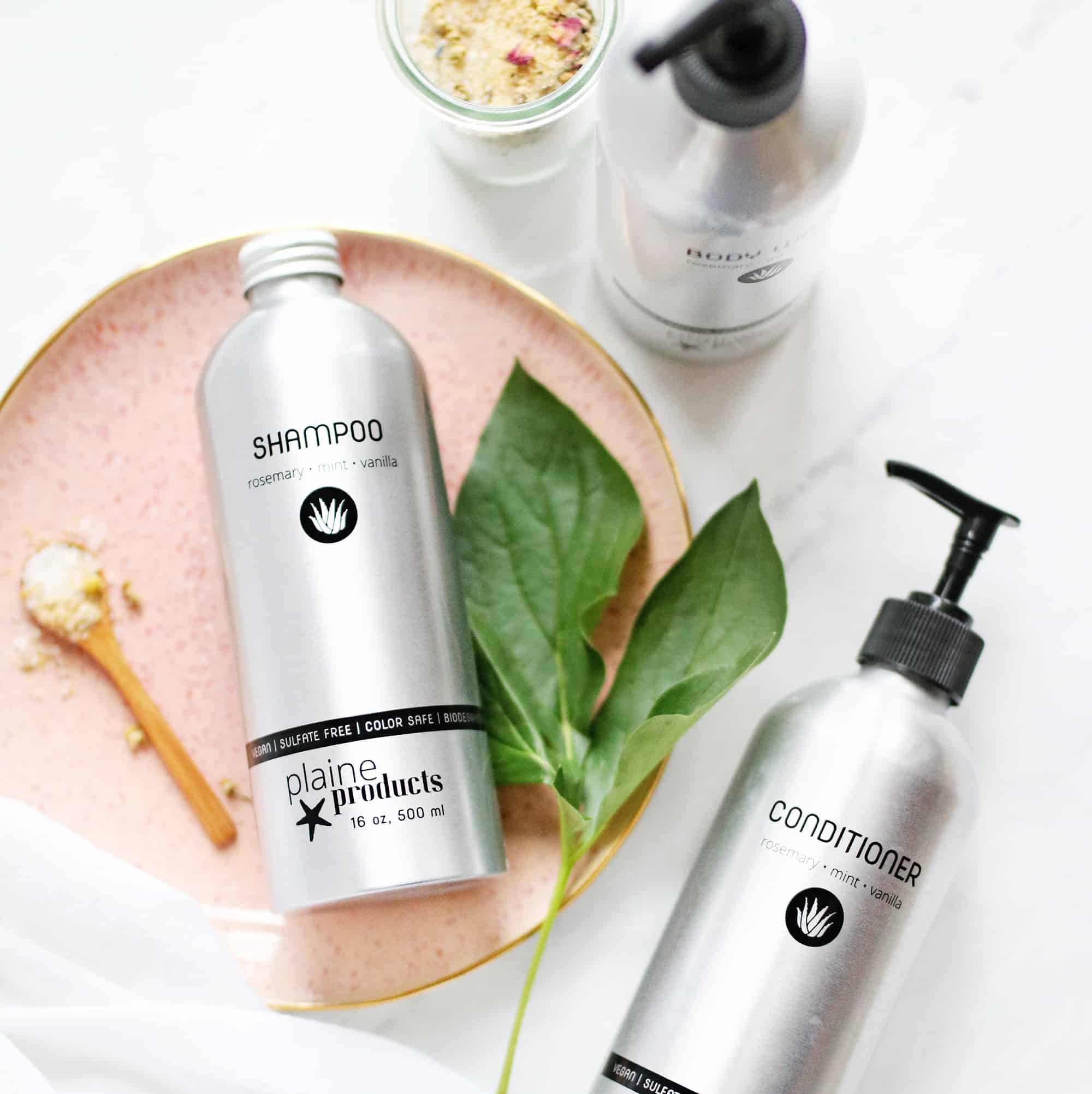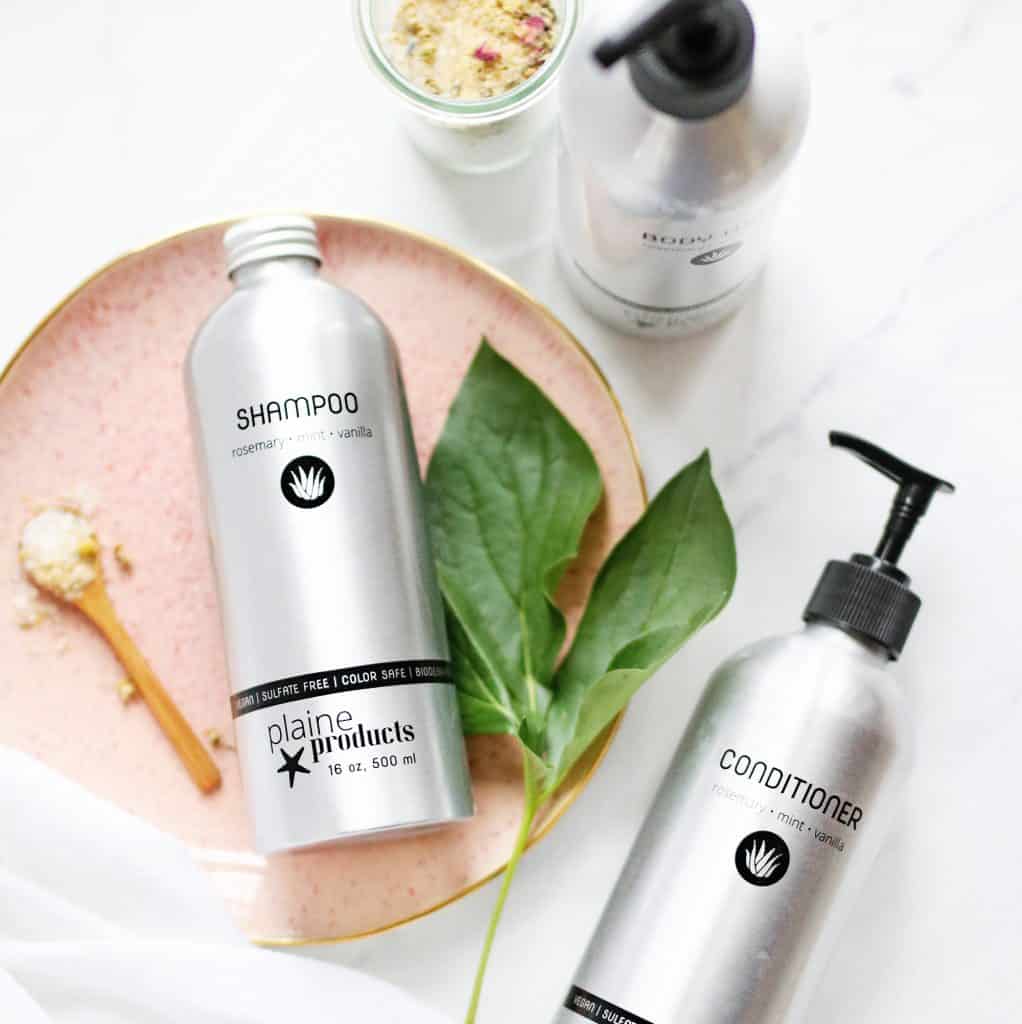 This is another reason why we're crushing on Plaine Products—they're biodegradable and they're made with simple but powerful natural ingredients like plant-based oils, green tea, rosemary, chamomile, and aloe. And we're equally impressed by what they're made without—animal testing, GMO ingredients, parabens and sulfates. Plaine Products shampoo and conditioner are color-safe and the herbal minty scent is perfect for helping you wake up while taking your morning shower. Your hair will look and smell fabulous, without all the chemicals!
Let Your Hair Air Dry + Try No-Heat Styling
I have short hair and I still spend a ridiculous amount of time standing in front of the mirror with my hair dryer. Using your hair dryer and curling iron every morning isn't just taking up a lot of time—it's using up electricity too. Especially if you have a tendency to plug in your curling iron to heat up and then forget to come back to it until later. (Not a good habit, but I'm totally guilty of this too.)
Letting your hair air dry a little bit before blow drying can help save some electricity. Even better? Try some no-heat styling techniques that let you skip the hair dryer and the curling iron.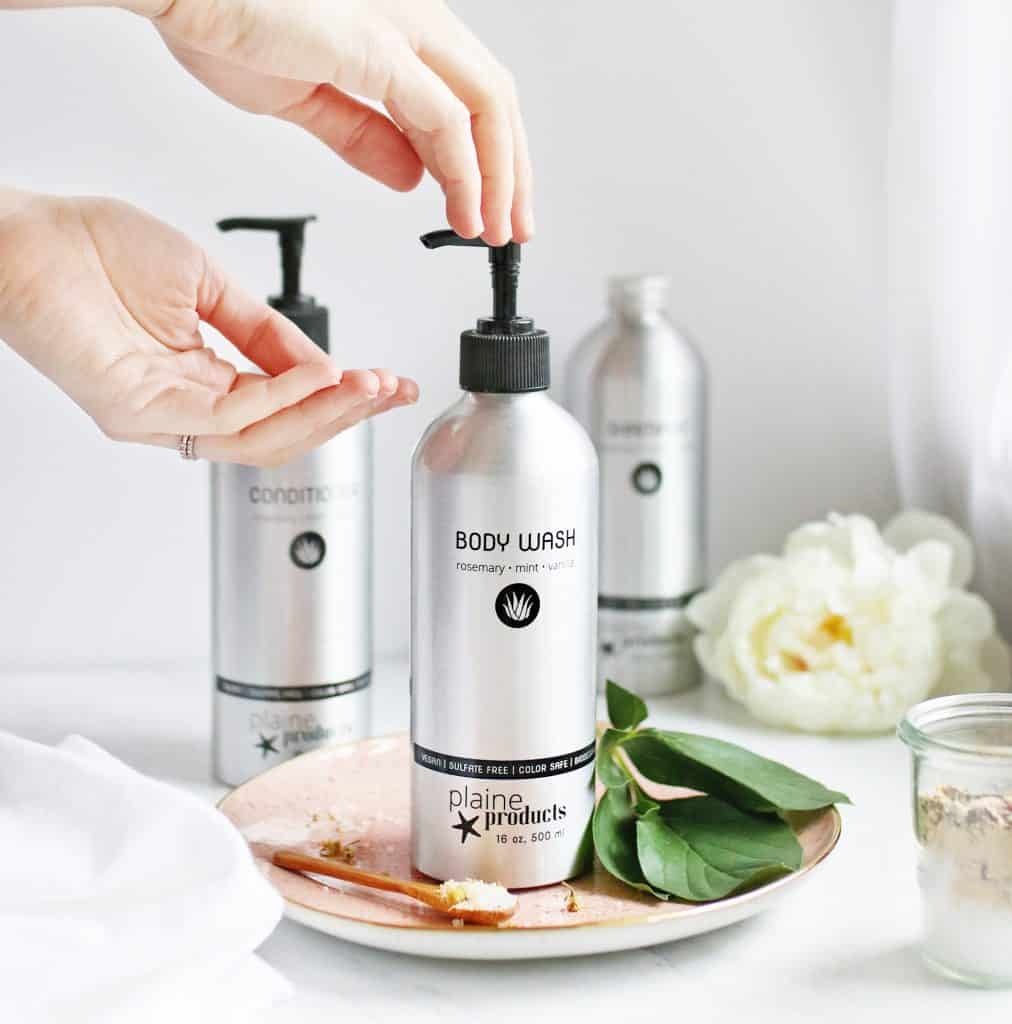 Find out more about Plaine Products and sign up for a subscription at plaineproducts.com.
Photos by Stephanie Pollard
2