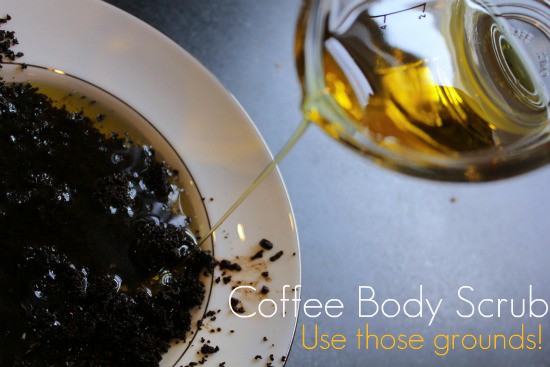 Before you read further, go check out my guest post on Rebecca's lovely blog, A Daily Something. I'm sharing my secret to iced coffee!
You're dying to brew up a batch of iced coffee now, right? When you do, here's an excellent treat for your skin after you've treated your tastebuds – a wet body scrub! The perfect recycling so the grounds don't go to waste.
For the at home spa treatment: Mix 1 cup olive oil with 1 cup of coffee grounds and add a couple of tablespoons of honey.
Bonus: Coffee is said to improve cellulite!
Before you start your shower, rub the mixture into your skin, starting at your feet and working your way up. You can use a gentle exfoliating cloth to rub it in or use your hands like I did. Rinse in the shower and then pat dry. Your skin should feel so soft and silky that you won't need additional moisturizer.
Now, this will make a bit of a mess in the shower so you'll probably need to give it a wipe down after to get rid of all the grounds. Mine easily went down the drain.
And I smelled like Eau de Dunkin Donuts French Vanilla all day! (Ok, not really, but I wouldn't mind if I did.)
0