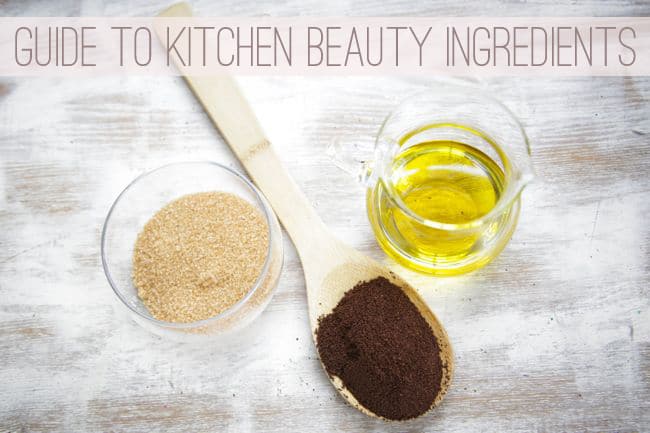 Before starting this blog, I didn't know a lot about do-it-herself projects, especially those involving beauty and skin care. After trying out an egg and olive oil treatment on my hair as a kid – and living through the embarrassment of having greasy hair for days – I stopped experimenting with at-home remedies. Now it's my favorite thing to test out and share. Got a fruit or veggie? Yep, I'll find a way put the food on my face. Though I stopped sharing pictures of myself with masks on (thanks hubby). And as I get older, getting compliments on my skin (which I attribute to my coconut oil moisturizing regimen), totally makes my day. I love telling people that I slather myself in coconut oil!
Here are 10 of my favorite kitchen beauty ingredients. What food do you loving putting on your face?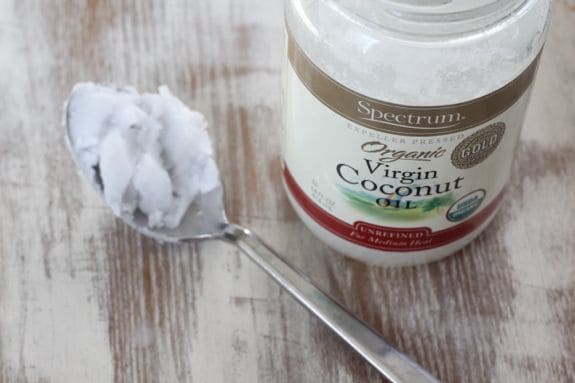 1. Coconut oil
Benefits: Coconut oil has a hundred uses, from helping your thyroid work properly to healing injured skin. It's also a great source of energy and can boost circulation. So not only should you be eating it, I highly recommend adding it to your beauty routine.
How I use it: As a key ingredient in any lip gloss recipe and even in my mani. And did I mention it does wonders with stretch marks?
Other ideas: You could also make your own deodorant, soap and body scrub using coconut oil.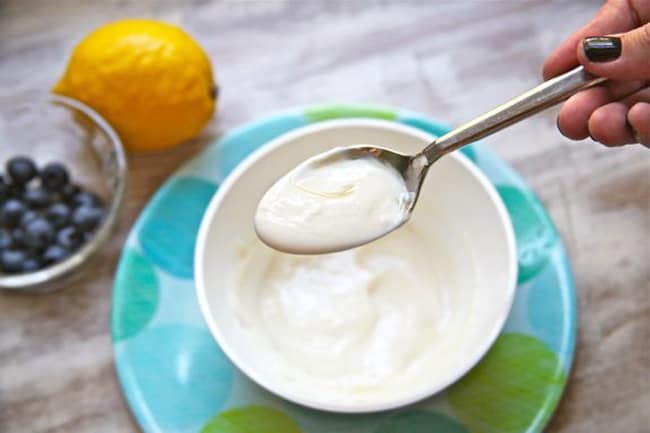 2. Yogurt
Benefits: Your body will love the "good" bacteria in yogurt. But it's not just digestion and immunity that benefit. Yogurt also comes with a good dose of calcium and vitamin D, enough for the daily need of an adult. Even better if it's Greek yogurt, which has additional protein.
How I use it: The moisturizing Greek yogurt face mask is one of my favorite ways of pampering myself, as is the at home facial.
Other ideas: Boost your dark hair color with yogurt, or mix it with strawberry for a delicious face mask.
3. Brown sugar
Benefits: There may not be much nutritional value, but you can't beat the taste and texture of brown sugar. What would baking be without it? But it also makes one of the best scrub bases out there!
How I use it: The pumpkin spice facial wouldn't be the same without brown sugar, and the same goes for the cellulite scrub or my date night secret weapon.
Other ideas: It goes well with almonds for body scrubs, with essential oils for calming purposes and with vanilla to smooth your lips.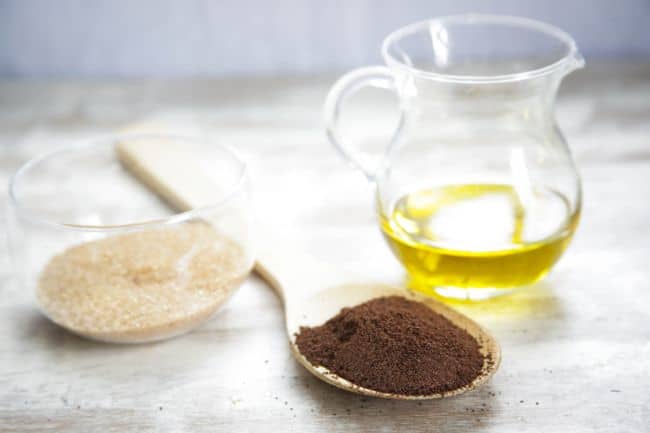 4. Coffee
Benefits: Few of us can truly start a day before having a cup of coffee. But apparently coffee also improves cholesterol and lowers the risk of heart attack. Think about that the next time you order a latte.
How I use it: Coffee grounds can be mixed with brown sugar to beat cellulite! A recycling dream come true.
Other ideas: Many choose to make soap with coffee – vanilla latte sounds delightful, while this kitchen soap seems so useful! Another idea is an energizing body scrub.
5. Baking soda
Benefits: We use it for baking and cleaning, but this wonder powder can do just about anything. Baking soda can be used as an all natural cold & flu remedy, to relieve sunburn, cure stinky feet, and protect your teeth.
How I use it: Baking soda is a great exfoliator, so I always include it in my 4-step facial. And I learned that washing your hair with baking soda will remove some of the color in your hair – it was a life saver when dyed my hair dark. WAY too dark.
Other ideas: You can make various bath bombs with baking soda, but it can also replace shampoo!
6. Honey
Benefits: What can't that little honey bear do? Used in healing for ages, honey contains powerful antioxidants with antiseptic and antibacterial properties. And you should definitely try local honey to help with allergies!
How I use it: In any season, from my autumn pumpkin apple mask to the summer sandal foot mask. It also works in lip scrubs, or as face wash.
Other ideas: Soap is one way to use it. But body scrubs offer infinite possibilities!
7. Turmeric
Benefits: This beautifully colored Indian spice is a powerful antioxidant and it has even been connected with blocking cancerous cells. It's also recommended in joint pain and as an anti-inflammatory.
How I use it: In a quick and easy face mask, for glowing skin.
Other ideas: Turmeric is a cheap remedy for acne and it also reduces wrinkles!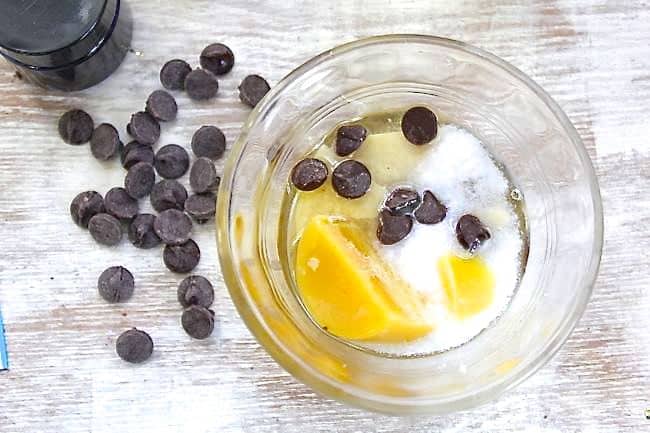 8. Chocolate
Benefits: Everyone's favorite treat contributes to a healthier heart and reduces stress. What's even more surprising is that (dark) chocolate can prevent diabetes and even induce weight loss.
How I use it: When I'm not eating chocolate, I make it into mint chocolate soap or face masks.
Other ideas: You could try lip gloss or a decadent face mask.
9. Pineapple
Benefits: All those vitamins and minerals are doubled in benefits by low cholesterol and fat. Pineapple keeps your gums and eyes healthy, and it strengthens the bones.
How I use it: Nothing compares to an exotic treat such as the pineapple and papaya facial.
Other ideas: Use the peel for body scrubs or mix it with honey for a delightful facial.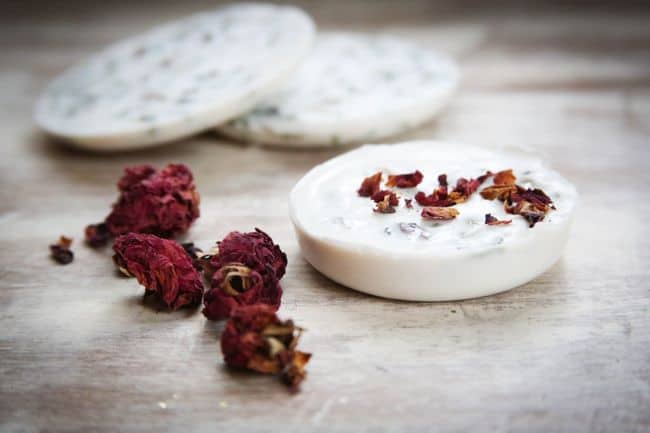 10. Vanilla
Benefits: While the Mayans believed vanilla to have aphrodisiac qualities, we now know for sure that it's beneficial for the nervous system function and body metabolism.
How I use it: Aphrodisiac or not, vanilla is a main ingredient in my man magnet body spray. It's also perfect in bath salts and sugar scrubs and makes a great gift with dried roses.
Other ideas: Homemade soap is always a good idea, as is a good body scrub.
Bonus! Kosher salt
Benefits: Salt gets a bad rap, but your body needs it! Salt helps the body regulate the electrolyte balance in your body's cells. I'm a fan of kosher salt because it contains no additives.
How I use it: First, I make myself a margarita … and then this refreshing body scrub.
Other ideas: Get beachy hair at home with a simple salt spray or make your own shaving scrub.
4