If I had to choose a favorite skincare product, it would definitely be face masks. They're the best way to get that spa experience at home—plus, when you've got a mask on your face, it gives you an excuse to spend 20 minutes with a good book (or a trashy reality show) and relax a little bit.
And when those 20 minutes are up? Your skin feels smooth, your pores appear smaller, and you feel fantastic because the best thing about face masks are the quick, noticeable results you get from them. Totally magical, right?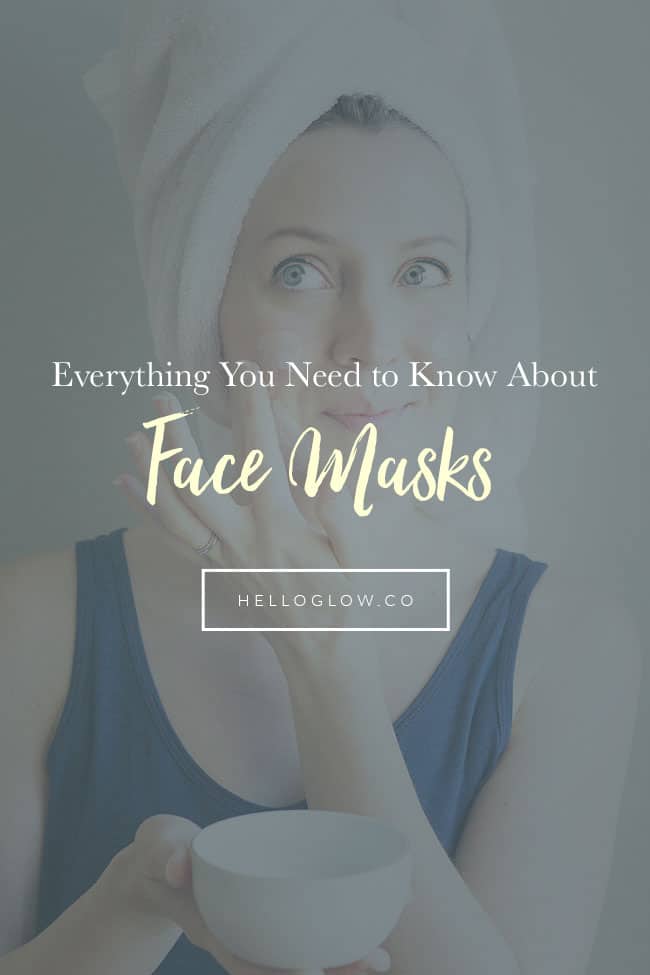 Guide to Natural Face Masks
As you'll see below, there are many different types of skin masks, but with the exception of overnight masks, you should generally use a single product no more than 2-3 times a week (most will note the suggested frequency on the packaging). However!
You can use masks more frequently than that if you use different types. Honey masks, for example, are gentle on the skin, so they're great for pairing with an acid-based skin mask and you can use them on alternate days.
If you want to DIY it, I suggest checking out our Ultimate DIY Face Mask Guide. But if you're looking for face masks you can purchase, here's everything you need to know.
Peel-Off Face Masks
These masks are so fun and if you're not into the messiness of washing off a clay mask at the sink, you'll love how peel-off face masks make cleanup a breeze.
While there are peel-off masks for every skin type, I'd suggest sticking with a modeling or rubber mask made for your skin type if you have sensitive skin—other types of peel-off masks usually contain alcohol, which can irritate the skin.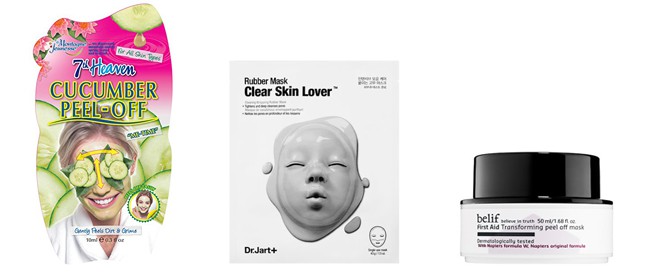 Our Picks:
7th Heaven Cucumber Peel-Off Face Mask
Dr. Jart+ Clear Skin Lover Rubber Mask
Yes to Grapefruit Glow Boosting Peel-Off Face Mask
Clay, Charcoal & Mud Face Masks
If you're looking for a mask to detox your skin, these are exactly what you need. I grouped clay, charcoal, and mud together because they all do a great job of pulling impurities from your skin, absorbing excess sebum, and tightening pores.
These masks are especially helpful for oily, acne-prone skin, although almost anyone can benefit from a good clay mask now and then—just make sure it's formulated for your skin type.
Oh, and don't let them dry out completely on your face—rinse them off when they've dried a bit, but are still pliable, otherwise you'll end up dehydrating your skin.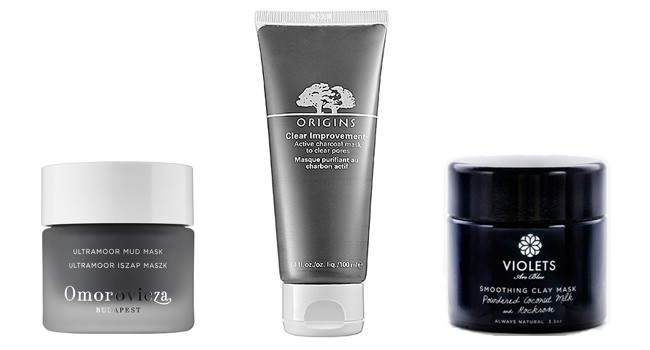 Our Picks:
Omorovicza Ultramoor Mud Mask
Origins Clear Improvement Active Charcoal Mask
Tata Harper Purifying Mask
Sheet Masks
Sheet masks are the Korean skincare phenomenon that have now taken America by storm too. And it's easy to see why! They're simple to apply, they're not messy, and they're kind of fun. I like to bring a hydrating sheet mask with me when I travel, especially if I'm flying, to give my skin a little refresh.
There are sheet masks for every skin type, for wrinkles, for breakouts, for loss of elasticity, you name it! Just remove them from the package, unfold them, and smooth them onto your face. When you're done, peel the mask off and pat any remaining serum into your skin.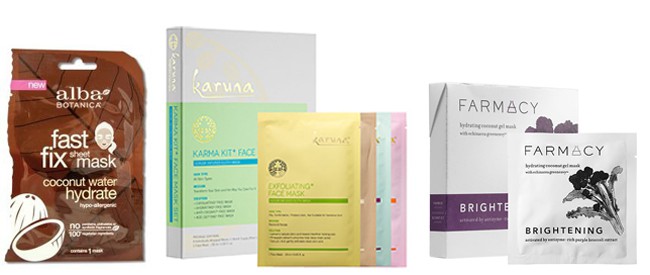 Our Picks:
Alba Coconut Water Hydrate Fast Fix Sheet Mask
Karuna Karma Kit+ Face Mask Set
Farmacy Brightening Coconut Gel Mask
Overnight Face Masks
Don't think of these as face masks—think of them as especially thick, luxurious moisturizers to help restore your skin while you sleep. Also called sleeping packs, these masks seal in treatments and serums to make them even more effective, so they should be used as part of a nighttime skincare regimen. They are wonderful options to boost the active ingredients to support the repair and renewal process overnight.
Although there are overnight face masks for oily skin, because these masks are so rich, they're usually best for anyone experiencing dryness or concerned about fine lines and wrinkles.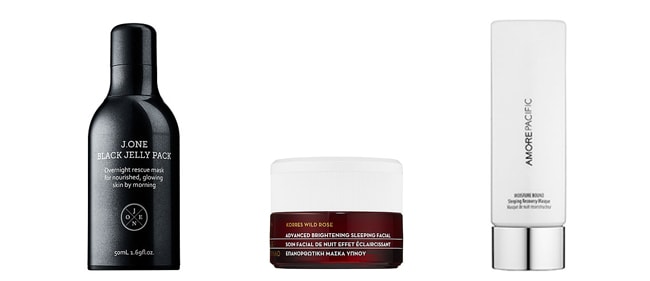 Our Picks:
J.One Black Jelly Pack
Korres Wild Rose + Vitamin C Advanced Brightening Sleeping Facial
AmorePacific Moisture Bound Sleeping Recovery Mask
Eye Masks
These usually come in the form of little moon-shaped patches that you place right under your eyes. If you have issues with puffiness, keep them in the fridge and use them cold—it's like a cucumber slice on the eye, but even better. There are formulations for fine lines, firming, and dark circles.


Our Picks:
Karuna Renewal+ Eye Mask
Boscia Vegan Collagen Microcrystal Eye Mask
Peter Thomas Roth 24K Gold Pure Luxury Lift & Firm Hydra-Gel Eye Patches
Acid Face Masks
These are face masks that are meant to exfoliate your skin. Sloughing away those dead skin cells means that once you wash these face masks off, you'll see instantly smoother, refreshed skin. We love that, right?
If your skin is sensitive, these can be a better option for exfoliation than a scrub, but make your purchase carefully—amino acids are best for sensitive skin and be sure to test a small patch of skin before you take the plunge and apply it to your whole face.
Acid face masks are beneficial for acne sufferers because they get rid of pore-clogging dead skin cells, and they're also fantastic for fine lines and unevenness. Glycolic acid face masks are especially good for aging skin.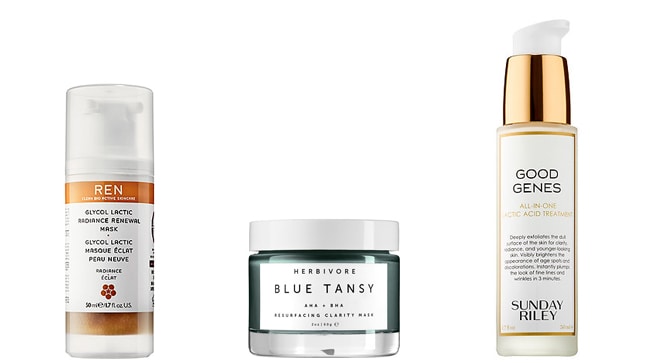 Our Picks:
REN Glycol Lactic Radiance Renewal Mask
Herbivore Blue Tansy AHA + BHA Resurfacing Clarity Mask
Sunday Riley Good Genes All-In-One Lactic Acid Treatment
Honey Face Masks
Honey face masks are messy, but there are some ways to minimize it—I usually do honey masks in the morning before I shower or even apply them in the shower and let them sit on my face while I shave my legs or condition my hair. Honey is a humectant, which means it draws in water (not oil) to the skin so that your skin looks plump and glowing afterwards.
Honey is great for all skin types—gentle enough for sensitive skin, antibacterial to kill acne-causing bacteria, and it's a humectant, which is fantastic for dry and aging skin. Honey does it all!


Our Picks:
Farmacy Honey Potion Renewing Antioxidant Hydration Mask with Echinacea GreenEnvy
Fresh Creme Ancienne Ultimate Nourishing Honey Mask
Savor Beauty Manuka Honey Mask
Food-On-Your-Face Masks
If it's good enough to eat, it's good enough to put on your face, right? These mainly work in two ways. Some contain foods that have naturally occurring acids to exfoliate the skin—think pineapple or yogurt. Others use foods that have skin-boosting vitamins and antioxidants.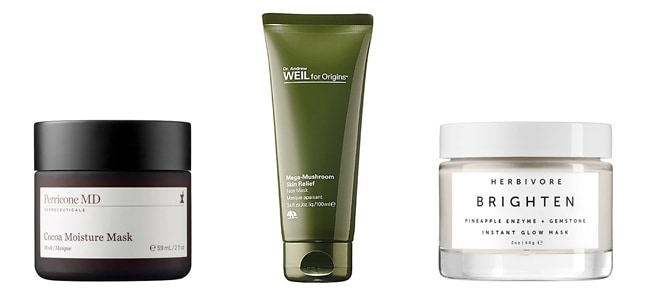 Our Picks:
Perricone MD Cocoa Moisture Mask
Dr. Andrew Weil For Origins Mega-Mushroom Skin Relief Face Mask
Herbivore Brighten Pineapple Enzyme + Gemstone Instant Glow Mask
Splash Masks
The new kid on the block in the face mask world, these masks are 15-second treatments that you splash on your face. Because they're so concentrated, that's all you need to see results.
While you can do them by filling your sink basin with water, I prefer to just keep a splash mask in the shower and use it a few times a week while washing my face.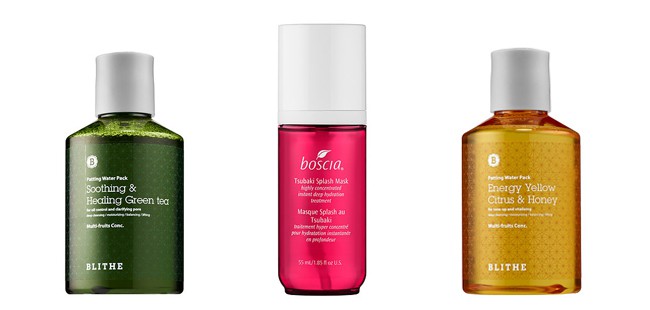 Our Picks:
Blithe Soothing & Healing Green Tea Splash Mask
boscia Tsubaki Splash Mask Highly Concentrated Instant Deep Hydration Treatment
Blithe Energy Yellow Citrus & Honey Splash Mask
Get more of our skincare picks in this roundup of our favorite natural Korean skincare products and in our Skincare Shop.
This post was medically reviewed by Dr. Jennifer Haley, a board-certified dermatologist with extensive experience in medical, cosmetic and surgical dermatology. Learn more about Hello Glow's medical reviewers here. As always, this is not personal medical advice and we recommend that you talk with your doctor.
18