Christmas feels like just yesterday, and it's already time for a new round of gift brainstorming? It looks like it! With Valentine's Day creeping in, you may already be trying on new shades of lipstick at Target or eyeing a certain red dress for date night. As for the gift-giving, we'll spare you the trouble! We rounded up some of our favorite gift ideas for him, beyond the regular shirt or socks.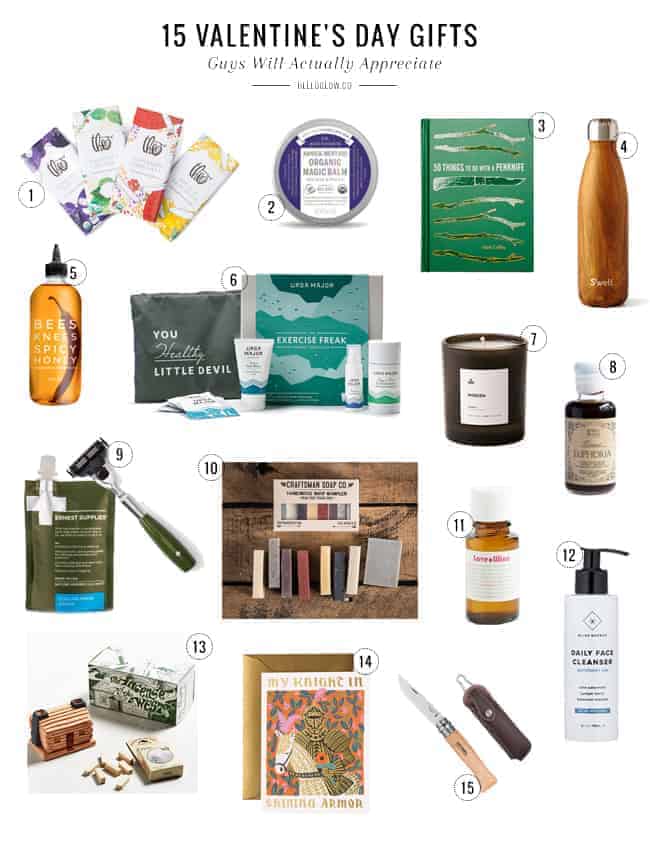 1. Theo Chocolate Organic 4-Bar Collection // It's not Valentine's Day without chocolate… If he's got a sweet tooth, treat him with the intriguing flavors in this set.
2. Dr. Bronner's Organic Magic Balm // For everyone and everything! This balm uses a blend of arnica, camphor and menthol oils to support clear breathing, open sinuses and relax muscles.
3. 50 Things to Do with a Penknife // For the guy who likes to keep busy–or for the guy who just got a folding knife for Christmas!
4. S'well Teakwood Reusable Bottle // A stylish reusable bottle made of double-walled stainless steel, perfect for taking hot and cold beverages to go.
5. Bees Knees Spicy Honey // This honey is produced in Hudson Valley and is spiced up with a combination of chili peppers that he'll find irresistible.
6. Ursa Major The Exercise Freak Workout Essentials // The name says it all: everything your guy needs after a workout, conveniently packed together to be given as a gift.
7. Norden Candle // Hawaii, California, Santa Monica mountains? Whatever his dream place, there's a Norden Candle for it!
8. Aphrodisiac Love Elixir // This elixir awakes loving awareness within the body. A delicious tonic to share with your beloved on Valentine's Day!
9. Ernest Supplies Shaving Box Set // He'll get that perfect shave every time with this practical gift set.
10. Natural Bar Soap Sampler from Craftman Soap Co // This gift box contains 8 small soap bars, handmade with vegan ingredients. Scents like Peppermint Lemon Pine and Mountain Sage are sure to win him over.
11. Living Libations Aphrodisiac Essential Oil // This uplifting blend of essential oils (vanilla, cardamom, and bergamot, among others) inspires feelings of love and joy.
12. Blind Barber Watermint Gin Daily Face Cleanser // This carefully balanced formula removes dirt and oil, preventing breakouts and leaving the face with a fresh, clean feeling.
13. Incense Of The West Log Cabin Incense // 20 natural wood pinon-scented incense bricks a cabin-shaped incense holder make an ideal gift for nature lovers.
14. Knight In Shining Armor Card // For when you want to say a lot with very few words.
15. Opinel No. 8 Stainless Steel Knife with Sheath // A must for every guy to carry in his rucksack when out camping, or even when barbecuing outside.
2