This is a sponsored post written by me on behalf of Hairfinity. All opinions are 100% mine.
My hair and I have been on the outs for a while now. You know those women who were born with gorgeous, thick hair that holds a curl and is always perfectly styled? Their long locks are the perfect shade of ombre and have a sheen, a glow, you can spot from a mile away? I live vicariously through those women. Instead, I was blessed with thin, stick straight hair that won't hold a curl but can hold frizz like a dream.
And as I get older I have even noticed it getting, ahem, thinner. Like I said, we're not really on speaking terms at the moment. But rather than focusing on all the things my hair isn't, it's high time I turn these lemons into lemonade and focus on improving the hair I do have.
Here are 4 simple steps to get the healthy hair you have always wanted.
4 Steps to Healthier Hair
There is so much you can do to improve the hair you were given. Everything from diet and supplements to hair products and styling methods play a role in the health of your hair. And sometimes getting the hair of your dreams is as simple as showing it a little bit of love—not just on the outside but also on the inside. But with a few easy changes, beautiful hair is possible.
1. Start with your diet
Whole, nourishing foods are the bedrock of healthy hair. But don't worry, you don't have to completely overhaul your diet to reap the benefits. Simply adding in more fruits and veggies can do wonders for your locks.
A healthy hair smoothie is a great way to get your veggies first thing in the morning. With the help of antioxidant-rich berries and protein-packed nuts and seeds, both you and your hair will be glowing from the inside out.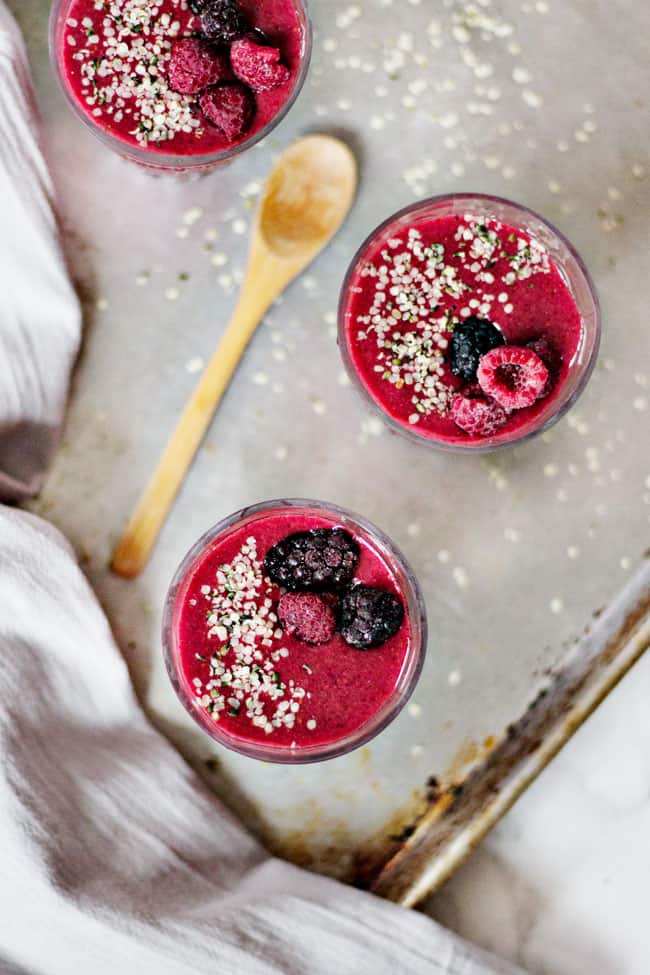 2. Add the right supplements
I think it's safe to say that when we think of hair supplements, we think of biotin. But there's so much more to it than that. Lackluster hair can be the result of a vitamin deficiency, stress or various lifestyle factors. And trying to figure out the specific vitamins your hair needs can be tough. Thankfully a multivitamin specifically formulated for healthy hair can take all the guesswork out of it.
With the belief that beautiful hair is reflection of your body's overall health, Hairfinity Healthy Hair Vitamins were designed to nourish your hair from the inside out. They are packed with everything your hair needs to encourage hair growth, limit breakage and boost shine, like Vitamins A and D, Niacin, Pantothenic Acid, B12, and Biotin.
But unlike other hair vitamins, Hairfinity doesn't stop there. Their Capilsana® Complex also includes superfoods like amino acids, Hydrolyzed Collagen, MSM, Horsetail and Silica to strengthen the hair shaft and improve the health of the scalp.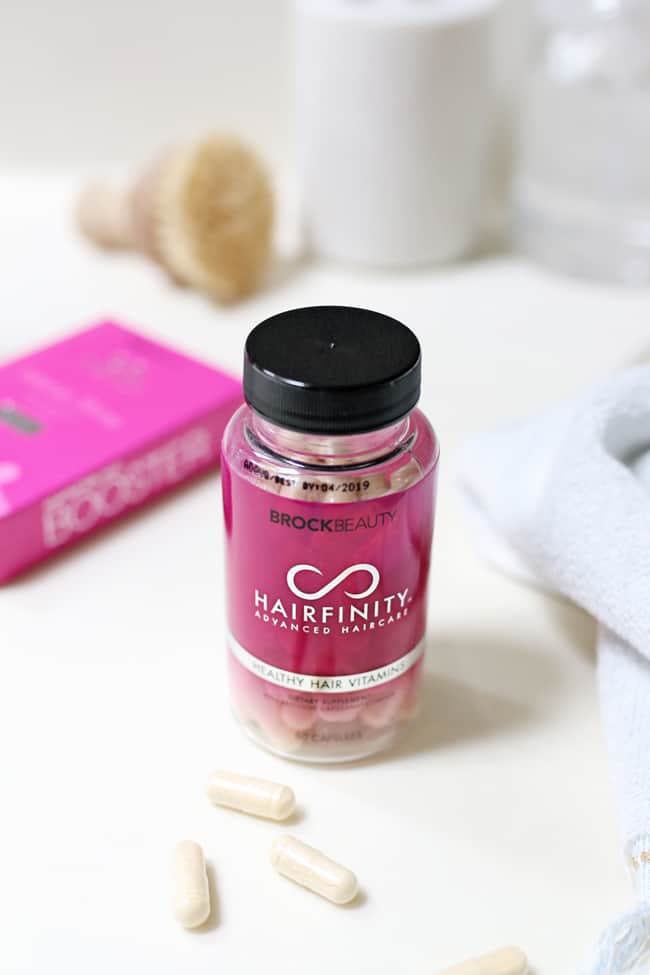 I personally love that Hairfinity Healthy Hair Vitamins are packed with nourishing superfoods, and I can definitely tell the difference when using them. Other hair vitamins I have used in the past either gave me a headache or didn't have a noticeable effect on my hair.
But in a month of using Hairfinity, I have noticed that my hair is definitely longer and my nails are a lot stronger. I also don't shed as much in the shower, which is a godsend for those of us with thin hair!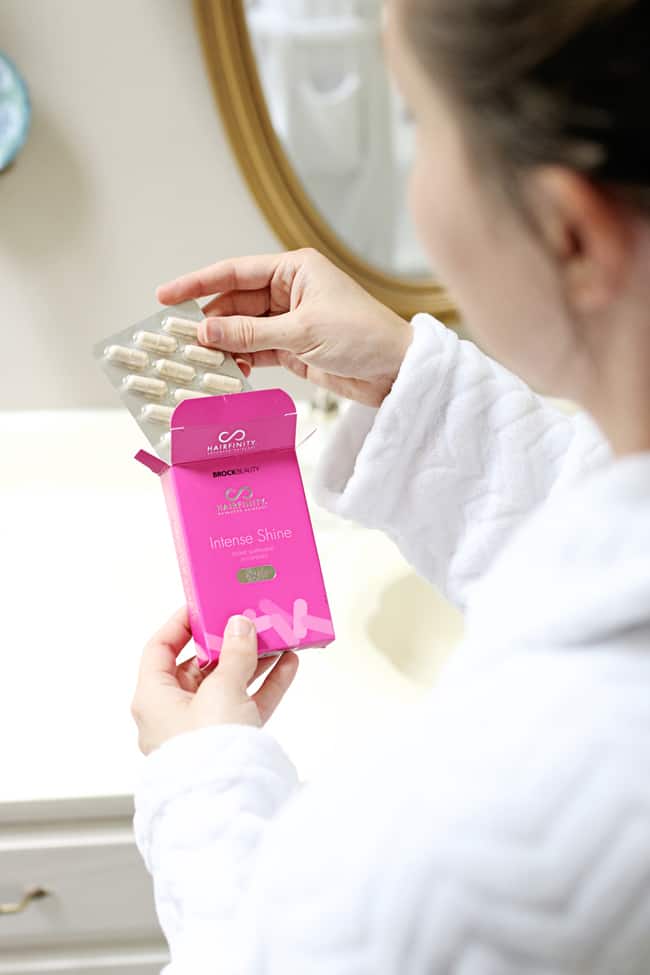 As an added bonus, Hairfinity makes Hair Vitamin Boosters to help target specific hair problems. I use their Intense Shine Essential Fatty Acid Booster to help give my hair a healthy glow and prevent breakage. But they also have boosters to add volume, detox your locks or repair damage, so you can choose the one that's right for you.
3. Switch out your shampoo
It took me a long time to realize that shampoo might be doing my hair more harm than good. And while I tried to make the "no-poo" trend work for me, it simply left my hair looking finer and greasier.
So instead of ditching shampoo entirely, I simply switched to something that would nourish my hair, not dry it out. Hairfinity Gentle Cleanse Shampoo cleanses hair without stripping it of its natural oils. And the moisture-rich formula contains the same Capilsana® Complex as found in their supplements, helping to replenish hair and prevent breakage.
Since switching to Hairfinity Shampoo I can't believe how much softer and more manageable my hair is. It's so much easier to comb (without the dreaded snapping sound of broken tresses) and I need less conditioner to tame the flyaways. Plus it smells amazing!
4. Ditch the heat
It's easier said than done, I know, but one of the biggest things you can do for your hair is simply leave it alone. After fortifying your diet and swapping out your shampoo, it's time to throw out your blow dryer, ditch the curling iron and put the straightener away—at least for a little while. Blasting your hair with heat day after day only serves to make it dryer and weaker.
Nowadays, I hardly touch my blow dryer at all. I simply let it air dry before tossing it in a messy top knot or a pony tail. Not only does it save me tons of time in the morning, but when I do wear it down I'm always amazed at how much softer and shinier it looks.
3