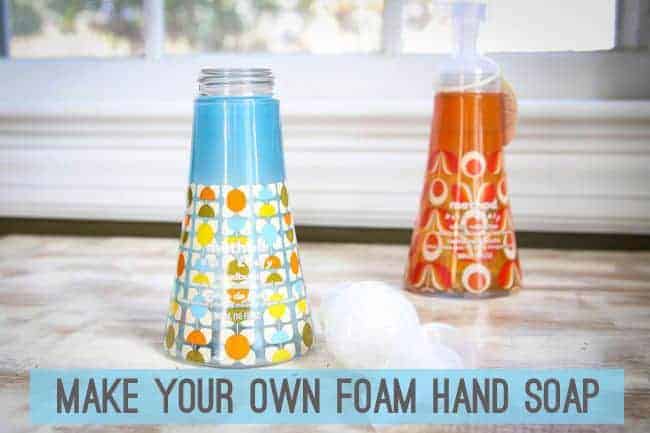 Want to know why you should buy the prettiest bottle of hand soap you can find? Because you can reuse it forever. And after six months, trust me, it's nice to have a nice design to look at day in and day out. These limited edition Orla Kiely Method bottles are perfect.
I've been using this trick for ages and it has saved me – no joke – probably hundreds of dollars. Because we wash hands a lot. Between changing diapers, potty training and trying to avoid the flu, we go through crazy amounts of hand soap. I tried the store bought refills for a while but even those were too expensive. It is so much easier – and cheaper – to make your own.
How to make your own foaming hand soap
After you use up the soap that came in the bottle, don't throw it away!
To make your own foaming soap, here's what you do:
1. Pour in a tiny bit of liquid soap. You don't need to fill more than 1/8 or 1/4 of the bottle with soap. A little goes a long way. My giant bottle of Dr. Bronner's has been perfect for refilling. I've been using a tall bottle to refill 4 pumps for over 8 months.
2. Then fill the rest of the bottle with water. Then just pump and wash!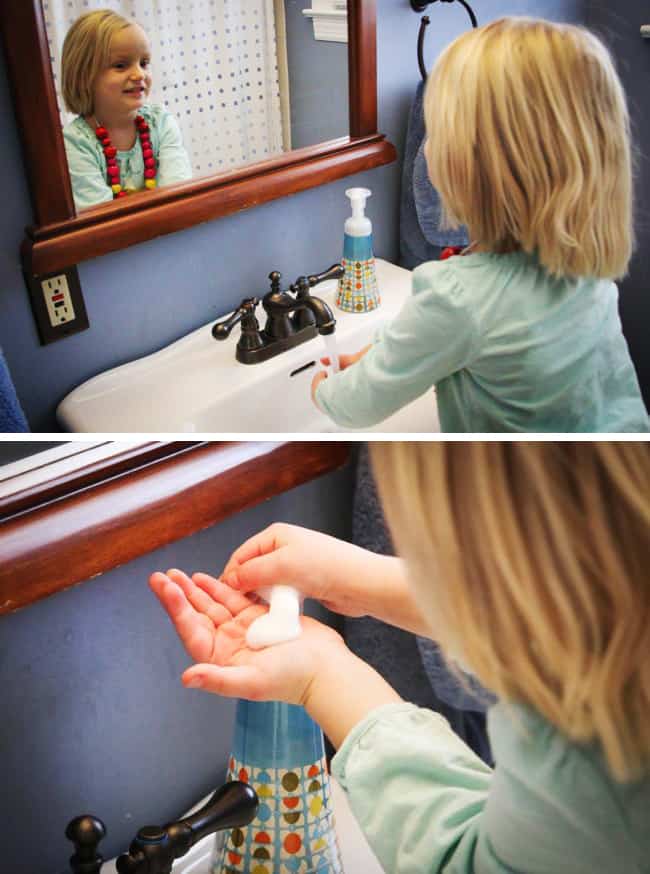 I've found that getting my kids to wash their hands is much easier with foaming soap. The foam bottles have a sturdy base that doesn't fall over like gel soap, and the wider pump is more manageable for small hands. So they quickly learn to do it themselves – and then I have to drag them away from playing in the water. :)
Win Your Own Method Soap
Because pretty bottles are important, we're giving away 3 bottles of Method soap:
Tomato Vine dish soap
White Nectarine gel hand soap
White Nectarine foaming hand soap
How to enter
Like the Method Facebook page and leave a comment on this post.
Method is also giving away 5 Orla Kiely tote bags filled with Method products. Just visit their Facebook page to enter.
Thank you Method!
Contest open to US residents only. Winner will be randomly selected next Friday at midnight. Thanks to Method for sponsoring today's giveaway.
1