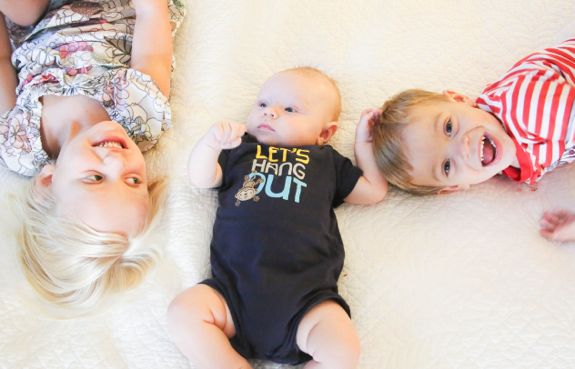 Samuel turned 3 months old yesterday. That means I've survived 3 months with 3. Looking back over the last few months, I've been thinking about how our family has changed. It already feels normal to have 3 noisy little people around all the time. A moment alone like I have right now writing this is a rare (and wonderful) thing.
Our New Normal
Samuel has the biggest cheeks and the widest blue eyes. Already he smiles and coos and just melts your heart. And his blonde hair is turning red! Knowing he is my last baby, I've been soaking up his sweet baby cheeks. Not stressing about schedules or what I "should" be doing, I often just sit and hold him while he sleeps.
Henry is my crazy boy. He continues to live up to why I named this blog after him. If there is something to trip over or fall off of, Henry will find it. But he's a cuddler, which I love. He'll run to Momma for a hug and let me hold him in my lap and play with his hair. For about a minute. Then be off again to play with his cars and trains. Henry is the family alarm clock and has come so far with his speech – he now jibber jabbers all day long.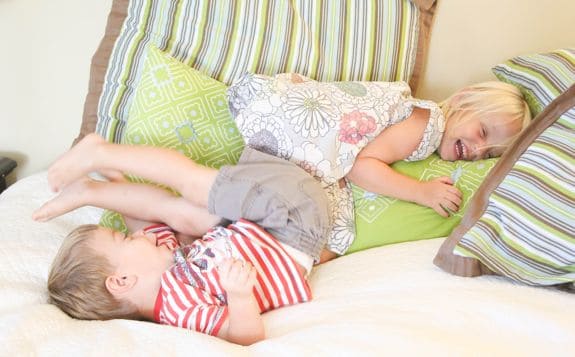 Caroline is my sweet baby girl. Sometimes she wants to be wrapped up and held like a baby, and then she'll play Mother to her many baby dolls. She and Henry are so sweet together – she'll call out "C'mon Buddy, let's go play!" and they'll be off on some adventure. I love to hear her scold him with a "No, Sir!" but I always know she is looking out for him.
She is a sweet and kind and gentle little girl who has worn a ballerina tutu 4 days straight this week – often with a dishtowel clipped around her like a cape. Her superpower must be that she's so cute it would stop anything in its tracks. I can't believe she will be 5 next week.
The summer went by in a blur – already school is starting, we're settling into our new house, and leaves are starting to fall. From the outside I'm sure our little family is boringly normal. We do try to keep a lid on the crazy. :) But everyday is kooky and fun and I love it.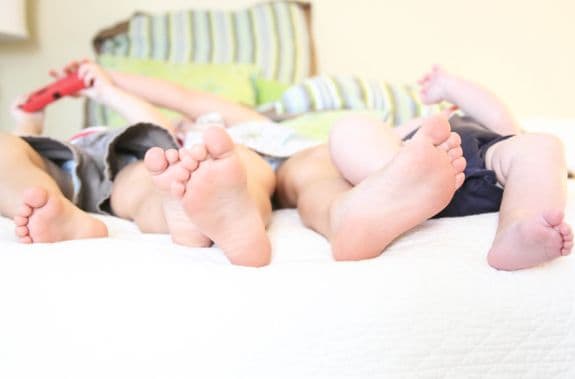 I've started a New Normal Pinterest board where I'm pinning quotes on family, a brave celeb mom coming home from the hospital with no make-up, and a hot dad with cutest accessory (hint: it's a baby). All of this seems normal to me – does it you?
You can check out the official New Normal Pinterest page or create your own! From the creator of Glee, The New Normal, premiering Tuesday, Sept 11 at 9:30/8:30c on NBC.

Sponsored by The New Normal, premiering Tuesday, Sept 11 at 9:30/8:30c on NBC. The opinions in this post are my own.
0