Loaded with minerals, fiber and nourishing phytonutrients, soups are much more than comfort food. I don't like to wait for soup season; instead I treat myself to a healing bowl of soup anytime my body needs a fresh start and some pampering.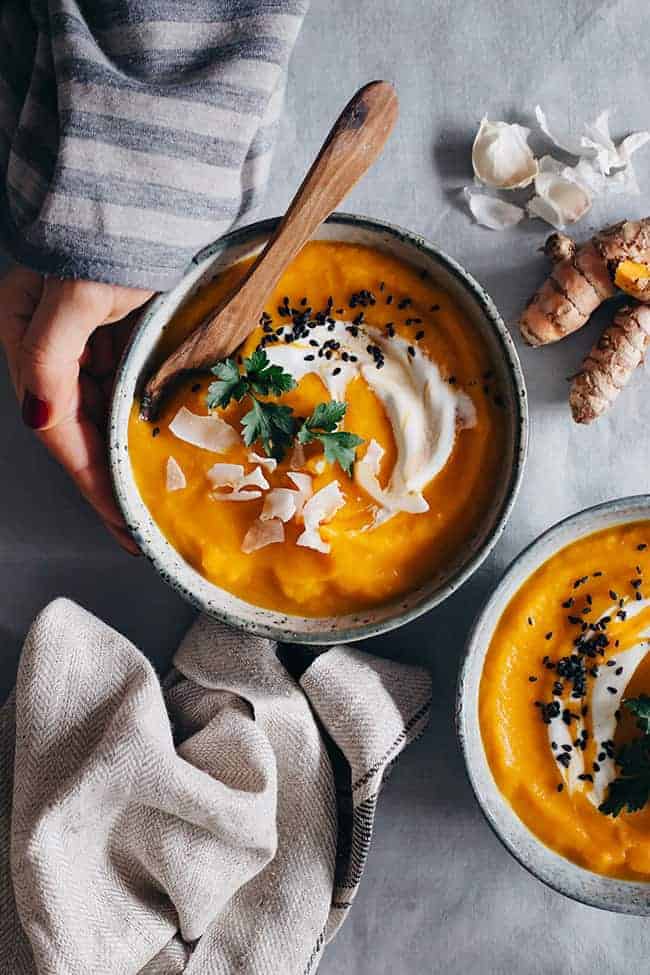 Healing Carrot Soup with Ginger
Seasonal colds, sore throats, weight-loss difficulties, poor circulation, immune support, detoxification–the healing powers of soups are something that both scientists and our grandmothers can agree on. Soups are definitely nutritious, but what really gives them healing powers?
First, there's the fact that soups preserve most of the nourishing nutrients in the vegetables, making them available for our body to digest. All the energy and therapeutic effects of fresh nutrients is transferred to the liquid and absorbed easily by our body.
The second–and this is where you can work your magic–is improving the nutritional powers of your soup with healing ingredients. Turmeric, ginger, coconut oil, seaweed, shiitake, aromatic herbs such as sage, mint or basil–they all boost the healing powers of soup and help restore your body to a healthy balance.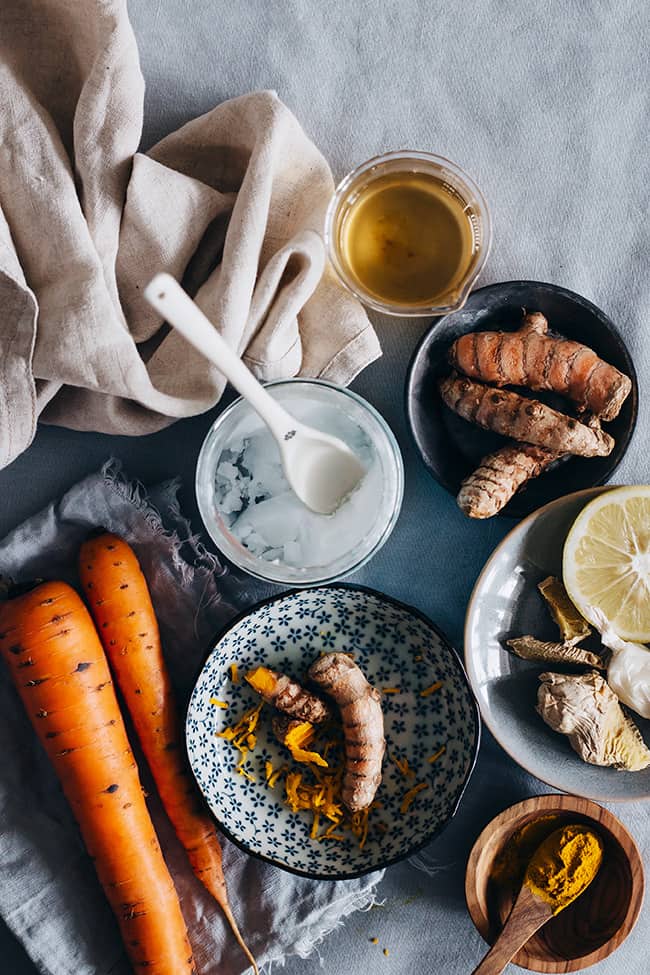 Slowly simmered vegetables over low heat results in a mineral-rich soup, while lightly roasting or steaming the vegetables preserves their antioxidants, anti-inflammatory compounds and most of their vitamins. I made my soup with lightly roasted carrot and garlic for an intense flavor and spiced it up with turmeric and ginger.
Turmeric is a strong anti-inflammatory and antioxidant spice, stimulating the immune system and circulation (plus it's great on your skin!). Ginger soothes the intestines and supports healthy digestion. A drizzle of virgin coconut oil improves the absorption of the high concentrations of beta-carotene from the carrots and the curcuma antioxidants in turmeric.
I used turmeric and ginger to create a healing concoction, one to nurture my digestive system and infuse my body with warming energy.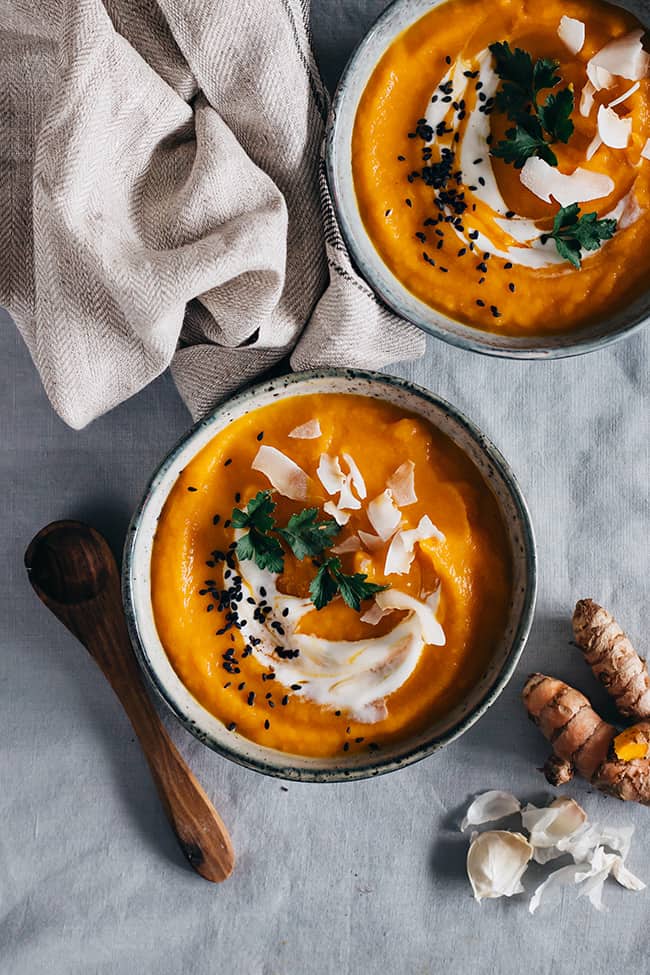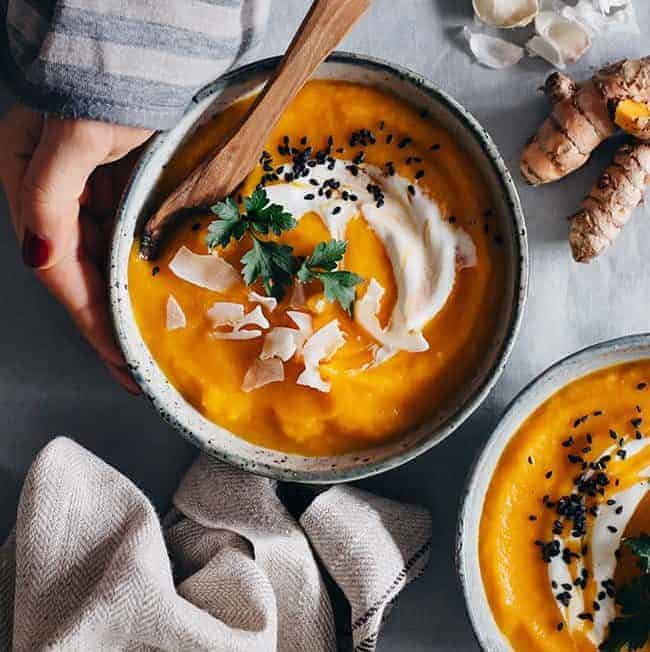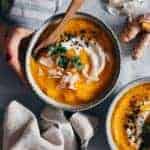 Print Recipe
Healing Carrot Soup with Turmeric and Ginger
A warming soup loaded with healing nutrients for a comforting fall evening.
Ingredients
4

carrots

peeled and chopped

1

parsnip

peeled and chopped

1

yellow onion

roughly chopped

4

garlic cloves

crushed

2

teaspoons

virgin coconut oil

3

cups

low sodium vegetable broth

warm

1

teaspoon

turmeric powder

1-

inch

ginger knob

peeled and grated

Juice from 1/2 of a lemon

Pinch

cayenne pepper

Fresh parsley

Greek yogurt, black sesame, coconut flakes, to serve
Instructions
Preheat the oven to 350ºF.

Line a baking sheet with parchment paper. Add the carrots, parsnip, onion and garlic, then season with turmeric and cayenne, drizzle with coconut oil and toss to coat evenly.

Roast for 15 minutes, then remove from the oven and transfer into a blender with the vegetable broth, lemon juice and ginger.

Blend the ingredients until smooth and creamy.

Pour the soup into serving bowls, garnish with fresh parsley, sesame and coconut flakes, drizzle with Greek yogurt and serve warm.
Ah, soup season. If you're looking for more warm bowls of goodness, check out these posts:
254