The use of crystals for their metaphysical energetic properties is a practice that has been around for centuries. More recently, the popularity of crystals has gained a resurgence—you may have encountered them in a Reiki healing session, a spa treatment, or in your local yoga studio boutique.
If you have been curious about crystals and how you might begin to incorporate them into your life, here's a quick introduction to help you get started.
Crystals 101
Crystals are believed to hold special vibrational qualities, and when they are in proximity to the body can encourage feelings of wellbeing. They are often used for protection, mood regulation, relaxation, healing, releasing negative energy, or for awakening spiritual/psychic abilities.
Enthusiasts turn to crystals to help with a vast spectrum of issues, from reducing nightmares to protecting yourself from negative energy and from mending a broken heart to increasing self-confidence. If you're in need of assistance or healing in an area of your life, chances are there's a crystal for that!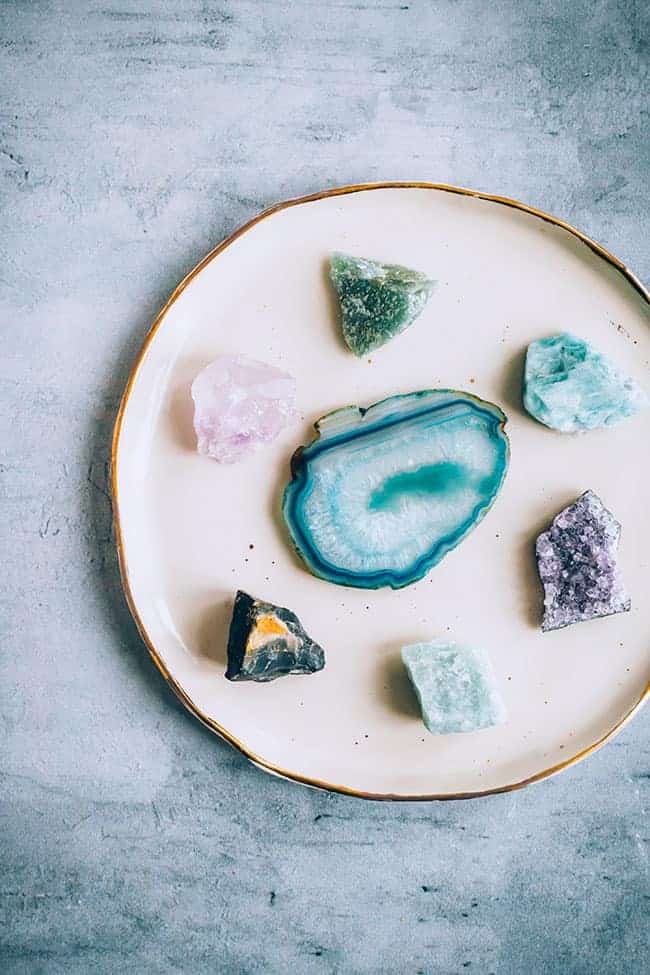 Selecting your crystals
One method you might use for selecting crystals is to find stones that correspond to a particular chakra.
Ask yourself which of your chakras needs focused energy or healing, and choose stones according to their associated color vibrations:
Root chakra (red): groundedness, belonging, security
— Red crystals: red garnet, red carnelian
Sacral chakra (orange): creativity, growth, sexual energy
— Orange crystals: orange carnelian, orange calcite
Solar plexus chakra (yellow): personal power, strength, confidence
— Yellow crystals: amber, citrine
Heart chakra (green): compassion, love, acceptance
— Green crystals: jade, tourmaline
Throat chakra (blue): truth, communication, clear expression
— Blue crystals: turquoise, sodalite
Third eye chakra (indigo): intuition, wisdom, imagination
— Indigo crystals: lapis lazuli, azurite
Crown chakra (violet): higher consciousness, spirituality, interconnectedness
— Violet crystals: amethyst, charoite
Another technique used for selecting crystals is to think of the particular energetic properties you are seeking. And then, if you are lucky enough to have a shop in your area, you can wander around and allow their diverse energies to speak to you. When you feel drawn to a stone's particular shape or color, listen to that inner wisdom when making your choice.
A friend of mine who is a crystal enthusiast and Reiki practitioner gave me this tip: hold the crystal you feel drawn to in your hands. If you perceive the weight of the crystal as being light, it's a "yes," and if it feels cumbersome and heavy, it's a "no."
The shape of the crystal may also influence your selection. A small, round, tumbled stone would be good to carry in your pocket, a pointed crystal is best when you need to direct energy toward or away from you, and a sphere radiates energy evenly in all directions. A generator is a six-sided crystal ending in a point, which is powerful and can also amplify the energy of the crystals nearby.
Notable crystals
While some crystals' vibrations are aligned with the energy and colors of the chakras, many of the most popular and versatile stones fall outside of this correlation. A good place to start your own collection might be to choose from these superstar powerhouses.
Black obsidian: This deeply black stone is a great choice to shield you from negative energy. It also helps stimulate the safe and secure feelings associated with the root chakra.
Selenite: This is a great stone to aid in meditation and spiritual endeavors, and it also helps when you need to feel protected. It is also used to alleviate sleep disorders.
Clear quartz: This crystal amplifies the powers of any other nearby crystals. It is also good to have around when you're feeling out of balance emotionally. This is the classic healing stone, so if you're ever in doubt about what you need, find yourself one of these!
Smoky quartz: Smoky quartz balances the root chakra and lends a settled, down-to-earth vibration, making it a very helpful stone for people with anxiety.
Rose quartz: This pale pink crystal is best known for its ability to promote the emotional healing of the heart and support feelings of love, both for self and others.
Amethyst: Known as the "sobriety stone," this crystal promotes a balanced, temperate energy and holds the power of encouragement for those seeking to abstain from excess. It's also a stone with a generalized positive energy.
Citrine: This is the happiness crystal. It stimulates feelings of pleasure, success, confidence, and enjoyment.
Moonstone: This opalescent crystal is considered a "yin" stone or a feminine crystal. It is known as a woman's healing stone and is the go-to crystal for fertility or issues relating to hormones or the menstrual cycle. Moonstone is also a great choice for women looking to heighten and embrace their inner goddess energy.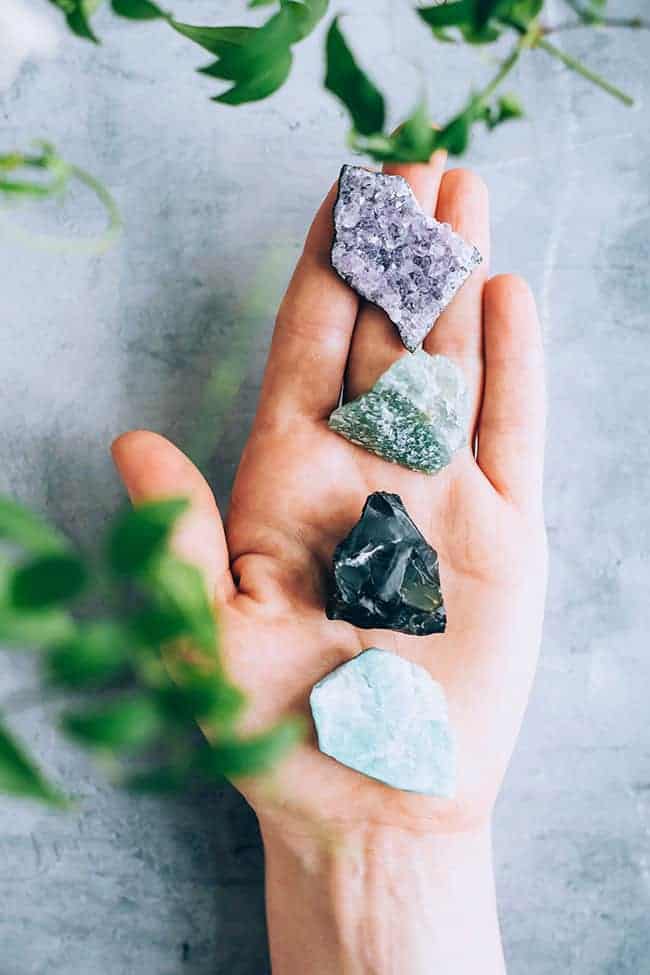 How to use your crystals
Many people incorporate crystals into their meditation practices by resting a stone upon their yoga mat or near their meditation cushion or by holding it in their palm when seated. They can also be laid upon the body when in a reclined meditation.
Crystals can be carried with you throughout the day, in your pocket to be held when you need to feel calm or balanced or as jewelry. Another common practice, according to some of my crystal enthusiast friends, is to wear a stone tucked inside of your bra—close to your heart and circulatory center.
You can also use crystals to settle the environments around you. Keeping a positive energy stone in your car or at your desk at work can assist in keeping some heavier negative vibes at bay. And placing larger stones around your home can help generate the feelings of a healthy, balanced space. Place a clear crystal in the four corners of your home to encourage stability and protection.
Crystal Care
When you first bring your crystals home, it's a good idea to give them a good cleaning. You'll also want to cleanse any of your crystals that absorb negative energy on a regular basis. Keep your stones dust free, and give them a wash in salt water if needed. Cleansing the accumulated energies can be done by placing your stones in a bowl of dry salt for a few hours, setting them outside overnight under the high-octane energy of the full moon, or smudging them with sage or palo santo smoke.
Whether you subscribe to the idea that crystals hold these superpowers or not, using stones that encourage positive emotional states and feelings of wellbeing could be seen as a mindfulness practice. Whenever you reach into your pocket and feel the curve of your rose quartz, for example, you may be reminded that your heart is healing. When you feel the warm, round weight of the obsidian, you may be more open to receiving the message that you are supported and that you belong.
61